Open Access This article is
freely available
re-usable
Article
Edible City Solutions—One Step Further to Foster Social Resilience through Enhanced Socio-Cultural Ecosystem Services in Cities
1
Integrative Research Institute for Transformation of Human-Environment Systems (IRITHESys), Humboldt Universität zu Berlin, Unter den Linden 6, 10099 Berlin, Germany
2
Institute of Agricultural and Horticultural Sciences, Faculty of Life Sciences, Humboldt Universität zu Berlin, Invalidenstr. 42, 10099 Berlin, Germany
*
Author to whom correspondence should be addressed.
Received: 29 December 2018 / Accepted: 2 February 2019 / Published: 14 February 2019
Abstract
:
Nature-based solutions have not been able to actively involve citizens and to address successfully food security, poverty alleviation, and inequality in urban areas. The Edible City approach promises a strategic step towards the development of sustainable, livable, and healthy cities. We introduce the conceptional framework of Edible City Solutions (ECS), including different forms of urban farming combined with closed loop systems for sustainable water, nutrient, and waste management. We review scientific evidence on ECS benefits for urban regeneration and describe the status quo of ECS in Rotterdam, Andernach, Oslo, Heidelberg, and Havana as case studies. We provide an analysis of strengths, weaknesses, opportunities, and threats (SWOT) to explore the capacity of ECS to enhance multifunctionality of urban landscapes with special focus on social cohesion and quality of life. Based on this we identify and discuss strategies for fostering socially relevant implementations for the case study cities and beyond.
Keywords:
circular economy; living labs; multifunctionality; urban agriculture; urban farming; urban regeneration; social cohesion
1. Introduction
Here we (i) introduce to the conceptual framework of Edible City Solutions (ECS), (ii) briefly review scientific evidence on ECS benefits for urban regeneration (iii) describe the status quo of ECS in five different cities (i.e., Rotterdam, Andernach, Oslo, Heidelberg, and Havana) as case studies and provide a SWOT analysis of ECS to explore the capacity of ECS to enhance multifunctionality of urban landscapes with special focus on social cohesion and quality of life. Based on this we (iv) identify and discuss strategies for fostering socially-relevant implementations in the cities.
2. Materials and Methods
2.1. Conceptual Framework of Edible City Solutions
Edible City Solutions (ECS) focus on urban productive landscapes including the wide range of different forms of urban farming, building integrated farming, agro-forestry, aquaculture, biomass production for energy, among other productive and ornamental purposes and services combined with closed loop systems for sustainable water, nutrient, and waste management (
Figure 2
).
Our ECS concept amplifies the benefits provided by nature-based solutions from supply of ecosystem services such as cooling, air, and water cleaning, habitat services, or recreation effects (e.g., [
7
,
16
]) towards provisioning services that address food security, poverty alleviation, and inequality in urban areas [
12
]. The elements of this 'Edible Green Infrastructure Concept' includes edible urban forests, edible urban greening, different gardens and parks, school gardens, allotment gardens, community and domestic gardens, edible green roofs and vegetable rain gardens, edible green walls and facades, but not intensive urban agricultural practices. Our ECS concept includes also these practices managed in a sustainable way such as commercial indoor farming, high-yield commercial gardening, biomass feedstock, aquaculture, and livestock and new innovative cropping techniques in urban areas, such as hydroponics or 'organoponics' [
11
]. Commercial urban rooftops and vertical farming offer an untapped potential to systemically integrate farms into buildings [
17
,
18
] and drive economic resilience of cities. Beyond the effects on social integration and environmental sustainability ECS present opportunities for significant improvements to food supply, zero-km food, and local economy.
Depending on the local situation of users and producers, ECS combined with closed loop technologies to close water, waste, and nutrient cycles fulfill diverse functions including food production and community building and are promising to contribute to reducing socio-economic and environmental problems. Examples of high technology ECS which demand a greater planning frame and require new technical standards are edible city trees, hydroponic glasshouses, tomato-fish loop roofs, or green walls for cooling installations. Low technology ECS are already spread all over the world, are user friendly, and driven by the will of being active and productive at the same time (e.g., espalier fruits, sit-and-eat fruit gardens, educational and school gardens, agro-biodiversity gardens as observatories, kitchen herb walls, or urban honeybee hotels). The mostly community built urban farming areas support the huge bunch of benefits and co-benefits for urban climate and quality of life of urban dwellers.
2.2. Literature Review on ECS Benefits for Urban Regeneration
To review research on ECS benefits for urban regeneration, we screened articles in the Web of Science by using keywords covering the different Edible City Solutions (ECS; see
Section 2.1
; i.e., 'urban farm*' OR 'urban garden*' OR 'building integrated farm*' OR 'urban agro-forestry' OR 'urban aquaculture' OR 'urban biomass production' OR 'urban horticulture*' OR 'urban food production' OR 'edible cit*') and keywords covering urban regeneration (adapted from [
19
]), i.e., 'urban regeneration' OR 'environmental justice' OR 'social inclusion' OR 'equity' OR 'health' OR 'well-being' OR 'revitalization' OR 'renewal' OR 'rehabilitation' OR 'urban development'). A keyword search (August 2018) in the Web of Science revealed > 3600 references in English related to different ECS and urban regeneration in the ''topic'' OR ''title'' fields since 2010, but only 20% of these were developed in social sciences, psychology, health or economics that mainly deal with the socio-economic dimension of urban regeneration. In a first step, we screened the titles and abstracts of the remaining articles and eliminated articles that are not related to our topic (144). Second, we eliminated articles without access to the full text version and unanswered requests of full text (3). Third, we made a full text review of the remaining articles to gather the relevant information. The whole process was conducted independently by three reviewers. Only 28 papers were identified that directly address ECS and urban regeneration. About one half of the studies focus on physical and mental health and well-being and the other half on sociology and education, there were only few studies on economic effects (e.g., [
20
]). We also included twenty other papers and grey literature found by cross-references in our research. Here, we highlight current evidence of ECS benefits for urban regeneration, but we do not aim on a complete screening of all existing literature, as social sciences often use publication modes that are not included in the database of Web of Science.
2.3. Case Studies for Status Quo Analysis of ECS and Strategy Development
The five selected cities (Rotterdam, Andernach, Oslo, Heidelberg, and Havana) suffer from typical social challenges due to urbanization, including functional transformation and densification trends and provide a broad basis of NBS experience. The cities strictly highlight urgent urban challenges like inclusiveness, social cohesion, well-being, mental and physical health, safety, and criminality.
We used a combination of descriptive and analytical research methods to explore the capacity of ECS to enhance multifunctionality of urban landscapes with special focus on social cohesion and quality of life in our case study cities and beyond. Status quo analysis is based on a systematic review of available documents of cities administrations and expert knowledge provided by the city representatives involved. The following aspects of the case study cities have been explored: amount of implemented ECS; governance and policy framework related to ECS, decision-makers and their objectives regarding ECS, barriers to ECS implementation, relevant awards for cities, and specific challenges. After a systematical review of published information and available grey literature about each case study city we analyzed the main contact persons in the cities and provided a questionnaire where we collected formal knowledge about: (i) Governance and strategies of social relevant issues; (ii) Management of green infrastructure and urban master plan concerning valorization of green infrastructure through edible solutions; (iii) policies and guidelines for fostering social and climatic resilience and the internal ranking of challenges in the city (i.e., inclusion, equitability, livability, beneficial social networks, and individual well-being) and (iv) we discussed the city's visions on ECS implementation and collected first ideas on Living Labs to be defined in a further step of our research and action plan. We use the SWOT analysis to effectively explore the strengths, weaknesses, opportunities and threats to address complex strategic situations [
21
]. Based on the SWOT results we develop general strategies for effective ECS implementation, which in turn will be adapted to the city-specific strategies to improve Edible City Concepts (
Figure 3
) for our case study cities. Here, we present results of Step I (Status quo, SWOT and city-specific visions for our case studies), discuss general strategies to improve Edible City Concepts and provide first drafts for Living Labs (Step IIa). Future research (Step IIb–Step IV,
Figure 3
) will co-create action plans and define Living Labs based on multi-stakeholder involvement. These living labs will be co-implemented at different scales, impacts on urban regeneration monitored to constantly evaluate effectiveness of implementation for optimization. This knowledge will provide in turn a wide range of experience to other cities that are developing master plans on ECS implementations for a worldwide growing network of Edible Cities.
3. Results
3.1. Scientific Evidence on ECS Benefits for Urban Regeneration
3.2. Status Quo of ECS in Case Study Cities and SWOT Analysis
4. Discussion
Based on the reported practice in literature and the SWOT analysis of our case studies (summarized in
Figure 5
), we discuss a pool of strategic alignment to implement social efficient ECS.
5. Conclusions
Urban planning is challenged to react to unavoidable densification trends and to growing pressure on environmental justice, social cohesion, livability, well-being, and resilient communities and neighborhoods already leading to increased criminality, segregation, violence against foreigners and refugees, abandoned ghettos and radical political streams, that are observed with growing concerns worldwide. Enhancing the provision of overall ecosystem services is proved to be an adequate instrument to foster urban livability, local identity, and social resilience. Around the world and across all socioeconomic groups, cultural and generational differences Edible City Solutions are booming and demonstrate a high potential for a participatory development of social cohesion. However, we observed a lack of mainstreaming knowledge on ECS technologies, experiences and provided ecosystem services. Short term actions within election periods, the sectoral functioning of city administrations and the current lack of integration of ECS into the urban planning process and of strategic support through urban policies limits exploitation of ECS benefits. Co-planning, co-design, and co-implementation of ECS are crucial to avoid green gentrification and to foster the strong involving and activating momentum of ECS. The holistic approach on multifunctional productive urban landscapes is the base for self-sustained cities. Strategic implementation of ECS rises the individual and public awareness for the paradigm shift of urban lifestyle needed to face successfully the challenges of the 21st century.
Author Contributions
Conceptualization: I.S.; methodology: I.S.; validation: I.S., S.E.R., and T.W.; formal analysis: I.S., S.E.R., and T.W.; investigation: I.S., S.E.R., and T.W.; resources: I.S.; writing—original draft preparation: I.S.; writing—review and editing: I.S., S.E.R., and T.W.; visualization: I.S., S.E.R., and T.W.; project administration: S.E.R.; funding acquisition: I.S., S.E.R., and T.W.
Funding
This research received funding from the Bundesministerium für Bildung und Forschung (Grant number 01UH1606A).
Acknowledgments
Especially we want to thank Oubbol Oung (Gemeente Rotterdam, Department of Innovation, Information, Facilities and Research), Lutz Kosack (Stadtverwaltung Andernach, Department of Urban Planning and Construction Management), Cecilie Bergmann (Oslo Kommune, Agency of Urban Environment), Moritz Bellers (IBA Heidelberg) and Capote Rodríguez Amelia (Instituto de Investigaciones Fundamentales en Agricultura Tropical) for fruitful discussions on city needs (Table 1) and on the living lab ideas (Figure 3). The finally implemented Living Labs might largely differ from the drafts described here as the EdiCitNet-Living Labs will be co-created and co-implemented during the EdiCitNet project funded by the European Commission (776665). We thank the three anonymous reviewers for helpful comments and suggestions to improve this manuscript.
Conflicts of Interest
The authors declare no conflict of interest. The funders had no role in the design of the study; in the collection, analyses, or interpretation of data; in the writing of the manuscript; or in the decision to publish the results.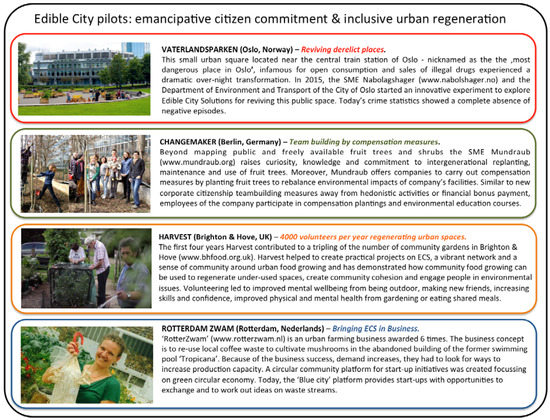 Figure 1. Edible city pilots have demonstrated emancipative citizen commitment and successful inclusive urban regeneration worldwide (sources: Nabolagshager; Mundraub; Brighton & Hove Food Partnership; RotterZwam).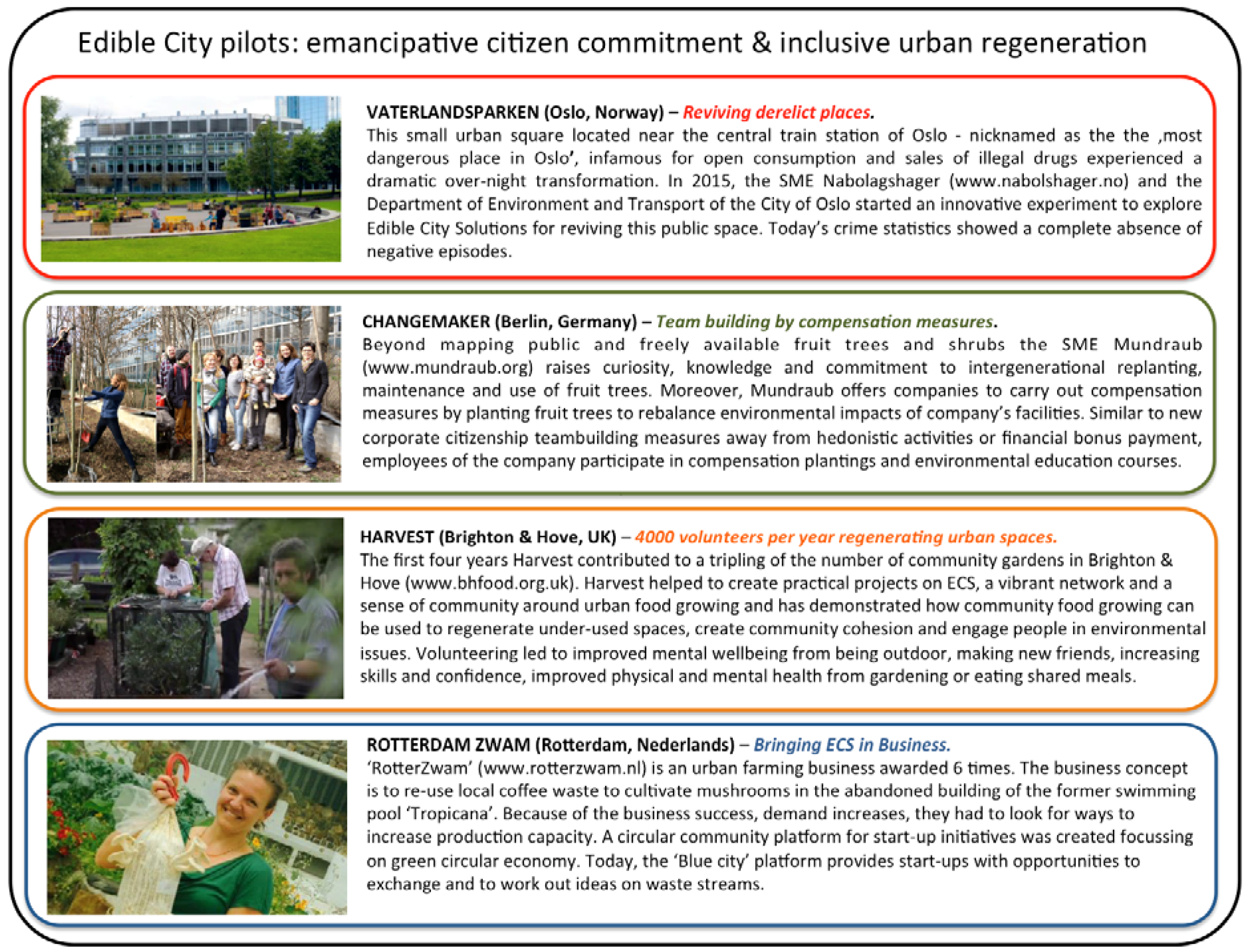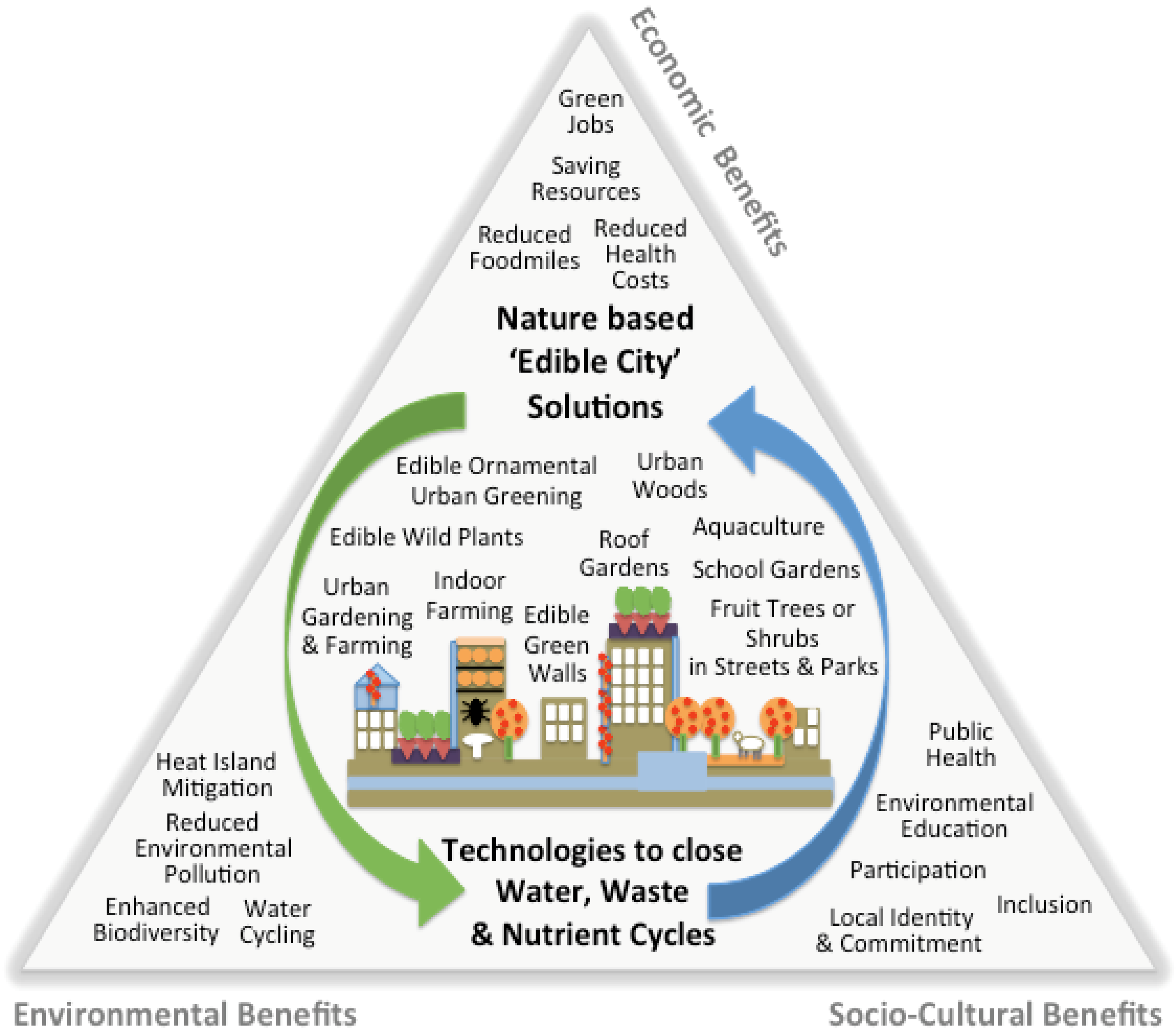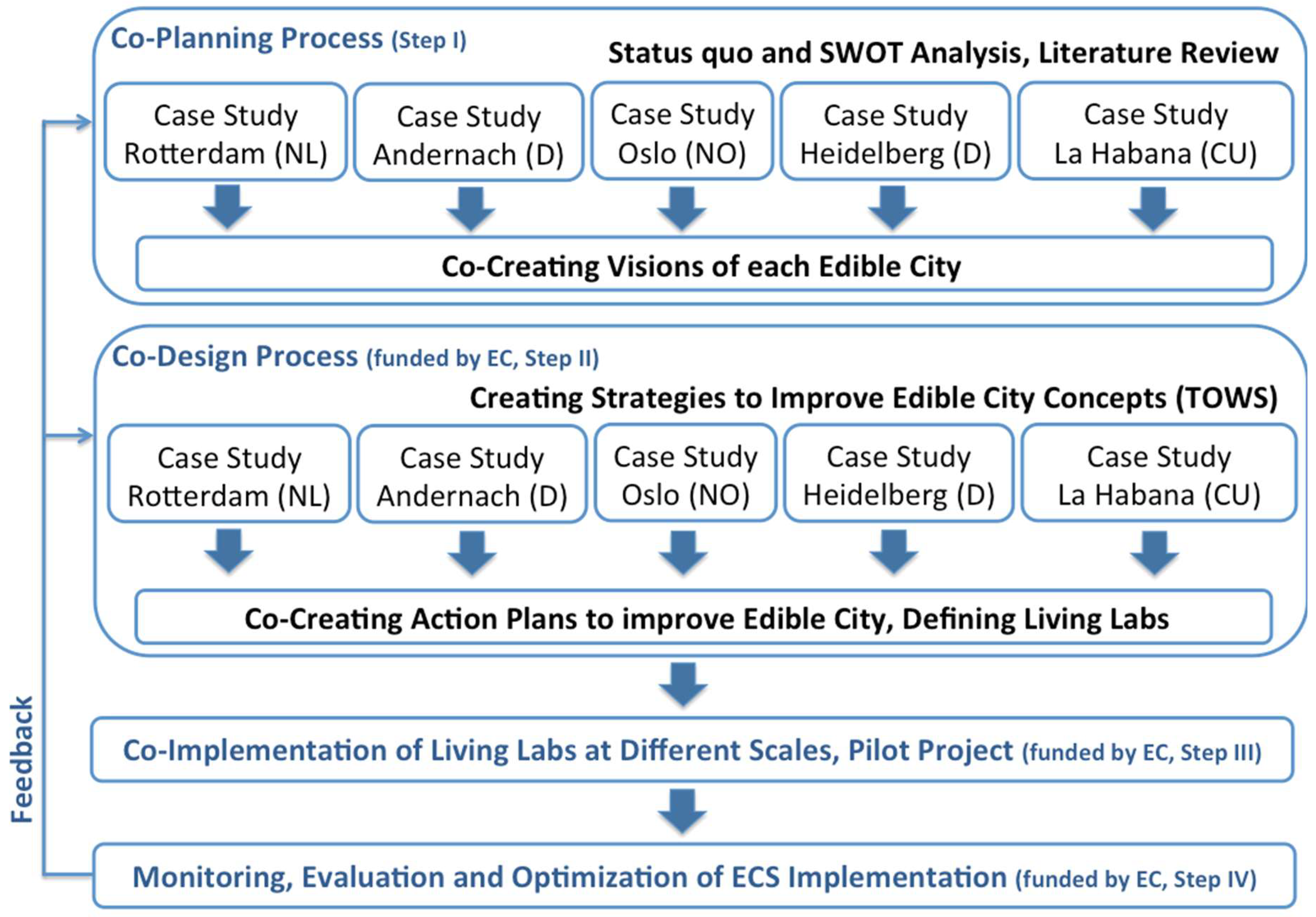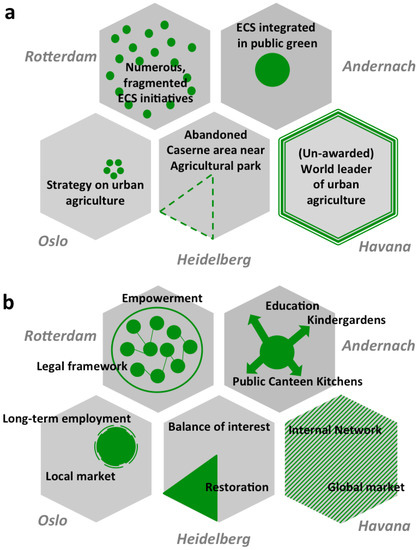 Figure 4. Status quo (a) and target transformation after implementation of co-planned Living Labs (b) in the case study Cities. The green symbols stand for different existing ECS (a) and illustrate the potential development to ECS with greater outreach (b). For details see text on case studies.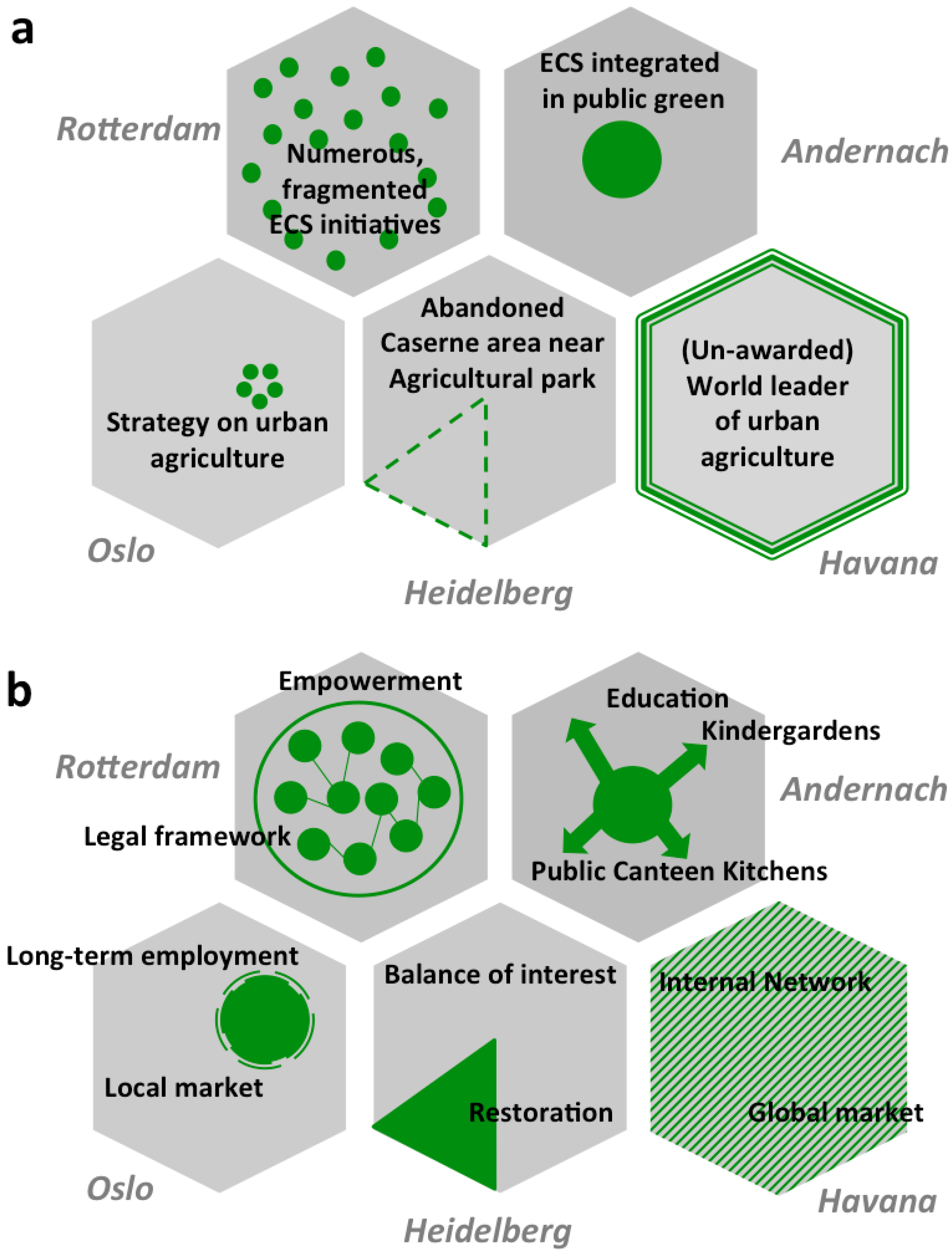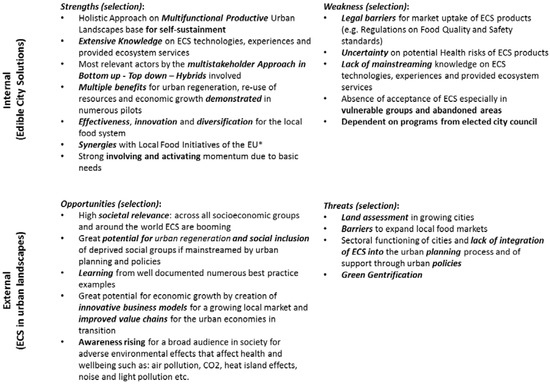 Figure 5. Results of SWOT analysis to explore the capacity of ECS to enhance multi-functionality of urban landscapes with special focus on social cohesion and quality of life.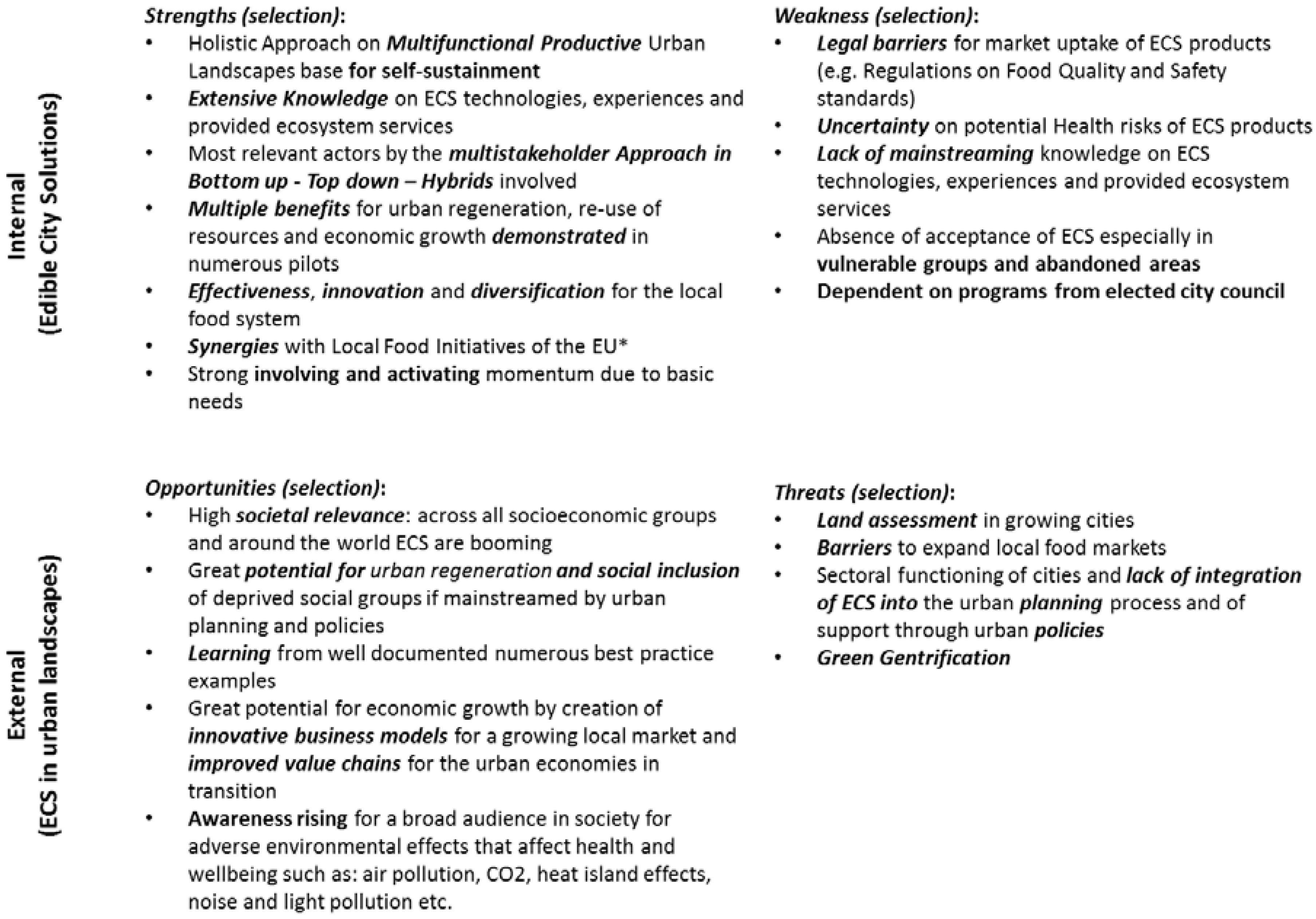 Table 1. Status quo of ECS in case study cities are described by focusing on current governance and policy, decision makers and their objectives, identified barriers for ECS, awards on urban sustainability held by the cities, specific challenges identified by the city administrations to be addressed by ECS development.
Case Studies
Rotterdam
Andernach
Oslo
Heidelberg
Havana
ECS
Over 200 small grass root initiatives, not associated are most vulnerable to changes
Integration in municipal green spaces
Municipal grant for 2017 for center of urban ecological innovation with 184,000€
Several initiatives from production of ancient grains, local food markets to bee keeper association
Agricultural Area 35 900 ha (2014), >90,000 residents involved, Productivity yield of 20kg/m2
Governance and policy
Integrated in elected City council with their program, top down, program: "Food & the City" (Gemeente Rotterdam 2012)
Integrated in municipal compulsory tasks, top down, to expand
Municipal Master plan revised all 4 years, adoption of co-designed urban agriculture strategy in 2017, bottom-up
City council (elected all 5 years) initiated IBA (first bottom-up IBA), sustainability programs
National programs for urban and peri-urban food production; Protection of agricultural areas above construction
Decision makers and their Objectives
City council, officials of boroughs, executive committee (major), anchoring main responsibility and simplicity of relations to City council
City council/ "Perspektive gGmbH" Integration of high-quality food supply in municipal compulsory tasks,
City council, City government and elected district councils, establishment of a center of urban ecological innovation (founded 2016) for green transformation
Mayor and City council, ecological committee, Dep. Building and Traffic/Environment, Sustainable food, livable Neighborhoods
Broad support of different levels of city administration to grant vacant land, Enhancing of participation of vulnerable groups
Technical Advisory board for a wide network incl. research institute
Barriers
Widely scattered responsibility in different departments, no legal adaption to urban agriculture
Availability of areas and spaces, access to private space, need of optimized procedure in the municipality
Considered as spare time activity not as profession with full-time jobs, legal barriers regarding selling rights for urban agriculture food
Conflict of interest to use specific green areas, regulative barriers on food, contracting and renting schemes renegotiate
Organization of urban food producers, Management of infrastructure and ECS Technologies
Isolation of Cuba from the global ECS market
Awards
C 40 Cities Adaptation Planning & Assessment 2015; Sustainable Architecture 2011Greenest Port 2016
Most Livable City 2013; Land of Ideas 2013
European Sustainable City 2003; European Green Capital 2019
European Sustainable City 1997, 2003; Global Green City 2015; Fair Trade Town 2010
(Un-awarded) World leader of urban agriculture
Specific Challenges
Integration, employment and education in socio-cultural diverse society
Overcoming fragmentation and financial instability, fragile availability of expertise and experience of high potential ECS grass root movements
Beneficial social networks across the entire city population; Access to healthy and fresh food for vulnerable groups: refugees and marked by life children
Regeneration of neglected areas and counteract gentrification processes; Inclusion of immigrants with special focus on: women, single parents and high school dropouts
Restoration of abandoned areas and tensed housing market; Social pressure and conflicts of interest in relation to open space use
Preservation of long-term self-sufficient urban food production and optimization towards user-friendly large-scale ECS and fostering local entrepreneurship; Connection of Cuban ECS technologies and knowledge on organic agriculture to the global ECS market and
Socio-Ergonomic Factors
Socio-Cognitive Factors
Socio-Economic Factors

Reachability and connectivity within the urban matrix:


Reduce distance from users to ECS and between ECS, enhance walkability and connectivity


Accessibility:


Allow open participation and barrier-free access


Usability:


Foster user-friendly processes and design, manageability of ECS

Lateral hierarchies:


Power and knowledge distribution in communities to minimize inequalities)


Perception and acceptance:


Advantages of involvement by multi-stakeholder approaches

Mutual impact on social processes and economics:


Foster economic activity affects social life and return
Fostering entrepreneurship
Support novel and innovative and self-sustaining market uptake of ECS techniques and ECS technologies

© 2019 by the authors. Licensee MDPI, Basel, Switzerland. This article is an open access article distributed under the terms and conditions of the Creative Commons Attribution (CC BY) license (http://creativecommons.org/licenses/by/4.0/).