Open Access This article is
freely available
re-usable
Article
Efficacy of
N
-Methyl-
N
-Nitrosourea Mutation on Physicochemical Properties, Phytochemicals, and Momilactones A and B in Rice
1
Graduate School for International Development and Cooperation, Hiroshima University, Hiroshima 739-8529, Japan
2
Faculty of Agriculture, Nangarhar University, Jalalabad City, Nangarhar 2601, Afghanistan
3
Agricultural Research Institute of Afghanistan, Ministry of Agriculture, Irrigation, and Livestock, Kabul 1001, Afghanistan
4
Faculty of Biotechnology, Nguyen Tat Thanh University, Ward 13, District 4, Ho Chi Minh City 72820, Vietnam
5
Department of Genetic Engineering, Agricultural Genetics Institute, Hanoi 122300, Vietnam
6
Center for Expert, Vietnam National University of Agriculture, Hanoi 131000, Vietnam
7
Khai Xuan International Co. Ltd., Ha Dong District, Duong Noi Ward, LK20A-20B, Khai Xuan Building, Hanoi 152611, Vietnam
*
Author to whom correspondence should be addressed.
Received: 27 September 2019 / Accepted: 26 November 2019 / Published: 2 December 2019
Abstract
:
Attempts regarding the improvement and development of novel rice with better quality and higher productivity have been increasing. Among approaches, mutation is a direct alteration on the genome and considered as one of the most beneficial routes to acquire new beneficial traits in rice. An experiment was carried out to explore the effects of N-methyl-N-nitrosourea (MNU) mutation on the antioxidant activities, phytochemical compounds, and momilactones A (MA) and B (MB) in rice. Two rice cultivars, K1 (an original cultivar DT84) and K2 (mutated DT84), were examined. Antioxidant activities, phenolic compounds, and momilactones of the rice grain, husk, and straw portions were measured and quantified. Antioxidant activities were higher in grain and straw of K2, whereas K1 showed greater antioxidant activity in rice husk. Additionally, K2 displayed higher total phenolic contents (TPC) in grain and straw as well as lower of it in the husk, but these variations significantly differed only in the straw portion. An increase in total flavonoid contents (TFC) was observed in the husk of K1, while K2 significantly enhanced TFC in straw. Both MA and MB, two compounds obtaining antidiabetes, anticancer, antimicrobial, antigout, and antiobesity properties, were detected and quantified in grain, husk, and straw of K1 and K2 samples. Generally, the contents of MA were higher than MB in all tested portions of rice crop. MA and MB were higher in straw followed by those in husk and grain, respectively. K2 contained higher amounts of MA and MB in straw and husk, but lower contents in grain compared with those in K1. This study illustrates that MNU mutation can improve grain quality and enhance bioactive compounds in straw, husk, and grain of rice. This approach has the potential to develop functional foods from rice, and therefore help farmers in developing countries to improve value in rice production.
Keywords:
rice; MNU mutation; antioxidants; phenolics; flavonoids; momilactone A; momilactone B; antidiabetes; antigout; antiobesity; anticancer
2. Materials and Methods
2.1. Experimental Design and Plant Materials
An experiment was conducted at the experimental field of Hiroshima University in 2018 and 2019. The experiment was arranged in a randomized complete block design within three replications and two cultivars (K1; a cultivar and K2; a mutant line) as listed in
Table 1
. The mutant line seeds were received from Khai Xuan International Co., Ltd. for free. They were treated following a MNU mutation protocol as described in previous studies [
39
,
40
]. In short, seeds of the original cultivar (K1) were treated for three hours with 150 mM MNU, dried, and kept in hermetic conditions for three months. Then, the required seeds were possessed and stored in the darkness at 5 °C for further application. The mutated F1 was self-pollinated to yield the mutated F2 population. The experimental field was puddled by power tiller and leveled manually. Plots were designed at 3 m
2
.
Perfect seeds of selected cultivar and mutant line were soaked in distilled water and kept at 30 °C in a growth chamber for 48 h. The pre-sprouted seeds were then broadcasted in plastic nursery boxes on the commercial soil. The 25-day-old seedling with 3.5 leaf growth age was transplanted to the prepared rice field as one seedling per hill. 15 cm × 20 cm spaces were respectively considered as a plating density between plants and rows. Weeds were manually controlled at the maximum tillering and heading stages. Standard fertilizer (14-10-13; JA-ZEN CHU Co., Hiroshima, Japan) at 130 g per plot was applied at early tillering and milking stages. Plants were harvested at maturity stage. The required samples of grains and straw were collected and kept at room temperature. Grain samples of each plot were threshed and dried at room temperature to obtain an 18% moisture content. The grains were then de-husked by an automatic rice husker machine (model TR-250, Kett Electric Laboratory, Tokyo, Japan) and the husks were also collected for further evaluation.
2.2. Measurement of Physicochemical Properties
Physicochemical properties of rice grain including protein, amylose, lipid contents, and taste score were evaluated by a grain quality tester machine (PGC Shizuoka Seiki PS-500 machine, version 2-12, Shizuoka Seiki Co., Ltd., Shizuoka, Japan) using 100 g brown rice grains with three replications. The data were used to evaluate the correlation of physicochemical properties with phytochemicals and momilactones in rice grain.
2.3. Standards and Reagents
All standard compounds and reagents including gallic acid (GE), rutin, 2,2-diphenyl-1-picrylhydrazyl (DPPH), 2,2′-azino-bis (3-ethylbenzthiazoline-6-sulphonic acid) diammonium salt (ABTS), butylated hydroxytoluene (BHT), potassium persulfate (K2S2O8), folin-ciocalteu's reagent (FC), sodium carbonate (Na2CO3), aluminum chloride hexahydrate (AlCl3 6H2O), hydrochloric acid (HCl), sodium hypochlorite (NaOCl), sodium hydroxide (NaOH), and sodium acetate (C2H3NaO2) were analytical grade. The solvents for extraction and isolation as well as acetonitrile were acquired from Junsei Chemical Co., Ltd., Tokyo, Japan and Fisher Scientific Co., Hampton, NH, USA. Chemicals for antioxidant assays were purchased from Fujifilm Wako Pure Chemical Corporation, Osaka, Japan. The remaining chemicals were procured from Kanto Chemical Co., Inc., Tokyo, Japan.
2.4. Extraction and Samples Preparation
The extractions of grain, husk, and straw samples were conducted through the technique reported by Quan et al. [
41
] with few changes. In brief, 100 g brown rice, 20 g straw, and 46 g husk were grinded and individually saturated in 100, 250, and 200 mL methanol for one week at room temperature. The extractions were then filtered and evaporated at 50 °C to obtain methanol extracts. Afterward, the extracts were mixed proportionately in a separatory funnel with an adequate volume of hexane. The methanol layers were collected and filtered after 3 h at room temperature. The filtrates were consequently evaporated to get crude extracts which finally dissolved with methanol to adjust the concentration and shored for further analysis at 4 °C. Ahead of grinding, the straw samples were treated with 1% sodium hypochlorite and washed with water to remove infections.
2.5. Antioxidant Assays
2.5.1. DPPH Scavenging Assay
DPPH assay was carried out based on the method explained by Quan et al. [
11
] with few adjustments. Shortly, 50 µL of the sample extract was added with 50 µL of DPPH solution (500 µM in methanol) and 100 µL of 0.1 M acetate buffer (pH 5.5). The combination was then incubated for 20 min in darkness at room temperature. The absorbance was recorded at 517 nm using a microplate reader (Multiskan
TM
Microplate Spectrophotometer, Thermo Fisher Scientific, Osaka, Japan). Butylated hydroxytoluene (BHT) at various concentrations (10, 20, and 50 µg/mL) was used as a standard, whereas pure methanol was used as a negative control. The IC
50
value was calculated and presented as the amount of the sample needed to scavenge 50% of DPPH radical. Thus, the lower IC
50
value implied the higher antioxidant activity. The IC
50
percentage scavenging activity of the tested sample was calculated as follows:
DPPH radical scavenging activity (%) = (Ac − (As − Ab)/Ac) × 100
where A
c
is the absorbance of the control (MeOH), A
s
is the absorbance of the sample, and A
b
is the absorbance of blank (without DPPH).
2.5.2. ABTS Cation Discoloration Assay
ABTS radical assay was conducted following the technique elucidated by Tuyen et al. [
12
] with minor adjustment. Briefly, ABTS cation solution was obtained by mixing ABTS (7 mM) solution with 2.45 mM potassium persulfate (1:1
v
/
v
). The mixture was then incubated for 16 h at room temperature in darkness, and the working solution was made by adding methanol until an absorbance of 0.70 ± 0.05 at 734 nm was achieved. Hereafter, 40 µL of sample and 180 µL of the working solution were blended in each well of a microplate and maintained for 20 min in dark condition at room temperature. The absorbance was recorded at 734 nm through the microplate reader. BHT was used as a standard while methanol was selected as a control. The percentage discoloration activity was measured as the following formula:
ABTS radical discoloration activity (%) = (Ac − As)/Ac × 100
where A
c
is the absorbance of the control (MeOH), and A
s
is the absorbance of the sample. The IC
50
value was obtained by the similar method described above.
2.6. Determination of Total Phenolic Contents (TPC)
The TPC was measured by the Folin-Ciocalteu method reported previously [
42
]. An aliquot of 20 µL of the plant extract was mixed with 100 µL of Folin-Ciocalteu's reagent (10%) and 80 µL of sodium carbonate solution (0.7 mM
w
/
v
, Na
2
CO
3
), respectively. The obtained mixture was incubated for 30 min at room temperature in darkness. Gallic acid at different concentrations (2.5–60 µg/mL) was used as a standard and the TPC was evaluated by standard calibration curve of gallic acid. The absorbance was recorded at 765 nm. The TPC was expressed as µg gallic acid equivalent per g dry weight of the sample (µg GAE/g DW).
2.7. Determination of Total Flavonoid Contents (TFC)
The TFC was determined through the aluminum chloride colorimetric method described by Tuyen et al. [
12
]. An amount of 50 µL sample was mixed and incubated with 50 µL aluminum chloride (2% in methanol,
w
/
v
) in darkness for 15 min at room temperature. The absorbance of the mixture was read at 430 nm wavelength using the microplate reader. Rutin at different concentrations (10–500 µg/mL) were applied as a standard reference and the TFC were indicated as µg rutin equivalent per g dry weight of the sample (µg RE/g DW) by standard curve.
2.8. Quantification of Momilactone A (MA) and B (MB)
MA and MB were quantified based on the LC-ESI-MS system consisted of an LTQ Orbitrap XL mass spectrometer (Thermo Fisher Scientific, CA, USA) which was equipped with electrospray ionization (ESI) source. The LC was conducted by injecting 3.0 µL of a sample (at different concentrations) into the Acquity UPLC
®
BEH C18 (1.7 µm, 50 × 2.1 mm i.d.) column (Waters Cooperation, Milford, MA, USA). The column temperature was kept at 25
o
C. The chromatography was run in a gradient model with a flow rate of 300 µL/min. The gradient of mobile phase was established as follows: 50% solvent A (0.1% trifluoroacetic acid in water) and 50% solvent B (0.1% trifluoroacetic acid in acetonitrile) over 0–5 min, then increased to 100% B over 5–10 min which was upheld for 0.1 min [
43
]. Finally, the column was equilibrated by the initial condition for 5 min. The total operation time was 15.1 min. The ESI condition was set up in a similar index to the manner explained by Quan et al. [
27
]. The availability and presence of MA and MB in the sample were confirmed through a comparison of extracted ion chromatograms (EIC) and mass spectra (MS) with those of standard momilactones. The areas of identified peaks that matched with standard MA (RT: 3.82) and MB (RT: 2.33) in the EIC were used to calculate the quantity of such compounds over a linear model. All buffer components were acquired from Sigma-Aldrich, St. Louis, Missouri, USA, as well as pure MA and MB, were isolated and validated previously by our laboratory [
44
].
2.9. Statistical Analysis
Data were analyzed using Minitab 16.0 software (Minitab Inc., State College, PA, USA). One-way analysis of variance (ANOVA) was conducted to express the differences among samples, followed by Tukey's multi comparison test at the
p
< 0.05 probability level. Pearson correlation was carried out to indicate the interaction between physicochemical properties and biological contents. Data presented as mean ± standard error (SE).
5. Conclusions
Demands for high productivity, preferable grain quality, and natural products of the rice plant are rising worldwide, particularly in rice-producing and consuming countries. MNU mutation displayed important roles in rice productivity, grain quality, and bioactive compounds. This approach can address and support rice farmers to improve rice-based functional foods and therefore increase value from rice production.
Author Contributions
K.K. and T.D.X. assumed the idea and wrote the manuscript. K.K., N.V.Q., and I.K.W. conducted research and measurements. T.D.X., K.K., and N.V.Q. revised the manuscript. All authors approved the final version of this paper. H.-D.T. Funding acquisition; T.D.K. Writing—review and editing; T.D.D. Methodology, Supervision and Writing—review and editing.
Funding
This research did not receive any external funding.
Acknowledgments
We appreciate the Japan International Cooperation Agency (JICA) for facilitating Kifayatullah Kakar a scholarship. We thank Nguyen Tat Thanh University, Vietnam for partly supporting this research.
Conflicts of Interest
The authors declare no conflict of interest.

Figure 1. Contents of MA and MB in rice grain, husk, and straw of mutant line and original cultivar. (A): momilactone A, (B): momilactone B, G: grain, H: husk, S: straw.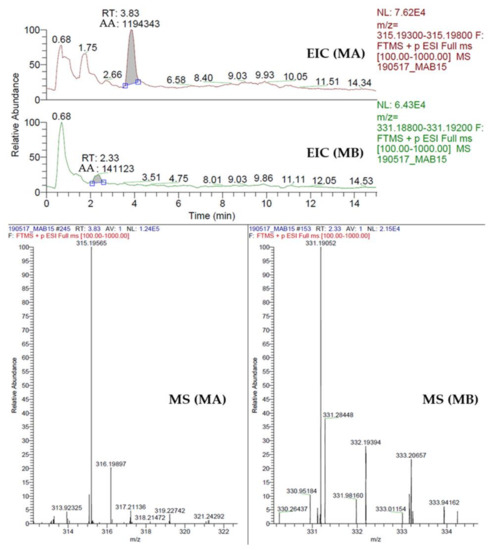 Figure 2. Extracted ion chromatograms (EIC) and mass spectra (MS) of momilactones A and B in the rice straw sample of K1.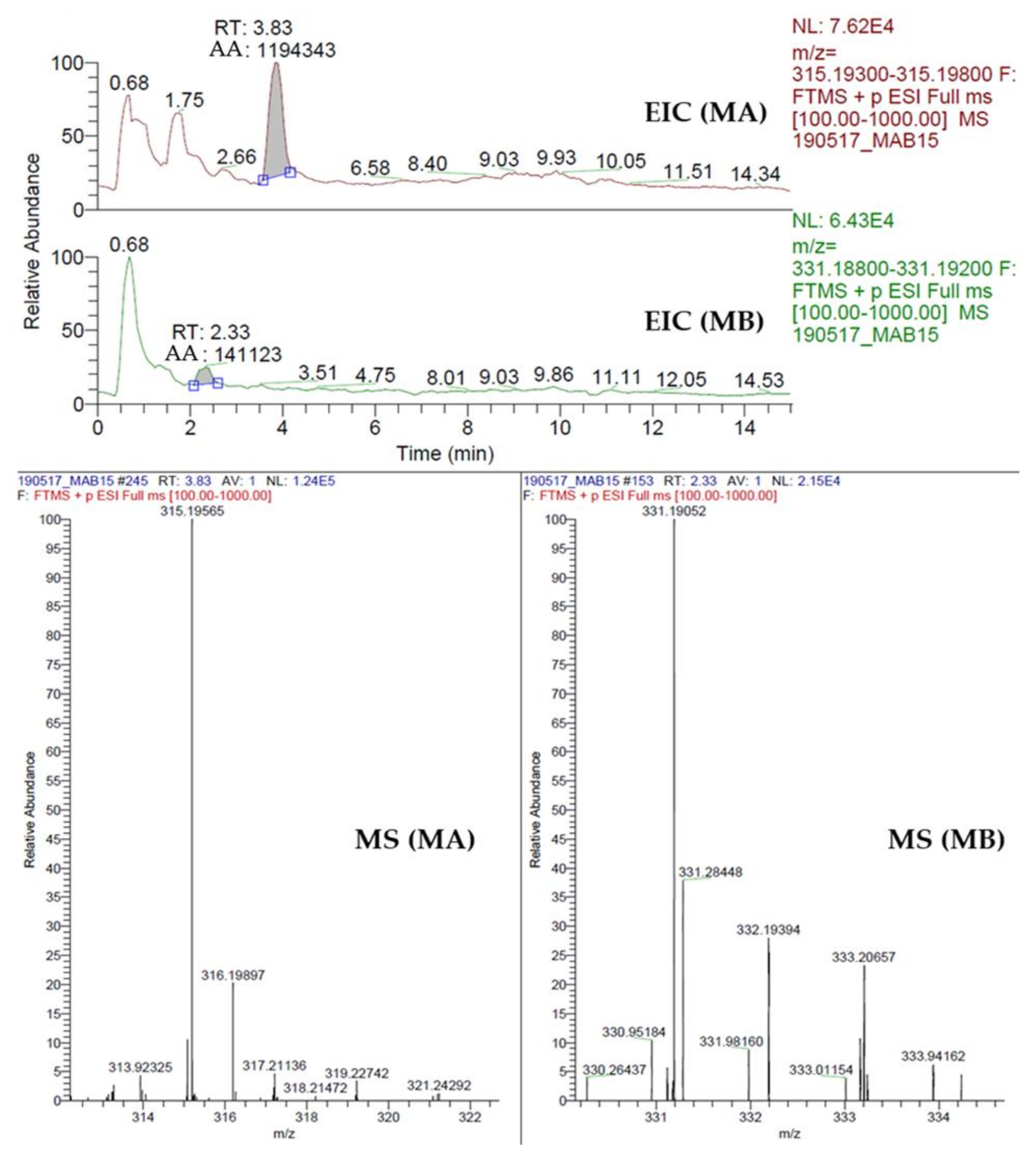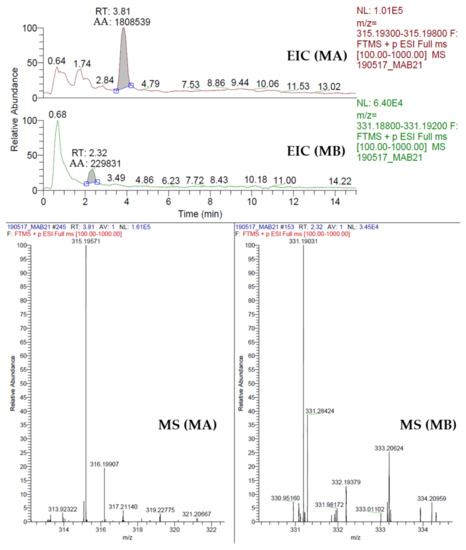 Figure 3. Extracted ion chromatograms (EIC) and mass spectra (MS) of momilactones A and B in the rice straw sample of K2.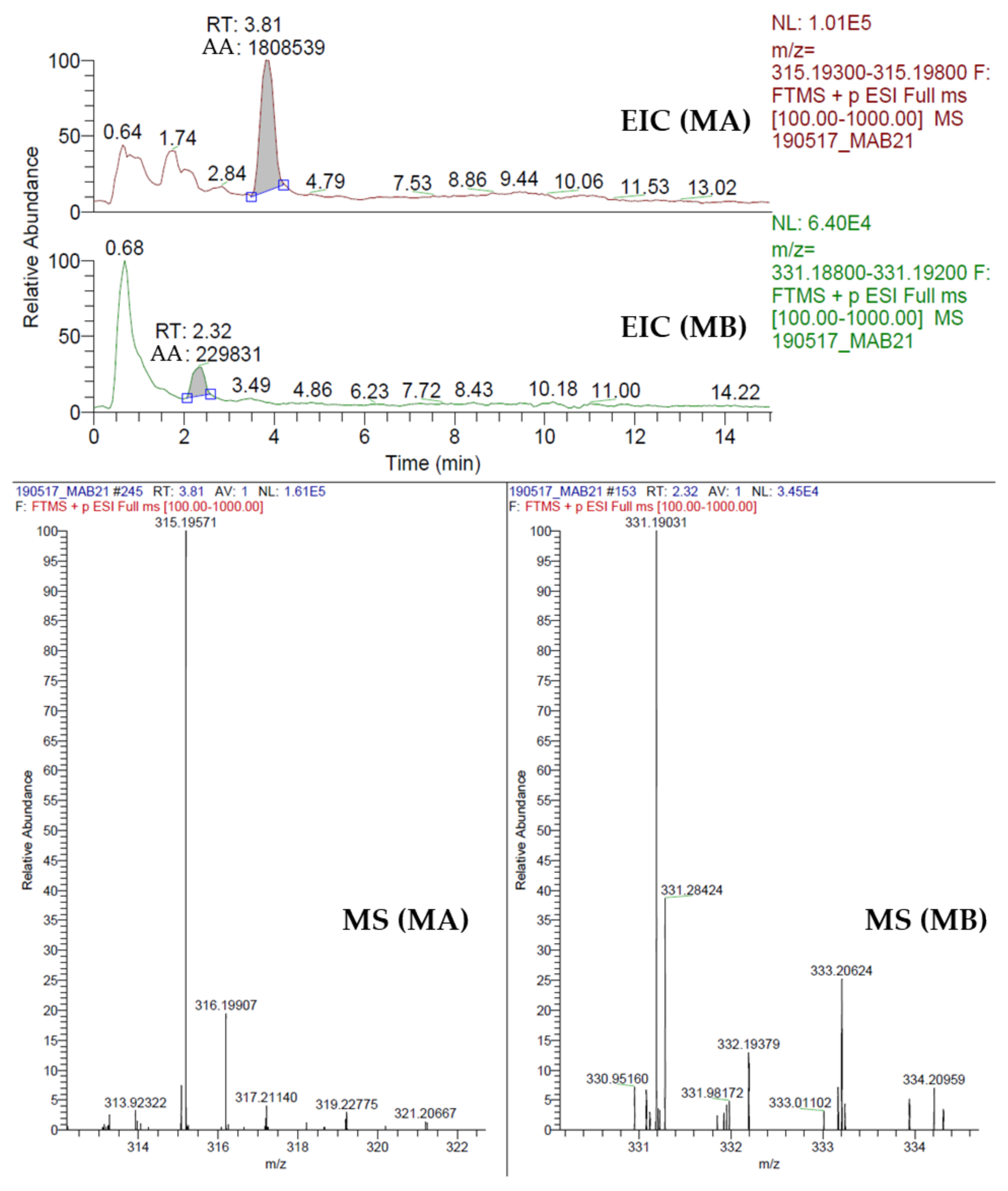 | Code | Origin | Descriptions | Status |
| --- | --- | --- | --- |
| K1 | DT84 | A sticky and traditional rice cultivar in the north of Vietnam with good quality | Cultivar |
| K2 | Mutated DT84 | F2 (self-pollination from the mutated DT84 F1) | Mutant line |
Cultivar and mutant line were Indica subtype and provided by Khai Xuan International Co. Ltd., and Agricultural Genetic Institute, Hanoi, Vietnam.

Table 2. Antioxidant activities, total phenolic and total flavonoid contents of the rice grain, husk, and straw in mutant line and original cultivar.
Samples
IC50 of DPPH (µg/mL)
IC50 of ABTS (µg/mL)
TPC (µg/g)
TFC (µg/g)
K1
Grain
2009.0 ± 181.2 b
766.5 ± 20.6 a
75.8 ± 6.3 d
1.4 ± 0.1 e
Husk
503.4 ± 18.3 d
72.6 ± 6.9 e
462.5 ± 27.0 c
75.9 ± 1.8 c
Straw
2372.7 ± 153.3 a
601.7 ± 27.5 b
893.3 ± 39.5 b
197.2 ± 5.3 b
K2
Grain
1267.1 ± 68.8 c
642.0 ± 10.7 b
80.3 ± 9.9 d
0.8 ± 0.1 e
Husk
972.9 ± 69.7 c
137.6 ± 3.5 d
405.9 ± 3.0 c
54.7 ± 2.1 d
Straw
1247.9 ± 77.4 c
371.8 ± 26.0 c
1156.6 ± 94.7 a
481.6 ± 14.8 a
BHT
28.95 ± 0.8 e
30.63 ± 0.6 f
-
-
Values are illustrated as mean ± standard errors. The similar letters in a column indicated no significant differences at the

p

< 0.05 probability level based on Tukey's multi comparison test. (-) means not measured.

Table 3. The correlation coefficient of grain yield and physicochemical properties with phytochemical contents and momilactones of rice grain.
| | AC | PC | LC | TS | GY | 1/DPPH | 1/ABTS | TPC | TFC | MA |
| --- | --- | --- | --- | --- | --- | --- | --- | --- | --- | --- |
| PC | 0.610 | | | | | | | | | |
| LC | 0.138 | 0.212 | | | | | | | | |
| TS | −0.829 * | −0.772 | −0.549 | | | | | | | |
| GY | −0.958 ** | −0.481 | −0.359 | 0.858 * | | | | | | |
| 1/DPPH | −0.992 *** | −0.549 | −0.122 | 0.798 * | 0.961 ** | | | | | |
| 1/ABTS | −0.970 *** | −0.560 | −0.302 | 0.830 * | 0.972 *** | 0.957 ** | | | | |
| TPC | −0.204 | 0.306 | 0.151 | −0.139 | 0.238 | 0.308 | 0.209 | | | |
| TFC | 0.913 ** | 0.634 | 0.466 | −0.915 ** | −0.949 ** | −0.919 ** | −0.929 ** | −0.259 | | |
| MA | 0.946 ** | 0.478 | 0.371 | −0.832 * | −0.989 *** | −0.958 ** | −0.972 *** | −0.344 | 0.967 ** | |
| MB | 0.921 ** | 0.414 | 0.407 | −0.814 * | −0.987 *** | −0.938 ** | −0.956 ** | −0.360 | 0.954 ** | 0.996 *** |
AC: amylose content; PC: protein content; LC: lipid content; TS: taste score; GY: grain yield; 1/DPPH: 1/1,1-diphenyl-2-picrylhydrazyl; 1/ABTS: 1/2,2′-azino-bis (3-ethylbenzothiazoline-6-sulfonic acid); TPC: total phenolic contents; TFC: total flavonoid contents; MA: momilactone A; MB: momilactone B. *, **, and *** indicated significant differences at

p

< 0.05,

p

< 0.01, and

p

< 0.001, respectively.

© 2019 by the authors. Licensee MDPI, Basel, Switzerland. This article is an open access article distributed under the terms and conditions of the Creative Commons Attribution (CC BY) license (http://creativecommons.org/licenses/by/4.0/).