Open Access This article is
freely available
re-usable
Article
Household Waste Sorting and Engagement in Everyday Life Occupations After Migration—A Scoping Review
1
Swedish Centre for Resource Recovery, University of Borås, SE-501 90 Borås, Sweden
2
Institute of Neuroscience and Physiology, Section for Health and Rehabilitation, The Sahlgrenska Academy, University of Gothenburg, SE-405 30 Gothenburg, Sweden
*
Author to whom correspondence should be addressed.
Received: 15 July 2019 / Accepted: 27 August 2019 / Published: 29 August 2019
Abstract
:
The aim of this scoping review was to gain an overview of the current state of the literature on the engagement in waste sorting post migration from an occupational perspective, in the light of two aspects sustainability efforts currently face: Increased human migration and environmental degradation. Both the resource recovery and occupational science literature were reviewed and analyzed. However, despite the current lack on studies on how migrants' transition into waste sorting schemes at the household level, this scoping review was able to provide a broad picture of the engagement in daily activities that support sustainability, such as household waste sorting. Given the current initiatives to develop efficient resource recovery from waste, such knowledge contributes to efforts to engage households with different cultures and experiences in waste sorting. The results highlight the importance of future research to better understand how people who are new to waste management schemes experience these, and study the way that engagement in waste sorting shifts and transforms. This is because providing such knowledge can contribute to raising awareness of the environmental impact of waste sorting, and inform policies aimed at sustainable waste management.
Keywords:
resource recovery; occupational science; immigration; waste sorting; sustainability
Author Contributions
Conceptualization, C.H.; Methodology, C.H. and G.H.-K.; Validation, C.H., G.H.-K., K.B., and K.R.; Formal analysis, C.H., K.R., G.H.-K., and K.B.; Investigation, C.H.; Data curation, C.H.; Writing—original draft preparation, C.H.; Writing—review and editing, C.H., K.R., G.H.-K., K.B., and K.R.; Supervision, K.R.
Funding
This research was funded by the SCANDIR GROUP.
Conflicts of Interest
The authors declare no conflict of interest.
Appendix A
Ref.
Objectives
Focus and Methodology
Relevant Findings
Miafodzyeva, Brandt and Andersson [24]
To investigate possible determinants of recycling behavior among Järva (Sweden) householders (home to a significant proportion of immigrants from different parts of the world/diverse ethnic minorities)
The recycling behavior of householders living in a multicultural urban area
Quantitative questionnaire and qualitative interviews

Attitude towards the importance of recycling is the main determinant of the recycling behavior among ethnically diverse households.

Environmental concern, satisfaction with the facilities provided, recycling confidence, community identity and socio-demographic factors showed no correlation with the recycling behavior.

Despite a self-reported high level of environmental concern among multicultural respondents, the recycling behavior was not determined by this factor.

Variables such as satisfaction with the facilities provided, personal confidence that collected waste is treated in a good way, community identity and various socio-demographic variables did not determine the recycling behavior of multicultural householders.

Most widespread obstacle to recycling was lack of 'space' (for recycling in the home) and the most widespread motive for participating in recycling was the acceptance of legal norms.

The provision of clear, understandable and easily accessible written information in the language of the ethnic groups, supported by word-of-mouth information, could probably improve participation in the recycling schemes.

Gregson, Crang, Botticello, Calestani and Krzywoszynska [25]
To analyze three sectors "inside the EU's green economy: recycling 'dry recyclables', textiles and ships"
Migrant labor and ship recycling, textile recycling and dry recyclables
Analysis of three sectors

Resource recovery is a new form of "dirty work", located in secondary labor markets and reliant on itinerant and migrant labor, often from accession states.

When waste stays within the EU, labor moves to process it.

The positioning of migrant workers is shown to rely on stereotypical assumptions that create a hierarchy, connecting reputational qualities of labor with the stigma of different dirty jobs.

Bonatti [26]
To address the intersection of gender, race and immigration in urban recycling schemes in the city of Naples, Italy, a growing destination for labor migrants and an area with a long history of waste management crises
Migrant women's environmental work
Ethnography

Shows how precarious immigration and employment statuses push migrant workers to take on burdensome recycling work for their employers.

Despite concerns of street harassment and xenophobia, contributing to neighborhood recycling efforts are also important ways in which migrant women express their commitment to the local community.

Shows how green practices and jobs can become avenues for host society members to express racist beliefs or inclinations, whether it is in the form of personal prejudice or outright harassment against migrant women.

Debunks a lingering prejudice against non-EU migrants' alleged indifference to green matters.

Foreign-born domestic workers' experiences further highlight how a combination of environmentalist ideologies, accessibility of recycling stations and working conditions intersect in allowing them to recycle or not, in safe or exploitative conditions.

Hage, Sandberg, Söderholm and Berglund [27]
To investigate the regional heterogeneity of household plastic waste collection among Swedish municipalities, and how collection rates have been influenced by local waste management policies, geographical conditions and socio-economic conditions
Regional heterogeneity of household recycling of plastic waste
Spatial econometrics

Lesser recycling participation among immigrants (especially newly immigrated) can be a result of unfamiliarity with the law and regulations and language barriers.

Immigrants integrate existing social norms and eventually show more increased recycling than the Swedish citizen on average.

Immigrants are defined as foreigners born outside the Nordic countries.

Distinguished are Tim (total immigrants) and Newim (foreign citizen with 0–4 years in Sweden).

Dijkgraaf and Gradus [28]
To estimate household reactions to the implementation of unit-based pricing for the collection of residential waste in The Netherlands
Cost savings of unit-based pricing of household waste
Cross-sectional analysis

Negative relationship between immigrants and recycling in the Netherlands.

Foreigners are considered in the statistics (Mean 0.04; maximum 0.31; Standard deviation 0.04).

For dependent variable is In (waste), In (Foreigner) was described in "Total" −0.03 (0.01), "Unsorted" −0.00 (0.01), "Compostable" −0.12 (0.02), "Recyclable" −0.02 (0.01).

Foreigners are defined as non-westerners.

Hage and Söderholm [29]
To investigate the main determinants of collection rates of household plastic packaging waste in Swedish municipalities
Regional differences in household waste collection for plastic waste
Regression analysis based on cross-sectional data

The collection rate appears to be positively affected by an increase in the unemployment rate, the share of private houses, and the presence of immigrants (unless newly arrived) in the municipality.

Authors call for more in-depth studies of the household behavior, including qualitative and quantitative studies.

Martin, Williams and Clark [30]
To ascertain whether householders' attitudes to recycling were contributory factors to the generally poor recycling performance and to investigate other social, cultural and structural influences
Social, cultural and structural influences on household recycling in the U.K.
Qualitative and quantitative surveys

Special attention was given to asserting the attitudes towards recycling of the large Asian British population where recycling rates were particularly low.

Asian British attitudes to recycling were found to be no different than those of the wider population, with their low participation being linked to higher priorities imposed on them by economic deprivation.

Suggests that second degree immigrants are less willing to recycle than their parents.

RRF [31]
To explore households' attitudes to waste and the environment, how dealing with waste fitted within their household routines, and what they claimed to recycle in London, UK
Household waste behavior
Quantitative questionnaire and interviews

Ethnic minorities were reported to recycle less and this was represented in the statistics but this was not discussed further.

RRF [32]
To measure how much has changed since the original RRF survey in 2001 in London, UK
Household behavior in 2005
Quantitative survey

The broad socio-demographic pattern remains similar in 2005 as in 2001, with High and Medium recyclers tending to more likely to be White than in a minority ethnic household. The usage of the curbside is also slightly below average for younger and Black households. Asian households are significantly more in favor of incentives than others, which is in keeping with their earlier response when asked what would help them recycle more. White households received more information on recycling than black.

Coggins [33]
To list a number of aspects that impact policy options in regards to the shared responsibility of waste prevention in the UK
The shared responsibility of waste prevention for producers and consumers
n.a.
(communication paper)

Ethnic minorities may be recycling less because of lower affluence but not for any cultural or national attributes.

Hocking and Kroksmark [35]
To illustrate the insights contained in the reports of a UNEP survey of four countries: New Zealand and Sweden, the Philippines and Lebanon, and to suggest how these findings can be applied to individual and community-based interventions to promote more sustainable lifestyles
Sustainable occupational responses to climate change through lifestyle choices
n.a.
(discussion paper)

Described investigations conducted by the United Nations Environment Program, which found that young people's preferred sustainable choice differs between countries.

The survey objectives were to explore how the sustainable respondents' perceptions of daily life, their local environment, and the future are; their responses to various sustainability options (such as community gardens and communally owned cars); and their attitudes towards sustainability.

The survey findings are a valuable resource for occupational therapists who are concerned about global climate change, providing valuable insights into concerns and preferences in relation to sustainability.

It is shown that young adults are concerned about environmental degradation and poverty, but do not clearly perceive the relationship between their actions and the benefits of collective action.

Of the sustainability options presented in the survey, the overall preference was for self-service options (access to a bicycle, urban gardens, composting) rather than options that others controlled (such as on-demand access to a car) or options where neighborhoods or co-ops would share resources (e.g., a shared laundry or car-pooling).

Persson and Erlandsson [36]
To discuss the ethics underlying the occupational repertoire of the post-industrial citizen, giving attention to lifestyle phenomena such as increased tempo and quantity of occupations; manipulation of time, organisms and environments; decreases in sleep, rest and play etc.
Reevaluating post-industrial ethics from an occupational perspective
n.a.
(discussion paper)

The concept of "ecopation" is introduced as an optional choice denoting occupations that are performed with concern for the ecological; and emphasizes the eco-ethical chain of action and participation which is built on reverence – responsibility – simplicity – multiplicity – eco- justice.

The questions raised in this paper may be important for occupational scientists to more fully understand the implicit guidelines of contemporary and future occupation and for occupational therapists taking an active part in future healthcare.

Need to question how we chose to engage in occupations and pattern our lives.

Eco-ethical occupations regarding the environment include the possibility for recycling.

Humans can engage in occupations in an eco-ethical way.

Problematic is the current need for humans to compete with machine performances.

Wagman [37]
To explore and describe what has recently been written about how occupational therapy/ therapists/science can contribute to ecological sustainability and the prevention of more severe climate change
Occupational contributions to ecological sustainability
Literature review

Fourteen items published between 2008 and 2013 were included.

Ways to contribute include adapting occupations to become more ecologically sustainable.

Adaptations and strategies for doing preferred occupations in other ways or for different reasons are familiar within occupational therapy, and are also appropriate in relation to climate change and ecological sustainability.

Exploring was also identified as a way to contribute: Ways to do this practically include the questions ("who", "what", "when", "where", "how", and "why") when studying occupations.

Contribution through warning was another topic identified in the results: Showing the occupational consequences of ecological disasters is important.

Algado and Townsend [38]
To propose a new narrative for humanity by connecting ecology with broad ideas about occupation and occupational justice
Eco-social occupational therapy
n.a. (research paper)

The authors reflect on the literature and action projects on ecology, occupation, and occupational justice.

Doing ecology is essentially occupational, and necessarily a matter of occupational justice given the strong link between poverty and the degradation of the natural environment.

The potential to expand eco-social occupational therapy lies in publicly embracing ecological challenges, focusing practices on changing the environment, and attracting partners to find new funding for enabling people everywhere to participate in ecological sustainability through occupation.

Dialogues and action in doing ecology and justice should be sparked through occupations.

Aoyama, Hudson and Hoover [39]
To argue that the concept of ''occupation'' is a crucial addition to understanding connective relations between the ecosystem and human well-being, and to propose that human well-being, human activity, and ecosystem services are mediated by occupational performance
Occupations mediating the ecosystem with human well-being
n.a. (opinion piece)

Occupation is seen to be the missing link in theorizing the relationship between the ecosystem and human well-being and occupational science is promoted as having the potential to generate new understandings of ways to change humans' occupations to benefit the earth's ecology.

Viewing human activity as an occupation is an important addition to analyzing the relationships between ecosystem services and the human well-being.

The concept of occupation may also help in behavioral interventions in climate change mitigation and adaptation.

People are more likely to voluntarily change their daily activities into more sustainable forms if those changes also support their occupational needs.

Capon [40]
To address human occupations as Determinants of health and to link the perspectives on people, places and the planet
Occupation, population health and linking the perspectives of people, places and the planet
n.a. (lecture)

It is important to consider demography when discussing sustainability (reg. occupations).

Human occupations of each domain have potentially profound implications for health and the planetary systems.

Low-carbon lifestyles are health beneficial and those benefits should be used to engage people in lifestyle changes that benefit people and the environment.

do Rozario [41]
To examine the major paradigms of thinking that have created human and environmental crises
Shifting paradigms of the transpersonal dimensions of ecology and occupation
n.a. (research paper)

Proposes a holographic paradigm and a Transpersonal Ecology of Living as a way of thinking and action which can be supportive and nurturing of all of nature.

Additionally asks the question of occupational science to examine the paradigms and assumptions that steer its development and whether these beliefs are congruent with the ecological sustainability of life.

Paradigms and worldviews describe as well as shape and create the course of human action which leave occupational science in a position in which it cannot escape the process but must develop the science accordingly.

Occupational science appears to be neutral, open, and inclusive of many different methodologies but this openness can also be viewed as naive when in considering the philosophical and metaphysical issues that underpin any investigation into the nature of reality.

Questions to be asked include: Should occupation be separated from the individual and collective consciousness in which they enfold? Should only the explicate order of life be investigated and the implicate foundation to the rigor of quantum physics or the relativism of the interpretative method be left? Which community of scholars should be chosen to create the rules and directions for research and action?

Ikiugu [42]
To describe a conceptual framework that includes the enhancement of people's awareness of their occupational impact on issues such as climate, and to develop measurements for occupational adjustment
Possible contributions of occupational scientists to the solution of prevailing global problems
n.a. (book)

Described a conceptual framework including the enhancement of people's awareness of their occupational impact on issues such as climate.

Measurements for making people adapt their occupation in another direction were developed.

Occupational knowledge is useful for exploring the rationale behind people's occupational choices when discussing climate change together with other occupational injustice issues because this "could help us guide them so that they can find other ways of obtaining the same benefits" (p 97).

People need to have experience of the change themselves before working on adaptations with clients.

Ikiugu and McCollister [43]
To investigate the effectiveness of the Modified Instrumentalism in Occupational Therapy (MIOT) in facilitating change in occupational choices and performance patterns to help address global issues of concern to humanity
Occupation-based framework changing human occupational behavior to address critical global issues
Mixed method multiple case phenomenology

Indicates that participants' occupational choices and participation patterns changed after intervention using MIOT resulting in more frequent engagement in occupations that were likely to impact global issues positively.

Measurements for making people adapt their occupation in another direction were developed and investigated.

"It could even be argued that most of the problems that trouble humanity are at some level a result of human occupational choices and performance patterns. This means that a professional/scientific discipline that understands human occupation is in a unique position to contribute meaningfully to the resolution of major global issues." (p. 405).

Ikiugu, Westerfield, Lien, Theisen, Cerny and Nissen [44]
To examine the effectiveness of the Modified Instrumentalism in Occupational Therapy model as a framework for facilitating occupational behavior change to address climate change and related issues
Empowering people to change their occupational behavior to address critical global issues
Two- and three-standard deviation band analysis and heuristic phenomenology

A shift in awareness as illustrated by a change in the locus of control as seen when participants' feelings shifted from frustration and helplessness to empowerment and a desire for occupation-based solutions to global issues.

Occupation-based interventions that increase personal awareness of the connection between occupational performance and global issues could empower people to be agents for action to ameliorate the issues.

Findings indicate that the MIOT model could be a good intervention guide to help individuals and groups think about their personal contribution to global issues.

MIOT-based interventions can be used to help individuals improve awareness about global issues and change the OP to address the issues.

Persson and Erlandsson [45]
To examine the current perspective of sustainability and to explore its relation to occupation, and to introduce an elaborated version of the concept of 'ecopation'
Connecting sustainability, glocalization and well-being through the concept of ecopation
n.a.
(discussion paper)

The concept of glocalisation is introduced as a means by which to capture the interconnectedness of personal, local and global perspectives.

A core proposition in the article is that doing, if guided by ecopation, could start promoting well-being on individual and population levels if it takes into account the personal as well as the local and global contexts.

Current planetary economic and ecological crises and the increasing call for humane global solutions are discussed in relation to how ecopation and a deepened knowledge of the human as an occupational being, might contribute to such solutions.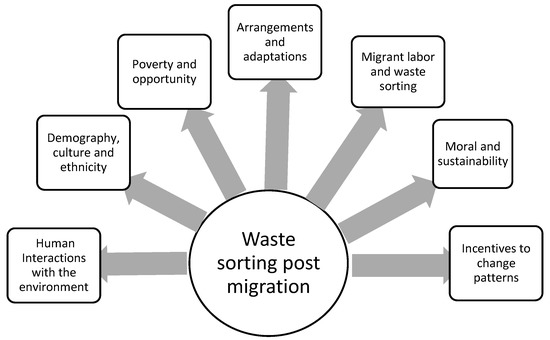 Figure 2. Thematic groups encompassing sustainable occupational engagement and waste sorting post migration.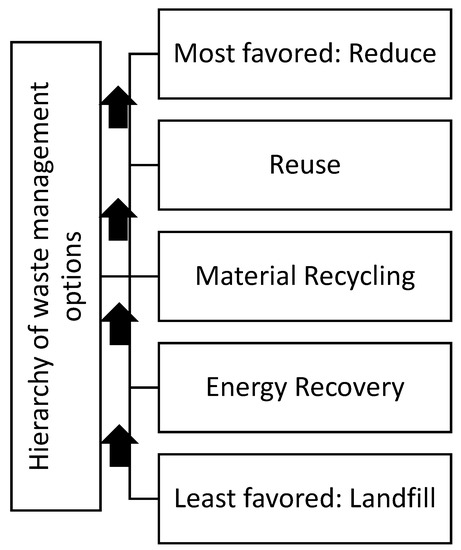 Figure 3.
Waste hierarchy model adapted from Rousta [
9
].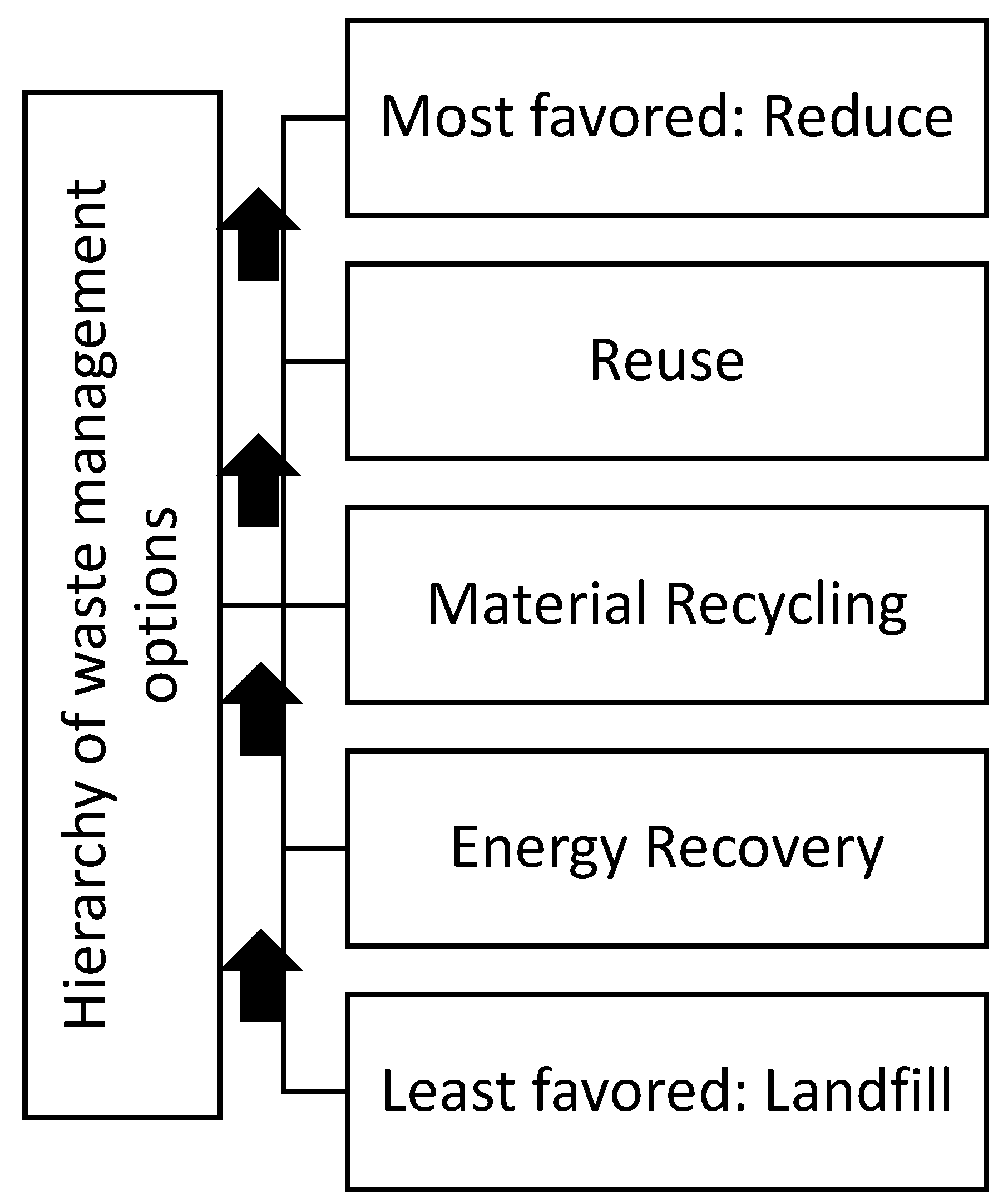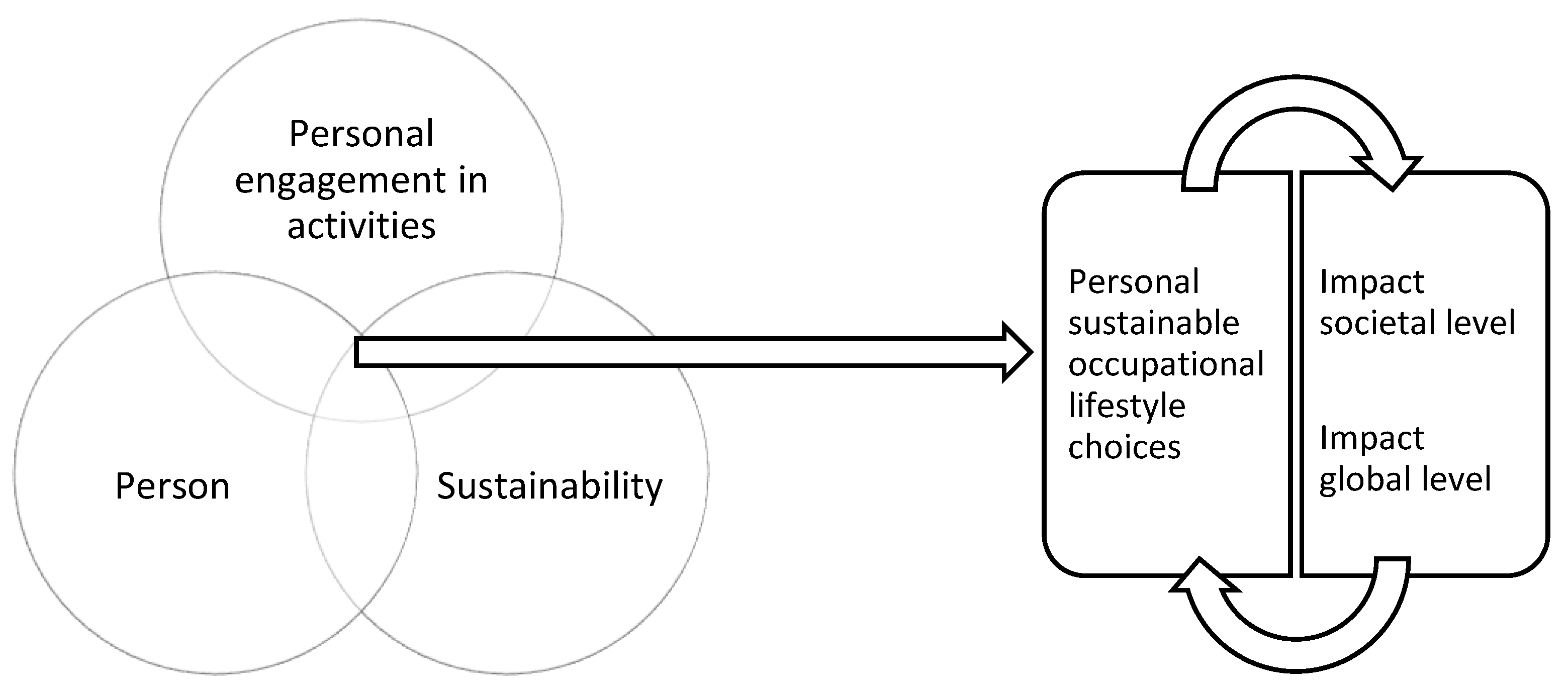 © 2019 by the authors. Licensee MDPI, Basel, Switzerland. This article is an open access article distributed under the terms and conditions of the Creative Commons Attribution (CC BY) license (http://creativecommons.org/licenses/by/4.0/).