Does Fallowing Cultivated Land Threaten Food Security? Empirical Evidence from Chinese Pilot Provinces
1
School of Geographical Sciences, Southwest University, Chongqing 400715, China
2
Division of Geography and Tourism, Department of Earth and Environmental Sciences, KU Leuven, 3001 Leuven, Belgium
*
Author to whom correspondence should be addressed.
Sustainability 2019, 11(10), 2836; https://doi.org/10.3390/su11102836 (registering DOI)
Received: 11 April 2019 / Revised: 13 May 2019 / Accepted: 15 May 2019 / Published: 18 May 2019
Abstract
Facing worsening problems, including the decreasing amount, quality, and deterioration of land ecosystems, cultivated land needs protective measures. China has been conducting an experimental fallow policy to deter these problems in five pilot provinces since 2016. However, inadequate and inconclusive studies of the impacts of fallow policy on food security have motivated the authors to fill this knowledge gap and to provide evidence for policy-making. Using the modified cultivated land pressure model, this study explores the cultivated land pressure at three scales (nation, province, and prefecture) to determine the capacity of feeding people using cultivated land, and examines the impact of fallowing cultivated land. There are three main findings. First, the cultivated land pressure in China continually decreased during the period of 2000–2016, and would remain in a decreasing trend during 2017–2020 even if the measures implemented doubled the fallowing scale every year. Second, the spatial patterns of the cultivated land pressure between the provincial and prefectural scale show a similar overview, with some nuanced disparities. Finally, the five pilot provinces show various amplitudes of variation in cultivated land pressure, ranging from 0.017% to 9.027% under three fallow scale scenarios. Thus, the results of this research support the argument that fallow policy will not threaten food security at a national and provincial scale, based on the current fallow scale and enlargement pace. The deeper understanding of the impact of fallow policy provides a scientific reference for policymaking and calls for further studies focusing on a more comprehensive measurement of cultivated land pressure and optimization fallow scale.
View Full-Text
►

▼

Figures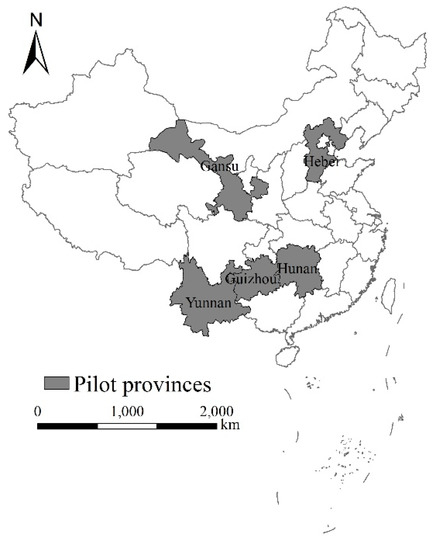 Figure 1
This is an open access article distributed under the
Creative Commons Attribution License
which permits unrestricted use, distribution, and reproduction in any medium, provided the original work is properly cited (CC BY 4.0).
Share & Cite This Article
MDPI and ACS Style
Yang, Q.; Yang, R.; Wang, Y.; Shi, K. Does Fallowing Cultivated Land Threaten Food Security? Empirical Evidence from Chinese Pilot Provinces. Sustainability 2019, 11, 2836.
Note that from the first issue of 2016, MDPI journals use article numbers instead of page numbers. See further details here.
Related Articles
Comments
[Return to top]