Open Access This article is
freely available
re-usable
Article
Applying the SDGs to Cities: Business as Usual or a New Dawn?
1
International Institute for Industrial Environmental Economics, Lund University, P.O. Box 196, 22100 Lund, Sweden
2
Environment Department, City of Malmö, 20580 Malmö, Sweden
3
Department of Geography, University of Manchester; Oxford Rd, Manchester M13 9PL, UK
*
Author to whom correspondence should be addressed.
Received: 28 June 2018 / Accepted: 5 September 2018 / Published: 7 September 2018
Abstract
:
With growing urbanisation the sustainability of cities has become increasingly important. Although cities have been using indicators for a long time it is only in the last decades that attempts have been made to collate indicators into sets that reflect the many different aspects required to assess the sustainability of a city. The aim of this paper is to review the evolution of indicators for monitoring sustainable urban development in order to understand how 'new' the indicators suggested by the UN Sustainable Development Goals (SDGs) are for cities and the challenges they may face in using them. The review reveals that previous indicator sets emphasised environmental sustainability, health and economic growth. It is also shown that indicator sets that pre-date the SDGs lacked dimensions such as gender equality and reduced inequalities. In all, the SDG indicators provide the possibility of a more balanced and integrated approach to urban sustainability monitoring. At the same time, further research is needed to understand how to adapt the SDGs, targets and indicators to specific urban contexts. Challenges of local application include their large number, their generic characteristics and the need to complement them with specific indicators that are more relevant at the city level.
Keywords:
sustainable development goals; urban sustainable development; indicators; evolution of sustainability assessment
Author Contributions
Conceptualization, R.Z. and L.N.; Methodology, R.Z. and L.N.; Validation, R.Z., J.E. and L.N.; Formal Analysis, R.Z., J.E. and L.N.; Investigation, R.Z.; Data Curation, R.Z.; Writing-Original Draft Preparation, R.Z., L.N. and J.E.; Writing-Review & Editing, R.Z., J.E. and L.N.; Visualization, R.Z.; Supervision, L.N. and J.E.
Funding
This paper is the result of two projects run in cooperation between the Environment Department of the city of Malmö and the International Institute for Industrial Environmental Economics at Lund University: the project NärKom, funded by the Swedish Research Council for Environment, Agricultural Sciences and Spatial Planning, the objective of which is to increase hands-on cooperation between municipalities and academia; and the project Malmö Innovation Arena funded by ERDF, which is a city development project that aims to create innovation that can rapidly, sustainably and cost efficiently boost the implementation of sustainable housing and sustainable city districts. It has also been informed by experiences coordinating the monitoring and assessment of smart solutions for urban sustainability across Manchester, Eindhoven and Stavanger in the Horizon 2020 funded Smart Cities and Communities project, Triangulum (European Union Grant No. 646578, 2014).
Conflicts of Interest
The main author has worked within local government for a long time, resulting in large amounts of tacit knowledge. The research hypothesis, but not the discussion or results, of this paper has been influenced by the current situation and interests in the municipal administration. The funders had no role in the design of the study, in the collection, analyses, or interpretation of data, in the writing of the manuscript, or in the decision to publish the results.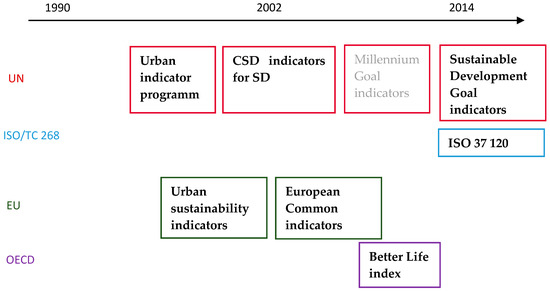 Figure 1. Chronological development of selected indicator sets by international organisations since the 1990s included in this study. The Millennium Development Goals are marked in grey as they do not make a claim to cover sustainability; however, they are an important link to the development of the Sustainable Development Goals.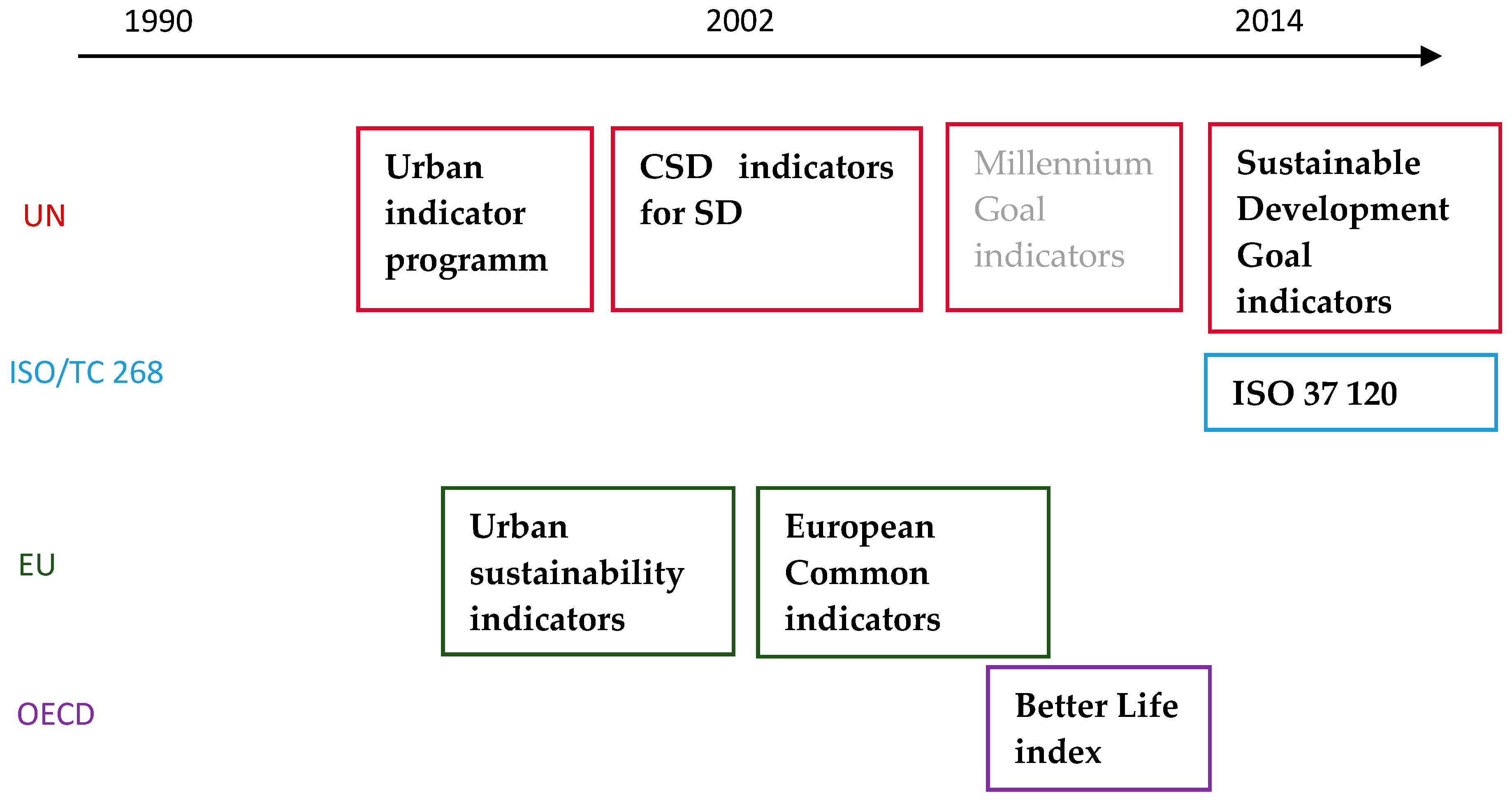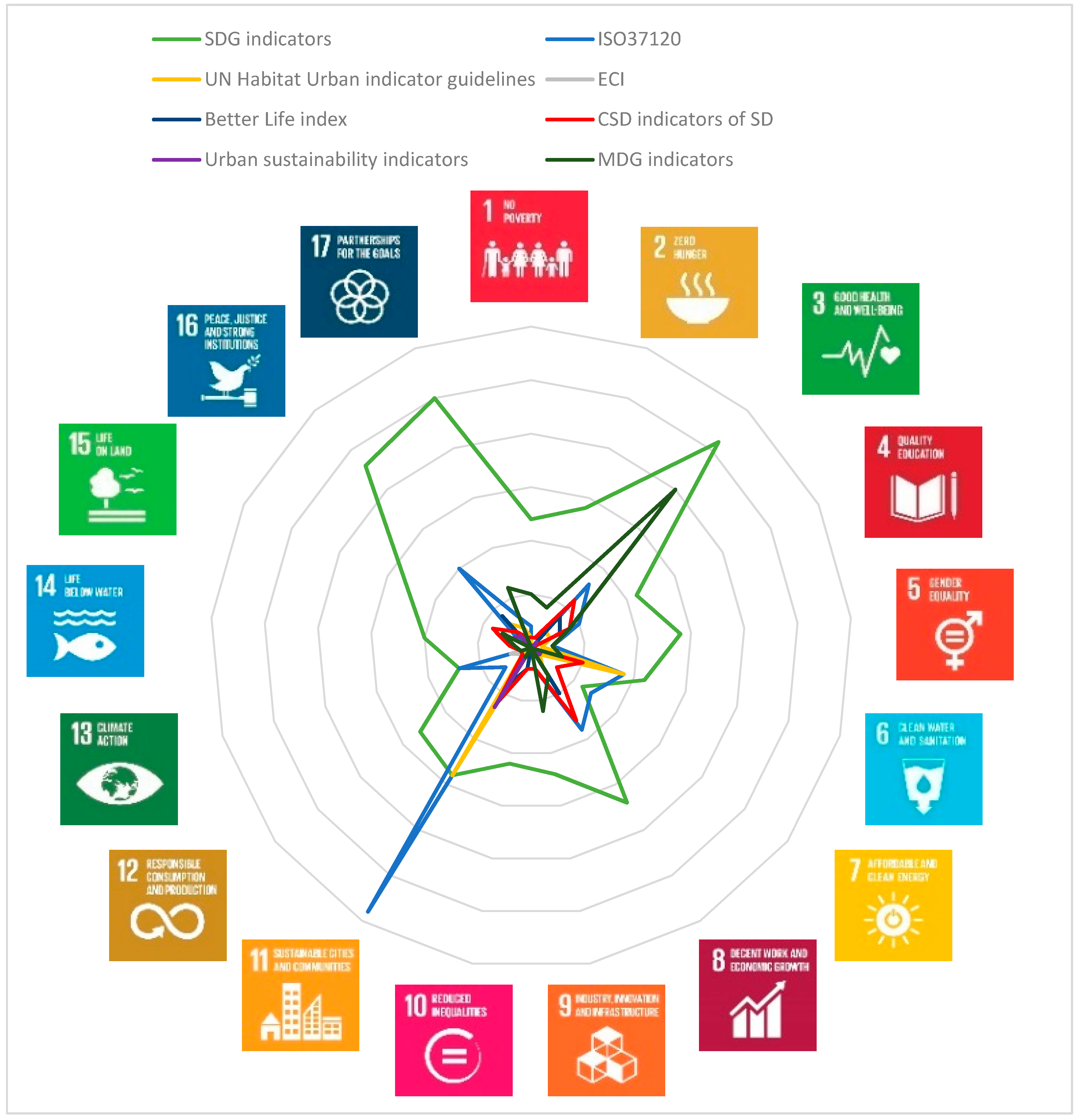 Use-Phase
Launch
Adjustments
Use Frequency
Urban Aspect
UN Habitats Urban indicator programme [78]
1996–date
1993
1996
2001
Different versions are used by 200+ cities
Strong urban focus
Commission for Sustainable Development's Sustainable Development indicators [79]
1995–ca. 2008
1995
2001
2005
No information on use in cities
Primarily focusing on national level reporting on sustainable development. Several aspects that are relevant at local level
EU's Urban sustainability indicators [80]
1998–ca. 2002
1998
No information on use in cities
Strong urban focus
European Common Indicators [81]
2000–2004
2000
Tested by 42 cities
Strong urban focus
OECD's Better Life Index [82]
2011–date
2011
frequent
Frequent reporting on national level
Focus on citizens' quality of life from a mainly national perspective; some urban aspect are included
ISO 37 120 indicators (Sustainable development of communities) [83]
2014–date
2014
30 cities have reported at least some indicators
Strong urban focus
Sustainable Development Goals indicators [84]
2015
2015
No information on use in cities yet
Sustainable development on all levels in all regards

Table 2. Positive and negative effects of each identified challenge regarding the implementation of SDGs at local level.
| Identified Challenges | Negative | Positive |
| --- | --- | --- |
| Access to reliable data | Difficult to gather data of sufficient quality for all indicators | More chance of being able to collect data for some indicators and opportunity to engage wider range of stakeholders |
| Policy relevance and political prioritisation | Risk that groups of indicators are ignored if defined as non-applicable for political reasons | Possibility to choose indicators that are policy-relevant at local level |
| Capturing the complexity of the urban system | Despite the large number of indicators, interrelationships, interdependencies and synergies are not highlighted or considered | The higher the number of indicators the higher the likelihood of being able to capture complexity |
| Covering out of boundary challenges and externalities | Difficult for cities to generate data covering these elements. | The higher the number of indicators the greater the likelihood of covering out of boundary challenges and externalities. |
| Acting in a multilevel and multi-actor governance system | A number of indicators are targeting levels other than the urban level | Possibility of capturing issues that influence the urban level but are dealt with at other levels |
| Availability of capacity and skills | The higher the number of indicators, the higher the need for skills in more areas of expertise and the higher the need for capacity | Involving other competences and other actors will result in better cooperation and increased capacity across sectors |
| Indicators That Appear Most Frequently | Frequency of Use (n = 7 Indicator Sets) |
| --- | --- |
| Education amongst children and young people | 6 |
| Air quality (particulate matter) | 6 |
| Victims of homicide | 5 |
| (Un)employment rate | 5 |
| Access to sanitation | 4 |
| Under 5 mortality rate | 4 |
| Safely managed drinking water | 4 |
| Greenhouse gas emissions | 4 |
| Access to electricity and use per capita | 4 |
| Hazardous waste generated and treated | 4 |
| Voter participation in elections | 4 |
* Urban indicator programme, CSD indicator for sustainable development, ISO 37 120, Urban sustainability indicators, European Common indicators, Better Life index, SDG indicators.

© 2018 by the authors. Licensee MDPI, Basel, Switzerland. This article is an open access article distributed under the terms and conditions of the Creative Commons Attribution (CC BY) license (http://creativecommons.org/licenses/by/4.0/).