Open Access This article is
freely available
re-usable
Article
Information Technology in Healthcare: HHC-MOTES, a Novel Set of Metrics to Analyse IT Sustainability in Different Areas
1
Department of Economics, DIEC, University of Genoa, 16126 Genoa, Italy
2
Institute of Management, Sant'Anna, University of Pisa, 56127 Pisa, Italy
Received: 28 June 2018 / Accepted: 30 July 2018 / Published: 2 August 2018
Abstract
:
Sustainability, as a science, is the guideline of the present work. It aims to analyse, by means of a literature review, various areas of healthcare in which information technology (IT) has been- or could be-used, leading to several sources of sustainability, for example, cost savings, better teamwork, higher quality and efficiency of medical care. After a brief introduction analysing the strategic contexts in which innovation in general, and IT in particular, can be a source of general improvements in efficiency, cost savings and service quality, the research focuses on the healthcare system by discussing the different nature of private and public organizations in terms of adopting innovations and changes and discussing the issue of consumer health costs and consumer choices. The following part focuses on the qualitative benefits of IT in healthcare and discusses the importance of metrics for measuring performance, costs and efficiency in this area. The work then qualitatively introduces a new set of Key Performance Indicators (KPI), partly based on literature from different topics and existing and validated sets of metrics, analysing, under the point of view of sustainability, the implementation of IT in healthcare, namely in management, organization, technology, environment and social fields (HHC-MOTES framework). The model, inspired by and to sustainability, can be used as a decision support at the strategic management level as well as for the analysis and investigation of the effects of IT systems in the healthcare sector from various perspectives.
Keywords:
information technology; healthcare; measurement; efficiency; performance; managerial perspective; key performance indicators; decision support; HHC-MOTES framework
1. Introduction
Sustainability in different fields-namely: managerial, organizational, technological, environmental and social—is the guideline of this research, which concerns the impact, on these areas, of the adoption of IT in healthcare and presents a new set of metrics for the evaluation of this specific issue.
In particular, this work is based on a trans-disciplinary literature and perspectives, which mainly cover the topics of:
new technologies (specifically IT) for healthcare sustainability, from different perspectives

qualitative measures of sustainability for healthcare organizations, related to the introduction of IT (the novel HCC-MOTES framework)

systems management for sustainability in healthcare organizations, in relation to the different but interconnected areas, affected by the introduction of IT.
The framework also aims to provide a decision support tool for health management, with a particular focus on IT in this specific area.
In both public and private companies, there is a constant need for ongoing assessments of core activities and processes in order to better monitor policy progress and learn from past challenges, problems, mistakes and experiences. More and more institutions are examining how information systems can help them achieve their desired goals.
Organizations that need to consider whether or not to adopt a particular innovative technology, need to rely on a cost-benefit analysis [
1
,
2
,
3
], especially when a radical redesign of the process is needed. The analysis has, obviously, to take into account economical endogenous aspects, like financial ones, but, in a wider vision of sustainability, also other aspects have to be considered, like, for example, social, ethical, technological and environmental ones [
4
,
5
,
6
].
Innovation is defined [
7
] as the creation of something that does not yet exist, for the use of new products, for more efficient processes [
8
], new services or ideas and is therefore associated with change [
9
]. Innovation is considered one of the most important elements for any organization, whether public or entrepreneurial, with the objective of competitive advantage [
10
]. When dealing with a particular critical situation arising from external or internal elements of an organization, a powerful way to deal with it is to drive and promote the change [
11
].
The use of performance measurement parameters is essential to evaluate activities and to determine the most efficient actions required to achieve the desired goals [
12
,
13
,
14
,
15
].
In [
16
,
17
] it is possible to find evidence of how innovation is often linked to the concepts of sustainability, economically, ecologically and socially. In dealing with public organizations, as is often the case with health systems, sustainable development requires the promotion of revolutionary technological innovations through environmental, health, safety, economic and labour market regulation [
18
].
There are various sources from which innovations can emerge, some from individual creative efforts such as inventions, others from users of certain technologies looking for solutions that better meet their needs [
19
]. Some sources of innovation may be internal or external to the organization, depending on whether activities are organized by internal research and development (R&D) departments, external sources such as universities or liaison offices, set up specifically to promote the transfer of innovative applications to markets [
20
,
21
].
Information technology (IT) is described as the collection, processing and storage of data by a computer-based product [
22
], while Information and Communication Technology (ICT) is a term that adds a third dimension to IT, by integrating telecommunications along with computers and data management software, to enable users to store, manipulate and transfer information from one point to another [
23
,
24
,
25
]. Both IT and ICT are often regarded as innovative when applied to businesses and organizations [
26
,
27
], since they tend to deeply change the way in which resources work, enterprises compete and since they usually require some sort of process reengineering [
28
,
29
]. IT has been linked with the concept of sustainability (whether ecological, ecological or financial) within organizations, in for example, [
30
,
31
,
32
,
33
] and the concept is in constant development and of great scientific interest [
34
].
One of the most compelling challenges to managers and business administrators is to dispose of valid tools to efficiently manage resources, coordinate services, share/exchange ideas, knowledge and know-how across an organization, or within interconnected institutions, in order to properly respond to social needs [
35
,
36
]. IT systems are seen as particularly useful for administrators to understand the millions of pieces of information that companies collect every day to manage operations [
23
].
However, IT usage assessments in business practice force companies to rethink working methods and procedures, sometimes by thoroughly reviewing activities and processes that appear outdated and are no longer sufficient to meet future expectations [
29
]. These changes, which require a radical change in working habits, bear the name Business Process Redesign (BPR). Examples of the reorganization of business processes are the radical revalidation of decision-making roles [
37
] and of management board [
38
], the acquisition and dismissing of business functions [
39
] and the adoption of new working methodologies [
40
].
The purpose of this research is twofold. On the one hand, it is a question of analysing the state of the art for IT introduction in the healthcare system [
41
] with special attention to the stakeholders involved and the benefits for them in the broader sense of sustainability. In particular, social sustainability is a very important issue for healthcare and the social benefits can be assessed by analysing the impact of the organization on stakeholders at local, national and global levels [
42
,
43
]. Issues related to health care costs for consumers are also compelling, along with the topic of consumers' choices and behaviour [
44
], especially for developing countries, where IT applications can help solve many problems directly related to reducing treatment costs (information and data costs) [
45
].
On the other hand, this paper presents a novel set of metrics and KPIs, the HHC-MOTES framework, which is intended for the qualitative and possibly quantitative measurement of the various aspects related to sustainability, in the broader sense, of IT applications in healthcare. While some of these KPIs are derived from existing literature and validated sets [
46
,
47
], the novel framework presented in this work was conceived as comprehensively as possible, in relation to this specific field. However, with some adjustments, it could also be applied to other areas and situations, where IT can be seen as a source of innovation, efficiency and sustainability.
The main objective of the presented framework is to bring together literature from very different areas and bridge it into a model that describes most areas in which the sustainability and efficiency of an IT system can be evaluated in the context of health care.
The model can primarily be used as a decision support tool at the strategic management level, by helping to select and develop several performance indicators in different areas, according to specific strategic objectives, inspired by and to sustainability. In healthcare, it is not enough to take financial aspects and customer satisfaction into account. It is also important to assess the social aspects, which are becoming increasingly important, especially—but not only-in developing countries (access to medicines, costs to consumers), the environmental aspects and those related to the internal organization and efficiency of hospital facilities. When evaluating IT results, two categories can be distinguished: a short-term cost-benefit assessment, which is often used for individual projects and a long-term assessment, which is more complex because it covers both the IT application and the department (or organization) as a whole. The HCC-MOTES framework aims, in particular, at the second category, by partially evaluating the specific cost-benefit assessment of the information system itself but rather concentrates on its impact on the organization (endogenous), stakeholders (endogenous/exogenous) and the environment (exogenous).
Since quantitative testing of the framework has not yet been carried out, the implications are largely theoretical but the model can already provide guidance for healthcare policy makers and stakeholders, for example, in the selection of the right information systems and/or in improving existing systems and/or in the search for limits or competitive advantages and/or in the selection of areas to be prioritized.
2. Healthcare System Overview and Performance Indicators
Health systems in different EU countries reflect a variety of heterogeneous approaches, each with its own particularities. EU countries are focusing their strategies on innovations in the health process, which are seen as essential for improving results. The aim is to respond to the recession by seeking more efficient solutions for affordable and sustainable healthcare and to potentially direct the markets towards the creation of new services for the treatment of needy patients.
Indicators can be used to measure the degree to which objectives have been achieved, changes happen and effects are obtained, as they provide quantified information, useful in supporting decision-making processes. The ability to compare data on strategies and performance of different healthcare facilities at a regional, national and international level is recognized as an essential element in identifying weaknesses and threats to the internal system and defines the most appropriate strategies to improve outcomes.
In this model, various macro-dimensions of KPIs were identified, taking into account: population health status, social and health evaluations, external and internal assessments, as well as operational efficiency and financial and economical assessments.
It is worth noting that the benefits tend to increase as the KPIs currently adopted by some Italian regions such as Tuscany, Liguria, Piedmont, Umbria, Val d'Aosta, Marche and Basilicata should be disseminated at a national or, better, at an international level, in order to achieve common methods and parameters for evaluating performance and to enable benchmarking.
3. IT in Healthcare: Network Infrastructure Benefits, Interrelations between Providers and Costs for the Consumers
Being able to access patients' summary files helps hospitals reduce costs and increase efficiency, as it prevents physicians or specialists from duplicating diagnostic examinations recently performed by patients. Moreover, it allows healthcare providers to access in real time the medical records of the various health departments, enabling automatic transmission of urgent clinical information across the health network at national level, for diagnostic results or medical treatment practices ordered by physicians and GPs, or for sending digitized images from radiological units via RIS/PACS applications. In addition, it enables the patient to be seen adequately by the specialist and to transfer the results and referrals immediately to the family doctor for an adequate therapeutic disposition.
The savings from EMRs are not only related to paper costs, or to the time spent by medical staff in filing and searching for folders but also cover the cost of large storage space required to store patient medical record printouts over time. Further benefits arising from the use of computer-based information applications in hospital facilities include the alert feature, which enables various health departments to access new guidelines and procedures cost-effectively, as well as providing the feedback to doctors and specialists on the quality of the services they deliver, which can be compared with national and international performance indicators in order to measure the degree of competitiveness of the internal system.
Storing patients' medical information in electronic databases can also be very useful for hospitals and local health centres to reduce medical errors by preventing doctors from administering erroneous drugs, medications or therapies to users. Computerized Providers Order Entry (CPOE), which is a part of EMR, enables the sharing of large amounts of data to be accessed by different providers, accelerating treatment processes while improving medical services to better meet individual needs. It is obvious that the reduction in the number of malpractice generates different positive returns, not only in terms of quality, or of users' perceived service but also in terms of reduced health expenditure, as demonstrated by the Freeman Hospital case.
4. A Novel Set of Metrics for IT Sustainability in Healthcare—The HHC-MOTES Framework
As briefly discussed in the previous section, it is evident that IT usage in healthcare can bring positive results as to efficiency, financial sustainability and, more important, can bring social benefits in the form of increased quality of services and users' satisfaction, not to mention lower general costs for healthcare consumers. While quantitative metrics are beyond the purpose of the present work, they could be implemented in the model in a later stage of development. The fusion and partial integration of different sets of indicators are discussed in the following, in order to present a novel and possibly exhaustive set of KPIs to evaluate the sustainable development of IT projects specifically applied to healthcare. Performance measures usually focus on the extent to which something has been achieved, through the use of quantitative data only but not on how this is achieved or pursued. This may sometimes prove problematic or even non-exhaustive, as quantitative efficiency does not take quality into account. The framework theoretically proposed in the following can incorporate both qualitative and quantitative measures.
First, sustainability within healthcare system (HHC) is here considered for 5 main dimensions, namely the managerial/organizational, technological, environmental and social ones (MOTES). While these areas are analysed separately, they are intrinsically interconnected and an improvement in the efficiency of a specific area could, at times, influence other contexts. In general, these areas influence global parameters of the healthcare system, such as the costs of the service, its quality but also a better experience for the stakeholders (whether they are customers or employees of the healthcare structure) and environmental variables.
For the managerial/organizational KPIs, two areas are mainly influenced by the introduction of IT within organizations [
100
]. Those are the overall efficiency of organization, improved thanks to information efficiencies and information synergies [
101
] and financial performance, negatively impacted due to initial costs for IT implementation (and, in case, process reengineering due to change in procedures) and, later, potentially positively impacted by savings and improvements in overall efficiency [
89
,
102
].
As for the technological dimension, sustainability performance can be analysed against a set of quality attributes [
103
,
104
], some of which are based on Jakob Nielsen's set [
47
], under three points of view—namely Development-Related, Usage-Related and Process-Related Properties.
As far as social KPIs are taken into account, those are partially derived from the already mentioned research of Sant'Anna [
46
], while others come from specific medical literature [
105
]. In the HHC-MOTES framework two macro categories are proposed, according to different stakeholders: the former, concerning social KPIs considered from the patient's side, the latter, comprising KPIs related to staff's side. Especially on the patient's side, the most notable examples are the collection of data about population health status and, even more important, the consequent reduction of medical errors, thanks to the storage of patients' medical information in easily accessible electronic databases. Also, the organized collection of data about patients' satisfaction and complaints, help to assess issues or weaknesses in the procedures and medical structures. Also, very important, is the time reduction to recognize a pathology and to treat it, again facilitated by patient's data and those about similar cases but also by the spreading of telemedicine and remote care [
106
].
Last but not least, a series of metrics about environmental measurements are introduced, mainly connected to the potential reduction of usage of physical resources (e.g., paper, space, transportation) and consumption of energy.
Managerial and Organizational:
Organizational efficiency (length of stay at the hospital and bed occupancy)

Financial effectiveness (financial measures for healthcare organization)

Inter-operational synergies (possibilities to share data among different healthcare actors)
Technological (Development-Related):
Modifiability/Changeability (the ability to make changes quickly and at little additional cost)

Reusability (the level at which system components may be reusable for other systems)

Portability (the system can operate in a variety of computing environments)

Supportability (easy system configurability and linearity for subsequent maintenance)
Technological (Usage-Related):
Performances (response time to user's requests)

Reliability (ability of a system to function as expected at a given time)

Usability (features that make the system easy and friendly to use)

Accessibility (ability of the system to serve people regardless of location, experience, background, or the type of information technology used)
Technological (Process-Related):
Efficiency (the overhead of production processes on the income value perceived by the customer)
Social (patient's side):
Monitoring of population health status

Reduce costs for customers

Patient satisfaction (with healthcare service, including satisfaction with physicians, waiting time, treatment and so on)

Patient complaints (collection, processing, analysis and availability of data)

Patient safety (Incidents/errors occurred in healthcare treatment process, including medication errors, diagnosis and treatment errors and so on)

Average Waiting/Delay (the time required to recognize a pathology and/or to provide the necessary medical treatment
Social (staff's side):
Employee satisfaction (with healthcare organization, with job, colleagues, supervisors and so on)

Teamwork and multidisciplinary collaboration

Overall work conditions

Overall work efficiency versus efforts
Environmental:
Consumption of energy

Resources used in medical records (paper medical records, ledgers, rooms and so on)

Resources used in healthcare activities and training (books, training rooms, paper and so on)

Resources required to provide support (transportation, physical material and so on)

Office space utilization and use of shared resources
As highlighted in one of the following sections, this framework can be used by healthcare decision-makers to make strategic decisions about introducing or updating IT systems but also to examine current systems and identify limitations and shortcomings. The next
Figure 1
is a scheme for the proposed model, in which it is clearer that the individual areas can influence each other and also the general costs for the service and other variables.
5. Discussion
As to technological KPIs, they have been divided into three main categories, that is, those related with the development of IT system in healthcare, those related with its usage and, last, those that affect the process itself. It is important to notice that many of these KPIs are directly (or indirectly) connected with the already mentioned managerial KPIs, since most processes in IT development affect finances and efficiency of the organization. Nevertheless, some of these KPIs are worth analysing, as they relate to the core issue of current research.
The social KPIs are identified as belonging to two different stakeholders of both healthcare system and IT system. The former are social indicators investigating the side of the patient, the latter are those that can be seen on the side of the staff, be it managerial, medical or paramedical.
6. Managerial and Practical Implications for the Framework
The purpose of this paragraph is to discuss how the HCC-MOTES framework could provide guidance to managerial decision making in healthcare companies. As already emphasized, the model is derived from the analysis and differential study of literature on several different fields, so that it represents both an empirical generalization and a focus on the core aspects of IT in healthcare. This was a key objective of the approach, which allows healthcare policy makers to use a single model, instead of necessarily using multiple sets, having to select some indicators and/or discard others.
In other worlds, the purpose of the framework is to help evaluate a number of IT alternatives that influence these various factors. Managerial decision making in healthcare domain is, in fact, a multifaceted and complex task, as it must take into account economical/financial/organizational aspects, as well as social/environmental ones [
131
,
132
,
133
]. For this reason, several methodologies have been discussed for determining the qualitative composition of an expert group and the weighting factor regarding the importance of expert's judgments for the purpose of participating in decision-making in the healthcare domain [
134
]. This is particularly crucial for IT adoption, where technological topics are as important as economic and social ones [
135
].
This is where the HCC-MOTES framework could offer a support, when having to invest in IT, the model can be applied to the healthcare structure in order to:
(1)

Better understand the current status of IT in the given system and its connections with other areas

(2)

Better assess what could (or should) be improved, given specific priorities and aims
In other words, the framework can facilitate the task of studying the current ("as-is") status of the system, comparing different parts of the same structure or even different structures, finding limits, better understand competitive advantages and so forth. The application of the HCC-MOTES framework can be extended to company functions, departments and also to individual projects, so that the model can be used to evaluate and describe individual and specific IT application projects but also their effects on the overall structure.
Based on the area to be prioritized, the framework can then be used, sequentially and iteratively, for a target ("to-be") analysis. For example, some of the social aspects can be considered first, aiming to improve the patients' satisfaction while minimizing their discomfort and complaints. Consequently, some of the managerial/organizational aspects should be considered next, in order to understand how the specific IT system should affect the organizational efficiency. Next, the technological aspect could be considered, by analytically studying the performance and accessibility of the system. Last but not least, the environmental variables must be taken into account, in order to evaluate the energy consumption of the system and the possible savings in physical resources used with this approach. Overall, the decision maker will have a snapshot of the situation and also some figures about the total expenditure required, the possible monetary savings, the enhancements in social sustainability and so on.
Simulation tools could be used along with the framework (and according to it), in order to analytically but virtually, design a subset of the IT system within specific healthcare structure, by creating a kind of "digital twin" [
136
,
137
]. This would allow a what-if analysis [
138
,
139
], driven by the HCC-MOTES set of indicators.
At this stage of the theory development, the framework lacks associated units of measurement, making it more of a template than the final system of measurement and strategic management for IT within healthcare. However, this framework is a strategic and comprehensive tool for healthcare management, that can be used to monitor and steer specific IT projects and general efforts to improve performance, efficiency and social and environmental aspects.
Figure 2
proposes an example of a use case to illustrate a flow of managerial decisions/implications, all directly linked to IT strategies within a healthcare structure. The links are potentially biunivocal.
7. Conclusions and Future Directions
The question research of the present work was to understand, by means of literature review and case studies, whether and how the introduction of IT could be regarded as a source of sustainability for healthcare and, specifically, in which areas and domains. The evidence collected from literature points towards financial and economical savings as an immediate consequence but also to organizational changes and, more importantly, given the specific field, to social benefits in term of more effective treatments for patients, fewer human errors in therapies, better teamwork and cooperation for doctors and healthcare structures and, overall, a better assessment of healthcare systems.
Given these potential (and actual) benefits, the second purpose of this research was to identify a set of metrics, inspired by and to sustainability as a science, that are capable of representing and possibly evaluating specific healthcare IT projects. The aim is, therefore, to advance the literature about healthcare with a framework capable of unifying and bringing together both the managerial and organizational literature and the technological one, with the common goal of analysing the sustainability and efficiency-in different areas-of IT applied to healthcare. Several indicators already exist, to evaluate the performance of a healthcare structure or the performance of a software and, more generally, of an IT system. However, there is no comprehensive set of indicator to assess and evaluate the sustainability of IT applied to healthcare, that takes several different but potentially related areas, into account.
For this reason, partly inspired by the multidisciplinary literature analysed and by existing and validated sets of metrics, a novel set of indicators is presented in this work, taking into account five main dimensions: Managerial, Organizational, Technological, Environmental and Social (MOTES), each of which explores several of the sustainability implications of an IT project, specifically applied to the healthcare sector. The framework might take into account a number of other factors and decision criteria but the complexity of the decision-making environment would increase. Although increasing complexity is more realistic, it usually requires additional effort to obtain the preferences of decision-makers and more complex data. The trade-off between the time taken to make decisions and the realism of the model must also be taken into account.
The main limitation of the proposed set is that it is mainly qualitative. However, it can be used to study and classify IT projects where healthcare management wants a comprehensive picture of the impact of the proposed innovation. Nevertheless, it could be a guideline for decision makers who need to implement or update an IT system in healthcare domain, by taking into account several dimensions and their specificity. Future field studies must be carried out to determine whether the proposed perspectives are necessary and appropriate and, where possible, to determine appropriate measures.
Another limitation is that this set is, for now, theoretical, that is, it has not yet been applied to any hospital or clinic; the novel set has been discussed with some doctors working in private clinics and/or hospitals, as well as with some IT managers and a chief medical officer, who all found it interesting, innovative and potentially useful as a set of guidelines and as a decision support tool. This is not exhaustive to claim and argue that the present framework can be used "as it is" and on a large scale but along with the fact that it is partially based on other existing-and validated-sets, it suggests that it is ready for specific validation and pilot tests.
In qualitative models, substantial validation includes self-reflection in order to assess one's own understanding of the subject as a researcher and how this may influence the interpretation of the data. Ethical validation requires research to provide practical answers to research questions that have transformative value and lead to actions and impacts, such as effective interventions on health issues.
The reliability of qualitative research is then ensured by accurate data recording, transcription and/or tuning [
140
]. Here, too, the positive influence of IT resources on the capabilities of organizations has been empirically confirmed and validated [
109
] and the same needs to be done to the presented novel framework for the healthcare system. Future work on this topic will also propose a quantitative simulation tool (discrete process simulation) to analyse specific BPR, due to IT introduction, on a what-if basis. HCC-MOTES metrics will be used to rank and classify IT projects in this context.
Conflicts of Interest
The author declares no conflict of interest.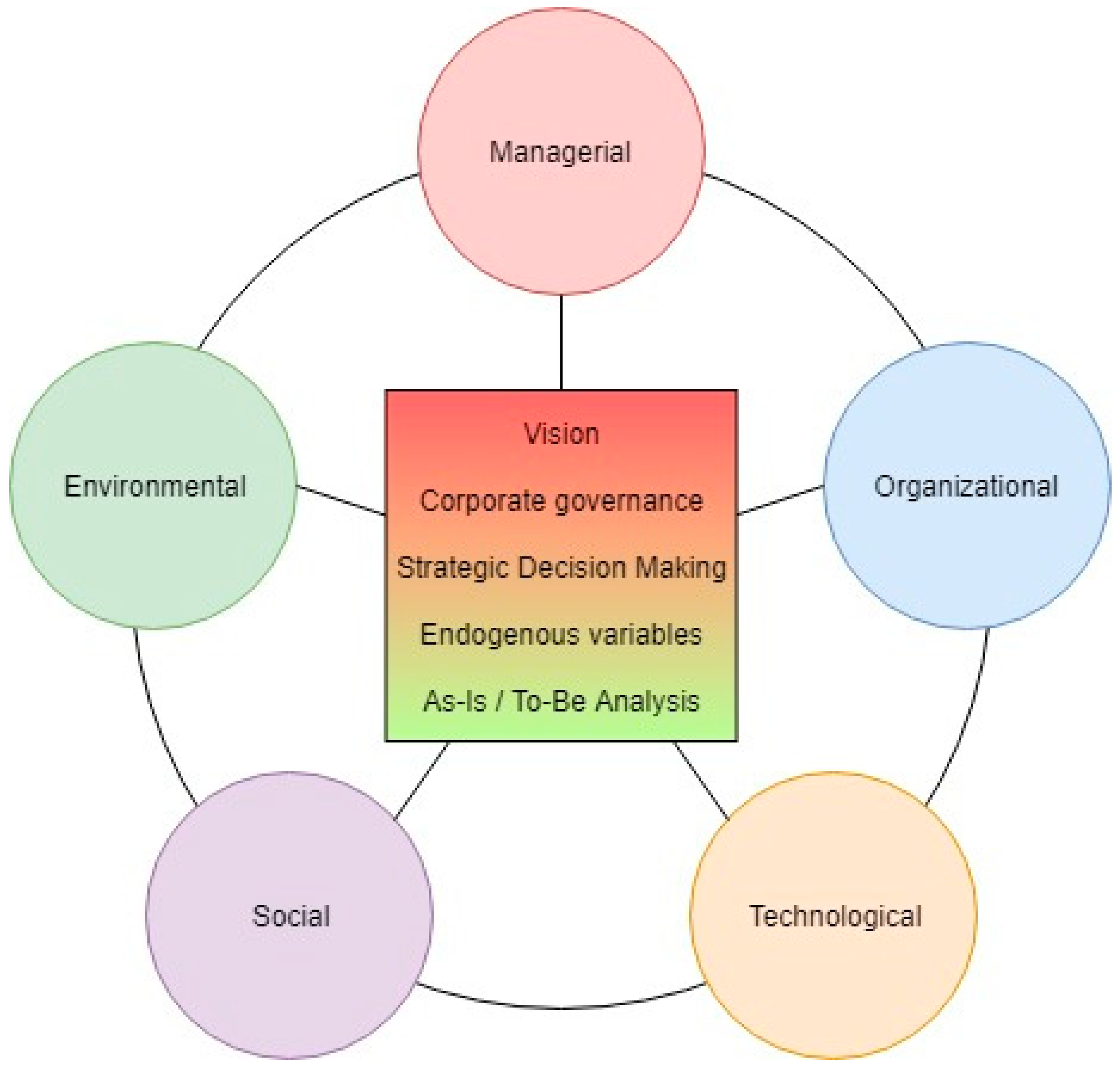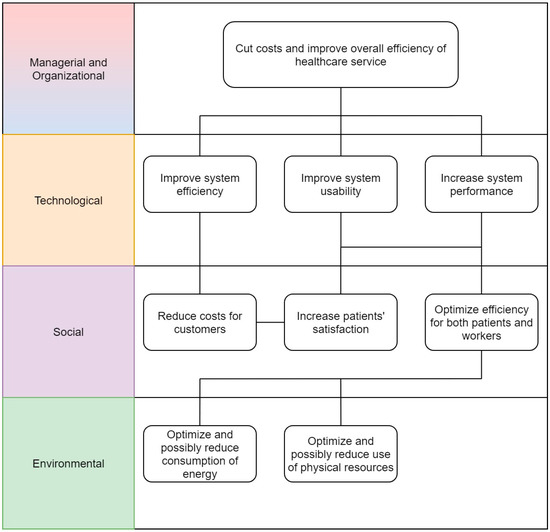 Figure 2. Example of a use case for the application of the HCC-MOTES framework as a managerial decision support tool. There is not a specific order for the flow and the links are potentially biunivocal.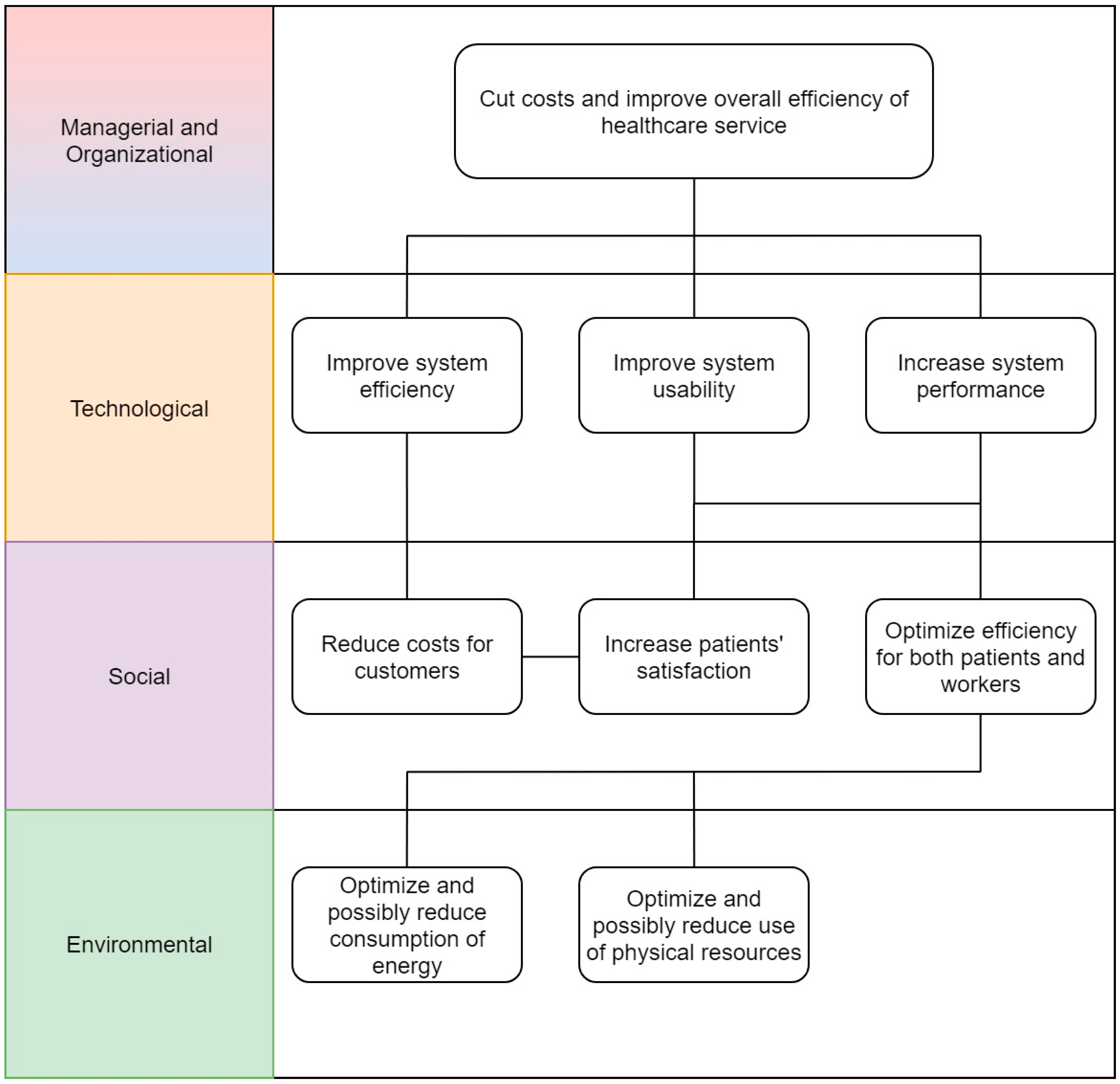 © 2018 by the author. Licensee MDPI, Basel, Switzerland. This article is an open access article distributed under the terms and conditions of the Creative Commons Attribution (CC BY) license (http://creativecommons.org/licenses/by/4.0/).