Open Access This article is
freely available
re-usable
Article
Who Manages Space? Eco-DRR and the Local Community
1
Graduate School of Environmental Studies, Nagoya University, Nagoya 464-8601, Japan
2
Research Center for Population, Indonesian Institute of Sciences (LIPI), Jakarta 12710, Indonesia
Received: 5 April 2018 / Accepted: 22 May 2018 / Published: 23 May 2018
Abstract
:
The notion of ecosystem-based disaster risk reduction (DRR) has only recently emerged in Indonesia. The Indonesian central government now adopts some policies related to ecosystem-based DRR with formal commitments from local administrations. At the implementation level, various activities have taken place, such as mangrove planting and restoration along the coastline to address the rising sea level and the "one billion trees" program to address the urgent issue of deforestation. These governmental activities have involved local communities that reside in the high-risk area, while nonlocal actors, particularly from the private and the nongovernmental sectors, have contributed as a third element to development. This paper examines space management in the context of Eco-DRR, paying special attention to uncertainty and anxiety in the local communities as the government and private sectors engage in development activities that have significant impacts on their present and future lives. The present study pursues this purpose by means of in-depth interview and focus group discussions (FGD) with local leaders in mangrove planting and restoration programs. The study took place in a small island community in a part of the Jakarta Megapolitan Region, Indonesia. The results point out that the community feels left behind due to lack of trust in managing the conservation space. Another issue to be addressed is how to improve the democratization of environment management and livelihood base of the local community. Therefore, building confidence and ameliorating relationships between actors within/without the local community should lead to a better Eco-DRR initiative.
Keywords:
coastal community; disaster risk reduction; ecosystem; governance; mangrove resilience; participation
1. Introduction
These two hydroclimatic disasters served as an entry point in restoring and mangrove reforestation. These activities have attracted a large number of participants, ranging from tourists to members of the private sector. They are eager to take part in these risk-reduction activities. One of the notable activities by the private sector was conducted by Toyota Indonesia, which has sponsored the planting of approximately 700,000 mangroves in the previous five years.
Further, Eco-DRR aims to achieve sustainable and resilient development. However, investing in the ecosystem should not be viewed as a single solution to risk reduction. The activity must be part of more extensive DRR measures and strategies and become complementary to the other essential risk management programs. Again, in applying Eco-DRR, it is essential to stress the combination of hardware and software measures, for instance, implementing eco-engineering solutions that utilize appropriate technical expertise, which is in turn supported by policies and integrated into development planning and decision-making processes. The success of this also heavily relies on the involvement of different actors (public and private sectors, civil society communities, academia, etc.) together with multiple sectors.
Within the study area, the local community has acted, at the same time, as inhabitants, users, and partners of the mangrove planting program. As activities of mangrove planting and ecosystem restoration take place within the pool of common resources, it is necessary to address some issues: (a) To whom is the ownership of mangroves granted? (b) Who will manage the mangrove ecosystem after the program ends—the government, local community, nongovernmental sector, or private sector?
This article was based on a qualitative study in the context of a small island coastal community in Indonesia that has ongoing experience in green infrastructure activities for disaster risk reduction—a project that promises both sustained development on the small islands and environmental restoration towards a resilient community. The article presents a case from a developing country where most critical barriers to mainstreaming disaster risk are institutional contestation on space management.
3. Results and Discussion
This section will demonstrate the results both from national and regional level interviews through email followed by the community focus group discussion.
3.1. National Policy and Regional Innitiative of Coastal Management in Indonesia
Poor people who live by coasts or rivers or on small islands are the most vulnerable group. It is necessary to strengthen our work together with the National Planning and Development Agency and the Ministry of Environment and Forestry—also with the private sector and think tanks (academia).

—From an interview with a MMAF Officer
Before focusing on the results of exercising science-based policy in Kepulauan Seribu, this section will demonstrate the general trends of the national and regional policy of coastal management in Indonesia to identify the significance of the case within them. This section was based on policymaker email-based interviews and policy documents analysis.
To tackle continuous degradation of the coastal environment and related problems of disaster risk, around US$80 million was provided by the Indonesian Government for the anti-coastal-erosion works from 1996 to 2004, but it was only the case for Bali Island to protect valuable coastal tourism bases. Indeed, the approach used gray infrastructures (ex. breakwaters, jetties, or revetments) that would fuse functional design.
At the ministerial level, 2014 was a milestone in managing marine resources and fisheries, and for this purpose, law 1/2014 was enacted. The newly introduced law supplemented long-term national development. MMAF is responsible for management of the coasts and small islands at the national level. At the same time, the institution is also a part of a larger DRR joint activity. This activity included DRR planning and coordination in inter-ministry strategic action. Law no. 1/2014 relates to the use of coastal areas and small islands in the context of conservation of their environment for the combined use of natural resources with fisheries, tourism, and DRR. Although significant regulations have been enacted, awareness of mangrove's ecosystem services was rather late.
3.2. An Attempt at Blending Space Management and Eco-DRR
In this section, the study will describe the present management of initiatives that are a blend of space management, disaster risk reduction, and science-based policy initiatives. The biophysical information derived from the scientific approach regarding coastal risk and the offer of green approaches as mitigation was turned into policy and the Ministry of Marine and Fisheries Affairs tailors the need to reduce the risk by including various sectors to manage the space.
The green approach has been defined in various ways by scholars. Mangrove planting as a part of reforestation is a way of connecting green spaces that conserves their value and function while at the same time benefiting human populations. The end goal is to sustain natural life and contribute to social and economic generation [
43
,
44
,
45
,
46
,
47
,
48
]. The green approach is characterized by certain binding rules, as follows: [
49
,
50
,
51
]
(1)

Replanting/reforestation in a mass amount

(2)

Enabling multi-functionality, such as providing benefits to people apart from conservation

(3)

Being a substitute and/or supplementing DRR hard infrastructure [

24

].
It is nothing new for Kepulauan Seribu to have a pilot project related to coastal conservation. In 1990, Kepulauan Seribu formerly was a subdistrict of North Jakarta that was designated as one of the Marine Protected Areas (MPAs) under law no. 5/1990. As mentioned above, the goal is to maintain the resources of the ecosystem as a tool to protect areas that are situated on the edge of development due to depleted resources exacerbated by disaster risk. The MPA itself has ambitious goals. The program declared a 10 million hectares policy by the end of 1994 and further widened it to 30 million hectares ins 2000 [
18
,
52
].
The MPAs Act converted 75% of the district into a designated national park (Kepulauan Seribu Marine National /KSMNP). In 1999, KSMNP was placed under the control of the North Jakarta District and managed under the authority of a subdistrict level (Kecamatan). Under subdistrict administration, the park included two villages, Pulau Panggang and Pulau Kelapa, inside the KSMNP, and two other villages, Pulau Tidunga and Pulau Untung Jawa, outside the KSMNP border [
22
]. Initially, the local government of North Jakarta assigned Kepulauan Seribu three goals: (1) development of tourism industry, (2) growth of fishermen livelihoods, and (3) conservation of coral reef, mangroves, and the coast. Thus, six different land use types have been planned: (1) settlement, (2) tourist island, (3) re-greening island, (4) natural park, (5) cultural heritage, and (6) select designation.
By the time law no. 32/2004 (regional autonomy law) replaced law no. 22/1999, there were significant changes in marine and coastal management in Indonesia. This altered administration from a centralistic to a decentralist approach. Before, there was no significant part played by the district and subdistrict authorities, not to mention the local community linked to marine and coastal resources.
As a description of the present situation, the total number of inhabitants of Kepulauan Seribu is 23,321 people with 5830 households, with the population density reaching 2680 people/km
2
(BPS, 2016). Their main livelihood is fisheries. Due to their geographic location, farming is rarely an option. There are 3894 people working in the fisheries sector, 1179 people in services, and 1087 in the public sector (BPS, 2010). There are two types of fishermen in the area: the traditional type of fishermen ("nelayan tangkap") and the aquaculture fishermen. This typology of fisheries subsequently defines the social status of the fishermen. The fishermen engaged in fish culture that focuses on grouper (
Aethaloperca rogaa
) are seen as higher in social status, almost the same status as a fish middleman ("pelele"). In the second rank is the fishermen engaged in seagrass aquaculture. Then, in the third rank, is the traditional type of fishermen. The first two kinds of fishermen have to provide $1000 USD at minimum for starting the business, while the daily income of the last group would not exceed $10 USD per household. Owners of a homestay accommodations and grocery stores are also seen as persons of higher status on the islands. These business owners have close relations to the tourism industry on the islands.
Due to the progress of development, the mangroves in Kepulauan Seribu are threatened by significant consumption pressures on coastal land use conversion, unsustainable practices of fishing, and the inflow of waste water from human activities [
19
]. Changing land ownership on the islands is also seen as an important contributor to mangrove loss. Mangroves on privately-owned islands have been poorly managed because the owner is often a nonresident. In general, three types of land ownership can be seen. In total, 60 islands are privately owned, 11 islands are used for residential areas, and 39 islands belong to the local government. Some of the privately owned islands manage to keep the mangrove intact [
1
], while the residential-use and government-owned islands are unable to avoid rapid land conversion that diminishes the mangrove coverage. Since the early 1980s, land ownership has been changed through buying and selling from/to outsiders. The residents frequently sell their own land mainly to fund their pilgrimage/hajj or to buy new fishing tool supplies.
According to the feedback from the questionnaires with MMAF officers, the Indonesian Government initiated the management of mangroves in Kepulauan Seribu in 1998 through mangrove-tree planting. However, this first initiative was far from successful. The reason behind the failure was the conventional planting method applied. High wind and storms swept planted seedlings in significant numbers.
In the beginning of 2002, a new planting method was introduced. It was named high-density planting. The intention is to build natural nurseries of mangroves, resulting in encouragingly and properly grown mangrove seedlings. This method is to plant close clumps of mangrove seedlings, one clump consisting of 550 seedlings, with dense spacing of 50 seedlings long and 11 seedlings wide (
Figure 4
). Although at that time this method was considered new and out-of-mainstream planting, the method was a success. Thus, in 2004, MoF aspired to involve a wider segment of the local community as a part of the activity.
In 2005–2007, the initiative was adopted as a planting program of MoF. The national program contributed to forest and land rehabilitation (GERHAN/G-RHL), targeting Kepulauan Seribu. Planting mangroves was conducted in two stages. Each of the stages was a community-based activity, which took three months for each stage to be accomplished:
(a)

First stage (planting): surveys on site, development of nursery, selecting seedlings, planting and establishing a secure environment for the seedlings (installing protection from bamboo). In this stage, community participation involved housewives putting sand as a seedling medium in a plastic bag which was then a part of the nursery stage.

(b)

Second stage: maintenance and repairing. The community member role was to replace dead seedlings to uphold the minimum number of seedlings in each clump. The activity continued up to the roots to ensure they had firm gripping.
In ecosystem services related to tsunami risk reduction literature, it has been shown that mangroves can perform the function of filtering suspended material and assimilating and dissolving nutrients properly after one year of growing. In practice, it takes at minimum 10 years to grow mangroves reaching a 500 m wide area of reforestation that will able to reduce a tsunami's hydrodynamic impact [
53
,
54
,
55
].
Mangrove planting and rehabilitation through the nationwide program of "Ayo Tanam Mangrove" (Let's Plant Mangrove) by the Ministry of Fisheries and Marine Affairs is in line with the Head of District Program that aims at maximizing ecosystem services to alleviate poverty by the tourism industry. The district government of Kepulauan Seribu provides two types of tourist activities on weekends and weekdays: marine-based tourism and educational tourism, respectively. For marine-based tourism, the activities include a visit to the area offshore from white sandy beaches to mangroves, and in educational tourism days, activities such as bird conservation and planting mangroves is part of the attraction, both interrelated closely to each other around mangroves. Therefore, maintaining mangroves properly is significant not only for environmental conservation but also tourism.
The local government works together with the private sector through the CSR and tour agents. For example, Pertamina (government oil company) and Toyota are targeting to plant 1.6 million trees by the end of 2018. The location was North Java coast and East Kalimantan. The current project has already reached 1 million trees. This project was handed to NGOs and local community-based organizations to provide the seedlings. There is also a partnership with local tourist agencies and tourist boat operators enlisted as middlemen in mangrove planting. The tour agent charges an additional $1–2 USD for the tour cost. The funds from the CSR and tour operators help the community-based organizations maintain the mangrove nurseries that pay as their side income.
In the field, the mangrove planting program is expecting community contribution towards spatial inventories. This comprises human and economic assets, natural entities, and social scape [
56
]. It aims to distribute the power and skills in identifying respective institutions while at the same time building a respective platform as a negotiation arena amongst stakeholders. The MMAF centrally supervises all mangrove records along with the local government, which is then followed by the development of transparent and accessible inventories [
57
]. Collaborative activity accomplished between mangrove management stakeholders with local communities has created an intercession situation that is supported by the district government and its regulations.
3.3. Challenges on the Ground
The CBMM actors in Kepulauan Seribu can be distinguished into three groups: the central and local governments, private companies, and NGOs or the community. In Kepulauan Seribu, based on the national goals for long-term recovery of the coastal area, the local government made the priority policy of replanting mangroves, and the local government implemented the concrete program encouraging the community to engage in such activities to restore the coastal ecosystem by community initiative reforestation and to include public participation in restoring mangrove and coastal ecosystems.
However, this public participation is only in planting, and particularly for outside tourists, it could be just in paying for some part of the cost. Thus, the concept of CBMM is applied to a countless number of program, with the purpose of community involvement becoming to gather more and more citizens for planting mangroves and not in managing their planting efforts.
Focusing on the interviews with the residents themselves in Kepulauan Seribu, the CBMM is likely to be misunderstood and sometimes associated with a sense of community involvement. Furthermore, most of the residents get little direct benefit and tend to feel alienated from the mangrove planting initiative. In this area, both the private companies and the community people can freely participate in mangrove plantation, and this means that both parties with different motivations are placed under competition for utilization. The concept of the CBMM has become blurred, especially concerning its significance for the local community. The community has so far derived no direct-use value out of the mangroves for itself. At least from the interviews, the local people do not think that conservation of mangroves could lead to reproduction of the pool of their common resources so that their livelihoods would be dependent on it. As a matter of fact, only owners of the homestay accommodations and tourist boats get the most benefit because of many tourist visits to the islands.
This problem is also related to how the program is managed. In many parts of the Indonesia, engagement of the coastal community is limited to mostly one stage of the project cycle. Such advanced stages, for example, allocation and project evaluation of their own territory, has rarely seen community involvement. The discussion with the group revealed, in the study location, the most common practice for the community people is to not participate in every stage, to not have a say in the decision-making process of the program, but just in the first planting stage at the implementation level.
To some extent, the local government is unsure of DRR activity involving ecosystem services. The local government's limited information often draws back their initiative. The unique local biogeographic conditions are frequently neglected by the ministry. Decision makers are interested in knowing the potential value of mangroves in reducing the size of a levee required to provide protection during typical, moderate-strength storms.
3.4. Development Foci in Ecosystem-Based Disaster Risk
4. Conclusions
The idea of making use of ecosystems for disaster risk reduction (Eco-DRR) is rapidly growing. The management of mangrove planting along the coastline as a space of contestation was undeniably difficult to avoid. In the study area, it is argued that the restored mangrove forest management and newly planted area currently have a limited mandate under the MMAF and cannot function beyond the designated program boundaries. Yet, future initiatives should be scrutinized to ensure they are promoting the actual community needs rather than community acceptance. Promoting actual community needs and considering heterogeneous characteristic of the in situ community may empower and at the same time significantly increase community resilience to coastal hazards [
78
].
In the political and policy realm, especially at the implementation level, there is ambiguity among residents and private companies in the case of Kepulauan Seribu. It is most likely influenced by a lack of knowledge, different levels of local awareness, as well as such internal factors as motivation, locus of control, responsibilities, and priorities. The community is increasingly highlighted as a key actor, with activities rarely followed up after the program finishes.
In the past 10 years, the Eco-DRR approach in coastal risk has involved approaches for reducing the vulnerability of communities and ecosystems. Of the mangrove afforestation as part of Eco-DRR in Indonesia, some have developed into healthy initiatives and at the same time serve social-economic benefits to community. Some programs have been able to develop a strong collaborative approach in multilevel and multiscale governance institutions as piloted by notable districts. Unfortunately, there were some failed initiatives that took place, as the community failed to foster mangrove co-management and authorities likely failed in building trust and program sustainability.
Alternative actors should play a more significant role and be able to improve their capacity to work as partners with the ministry to attain the mandates. Considering such complex landscapes of coastal settings, it is highly probable that stand-alone legislation will likely fail to address the problems. Thus, better management must play a supporting role to carry that burden.
It seems to be a successful strategy to replant mangroves based on the national program combined with the tourist industry involving the community, but nevertheless, this mechanism itself brings some tokenism and growing competitions over the space, and eventually failure in long-term mangrove management, overarching not only planting but also rehabilitation, leading to the incapacity of the local community in socioeconomic terms. Therefore, the local social coordination between the government, private and third sectors, and the community—ensuring inter-confidence among them—is necessary to improve Eco-DRR initiatives concerning local environments.
In the larger scale, the governance system likely needs to shift its environmental conservation from the centralist state to a decentralized manner, delegating the power to the civil society at the local level. Some scholars have commented on how DRR, conservation, and development are likely to be coupled, as the three activities have a common aim and all focus on attaining goals through market mechanisms [
79
,
80
,
81
,
82
]. Market mechanism has a unique approach to addressing socio-economic and environmental issues at the same time [
83
]. Mangrove forest in the coastal area owns public goods dimension since they produce externalities as a result of exploitation. Its management is subject to competing claims ranging from the local community that depend on the ecosystem existence for their livelihood, the environment, and the private sector. The current mangrove planting activity as a part of DRR add additional externalities into it. Community reliance on the mangrove forest and its value to protect the coastal community from exacerbated climatic event needs to addressed at the same time. Market mechanism instrument that complements DRR regulations may offer an economically efficient push to socio-environmental protection, encourage sustainable growth, and protect resources. For example, community-based payment model may also help limit community discrimination and promote more comprehensive engagement with outside actors. Therefore, it is an urgent need to factor economic incentives to the Eco-DRR activity delicately. It is to avoid a failure that will have a detrimental effect on social concerns such as poverty alleviation in the long run.
Acknowledgments
The author would like to thank Makoto Takahashi for his valuable and constructive suggestions during the development of this paper. The manuscript has significantly improved by the insightful advice and valuable comments from three anonymous reviewers. To the respondents who extend their immense help by providing the essential information. Furthermore, the author would also give her appreciation to Ministry of Research, Technology and Higher Education of Indonesia for Granting her a RISET-Pro Kemenristekdikti Doctoral scholarship.
Conflicts of Interest
The author declares no conflict of interest.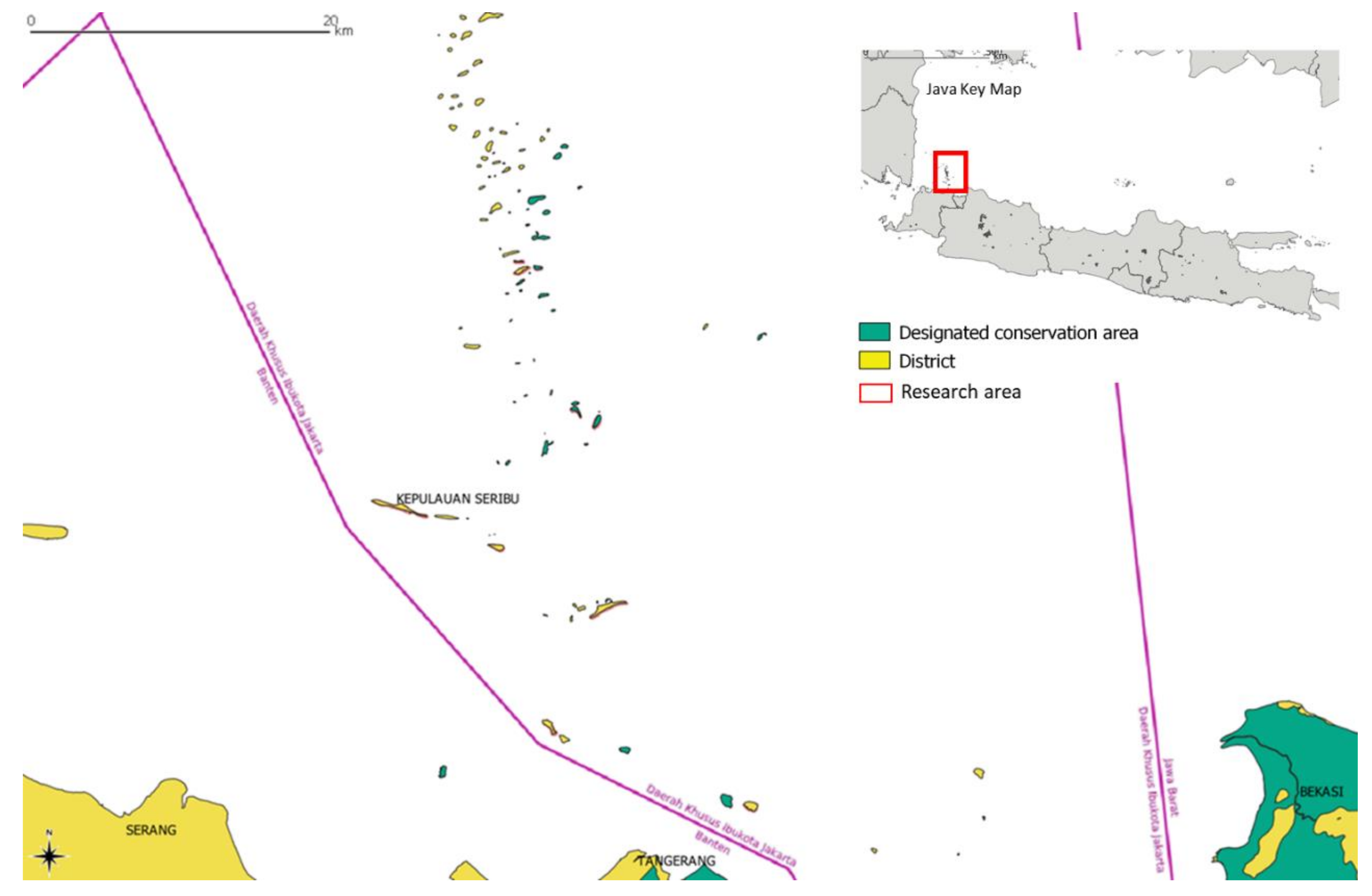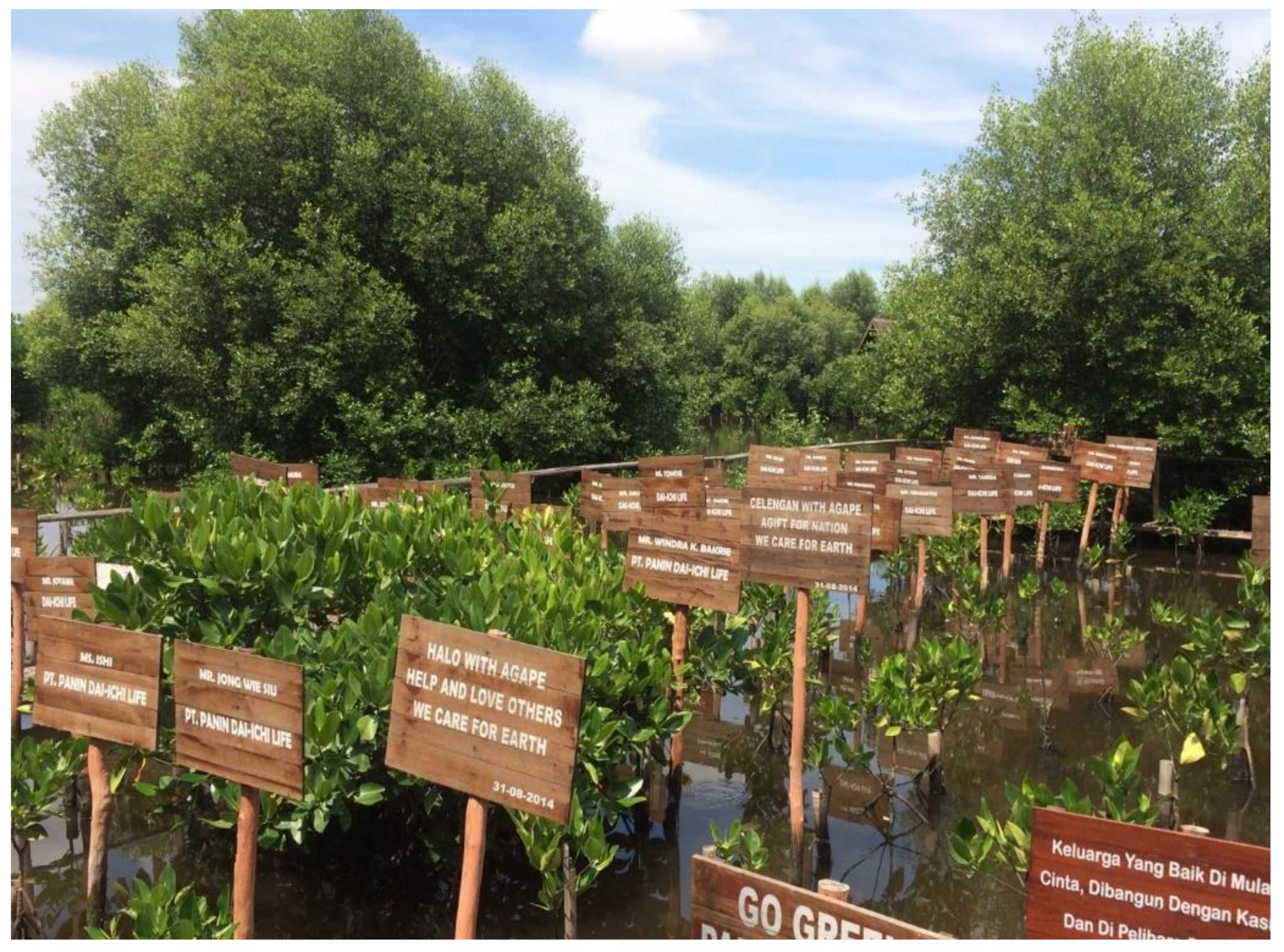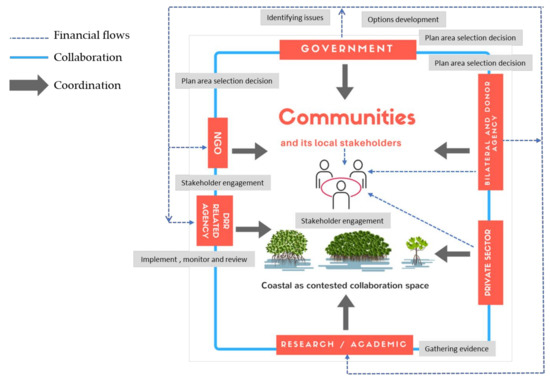 Figure 5. Key institutional linkages facilitating the activities of the Eco-DRR in Indonesia (national level). Arrows show coordination and dashed arrow shows financial flows; thicker lines indicate stronger interactions.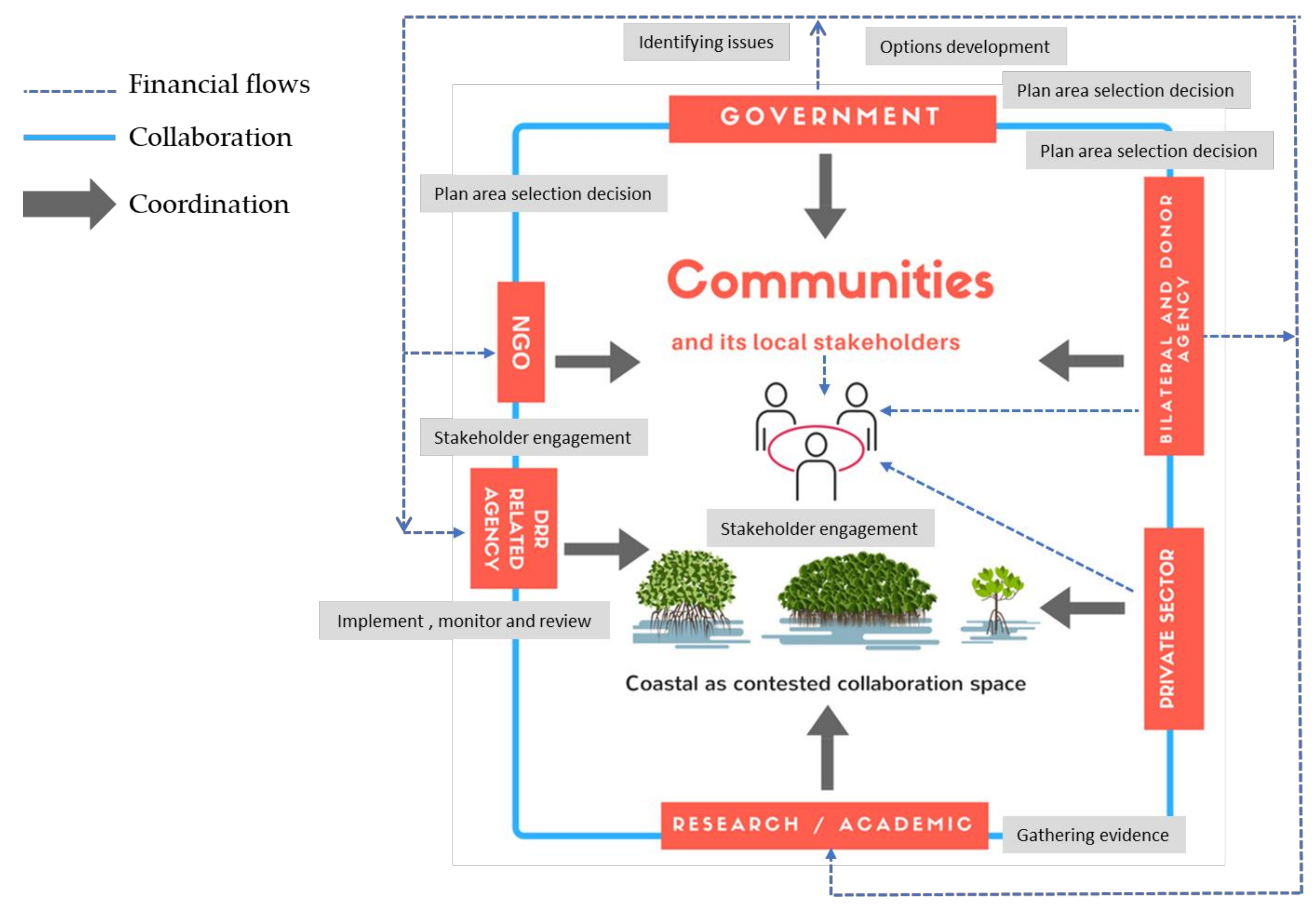 FGD 1
Code
Age
Gender
Occupation
Been Stayed
SEC
T1
34
F
Housewives
34
C
A1
26
F
Seeking a job (WG)
25
B
S4
29
F
Full Time
29
C
R3
34
F
Full Time
30
B
I1
33
F
Housewives (WG)
33
C
E3
32
F
Housewives
30
C
F3
21
M
Part time
20
E
H1
36
M
Fisherman
36
C
Z1
42
M
Full time
42
B
FGD 2
Code
Age
Gender
Occupation
Been Stayed
SEC
S1
41
M
Full time (CL)
41
B
R2
37
M
Teacher (CL)
37
B
M1
36
M
Fish seller
36
C
S3
37
M
Fisherman
37
B
Y1
26
F
Housewives
26
C
F2
30
F
Housewives (WG)
30
C
A2
18
M
Student (YG)
17
E
CL = Community Leader; WG = Women Group; YG = Youth Group.
List of Questions
How do you think the area has changed compared to 10/20 years ago?

What do you feel of these changes? What is better? Moreover, what is more difficult?

How would you describe the current state of the island environment? Is it getting better or worse? Who/what is responsible?

If the change has been worse—how are residents adapting to these changes?

What about social and economic situations of your community? What are you/your community doing differently to before?

Who has supported you through these changes? Family, community, government? What kind of support do you get?

What do you think about the mangrove rehabilitation along the coastline?

Does the community participate in those projects? In what way?

How does (the project) benefit you and others? What went well, what could have been done better?

Who manages it on a daily basis? Are there any disputes occurring and how to solve the issues?
| Government | Private Sector | NGOs/INGO | Thematic Organization |
| --- | --- | --- | --- |
| Ministry of Marine Affairs and Fisheries *,# | Toyota *,# | Terangi *,# | UNESCO # |
| National Board for Disaster Management *,# | Pertamina # | Sahabat Mangrove *,# | IPB *,# |
| Ministry of Environment and Forestry # | Pulau Seribu Resort # | Kiara *,# | Yapeka |
| BAPPEDA # | Adimas Multiwisata # | Red Cross# | Thamrin School of Climate Change & Sustainability |
| Ministry of Public Work # | CNOOC # | Wetland International # | |
| | Bank DKI # | Kemangteer # | |
* = Responded, # = Working in the study area.
List of Questions to National Policy Makers and Private Sector
1.

How familiar is the organization with the idea of ecosystem services? How do you see ecosystems in providing coastal protection services and of the use of ecosystems as a tool of DRR?

2.

If familiar with the concept of ecosystem services, do you consider the coastal protection services provided by ecosystems when (as applicable)?

√

Designing or implementing DRR management plans, projects, policies?

√

Designing or implementing coastal zone management plans, projects, policies?

3.

How does your organization work with the national, local, state, and municipal authorities and the private sector (please choose as necessary) on implementing the projects/programs?

4.

What is the post-project implementation like? How do you factor in the community as a part of the program?

5.

Please describe how your organization approaches the following situations when coordinating with other ministries or agencies.

√

Process to reconcile conflicting interests, if any.

√

Process to make different goals of multiple agencies meet the same target.
No.
Location
Activity
1
Sembilang National Park, South Sumatra

Integrating sustainable management and the use of the ecosystem as a conservation area, green belt, and eco-tourism activity.

2
North coast, Central Java Province

A combination of silvo-fisheries and introduction of ecosystem services to reduce risk (erosion, sea level rise)

Maximizing sustainable silvo-fishery culture system to alleviate socioeconomic prosperity amongst the coastal community.

3
South coast, Bali Province

Established mangrove information center

Promoting ecotourism related to the mangrove ecosystem

4
Teluk Bintuni, West Papua

Re-introduced green belt to support silvicultural system of mangrove forests

© 2018 by the author. Licensee MDPI, Basel, Switzerland. This article is an open access article distributed under the terms and conditions of the Creative Commons Attribution (CC BY) license (http://creativecommons.org/licenses/by/4.0/).