Obtaining a Sustainable Competitive Advantage from Patent Information: A Patent Analysis of the Graphene Industry
1
School of Management, Huazhong University of Science and Technology, Wuhan 430074, China
2
School of Social Sciences, University of Manchester, Manchester M13 9PL, UK
3
Center of Knowledge Innovation and Intellectual Property Research, Southwest Jiaotong University, Chengdu 610031, China
4
School of Public Affairs and Law, Southwest Jiaotong University, Chengdu 610031, China
*
Author to whom correspondence should be addressed.
Received: 12 November 2018 / Revised: 6 December 2018 / Accepted: 13 December 2018 / Published: 16 December 2018
Abstract
Graphene serves as the most disruptive material in the twenty-first century and plays an unsubstitutable role in solving the sustainable development problems of energy crises, water shortages, and environmental pollution. Recently, obtaining a sustainable competitive advantage (SCA) in the field of graphene has gained increasing attention from both researchers and practitioners. However, few attempts have been made to summarize the SCA of this field by applying patent information. Basing on a patent-based multi-level perspective (MLP), this study aims to develop an approach to identify SCA in the target technological area by conducting a patent review from the comprehensive perspectives of the macro landscape, meso socio-technical system, and micro niches, and then integrate patent analysis with technology life cycle (TLC) theory to examine patents involving global technological competition. The effectiveness of the approach is verified with a case study on graphene. The results show that the graphene field is an emerging and fast-growing technological field, with an increasing number of patents over the year. The TLC of graphene technology demonstrated an approximate S shape, with China, the U.S., Korea, and Japan filing the largest number of graphene patents. Evidenced by Derwent Manual Codes, we found an increase in consideration given to technological application and material preparation topics over time, and research hotspots and fronts that have SCA. In terms of a leading country or region with SCA, the U.S., with a high foreign patent filing rate, large number of high forward citation patents, strong assignees' competitive position, and large number of high-strength patents, was still the most powerful leader, with a higher SCA in the graphene industry. Korea also obtained a relatively higher SCA and will be a promising competitor in this field. Although China was shown to be catching-up very rapidly in the total number of graphene patents, the apparent innovation gaps in the foreign patent filing rate, high value patents, and Industry-University-Research Collaboration will obviously hamper Chinese catch-up efforts for obtaining SCA. As for patentees, the most powerful leaders with a higher SCA represented by Samsung Electronics Co., Ltd, International Business Machines Corp, and Nanotek Instruments Inc were identified. In addition, most of the high strength patents were owned by the above patentees. Further, valuable contributions to the understanding of SCA in graphene technology were summarized. First, the proposed patent-based MLP provides a new and comprehensive analytical framework for review research, as well as SCA analysis, and extends its research perspectives. Second, it introduces patent indicators to the previous MLP model, and provides a new theoretical perspective for the study of technological innovation in the previous MLP model. Third, this paper employs the TLC theory to explore the dynamic SCA in the given technology field, which further develops the concept of the MLP model from the temporal dimension. Finally, future research directions were demonstrated. To the best of the authors' knowledge, this is the first systematic review of this field using patent analysis, comprehensively acknowledging the current technological competition and development in the graphene field and that of the future, and can be applied to various other emerging technology fields.
View Full-Text
►

▼

Figures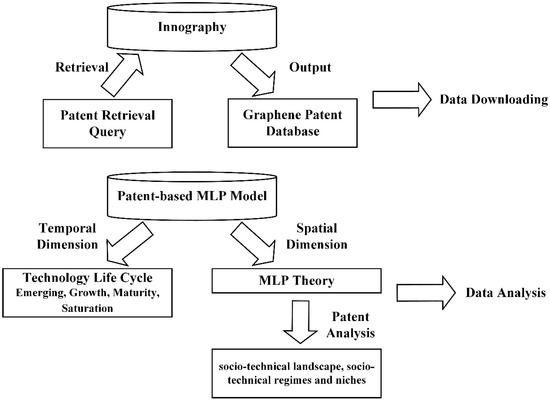 Figure 1
This is an open access article distributed under the
Creative Commons Attribution License
which permits unrestricted use, distribution, and reproduction in any medium, provided the original work is properly cited (CC BY 4.0).

Share & Cite This Article
MDPI and ACS Style
Yang, X.; Yu, X.; Liu, X. Obtaining a Sustainable Competitive Advantage from Patent Information: A Patent Analysis of the Graphene Industry. Sustainability 2018, 10, 4800.
Note that from the first issue of 2016, MDPI journals use article numbers instead of page numbers. See further details here.
Related Articles
Comments
[Return to top]