Methanetrisulfonic Acid: A Highly Efficient Strongly Acidic Catalyst for Wagner-Meerwein Rearrangement, Friedel-Crafts Alkylation and Acylation Reactions. Examples from Vitamin E Synthesis
Research and Development, DSM Nutritional Products, P.O. Box 2676, CH-4002 Basel, Switzerland
*
Author to whom correspondence should be addressed.
Received: 23 March 2009 / Accepted: 13 April 2009 / Published: 16 April 2009
Abstract
Methanetrisulfonic acid had been prepared for the first time over 140 years ago, but it was used only scarcely in chemical transformations. In the course of our activities dealing with key-steps of industrial syntheses of vitamins, e.g. economically important vitamin E (acetate), we found that methanetrisulfonic acid is an extremely effective catalyst in a variety of reactions. Examples of its applications are Wagner-Meerwein rearrangements, Friedel-Crafts alkylations and ring closures, as well as acylation reactions. Use of this catalyst in truly catalytic amounts (0.04-1.0 mol%) resulted in highly selective transformations and yields over 95%. (Remark by the authors: We are describing only one example each for the various types of reactions. Therefore, it would be more appropriate to write (here and in the Introduction and in the Conclusion sections): "Wagner-Meerwein rearrangement, Friedel-Crafts alkylation and ring closure, as well as acylation reactions")
View Full-Text
►

▼

Figures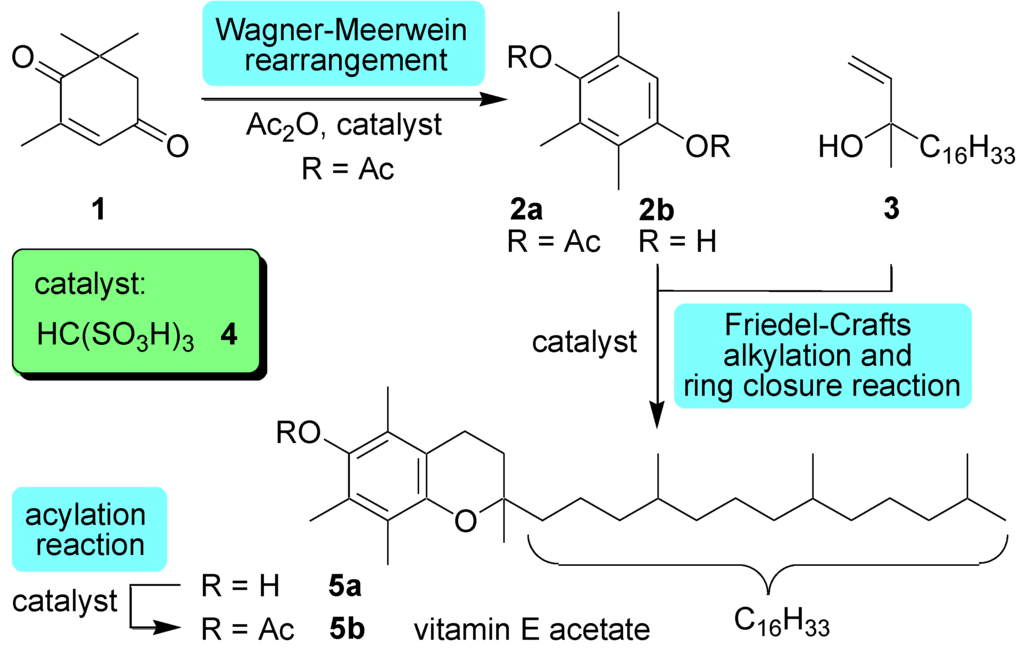 Figure 1

Share & Cite This Article
MDPI and ACS Style
Bonrath, W.; Aquino, F.; Haas, A.; Hoppmann, S.; Netscher, T.; Pace, F.; Pauling, H. Methanetrisulfonic Acid: A Highly Efficient Strongly Acidic Catalyst for Wagner-Meerwein Rearrangement, Friedel-Crafts Alkylation and Acylation Reactions. Examples from Vitamin E Synthesis. Sustainability 2009, 1, 161-186.
Related Articles
Comments
[Return to top]