Open Access This article is
freely available
re-usable
Review
Antitumor Features of Vegetal Protein-Based Nanotherapeutics
1
Department of Health Sciences, University "Magna Græcia" of Catanzaro, Campus Universitario "S. Venuta", Viale S. Venuta, I-88100 Catanzaro, Italy
2
Department of Experimental and Clinical Medicine, University "Magna Græcia" of Catanzaro, Campus Universitario "S. Venuta", Viale S. Venuta, I-88100 Catanzaro, Italy
*
Author to whom correspondence should be addressed.
Received: 20 December 2019 / Accepted: 10 January 2020 / Published: 15 January 2020
Abstract
:
The introduction of nanotechnology into pharmaceutical application revolutionized the administration of antitumor drugs through the modulation of their accumulation in specific organs/body compartments, a decrease in their side-effects and their controlled release from innovative systems. The use of plant-derived proteins as innovative, safe and renewable raw materials to be used for the development of polymeric nanoparticles unlocked a new scenario in the drug delivery field. In particular, the reduced size of the colloidal systems combined with the peculiar properties of non-immunogenic polymers favored the characterization and evaluation of the pharmacological activity of the novel nanoformulations. The aim of this review is to describe the physico-chemical properties of nanoparticles composed of vegetal proteins used to retain and deliver anticancer drugs, together with the most important preparation methods and the pharmacological features of these potential nanomedicines.
Keywords:
antitumor compounds; gliadin; legumin; nanoparticles; soy protein isolate; zein
1. Introduction
1.1. Nanotechnology and Cancer Therapy
1.2. Mechanisms of Cell Uptake
The active compound entrapped within a nanoformulation should be able to reach the intracellular environment in order to exert its therapeutic activity. Because of the hydrophobic character of the phospholipid bilayer, high polar and ionic systems are unable to cross the cell membrane by means of passive diffusion; therefore, mechanisms of active uptake represent the main phenomena that modulate the intracellular localization of nanovectors [
21
]. The uptake of polymeric nanoparticles is often characterized by an energy-dependent process known as endocytosis that enables them to reach the cytosol of cells and can be either phagocytosis or pinocytosis. The first one is a peculiar property of immune-cells, the main function of which is defense from external intruders such as viruses, bacteria and other pathogens; the second is employed by the cell to uptake small particles suspended in a fluid [
22
]. Pinocytosis is divided into clathrin- or caveolae-dependent endocytosis and clathrin- and caveolae-independent mechanisms [
23
].
2. Nanoparticle Features and Intracellular Localization
3. In Vivo Fate of Nanoparticles
An exhaustive comprehension of the in vivo fate of nanoparticles is yet to be reached [
50
]. Following intravenous injection, the first entities encountered by the nanoparticles are plasmatic components, complement elements, and immunoglobulins. The phenomenon of opsonization aims to remove the particles by coating their surfaces with opsonins that drive them to the endothelial reticulum system (RES) [
51
,
52
]. As previously reported, this particle–protein interaction mainly depends on the surface characteristics of the carriers and it is crucial for the systemic distribution of the nanosystems [
53
,
54
]. In fact, nanoparticles with mean sizes greater than 100 nm will be removed by the RES, while those having dimensions inferior to 10 nm will be excreted to a significant extent by the kidneys. A size range between 10 and 100 nm is considered suitable for a nanosystem to be able to escape the RES and avoid renal clearance [
55
]. The microenvironment of solid tumors is a specific compartment characterized by fragile fenestrated blood vessels [
56
] with an absent basal membrane or else characterized by a peculiar thickness [
57
] and high interstitial pressure levels [
58
]. The immune and inflammatory cells, fibroblasts, lymphocytes, and signaling molecules can modulate the localization of the nanocarriers into the neoplastic area [
59
]. The peculiar features of these tissues promote the high permeability of the blood vessels and the accumulation of the colloidal systems in the tumor by means of the so-called enhanced permeability and retention (EPR) effect [
58
,
59
] (
Figure 2
).
Cancer treatment can follow two main targeting strategies, i.e., passive and active approaches [
60
]. The first represents the ability of particles characterized by suitable sizes to accumulate in the tumor tissues by way of the previously described EPR effect. This phenomenon is a non-selective process that occurs thanks to the aforementioned, peculiar morphology of the neo-vessels and endothelial tissues of the tumor combined with the reduced activity of the lymphatic system [
61
]. Active targeting is achieved by the linkage of specific molecules onto the surfaces of the nanosystems in order to promote their interaction with specific receptors that are over-expressed in the tumor tissue/cells (for example transferrin, folate, hormones, hyaluronic acid, etc.) [
62
,
63
].
4. Plant-Protein Based Drug Delivery Systems: Manufacturing Processes
Based on their structures, polymers can be classified as crosslinked, branched or linear derivatives, while they can be defined as elastomers, plastic or fibers as a function of their physical properties [
64
]. Based on their origin, they are classified as synthetic, semi-synthetic or natural [
65
]. Proteins, cellulose and starch or polysaccharides, such as alginates, are all natural polymers extracted from plants, microbes and animals [
66
,
67
]; while polyesters, polyanhydrides or polyamides are synthetic compounds that can be customized to provide the required mechanical and chemical properties for various applications [
68
]. Among natural polymers, proteins such as casein, albumin and silk are currently being used for anticancer purposes [
69
,
70
,
71
]. Plant proteins, such as zein and gliadins, have drawn great interest in the last decade because they have been used to develop various biocompatible nanocarriers for anticancer purposes [
19
].
Various techniques have been developed to obtain nanoparticles, enabling widespread modulation of their structure, composition and characteristics. The choice of the best preparation procedure should be performed as a function of the features of the polymer and the physico-chemical properties of the compound(s) to be encapsulated [
72
].
5. Zein-Based Antitumor Drug Delivery Systems
6. Gliadin-Based Antitumor Drug Delivery Systems
7. Legumin-Based Anticancer Drug Delivery Systems
Legumin belongs to the so-called 11S globulin classes with sedimentation coefficients between 11S and 14S and is one of the main storage proteins found in pea seeds, characterized by an oligomeric structure with a six-subunit configuration. Legume-seed proteins are salt-soluble globulins and can be separated into two main fractions, i.e., legumin and vicilin, by repeated dilution and precipitation or heat treatment. The isoelectric point of legumin is 4.8 and 5.5 for vicilin; the amount of lysine residues is higher in vicilin while legumin is rich in arginine portions [
145
,
146
]. The size and shape of the subunit domains are similar in both proteins, while the molecular weight of legumin (360 kDa) is greater than that of vicilin (200 kDa) [
95
]. According to Argos et al., it is appropriate to classify legume storage proteins as being composed of three domains: one NH
2
-terminal (domain I, span 1), one core (domain II, span 2) and one COOH-terminal (domain III, span 4). The carboxy terminal is rich in hydrophobic residues in the form of beta-sheets and is highly conserved in both legumin and vicilin, while a combination of both helical and beta-sheet structures is retrieved in the core domain II [
147
]. Legumin was used for drug delivery application, especially by Mirshahi et al. with the aim of entrapping methylene blue, a phenothiazinium synthetic basic dye, as a model compound, by means of a pH coacervation method and the inclusion of GLA as crosslinker [
148
]. It is known that the crosslinking process involves interaction between the GLA and lysine residues, promoting a mean particle diameter of 220–250 nm. The encapsulation of the dye resulted in an increase in the mean particle diameter (~300 nm) and poor drug entrapment efficiency. Also in this case, a biphasic release profile of the active compound resulted due to the rapid leakage of the methylene blue adsorbed on the particle surfaces [
148
]. The results obtained by Mirshahi et al. are important for a plausible translation of the formulation into antitumor application; in fact, it was demonstrated that methylene blue can exert significant anticancer activity against non-small lung tumor cells by the inhibition of heat shock protein 70 [
149
]. One of the main advantages deriving from the use of vegetal protein-based nanoparticulates is related to the great biocompatibility of the material [
150
]; the immune-response elicited by legumin nanoparticles confirmed this peculiarity and in fact no specific modulation of the antibody titer by the protein nanosystems occurred following administration in rats. Various hypotheses have been proposed, including the role of GLA on the conformational modification of legumin, but this phenomenon is still under investigation [
145
].
8. Soy Protein-Based Anticancer Drug Delivery Systems
Soy proteins extracted from soybeans have been in use since 1959, thanks to their functional properties [
151
]; β-conglycinine and glycinine are the main storage proteins contained in soybeans, characterized by a sedimentation coefficient of 7S and 11S, respectively. The peculiar properties of soy, which is composed of polar, non-polar and charged amino acids such as glutamate, aspartate and leucine, allow the interaction with and retention of a variety of drugs [
78
,
152
]. Soy protein isolate (SPI) is obtained by extractions at various pH values and the addition of salt [
153
]. Teng et al. developed SPI nanoparticles containing curcumin by using the desolvation method and GLA as a crosslinker [
154
]. The amount of crosslinker suitable for interaction with two residues of lysine was calculated as 28 μg of GLA per each mg of SPI. The mean diameter of SPI nanoparticles containing curcumin was of ~250 nm and a slight augmentation was observed when the amount of loaded curcumin increased, while the surface charge was negative (around −35 mV) and was not influenced by the drug/protein ratio [
154
]. These nanoformulations showed different physico-chemical properties with respect to those of curcumin-loaded zein nanoparticles, which were characterized by a smaller size due to the presence of a stabilizer. An example is negatively-charged caseinate, able to provide strong electrostatic and/or steric interparticle repulsion, while avoiding the attractive van der Waals forces [
155
,
156
]. The release profile of curcumin from SPI nanoparticles was very similar to that of the gliadin- and legumin-based nanosystems previously described, confirming the biphasic leakage of the drug from the protein matrix as a function of time [
154
]. Successively, these nanovectors were conjugated to folic acid, showing peculiar targeting properties for human colon carcinoma cells [
157
]. The same approach was used by other research teams in order to deliver doxorubicin, increasing its cytotoxicity activity against SH-SY5Y, MCF-7 and 293 T cells [
158
].
Zhang et al., encapsulated docetaxel [
159
], an antineoplastic compound the activity of which is ascribed to cell-division suppression through the stabilization of the microtubules [
160
] within SPI nanosystems by means of the antisolvent precipitation and ultrasonication techniques [
159
]. Various soy protein isolate amounts were screened during preliminary testing, and it was observed that the nanoformulations prepared with 15 mg/mL of SPI at basic pH promoted a significant decrease in the mean diameter of the particles [
159
]. The encapsulation of the drug induced an increase in particle size, in a manner proportional to the amount of the drug initially added. The cellular uptake of SPI nanosystems containing docetaxel was exerted on A549 cells, demonstrating efficient tumor accumulation of the colloidal systems mediated by clathrin and lysosome endocytic pathways; the cytotoxicity exerted by docetaxel encapsulated within SPI nanoparticles was characterized by a lower IC
50
and a greater apoptotic effect with respect to the free drug [
159
].
9. Conclusions
For several years, pharmaceutical research has been investigating the antitumor application of innovative nanodelivery systems with the aim of increasing the localization of the active antitumor compounds directly into specific body compartments, thus precluding side effects on healthy tissues [
161
]. Plant proteins have been shown to be potential biomaterials to be used in the development of novel nanomedicines because of their biodegradability, biocompatibility, low cost, and ample availability [
162
,
163
]. In this review, an overview of the most important applications of plant-based nanodelivery systems in anticancer therapy has been shown (
Table 1
). Much investigation and characterization of these systems needs to be done to exploit these formulations in pre-clinical and clinical practice; in fact, their in vivo fate, their interaction with plasmatic proteins following intravenous administration, and their stability and capacity to modulate drug leakage are all aspects that should be better evaluated in order to develop suitable, efficacious nanomedicines.
Author Contributions
S.V., A.G., M.F. and D.C. conceived the review, analyzed the data of literature and wrote the paper. All authors have read and agreed to the published version of the manuscript.
Funding
This research was funded by a grant from the Italian Ministry of University and Research (PRIN2017, prot.n. 20173ZECCM_003).
Acknowledgments
The authors are grateful to Lynn Whitted for her language revision of this article.
Conflicts of Interest
The authors declare no conflict of interest in this work.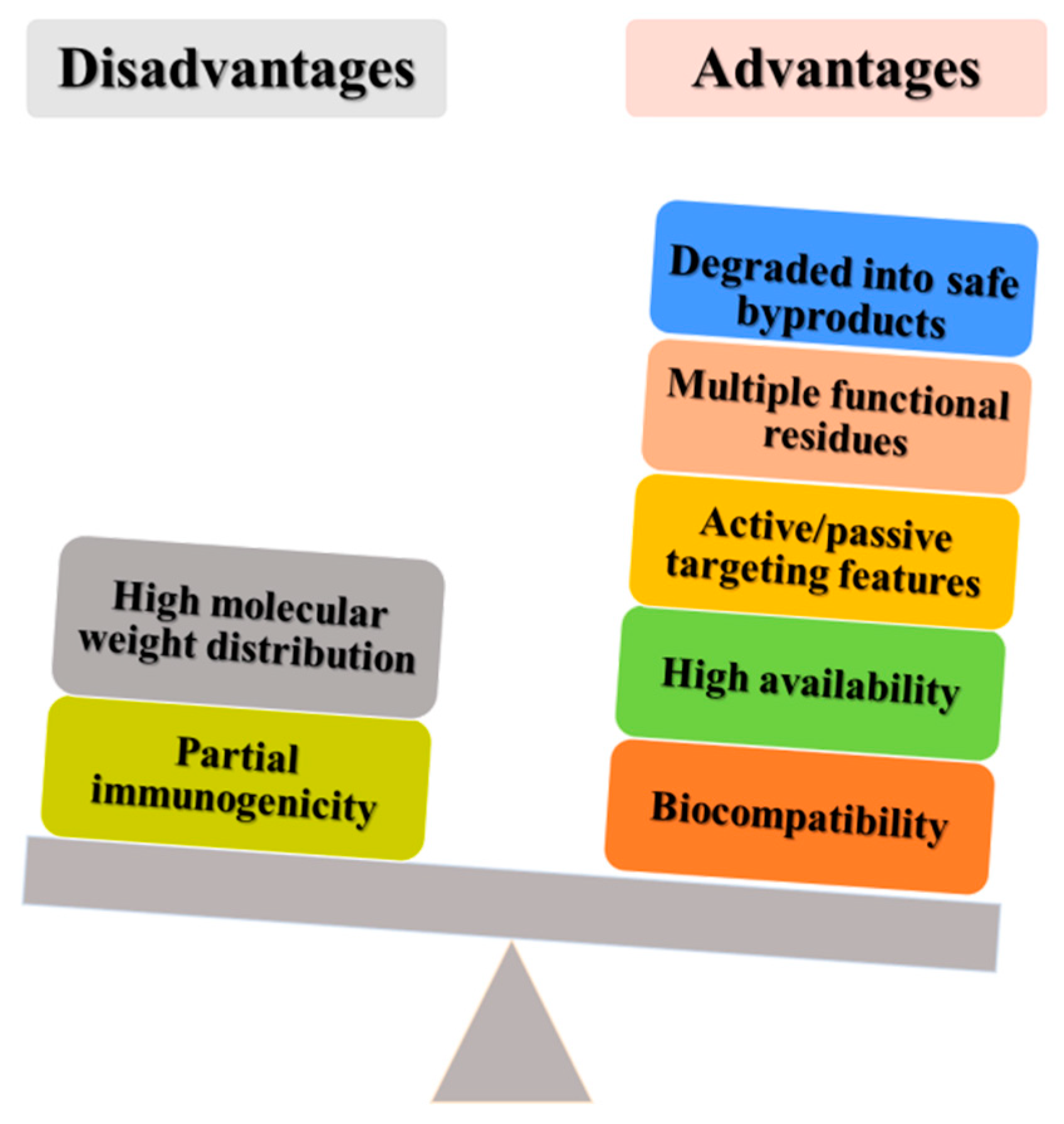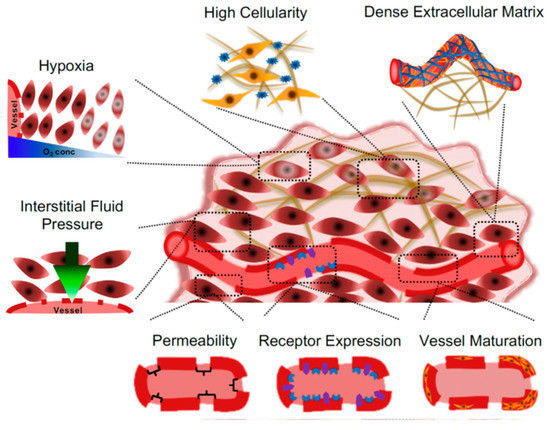 Figure 2.
Schematic representation of the architecture of solid tumor vessels. Reproduced with permission from [
59
]. Copyright (2018) Elsevier.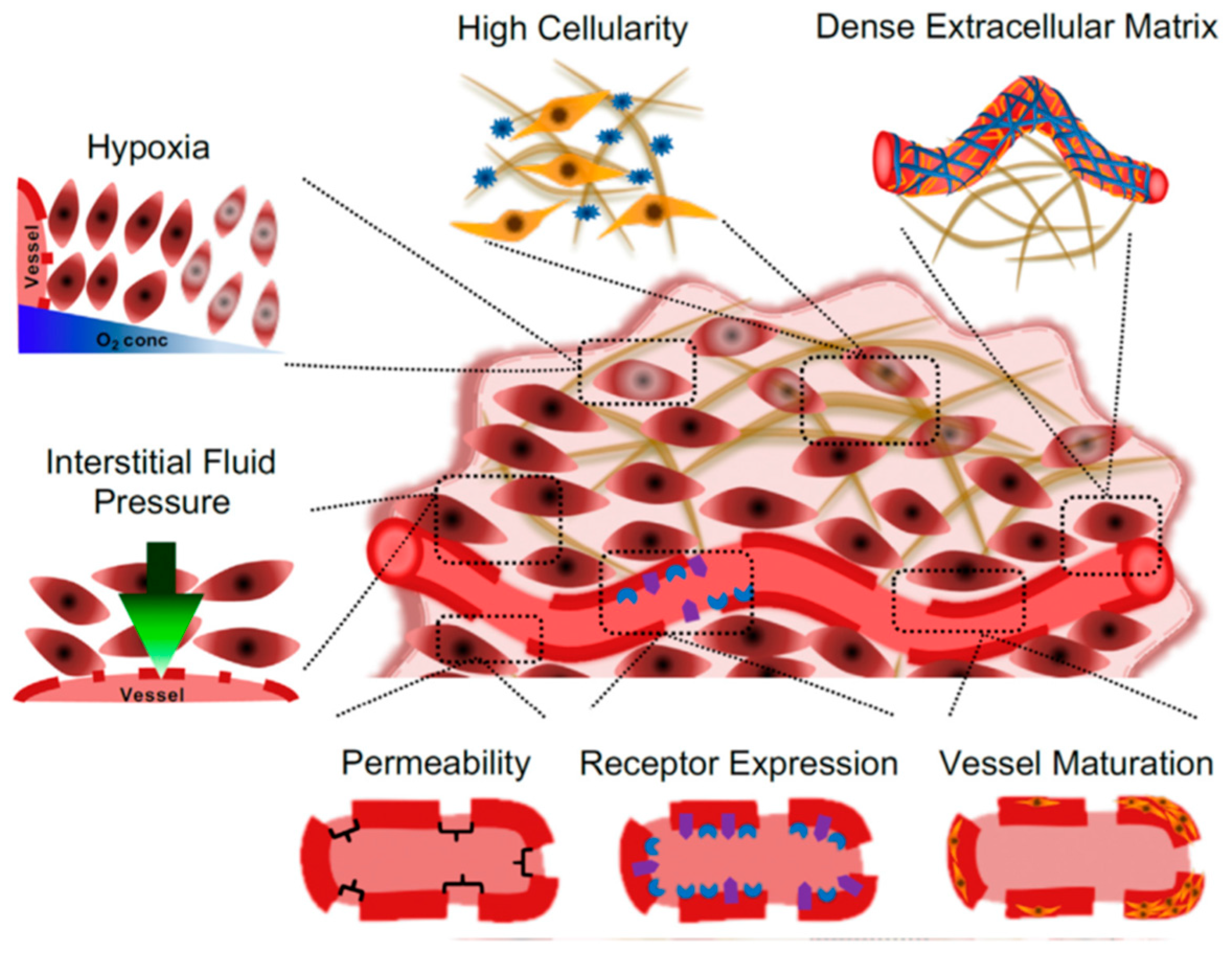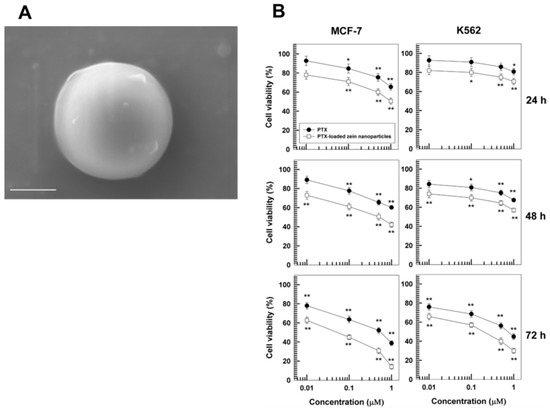 Figure 3.
(
A
) SEM micrograph of sodium-deoxycholate stabilized zein nanoparticles (bar = 100 nm) and (
B
) in vitro antitumor activity of paclitaxel (PTX)-loaded nanosystems on various human cancer cell lines. *
p
< 0.05, **
p
< 0.001 (with respect to the untreated cells). Adapted with permission from [
91
], copyright (2018) DOVE Medical Press and [
113
] copyright (2019) Elsevier.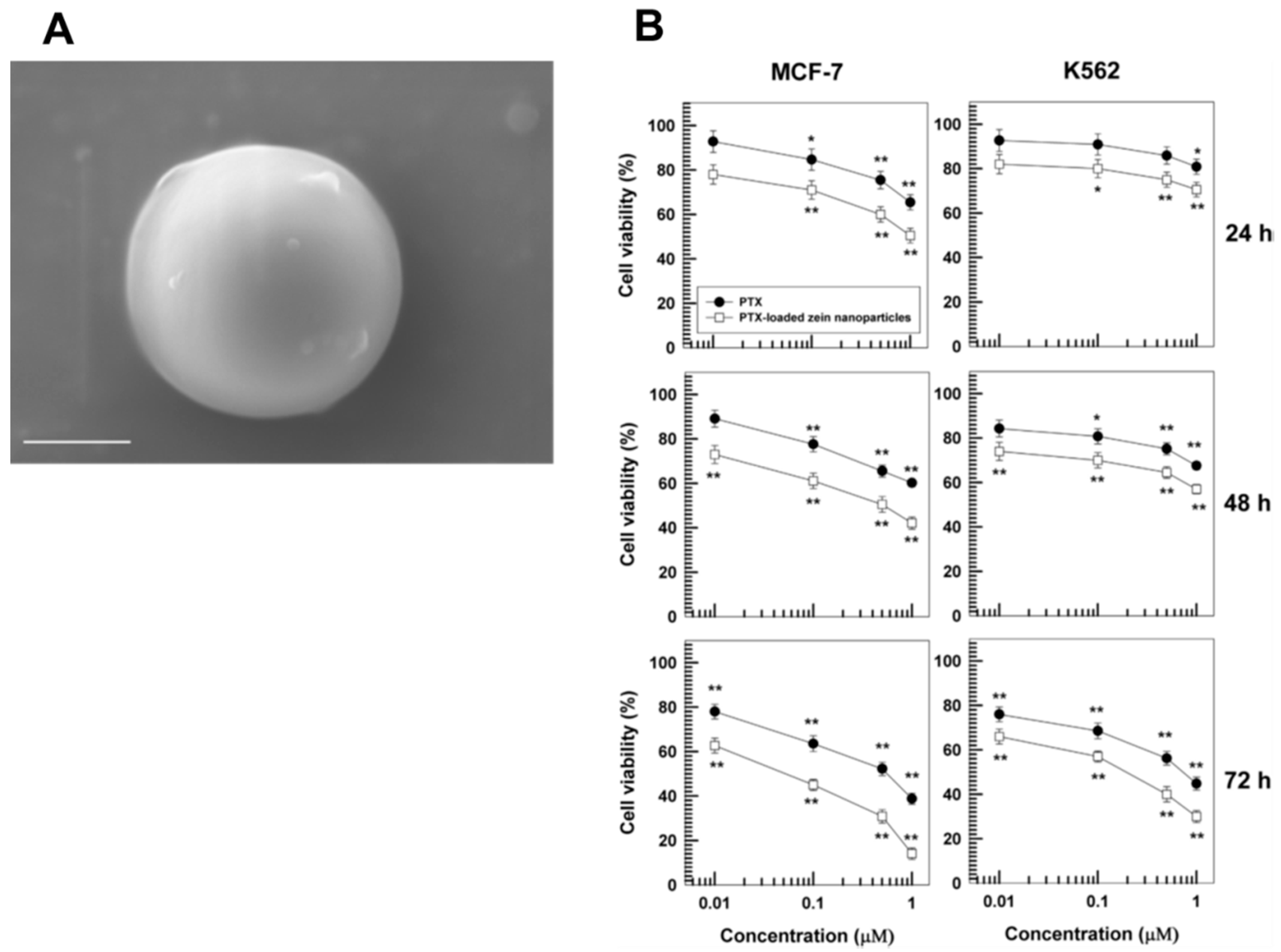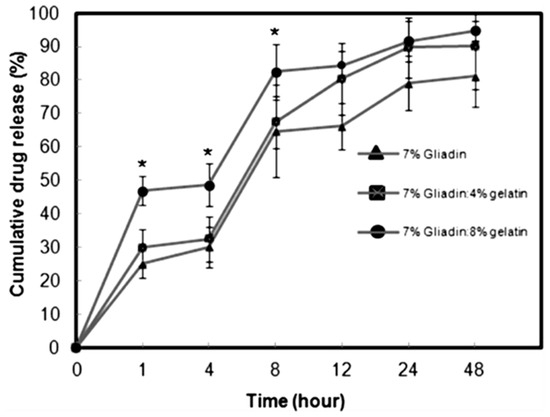 Figure 4.
Release profile of cyclophosphamide from gliadin- or gliadin/gelatin-based nanoparticles as a function of the incubation time (*
p
< 0.05). Reproduced with permission from [
142
]; copyright (2012) ACS Publications.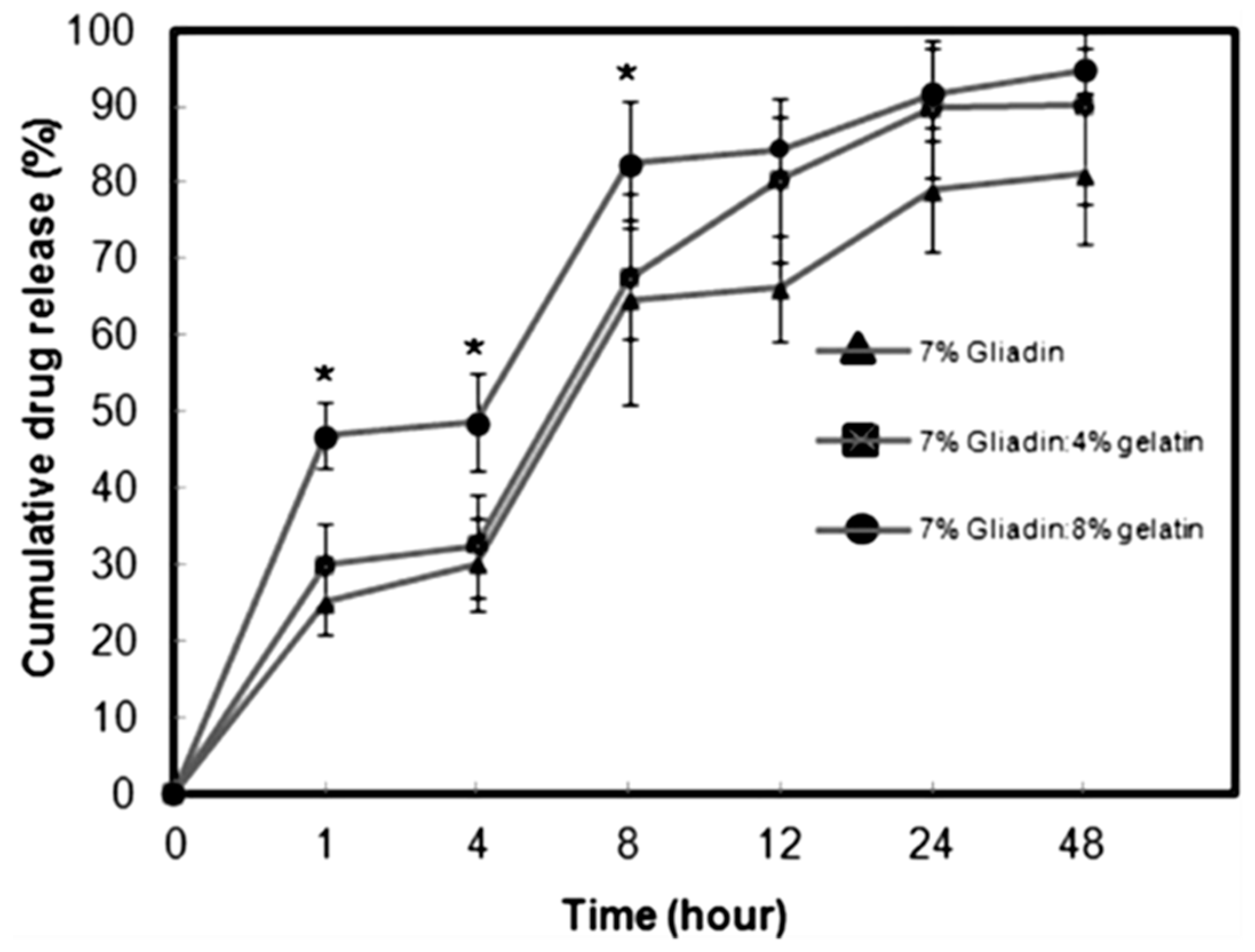 Table 1. Composition, physico-chemical characteristics and antitumor application of vegetal protein-based nanoparticles.
Protein
Encapsulated Drug
Method of Fabrication
Mean Sizes (nm)
PDI

Z

-Potential (mV)
Type of Treated Cancer Cells/Application
Reference
Zein
Daidzin
Modified Antisolvent Precipitation
150–200
0.2–0.3
20
/
[94]
6,7-dyhydroxicoumarin
pH controlled nanoprecipitation
300–400
0.36
−11 ± 18
/
[98]
Doxorubicin
Phase Separation
200–250
0.15–0.20
~−50
HeLa cells
[106]
5-Fluorouracil
Phase Separation
100–150
/
−46 ± 1
Liver targeting
[108]
Paclitaxel
Nanoprecipitation
<200
0.2
~−30
MCF-7; K562
[113]
Curcumin
Antisolvent precipitation
109
0.12
~−30
Caco-2
[117]
Exemestane and Resveratrol
Interfacial deposition
127 ± 3
0.13
~−32
Breast Cancer
[125]
Vorinostat and Bortezomib
Phase Separation
150
0.20
−20/−30
Metastatic prostate cancer
[126]
Gliadin
All-

Trans

Retinoic Acid
Desolvation
~500
/
−4
/
[130]
Paclitaxel
Desolvation and Film Hydration
160 ± 20
0.18
−21 ± 3
MCF-7; MDA-MB-231
[138]
Cyclophosphamide
Electrospray deposition
~220
/
~18
Breast cancer cells
[142]
Curcumin
Desolvation
~200
0.4
~−20
Colon cancer
[143]
Legumin
Methylene Blue
pH coacervation
250–300
/
~−40
/
[148]
Soy
Curcumin
Desolvation
220–286
/
~−35
/
[154]
Soy-Folate
Curcumin
Desolvation
170–300
/
−36
Caco 2
[157]
Soy-folate
Doxorubicin
Desolvation
232
/
−28, pH 5;
−41, pH 10
293 T, MCF-7, SH-SY5Y cells
[158]
Soy
Doxorubicin
Desolvation
206
/
−20, pH 5;
−30, pH 10
293 T, MCF-7, SH-SY5Y
[158]
Soy
Docetaxel
Antisolvent precipitation-ultrasonication
~250
0.3–0.4
~−10/−15
/
[159]

© 2020 by the authors. Licensee MDPI, Basel, Switzerland. This article is an open access article distributed under the terms and conditions of the Creative Commons Attribution (CC BY) license (http://creativecommons.org/licenses/by/4.0/).