In Vitro and Ex Vivo Evaluation of Tablets Containing Piroxicam-Cyclodextrin Complexes for Buccal Delivery
1
Laboratory of Pharmaceutical Technology, Department of Pharmacy, Aristotle University of Thessaloniki, GR-54124 Thessaloniki, Greece
2
Laboratory of Physical Pharmacy, Department of Drug Science, University of Pavia, 27100 Pavia, Italy
3
Department of Materials Science, University of Patras, 26504 Patras, Greece
4
Foundation for Research and Technology Hellas, Institute of Chemical Engineering and High Temperature Chemical Processes, 26504 Patras, Greece
5
Department of Oral Medicine/Pathology, School of Dentistry, Aristotle University of Thessaloniki, GR-54124 Thessaloniki, Greece
6
The Leicester School of Pharmacy, De Montfort University, The Gateway, Leicester LE1 9BH, UK
7
College of Biomedical Engineering and Instrument Science, Zhejiang University, Hangzhou 310027, China
8
Zhejiang Provincial Key Laboratory of Cardio-Cerebral Vascular Detection Technology and Medicinal Effectiveness Appraisal, Zhejiang University, Hangzhou 310027, China
9
Nanotechnology and Integrated Bioengineering Centre, University of Ulster, Jordanstown Campus, Newtownabbey, Northern Ireland BT37 0QB, UK
*
Authors to whom correspondence should be addressed.
Received: 17 June 2019 / Revised: 30 July 2019 / Accepted: 2 August 2019 / Published: 8 August 2019
Abstract
In the current study, the development of mucoadhesive tablets for buccal delivery of a non-steroidal anti-inflammatory drug was investigated. Binary complexes with piroxicam and cyclodextrins (β-cyclodextrin (β-CD), methylated-β-cyclodextrin (Me-β-CD), and hydroxypropyl-β-cyclodextrin (HP-β-CD)) were prepared by the co-evaporation method. All formulations were characterized by means of differential scanning calorimetry, infrared spectroscopy and powder X-ray diffractometry. Mucoadhesive tablets of binary systems were formulated by direct compression using chitosan as mucoadhesive polymer. The in vitro release profiles of tablets were conducted in simulated saliva and, the drug permeation studies, across porcine buccal mucosa. The results suggest that the rank order effect of cyclodextrins for the drug release was Me-β-CD > HP-β-CD > β-CD, whereas the ex vivo studies showed that the tablets containing chitosan significantly increased the transport of the drug compared to their free complexes. Finally, histological assessment revealed loss of the superficial cell layers, which might be attributed to the presence of cyclodextrins.
View Full-Text
►

▼

Figures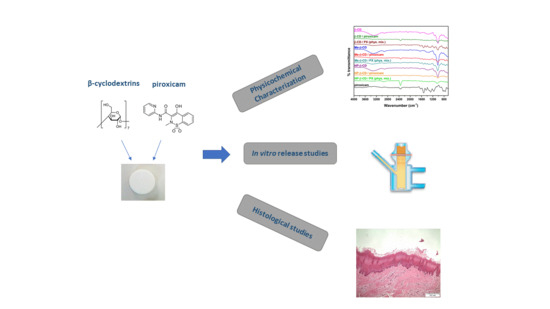 Graphical abstract
This is an open access article distributed under the
Creative Commons Attribution License
which permits unrestricted use, distribution, and reproduction in any medium, provided the original work is properly cited (CC BY 4.0).

Share & Cite This Article
MDPI and ACS Style
Kontogiannidou, E.; Ferrari, M.; Deligianni, A.-D.; Bouropoulos, N.; Andreadis, D.A.; Sorrenti, M.; Catenacci, L.; Nazari, K.; Arshad, M.S.; Chang, M.-W.; Ahmad, Z.; Fatouros, D.G. In Vitro and Ex Vivo Evaluation of Tablets Containing Piroxicam-Cyclodextrin Complexes for Buccal Delivery. Pharmaceutics 2019, 11, 398.
Note that from the first issue of 2016, MDPI journals use article numbers instead of page numbers. See further details here.
Related Articles
Comments
[Return to top]