Influenza Virus-Like Particles Presenting both
Toxoplasma gondii

ROP4 and ROP13 Enhance Protection against

T. gondii

Infection

1

Department of Biomedical Science, Graduate School, Kyung Hee University, Seoul 02447, Korea

2

Department of Chemical and Materials Engineering, University of Alberta, Edmonton, AB T6G 2V4, Canada

3

Health Park Co., Ltd., Seoul 06627, Korea

4

Department of Medical Zoology, Kyung Hee University School of Medicine, Seoul 02447, Korea

5

Medical Research Center for Bioreaction to Reactive Oxygen Species and Biomedical Science Institute, School of Medicine, Graduate school, Kyung Hee University, Seoul 02447, Korea

*

Author to whom correspondence should be addressed.

Received: 25 June 2019 / Revised: 10 July 2019 / Accepted: 15 July 2019 / Published: 16 July 2019
Abstract
Rhoptry organelle proteins (ROPs) secreted by
Toxoplasma gondii
(
T. gondii
) play a critical role during parasite invasion into host cells. In this study, virus-like particles (VLPs) vaccines containing ROP4 and/or ROP13 together with influenza M1 were generated. ROP4+ROP13 VLPs were produced by combining ROP4 VLPs with ROP13 VLPs, and ROP(4 + 13) VLPs by co-infecting insect cells with recombinant baculovirus expressing ROP4 or ROP13. Mice intranasally immunized with ROP(4 + 13) VLPs showed significantly higher levels of IgG, IgG1, IgG2a and IgA antibody responses in sera compared to ROP4+ROP13VLPs. Upon challenge infection by oral route, mice immunized with ROP(4 + 13) VLPs elicited higher levels of IgG and IgA antibody responses in fecal, urine, intestine and vaginal samples as well as CD4
+
T, CD8
+
T cells, and germinal center B cell responses compared to other type of vaccines, ROP4 VLPs, ROP13 VLPs, and ROP4+ROP13 VLPs. ROP(4 + 13) VLPs vaccination showed a significant decrease in the size and number of cyst in the brain and less body weight loss compared to combination ROP4+ROP13 VLPs upon challenge infection with
T. gondii
ME49. These results indicated that the ROP(4 + 13) VLPs vaccination provided enhanced protection against
T. gondii
infection compared to ROP4+ROP13 VLPs, providing an important insight into vaccine design strategy for
T. gondii
VLPs vaccines.
View Full-Text
►

▼

Figures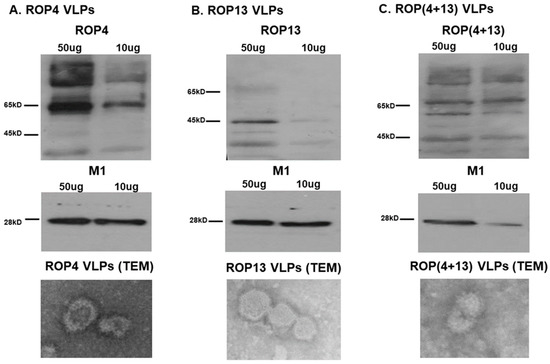 Figure 1
This is an open access article distributed under the
Creative Commons Attribution License
which permits unrestricted use, distribution, and reproduction in any medium, provided the original work is properly cited (CC BY 4.0).

Share & Cite This Article
MDPI and ACS Style
Kang, H.-J.; Lee, S.-H.; Kim, M.-J.; Chu, K.-B.; Lee, D.-H.; Chopra, M.; Choi, H.-J.; Park, H.; Jin, H.; Quan, F.-S. Influenza Virus-Like Particles Presenting both Toxoplasma gondii ROP4 and ROP13 Enhance Protection against T. gondii Infection. Pharmaceutics 2019, 11, 342.
Note that from the first issue of 2016, MDPI journals use article numbers instead of page numbers. See further details here.
Related Articles
Comments
[Return to top]