Open Access This article is
freely available
re-usable
Review
A New Hope: Self-Assembling Peptides with Antimicrobial Activity
1
Department of Pharmacy, University of Naples Federico II, Via Mezzocannone 16, 80134 Naples, Italy
2
Department of Agricultural Science, University of Naples Federico II, Via Mezzocannone 16, 80134 Naples, Italy
*
Author to whom correspondence should be addressed.
Received: 6 March 2019 / Accepted: 29 March 2019 / Published: 4 April 2019
Abstract
:
Peptide drugs hold great promise for the treatment of infectious diseases thanks to their novel mechanisms of action, low toxicity, high specificity, and ease of synthesis and modification. Naturally developing self-assembly in nature has inspired remarkable interest in self-assembly of peptides to functional nanomaterials. As a matter of fact, their structural, mechanical, and functional advantages, plus their high bio-compatibility and bio-degradability make them excellent candidates for facilitating biomedical applications. This review focuses on the self-assembly of peptides for the fabrication of antibacterial nanomaterials holding great interest for substituting antibiotics, with emphasis on strategies to achieve nano-architectures of self-assembly. The antibacterial activities achieved by these nanomaterials are also described.
Keywords:
self-assembling; peptide; antimicrobial activity; nanomaterial
1. Introduction
1.1. Antimicrobial Resistance and the Need for Novel Molecules to Substitute Antibiotics
History broadly documents cases of infectious diseases and witnesses that many pathogens were largely spread already in ancient Egypt and Greece (such as tuberculosis and diphtheria). At that time, people embraced a superstitious idea of diseases, and only much later did medical science reveal that many illnesses were caused by pathogens. At the beginning of the twentieth century, modern medicine brought an understanding of these pathologies and the discovery of antibiotics revolutionized the treatment of pathogenic diseases, saving millions of lives.
1.2. Biomedical Implants and Biofilms
Biomedical implants (prosthetics, catheters, and several other devices) have revolutionized medicine, but severe infections are associated with them because their surfaces are in contact with biological fluids and, thus, susceptible to bacterial colonization. For successful implantation, the rapid integration of biomaterials into host tissues is a key factor enabling the prevention of bacterial adhesion and colonization. It is impossible to create perfectly sterile wounds; thus, minor contamination of implant surfaces may be regarded as a physiological phenomenon. The implant surfaces become a reservoir of bacteria that can spread into the rest of the body, causing chronic infection. Additionally, several troubles are related to the development of biofilms on medical implants. The implant removal often represents the only chance to eradicate the biofilm and the increased number of replacement surgeries determines an increase in healthcare costs. If bacterial adhesion takes place before tissue regeneration occurs, the immune system often cannot prevent surface colonization and the subsequent formation of biofilm. Therefore, an important issue is prevention with inhibition of bacterial adhesion and development of sophisticated antibacterial implant materials. Infection-resistant materials can be obtained by: (a) modification of the biomaterial surface to confer anti-adhesive properties, (b) coating of the material with antimicrobial drugs, (c) combined coating with anti-adhesive and antimicrobial substances, (d) design of materials able to oppose biofilm formation after the initial bacterial attachment. Self-assembled monolayers (SAMs), use of various polymer-based materials [
11
], and liquid-infused nanostructured surfaces [
12
] are only a few examples of the various chemical approaches for coating an implant and generally, more than one mechanism of defense is required for a robust antimicrobial coating. As a matter of fact, a wide number of molecules that inhibit or destroy biofilms have been identified and used, often in combination, to prepare coatings for medical devices [
13
,
14
].
1.3. Antimicrobial Peptides
Thus, AMPs represent an emerging strategy for dealing with bacterial infections. In depth understanding of the structure function relationship of AMPs will allow design and modifications of natural AMPs providing a new source of antimicrobial molecules. The use of supramolecular objects possessing antibacterial activity, which may be obtained by the self and co-assembly of AMPs appears extremely fascinating. This strategy may help in overcoming the drawbacks of traditional AMPs and enable the development of antimicrobial nanomaterials with improved stabilities and activities and sustained release.
2. Self-Assembling in Nature
Self-assembly refers to the spontaneous organization of molecules in ordered supramolecular structures thanks to their mutual non-covalent interactions without external control. The chemical and conformational structures of individual molecules carry the instructions of how these are assembled [
38
,
39
,
40
]. The same or different molecules may constitute the building blocks of a molecular self-assembling system [
41
,
42
], Generally, interactions are established in a less ordered state, such as a solution, random coil, or disordered aggregate leading to an ordered final state, which can be a crystal or folded macromolecule. The association of small molecules into well-ordered structures is driven by thermodynamic principles, thus, based on energy minimization. The interactions involved in the molecular assembly process are electrostatic, hydrophobic, hydrogen bonding, van der Waals interactions, aromatic stacking, and metal coordination [
39
,
43
]. Although non-covalent and individually weak (2–250 kJ mol
−1
), these forces can generate highly stable assemblies and govern the shape and function of the final assembly.
Self-assembly is essential for life, ubiquitous in nature and may represent a well of inspiration for material design and, thus, the development of novel and valuable supramolecular assemblies [
44
]. As a matter of fact, many biological structures possess a highly precise organization derived from specific interactions on a molecular scale, which are critical for their function. Examples are represented by nucleic acids to form the DNA helix [
45
], lipids in cell membranes [
46
], viral capsids [
47
], proteins which fold to have a secondary and tertiary structure or interact in trimer as it occurs with glycoproteins during viral fusion [
48
,
49
], and peptides such as antimicrobial peptides, which form toroidal pore or barrel-stave in bacterial membranes [
8
,
50
].
Self-assembling molecules provide the challenging opportunity to control chemical functionality and morphology and thus biological activity. Among the most multipurpose molecules with self-assembling properties are the peptides; in fact, careful design of the sequence can help in controlling folding patterns, while chemical modifications of side or main chains can provide chemical and physical functionalities.
Basic Features of Self-Assembling Peptides
There are several strategies to confer self-assembling properties to peptides; one could be the chemical addition of a moiety, which provides the driving force necessary for the collapse into a nanostructure; modifications include the use of protected amino acids, small or long peptide sequences, lipids or alkyl tails. pH and ionic strength can be important factors for on demand control of peptide assembly and disassembly. Charged amino acids are key for pH-responsive self-assembled molecules; in fact, below a certain pH (at which they are neutral) they tend to self-assemble, while at a higher pH they will disassemble because of electrostatic repulsions.
3. Amino Acids and Peptides as Building Blocks
Peptides forming self-assembled aggregates can be very short such as mono-, di- and tripeptides usually N-terminally protected, but also longer and are able to produce different structural motifs such as α-helix, β-sheet, β-hairpin.
4. Peptide Amphiphiles
Another key parameter that can be tuned to develop new self-assembled materials, is the amphipathic nature of the molecules. Peptide sequences with high assembling ability could be designed containing both hydrophilic and hydrophobic residues (peptide amphiphiles) or through the addition of an amphiphilic peptide bound at C or N-terminus of the native sequence.
An example of amphiphiles is polyelectrolytes such as polylysine or polyglutamate connected to hydrophobic domains, such as polyleucine or polyvaline [
85
]. The hydrophilic–lipophilic balance is a controlling factor for the assembly and co-assembly process of peptide amphiphiles, as a decrease in the hydrophobic content does not allow the peptide to attain the desired nanostructure [
86
]. These peptides are also named lipid-like peptides because they have an either positively or negatively charged head group, and a hydrophobic tail consisting of six hydrophobic amino acids. They are approximately 2 nm and can self-assemble into nanotubes and nanovesicles and examples are reported by Zhang group [
81
].
Another category of peptide amphiphiles is represented by alkylated or lipidated peptides [
87
]. Connecting a hydrophobic tail to a hydrophilic peptide adds hydrophobicity to the peptide, facilitating its self-organizing ability. Such peptides self-assemble into micelles or bilayer structures in a concentration dependent fashion and increased concentrations lead to nanofibers or tube formation, which can further self-assemble to form a 3D hydrogel [
88
].
It is also possible to use more than one motif at the same time as done by Stupp and co-workers [
87
]. They reported peptide amphiphile bearing five different structural and functional domains: a long alkyl chain (hydrophobic character), a cysteine-rich region (disulfide bond formation), a linker made of glycine residues (flexibility), phosphorylated serine (interaction with calcium ions and mineralization) and an Arg-Gly-Asp motif (cell targeting). Self-assembly of this peptide is triggered by different forces, such as stabilization by van der Waals and hydrophobic forces, covalent bonds, ionic bridging, hydrogen bonding, and counter-ion screening. These features together with concentration significantly influence self-assembly and gel mechanical properties [
89
].
It is right to point out that not only chemical modifications can attribute self-assembling properties to the peptides but also changes in the surrounding environment (solvent, temperature, ionic strength, pH) can lead to supra-molecular structures from peptides that normally do not aggregate. All the motifs described above can be used to confer self-assembling properties to antimicrobial peptides.
5. Reports on Self-Assembling Systems with Antimicrobial Properties
In this paragraph, we will describe several examples of self-assembled AMPs, which will include, self-assembled peptide nanosystems with appeared antimicrobial activity, AMPs with the ability to self-assemble usually in the membrane and naturally-occurring AMPs modified with a self-assembling moiety.
Many self-assembling antimicrobial peptides are not derived from natural sequences but are synthetic peptides able to self-assemble and display activity against pathogens. In general, the head may possess positively or negatively charged residues while the hydrophobic portion contains amino acids such as Val, Ile, Leu, Phe, Trp (tryptophan), or Tyr (tyrosine).
6. Conclusions and Perspectives
Self-assembly is key to life being widely exploited in nature especially for the functionality of living cells [
113
]. Thus, self-assembly represents a fascinating strategy to take advantage of non-covalent interactions and combine different elements on a single nanosystem, which may find applications for a number of nanotechnological purposes. It is also recently emerging in the biomedical field thanks to its good biocompatibility, design flexibility, and easy modification by functional groups [
41
,
114
].
Nowadays, the incorporation of antimicrobial peptides into artificial materials has become an effective strategy to improve the surface properties of materials for many applications. The food industry is highly interested in the development of self-assembled AMPs that avoid the development of resistance in bacteria and fungi without acting on specific targets. The development of self-assembled systems for the delivery across the blood brain barrier of AMPs and antibiotics is also a key approach to treat brain infections. Self-assembled peptide nanosystems may also have applications in vaccine design. Another interesting usage is the strategy of combining more than one active molecule to improve the antimicrobial spectrum of activity and potency but also to endow the nanosystem with extra activities providing the opportunity to design smart materials. Self-assembled/co-assembled systems with AMPs and chemotherapeutic drugs may represent an appealing strategy also for cancer [
115
].
In this framework, integrating antimicrobial peptides in or on the surface of a self-assembling systems offers the opportunity to engineer their antimicrobial activity against a wide range of Gram-positive and Gram-negative bacteria while reducing hemolysis and allergic responses and potentially the development of resistance, establishing an innovative design principle for the development of antibacterial materials. Moreover, particularly attractive, is the possibility to combine multiple components, including AMPs and conventional antibiotics, which may open new avenues in reducing both the administration dose of the antibiotic and the development of resistance. The integration of AMPs on self-assembling peptide nanostructures represents a novel strategy to improve biocompatibility by reducing toxic effects for human cells and enhancing toxicity for bacterial cells. The multivalent presentation of AMPs on the surface of self-assembled supramolecular nanostructures provides significant improvements compared to the activity of single soluble peptides because it can aid not only in increasing stability and half-life of peptides but also in augmenting and controlling the local concentration of the active peptide enabling enhanced interactions.
This systematic investigation will help to further validate the self-assembling platforms to re-engineer thousands of natural and synthetic AMPs, boosting their therapeutic potential. Self-assembled AMPs represent promising candidates in the field of pharmaceutical sciences and biomedical engineering, even though certain drawbacks still have to be solved to achieve commercial use. Nonetheless, they represent a huge fortune that cannot be neglected.
Funding
This work was supported by a grant from Regione Campania-POR Campania FESR 2014-2020 "Combattere la resistenza tumorale: piattaforma integrate multidisciplinare per un approccio tecnologico innovativo alle oncoterapie-Campania oncoterapie" (Project N. B61G18000470007).
Conflicts of Interest
The authors declare no conflict of interest.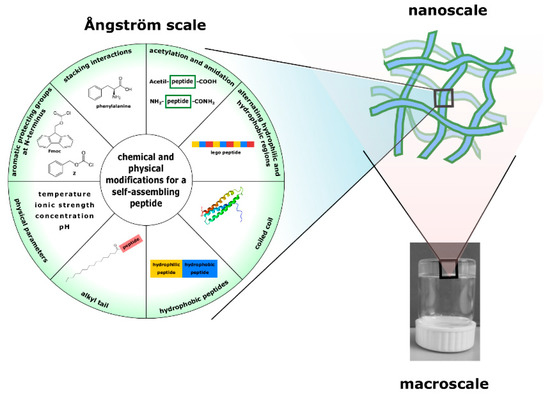 Figure 1. The appearance of a gel at various size scales. At the nanometric scale, the gel is a network of aggregates (usually fibers, tubes, etc.) that are formed thanks to spontaneous interactions among molecules (building blocks) of different nature. By changing chemically, the building blocks or the environmental parameters, the self-assembly can be controlled to obtain different on demand supramolecular nanostructures.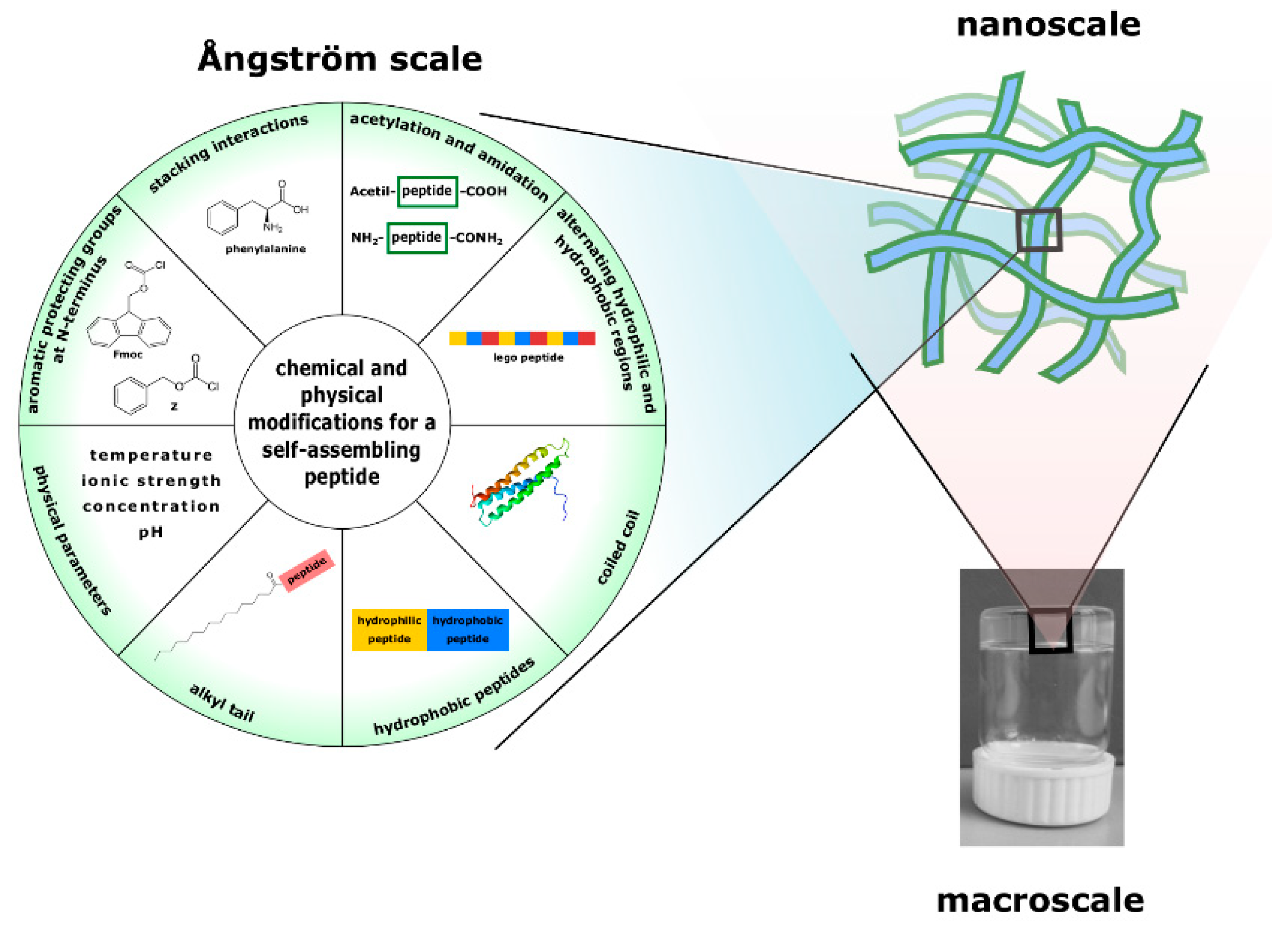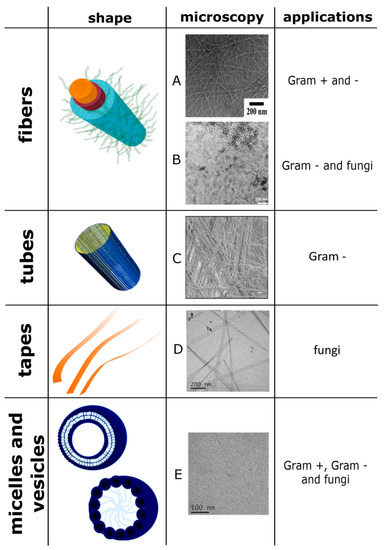 Figure 2.
Some of the structures with antimicrobial properties mentioned in the article and their respective shapes assumed after the self-aggregation and their applications on pathogens. The image A is reprinted (adapted) with permission from reference [
92
]. Copyright 2014 American Chemical Society. The image B and the image of the fiber are reprinted (adapted) with permission from reference [
111
], scale bar is 200 nm. Copyright 2019 American Chemical Society. The image C is reprinted (adapted) from reference [
94
], scale bar is 10 μm. This article is licensed under a Creative Commons Attribution 4.0 International License
http://creativecommons.org/licenses/by/4.0/
. The images D and E are reproduced from reference [
104
]—Published by The Royal Society of Chemistry. The images of the tube are reprinted (adapted) with permission from reference [
112
] Copyright 2009 American Chemical Society. The images of micelle and vesicle are reproduced from reference [
42
] published in 2017 by The Royal Society of Chemistry.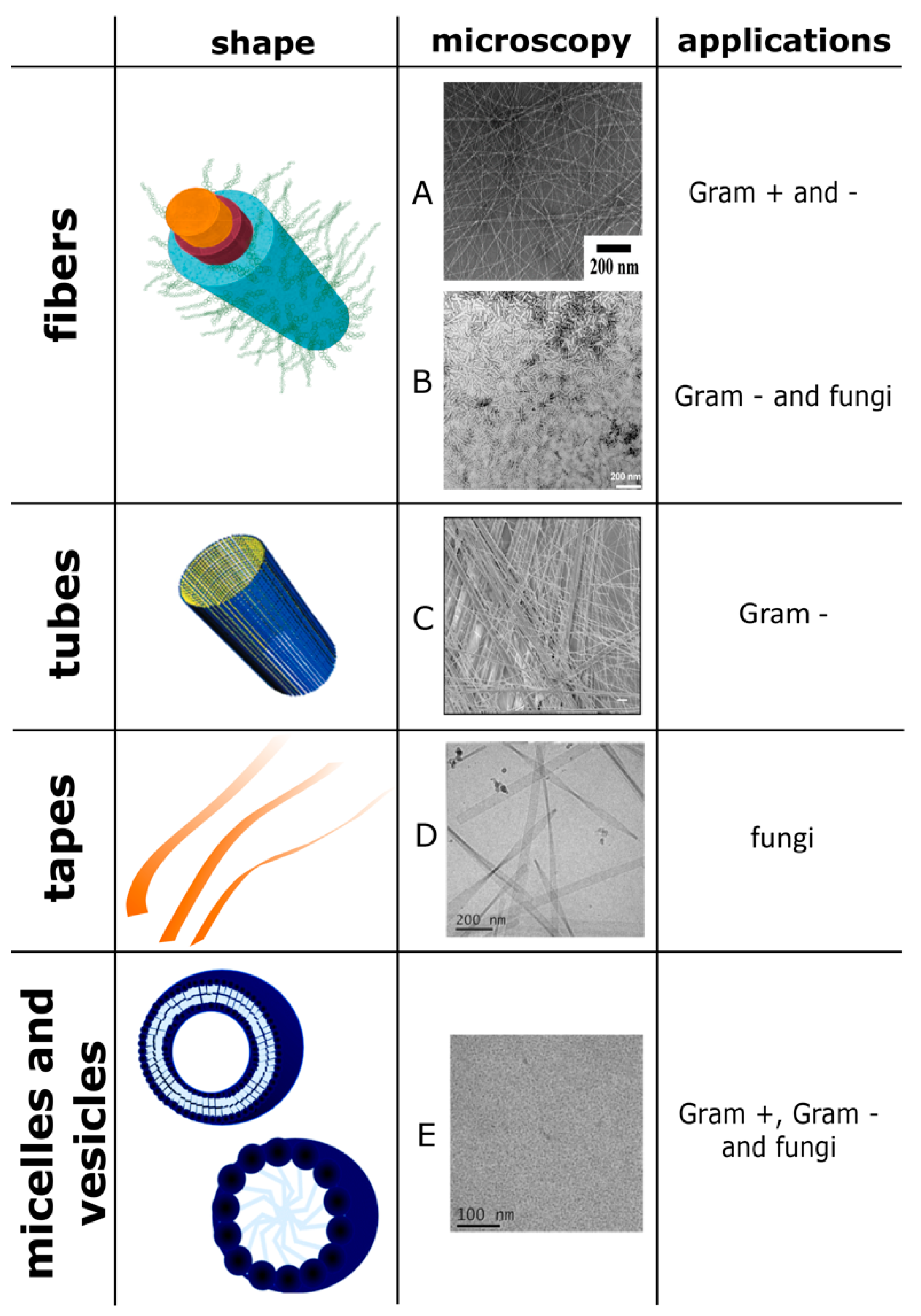 © 2019 by the authors. Licensee MDPI, Basel, Switzerland. This article is an open access article distributed under the terms and conditions of the Creative Commons Attribution (CC BY) license (http://creativecommons.org/licenses/by/4.0/).