Ophthalmic Drug Delivery Systems for Antibiotherapy—A Review
1
Univ Lyon, Université Claude Bernard Lyon 1, Centre National de la Recherche Scientifique (CNRS), Laboratoire d'Automatique et de GEnie des Procédés (LAGEP) Unité Mixte de Recherche UMR 5007, 43 boulevard du 11 novembre 1918, F-69100, Villeurbanne, France
2
Horus Pharma, Cap Var, 148 avenue Georges Guynemer, F-06700 Saint Laurent du Var, France
3
Univ Lyon, Université Claude Bernard Lyon 1, Institut des Sciences Pharmaceutiques et Biologiques (ISPB)—Faculté de Pharmacie de Lyon, 8 avenue Rockefeller, F-69008, Lyon, France
4
Unité de Recherche sur les Maladies Infectieuses et Tropicales Émergentes (URMITE), Unité Mixte de Recherche 6236 Centre National de la Recherche Scientifique (CNRS), Aix Marseille Université, Faculté de Médecine et de Pharmacie, F-13005 Marseille, France
*
Author to whom correspondence should be addressed.
Received: 13 November 2017 / Revised: 4 January 2018 / Accepted: 9 January 2018 / Published: 13 January 2018
Abstract
The last fifty years, ophthalmic drug delivery research has made much progress, challenging scientists about the advantages and limitations of this drug delivery approach. Topical eye drops are the most commonly used formulation in ocular drug delivery. Despite the good tolerance for patients, this topical administration is only focus on the anterior ocular diseases and had a high precorneal loss of drugs due to the tears production and ocular barriers. Antibiotics are popularly used in solution or in ointment for the ophthalmic route. However, their local bioavailability needs to be improved in order to decrease the frequency of administrations and the side effects and to increase their therapeutic efficiency. For this purpose, sustained release forms for ophthalmic delivery of antibiotics were developed. This review briefly describes the ocular administration with the ocular barriers and the currently topical forms. It focuses on experimental results to bypass the limitations of ocular antibiotic delivery with new ocular technology as colloidal and in situ gelling systems or with the improvement of existing forms as implants and contact lenses. Nanotechnology is presently a promising drug delivery way to provide protection of antibiotics and improve pathway through ocular barriers and deliver drugs to specific target sites.
View Full-Text
►

▼

Figures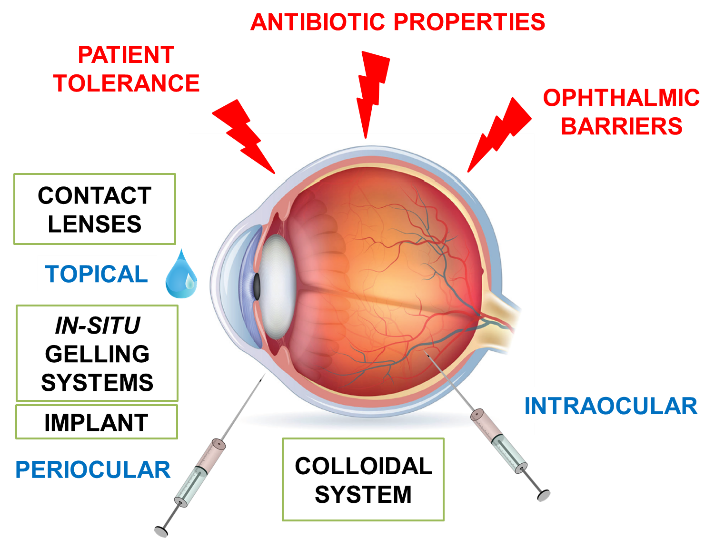 Graphical abstract
This is an open access article distributed under the
Creative Commons Attribution License
which permits unrestricted use, distribution, and reproduction in any medium, provided the original work is properly cited (CC BY 4.0).

Share & Cite This Article
MDPI and ACS Style
Dubald, M.; Bourgeois, S.; Andrieu, V.; Fessi, H. Ophthalmic Drug Delivery Systems for Antibiotherapy—A Review. Pharmaceutics 2018, 10, 10.
Note that from the first issue of 2016, MDPI journals use article numbers instead of page numbers. See further details here.
Related Articles
Comments
[Return to top]