Open Access This article is
freely available
re-usable
Review
Exosomes and Other Extracellular Vesicles in HPV Transmission and Carcinogenesis
1
EA3181, University Bourgogne Franche-Comté, LabEx LipSTIC ANR-11-LABX-0021, Rue Ambroise Paré, 25000 Besançon, France
2
CNR Papillomavirus, CHRU, Boulevard Alexandre Fleming, 25000 Besançon, France
3
Department of Medicine, Division of Oncology, Stanford Cancer Institute, Stanford University, Stanford, CA 94305, USA
4
INSERM LNC-UMR1231, University Bourgogne Franche-Comté, LabEx LipSTIC ANR-11-LABX-0021, Fondation de Coopération Scientifique Bourgogne Franche-Comté, 21000 Dijon, France
*
Author to whom correspondence should be addressed.
Academic Editors: Alison A. McBride and Karl Munger
Received: 7 July 2017 / Accepted: 31 July 2017 / Published: 7 August 2017
Abstract
:
Extracellular vesicles (EVs), including exosomes (Exos), microvesicles (MVs) and apoptotic bodies (ABs) are released in biofluids by virtually all living cells. Tumor-derived Exos and MVs are garnering increasing attention because of their ability to participate in cellular communication or transfer of bioactive molecules (mRNAs, microRNAs, DNA and proteins) between neighboring cancerous or normal cells, and to contribute to human cancer progression. Malignant traits can also be transferred from apoptotic cancer cells to phagocytizing cells, either professional or non-professional. In this review, we focus on Exos and ABs and their relationship with human papillomavirus (HPV)-associated tumor development. The potential implication of EVs as theranostic biomarkers is also addressed.
Keywords:
exosomes; microvesicles; apoptotic bodies; papillomavirus; horizontal gene transfer; cell-to-cell communication; carcinogenesis
Acknowledgments
The authors would like to thank Emilie Gaiffe for her excellent contribution in the execution of the Horizontal Gene Transfer study. The technical assistance of Sophie Launay is also much appreciated. The HGT work was supported by grant from the "Région de Franche-Comté" and the "Ligue Contre le Cancer (CCIR-GE)". The authors also acknowledge the "Comités Départementaux de la Ligue Contre le Cancer" (Besançon and Montbéliard—Doubs, Jura and Haute-Saône) and the "Cancéropôle Grand-Est" (CGE) for the financial support of the post-doctoral fellowship program of David Guenat. The funders had no role in study design, data collection and analysis, decision to publish or preparation of the manuscript. We would like also to thank Fiona Ecarnot for English language editing and Collectif MBC for designing
Figure 1
and
Figure 2
.
Conflicts of Interest
The authors declare no conflict of interest.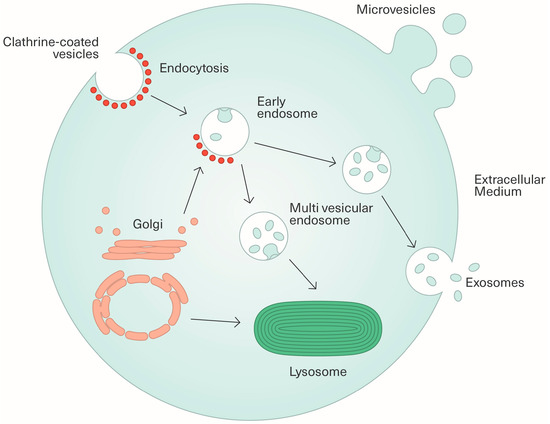 Figure 1. Exosome and microvesicle biogenesis. Exosomes originate from the inward budding of endosomes to form multivesicular endosomes (MVEs). MVEs then fuse with the cell surface membrane to release exosomes into the extracellular medium. Some MVEs fuse with lysosomes. Microvesicles are produced by direct budding from the plasma membrane.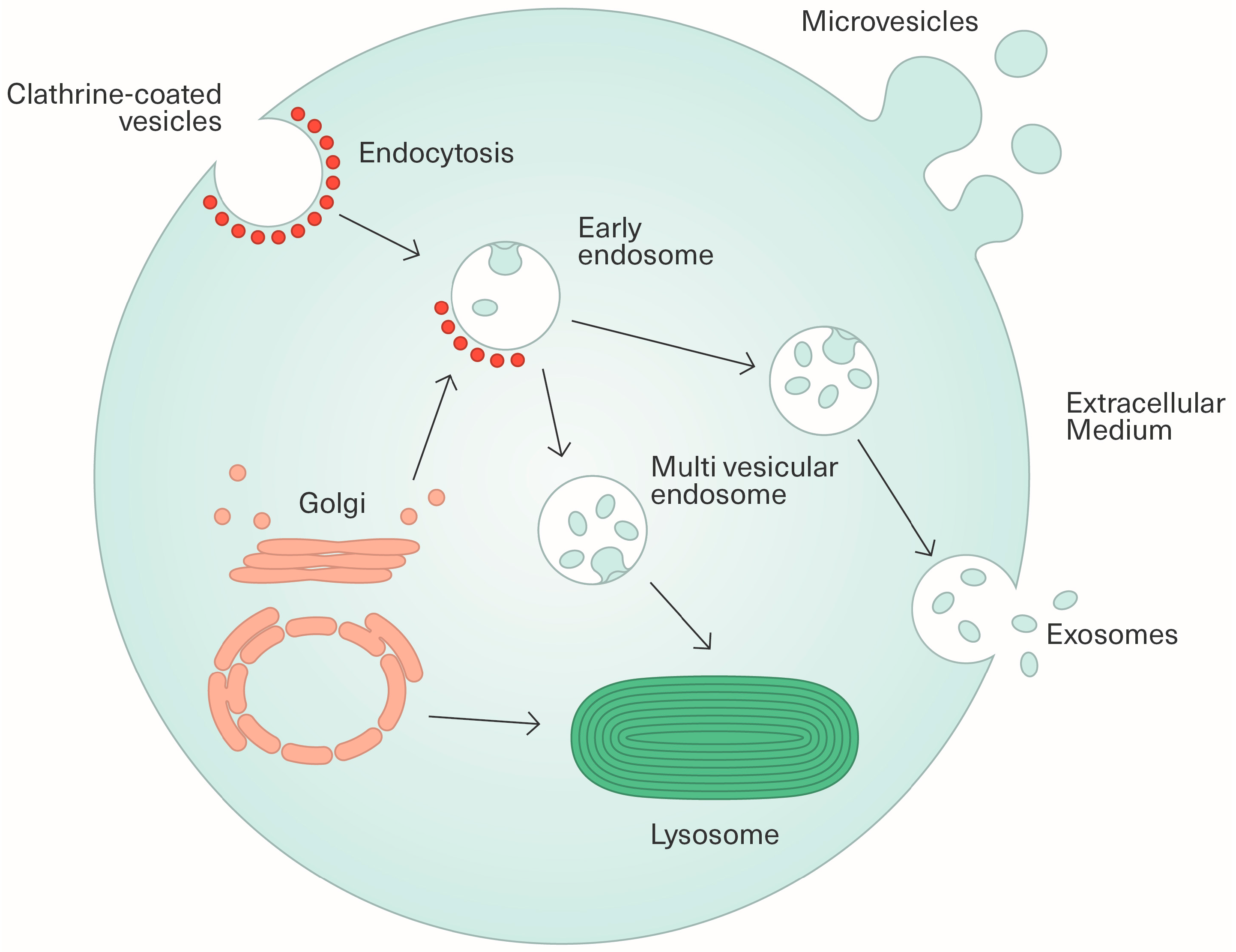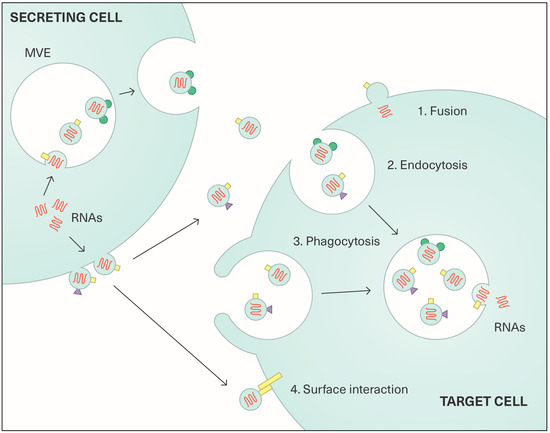 Figure 2. The four different modes of communication by exosomes and microvesicles. Extracellular vesicles serve as vehicles for cell-to-cell communication through horizontal transfer of bioactive molecules (proteins, lipids and nucleic acids). Extracellular vesicles (microvesicles (MVs) or exosomes (Exos)) produced from a secreting cell may be internalized by fusion (1), endocytosis (2), phagocytosis (3) or may interact with the membrane proteins of the target cell (4). Squares, triangles and circles represent membrane-associated proteins.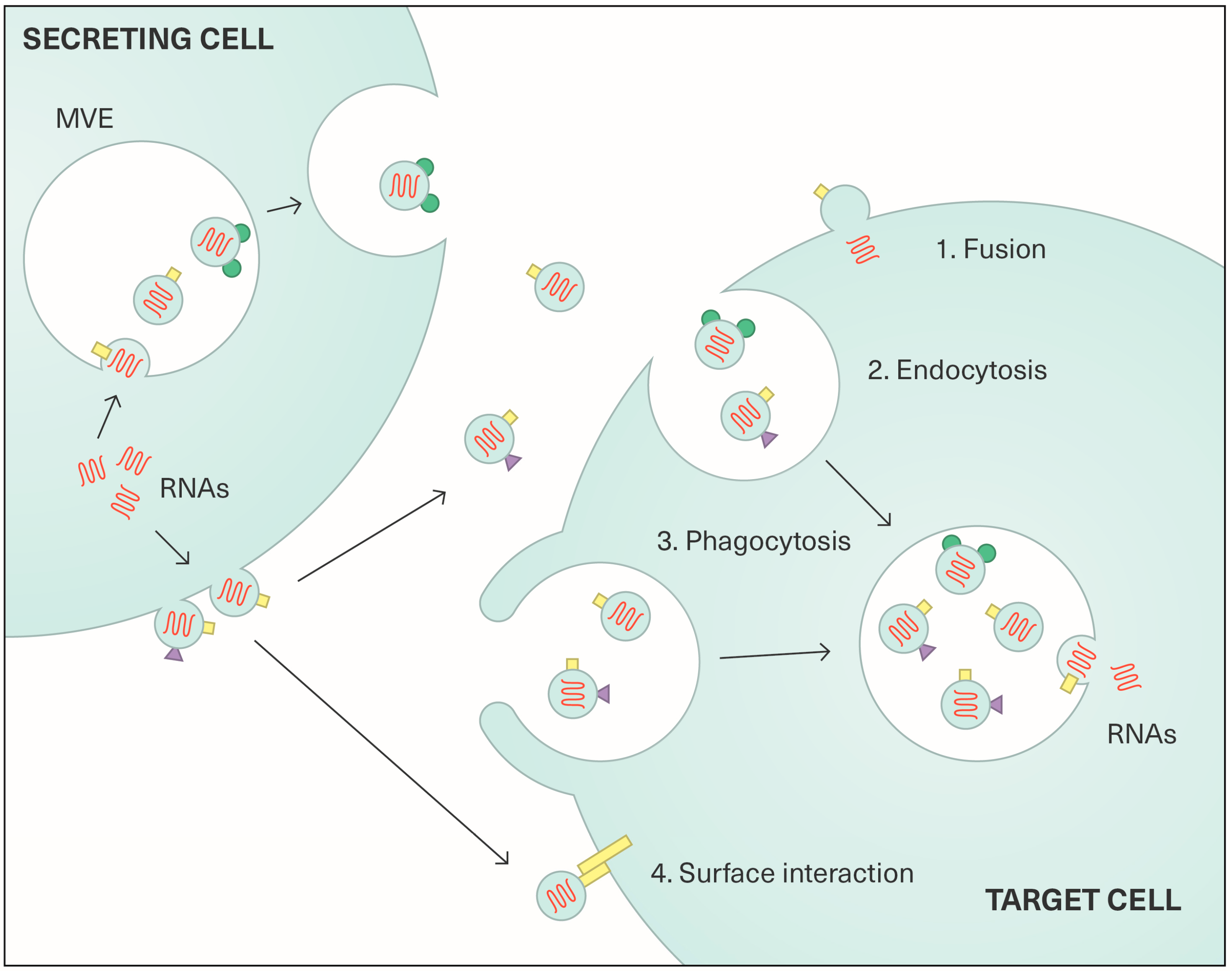 © 2017 by the authors. Licensee MDPI, Basel, Switzerland. This article is an open access article distributed under the terms and conditions of the Creative Commons Attribution (CC BY) license (http://creativecommons.org/licenses/by/4.0/).