Open Access This article is
freely available
re-usable
Article
A Novel Roseosiphophage Isolated from the Oligotrophic South China Sea
1
State Key Laboratory of Marine Environmental Science, Institute of Marine Microbes and Ecospheres, Xiamen University (Xiang'an), Xiamen 361102, Fujian, China
2
Beijing Institute of Microbiology and Epidemiology, State Key Laboratory of Pathogen and Biosecurity, Beijing 100071, China
†
These authors contributed equally to this work.

Academic Editors: Mathias Middelboe and Corina P. D. Brussaard
Received: 28 February 2017 / Accepted: 10 May 2017 / Published: 15 May 2017
Abstract
:
The
Roseobacter
clade is abundant and widespread in marine environments and plays an important role in oceanic biogeochemical cycling. In this present study, a lytic siphophage (labeled vB_DshS-R5C) infecting the strain type of
Dinoroseobacter shibae
named DFL12
T
, which is part of the
Roseobacter
clade, was isolated from the oligotrophic South China Sea. Phage R5C showed a narrow host range, short latent period and low burst size. The genome length of phage R5C was 77, 874 bp with a G+C content of 61.5%. Genomic comparisons detected no genome matches in the GenBank database and phylogenetic analysis based on DNA polymerase I revealed phylogenetic features that were distinct to other phages, suggesting the novelty of R5C. Several auxiliary metabolic genes (e.g.,
phoH
gene, heat shock protein and queuosine biosynthesis genes) were identified in the R5C genome that may be beneficial to the host and/or offer a competitive advantage for the phage. Among siphophages infecting the
Roseobacter
clade (roseosiphophages), four gene transfer agent-like genes were commonly located with close proximity to structural genes, suggesting that their function may be related to the tail of siphoviruses. The isolation and characterization of R5C demonstrated the high genomic and physiological diversity of roseophages as well as improved our understanding of host–phage interactions and the ecology of the marine
Roseobacter
.
Keywords:
roseophage; genome; phylogenetic analysis; environmental distribution
2. Materials and Methods
2.1. Isolation and Purification of Phages
D. shibae
DFL12
T
was used as the host in this study and was maintained on RO medium (yeast extract 1 g·L
−1
, peptone 1 g·L
−1
, sodium acetate 1 g·L
−1
, artificial seawater 1 L, pH 7.4–7.8) at room temperature. To increase the probability of phage isolation, viruses in the surface water of the South China Sea, which was characterized as an oligotrophic environment, were enriched by tangential flow filtration with a 30 kDa polysulfone cartridge (Labscale, Millipore, CA, USA). Double-layer agar was used for the isolation and purification of phages.
After purifying five times, phages were cultivated for expansion in liquid RO medium. The culture was centrifuged at 12,000×
g
at 4 °C for 10 min to obtain the phage-containing supernatant. Following this, phages were concentrated by precipitation with polyethylene glycol 8000 (final concentration: 100 g·L
−
1
) and centrifuged at 10,000×
g
for 60 min at 4 °C. The precipitate was resuspended in SM buffer (100 mM NaCl, 8 mM MgSO
4
, 50 mM Tris-HCl at pH 7.5) and purified by CsCl equilibrium gradient centrifugation (200,000× g, 4 °C, 24 h). The pellet was dialyzed through 30 kDa super-filters (UFC503096, Millipore) and the filtrate was collected for morphologic observation and DNA extraction.
2.2. Transmission Electron Microscopy (TEM)
The purified and desalted phages were diluted to the appropriate concentration with SM buffer and adsorbed onto 200-mesh carbon-coated coppers for 10–30 min in the dark. After being stained with 1% phosphotungstic acid and dried for 30 min, samples were viewed at 80 kV voltage using a JEM-2100 transmission electron microscope (JEOL, Tokyo, Japan). Images were collected using the CCD image transmission system (Gatan Inc., Pleasanton, CA, USA).
2.3. Host Range
Besides
D. shibae
DFL12
T
, bacterial strains used in the host range test included
Citromicrobium
sp. WPS32,
Citromicrobium
sp. JL2201,
Citromicrobium
sp. JL1351,
Citromicrobium
sp. JL354,
Citromicrobium
sp. JL1363,
Dinoroseobacter
sp. JL1447,
Erythrobacter litoralis
DMS 8509,
Erythrobacter longus
DMS 6997,
Erythrobacter
sp. JL475,
Hoeflea phototrophica
DFL-43,
Paenibacillus
sp. JL1210,
Roseobacter denitrificans
OCh114,
Roseomonas
sp. JL2290,
Roseomonas
sp. JL2293,
Roseovarius
sp. JL2434,
Ruegeria
sp. JL126,
Spingobium
sp. JL1088 and
Silicibacter pomeroyi
DSS3. Exponentially growing cultures of these bacteria strains were incubated with phages, which were diluted to 10
2
, 10
4
, 10
6
, and 10
8
PFU mL
−1
, for 20 min and then plated using a plaque assay. Replication was conducted for each bacterium strain.
2.4. One-Step Growth Curve
To analyze the infectivity and replication ability of phages, a one-step growth curve test was performed. Phages were added to 1 mL of log-phase
D. shibae
DFL12
T
with a multiplicity of infection of 0.01, before being incubated for 25 min at room temperature in the dark. The culture was centrifuged at 10,000×
g
at 4 °C for 5 min and resuspended in 1 mL of RO medium. Centrifugation was repeated twice. Thereafter, the pellet was transferred to 50 mL of RO medium and incubated over 7 h at 28 °C with continuous shaking. Samples were collected every 30 min and viral abundance was quantified using the double agar overlay plaque assay. The latent period was followed by a single burst of phages. The burst size was the average number of phages released per infected host cell and calculated as the ratio between the number of phages before and after the burst [
35
].
2.5. Lipid in the Viral Capsid
To investigate the presence of lipid in the viral capsid, 1 mL of phages were mixed by vibrating with 0 μL, 20 μL and 200 μL of chloroform, respectively, for 1 min and then kept at room temperature for 30 min. After centrifuging at a slow speed, phages remaining in the supernatant were dropped onto a
D. shibae
DFL12
T
plate. The result was determined by the emergence of plaques.
2.6. DNA Extraction
Phage DNA was extracted using the phenol–chloroform extraction method. Briefly, purified phages were lysed by the addition of proteinase K (100 mg·mL
−1
), SDS (10%, wt/vol) and EDTA (0.5 mol·L
−1
, pH 8.0) and incubated at 55 °C in water for 3 h. The digested sample was then added to an equal volume of phenol/chloroform/isoamyl alcohol (25:24:1) and centrifuged at 12,000×
g
and 4 °C for 5 min to remove any debris. This step was repeated twice. The supernatant was sequentially purified by adding chloroform/isoamyl alcohol (24:1) and centrifuging at 12,000×
g
and 4 °C for 10 min. Following this, the supernatant was mixed with isoamyl alcohol and kept at −20 °C overnight. The precipitate was allowed to air-dry after slowly flushing with cold 70% ethanol. Samples were resuspended in 100 μL TE buffer (10 mM Tris-HCl, 1 mM EDTA, pH 8.0) and stored at 4 °C before analysis.
2.7. Genome Sequencing and Analysis, and Phylogenetic Analyses
The genomic DNA of R5C was sequenced on the Illumina Hiseq 2500 platform using the TruSeq PE Cluster Kit (Illumina, San Diego, CA, USA). The sequences were assembled using Velvet software (v1.2.03) (4699× coverage) [
36
]. A termini analysis was used to identify the phage's termini and genome packaging [
37
]. The raw reads were aligned to the genome sequence using a CLC Genomics Workbench (version 3.6.1). The GeneMarkS online server and ORF Finder were used to predict open reading frames (ORFs), while tRNAscan-SE was used to identify tRNA sequences [
38
,
39
,
40
]. Translated ORFs were analyzed and annotated by the algorithms of a BLASTP search against the NCBI database with E-value ≤ 10
−3
[
41
,
42
]. Gene maps were created based on the genome annotations using the Java Operon. DNA polymerase I was used to investigate the phage R5C phylogeny. A maximum-likelihood method in the MEGA 6.0 software package was used to construct the phylogenetic tree.
The complete genome sequence was submitted to the GenBank database under the accession number KY606587.
2.8. Recruitment of Metagenomic Data
For a better understanding of the geographical distribution of R5C, the phage genes were used as queries to search against metagenomic databases of the Pacific Ocean Virome (POV) and Global Ocean Survey (GOS) [
43
,
44
]. Samples in POV were collected from various seasons (spring, summer, fall, and winter), depths (10 m to 4300 m), and proximities to land (coastal to open ocean). Samples in GOS were taken from a wide variety of aquatic habitats collected over 8000 km. Only sequences with a threshold E-value of 10
−
5
and a minimum amino acid length of 30 and a bit score greater than 40 were extracted from the database. In addition, we searched for homologs of the R5C genome in the Integrated Microbial Genomes/Virus (IMG/VR) database and the Environmental Viral Genomes databases (EVGs) generated by Nishimura et al. (2017) [
45
,
46
]. To test any spacers of CRISPR array within the phage sequence, the genome of phage was searched against viral spacer database of IMG/VR, as well as in CRISPRs loci of bacterial isolates used in the present study [
47
].
3. Results and Discussion
4. Conclusions
Taken together, physiological and genomic characterization suggested that the phage R5C is a novel lytic
Siphoviridae
roseophage. Our study demonstrated that oligotrophic open ocean is also a source of roseophages, with novel roseophages possibly existing in this environment. The data for R5C provide valuable insight into our understanding of roseosiphophages, which have so far been under-investigated. However, these findings have raised several questions worth exploring in future studies: (1) What is the distribution pattern of roseophages and their major groups? (2) Do environmental conditions, such as nutrient levels, impact the ecological behavior of roseophages? and (3) What is the evolutionary forcing driving diversity of roseophage? With an increasing number of roseophages being isolated and considering the ecological significance of
Roseobacter
,
Roseobacter
–phages may serve as a model system for studying the interaction between marine bacteria and viruses. Tackling the questions above will expand our knowledge in this field.
Supplementary Materials
The following are available online at
www.mdpi.com/1999-4915/9/5/109/s1
, Table S1: Roseophages for which genome sequences are published; Table S2: Genome annotations of phage vB_DshS-R5C.
Acknowledgments
We thank Longfei Lu, Ziqiang Li, and Bu Xu of the State Key Laboratory of Marine Environmental Science for their useful suggestions and help. This work was supported by the National Programme on Global Change and Air-Sea Interaction (GASI-03-01-02-05) and National Natural Science Foundation of China (41522603, 31570172, 41376132, 91428308).
Author Contributions
Rui Zhang and Nianzhi Jiao supervised the project and revised manuscript; Yunlan Yang, Lanlan Cai, Yongle Xu, Yigang Tong, Yong Huang, and Rui Zhang analyzed data and wrote the manuscripts. Yunlan Yang, Lanlan Cai, and Ruijie Ma performed the experiments.
Conflicts of Interest
The authors declare no conflict of interest.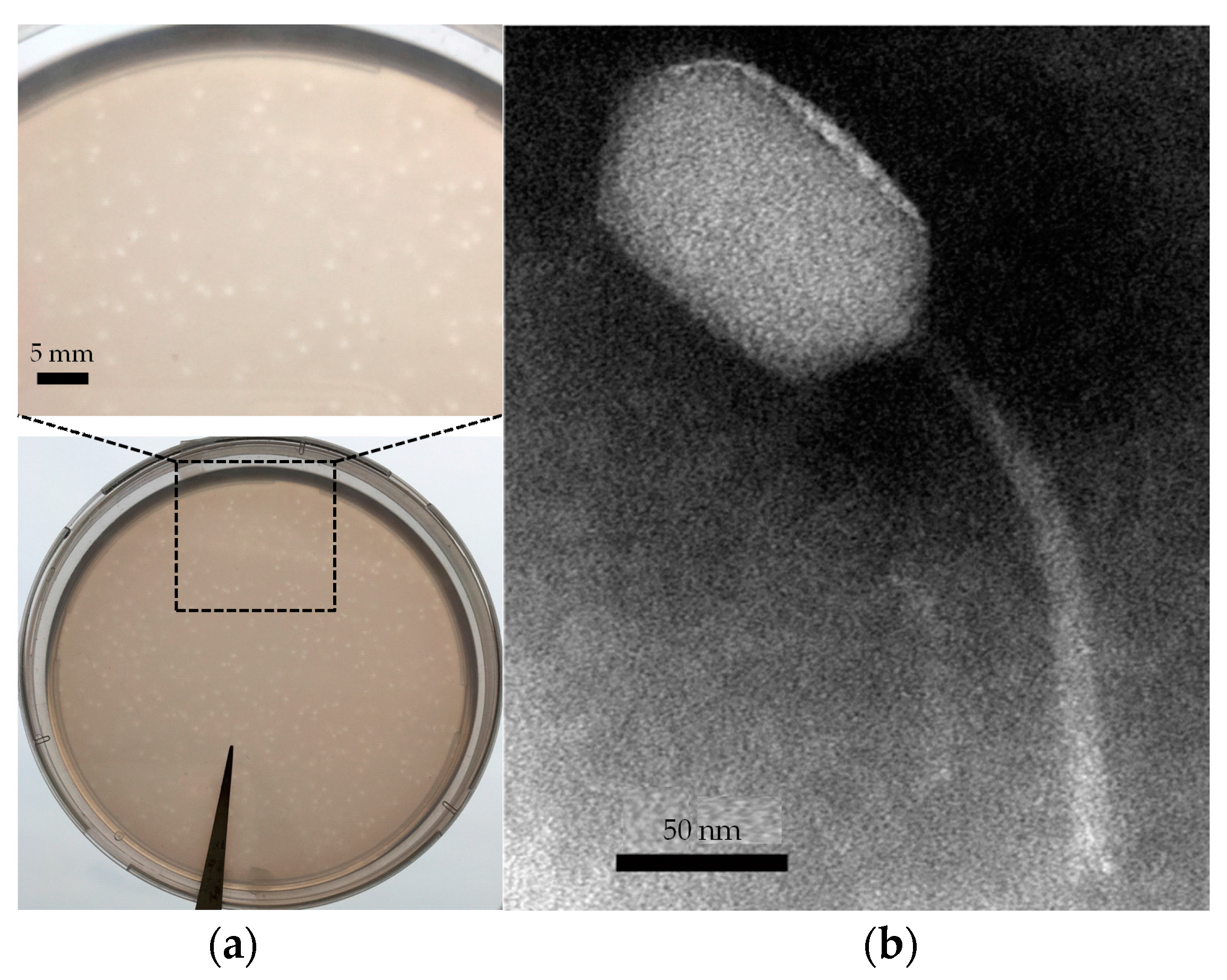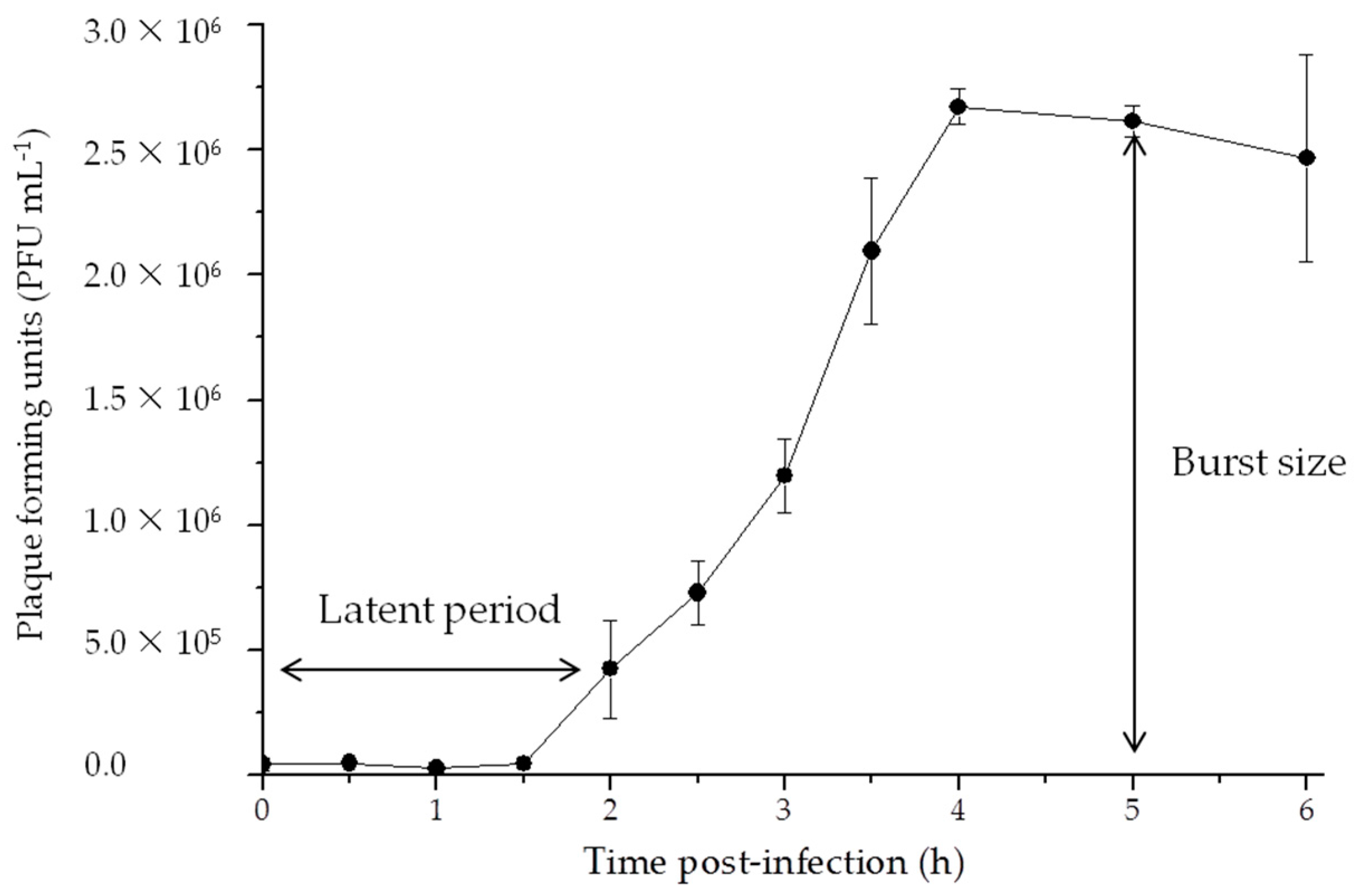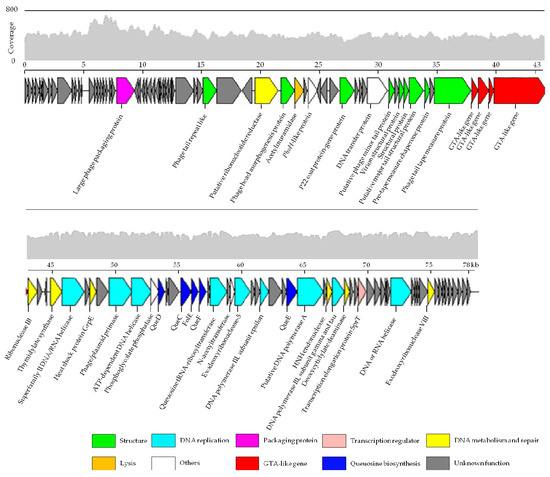 Figure 3. Genome map of the roseophage R5C. ORFs are depicted by leftward or rightward oriented arrows according to the direction of transcription. Gene features and genome modules (structure, lysis and DNA replication) are color-coded according to the legend below the figure.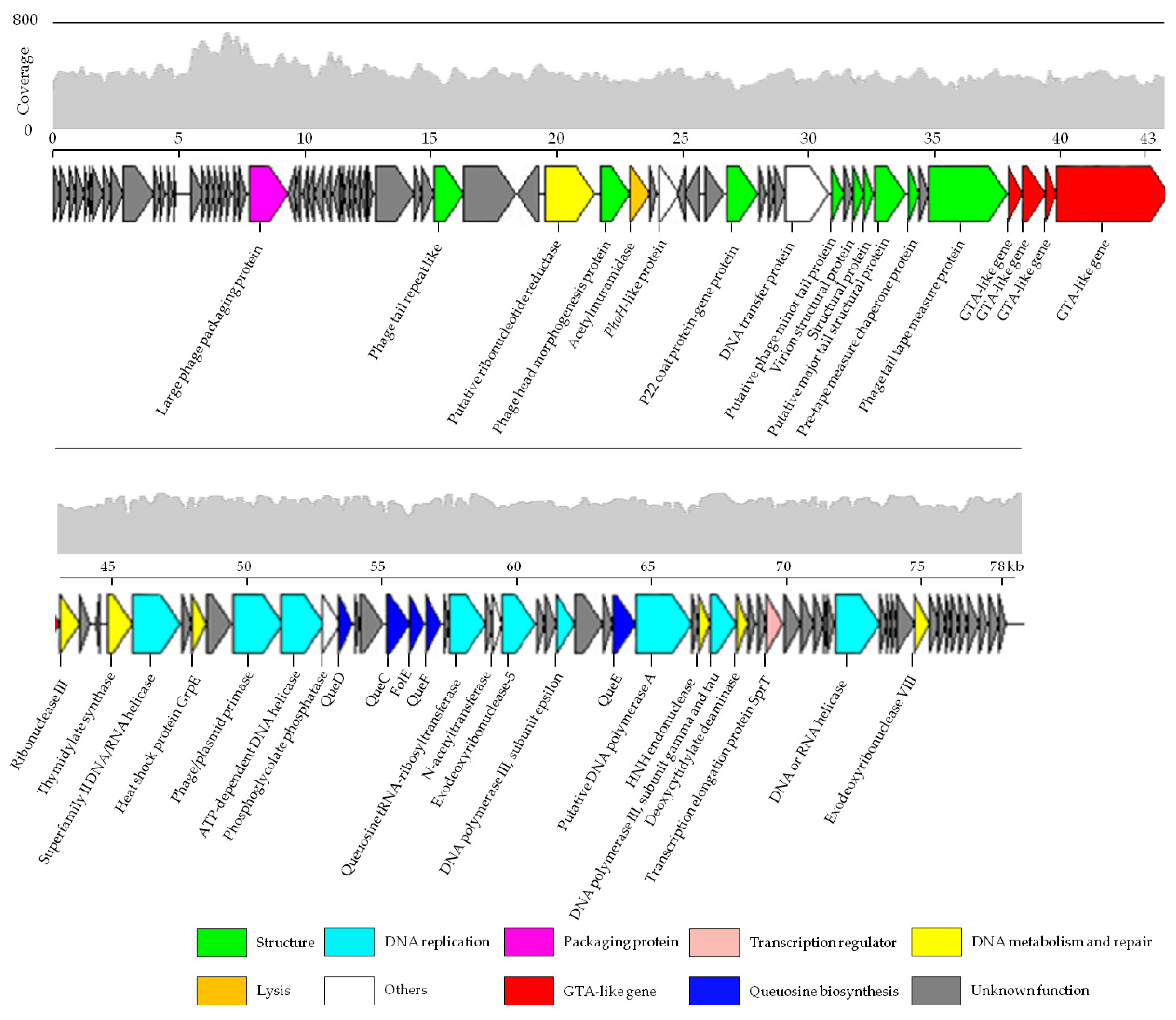 Figure 4. Comparison of four roseophages that possess GTA genes. Four GTA genes are indicated in red and other three conserved shared genes are indicated in blue. Genes sharing amino acid similarity between two phages are connected by light blue lines (E-value < 10−3).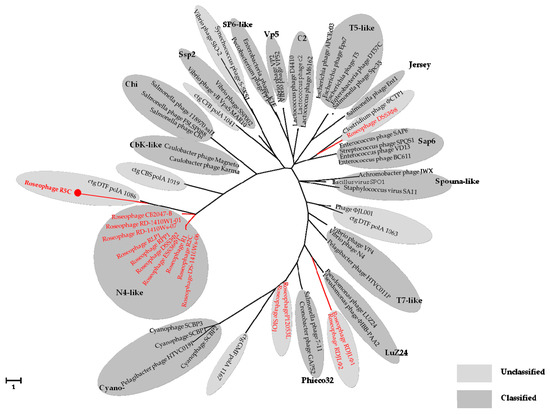 Figure 5. Unrooted maximum likelihood phylogenetic tree of DNA polymerase I of bacteriophages. Red color represents roseophages.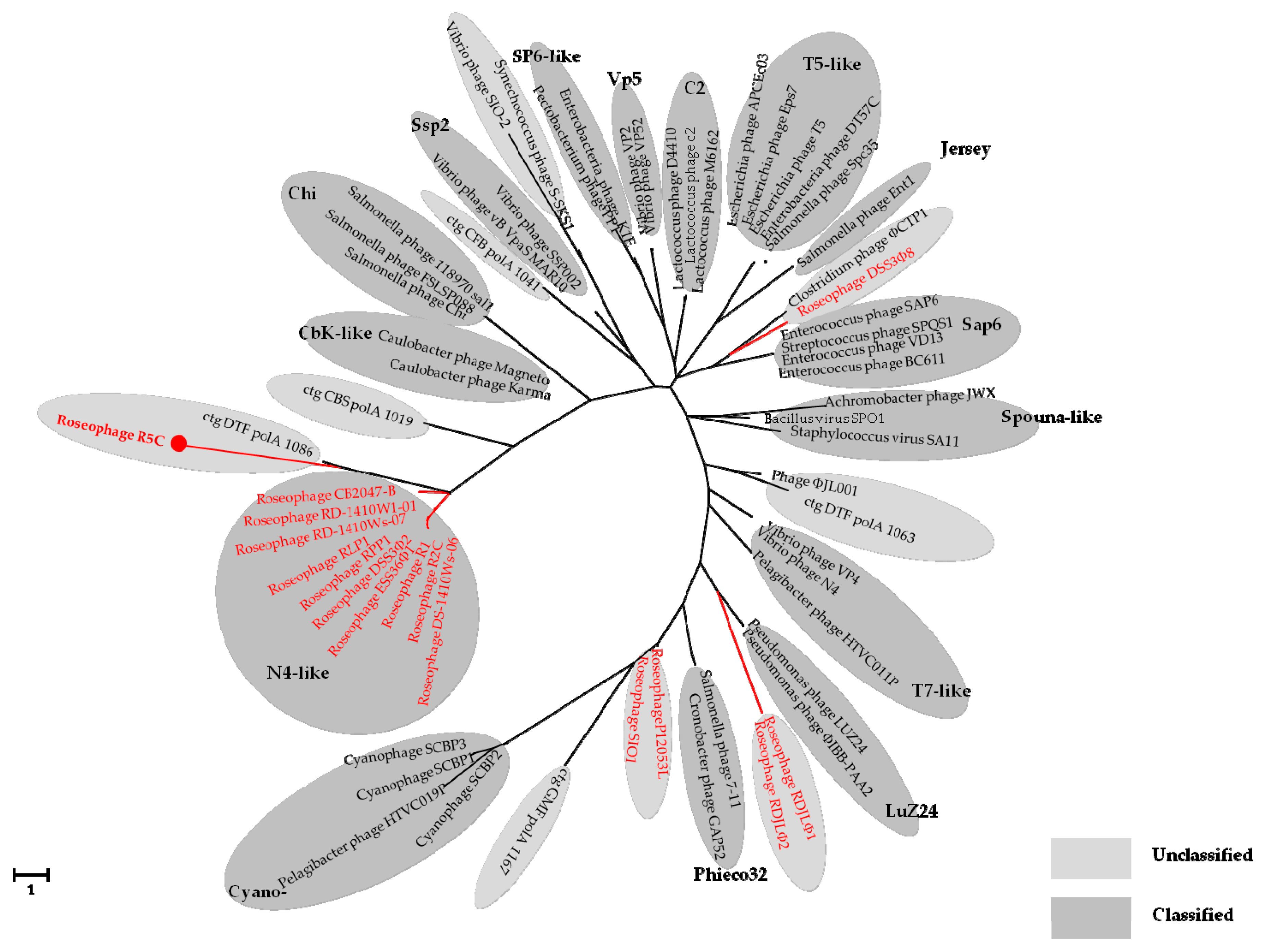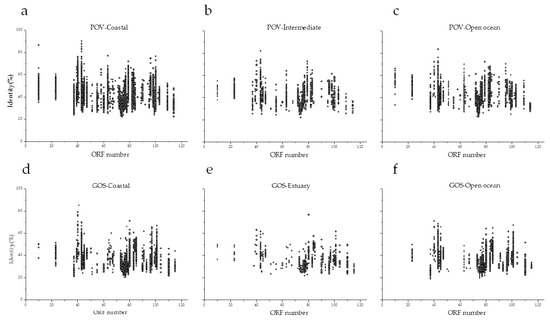 Figure 6. Prevalence of R5C-like ORFs in environmental viral metagenomic data. (a) Coastal metagenomes of POV; (b) Intermediate metagenomes of POV; (c) Open ocean metagenomes of POV; (d) Coastal metagenomes of GOS; (e) Estuary metagenomes of GOS; (f) Open ocean metagenomes of GOS.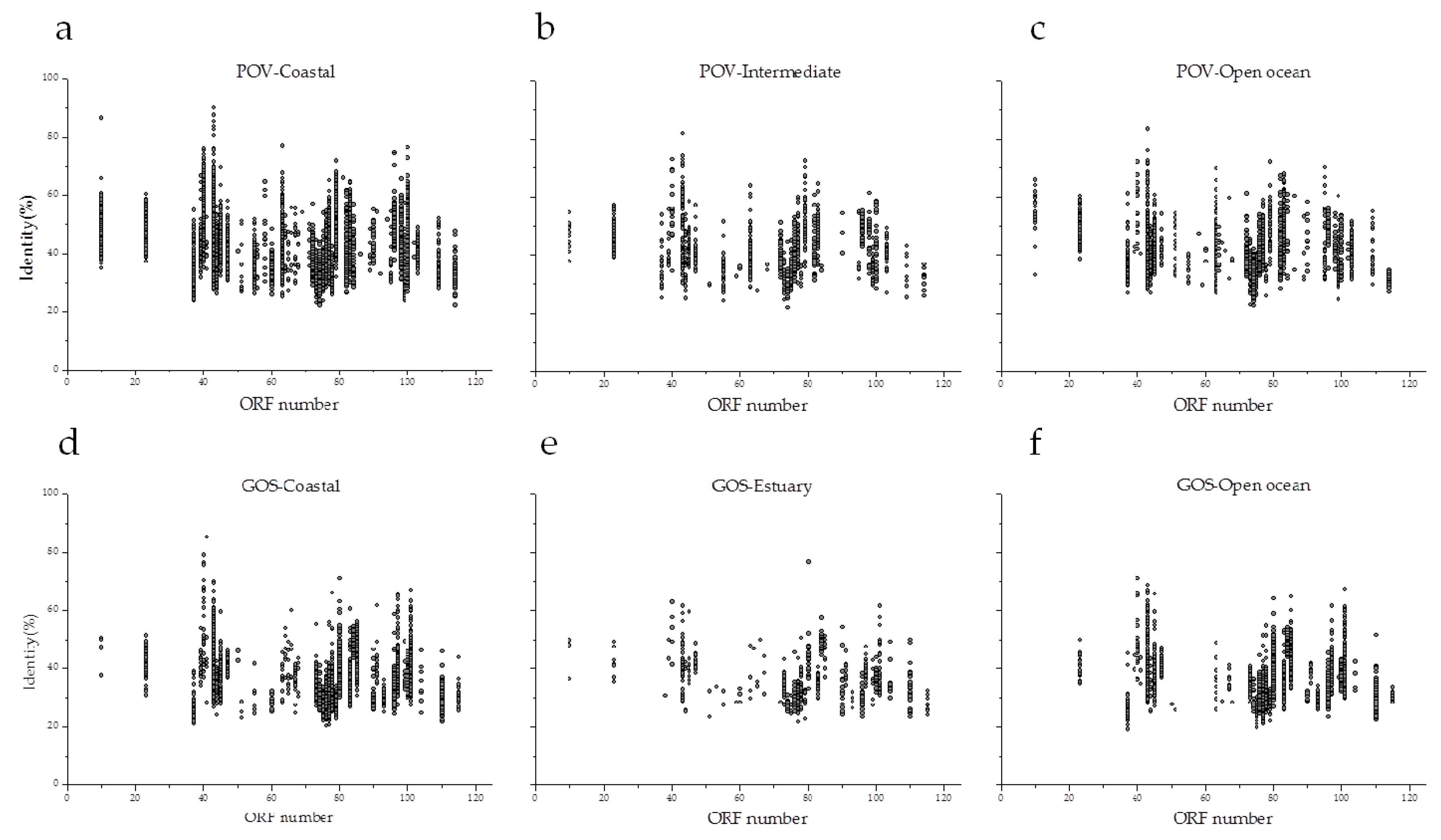 Strains
R5C
DSS3Φ8
RDJLФ1
RLP1
RPP1
DSS3Φ2
ESS36Φ1
DS-1410Ws-06
RD-1410W1-01
RD-1410Ws-07

D. shibae

DFL12T
+
+
+
+

Acinetobacter

sp. JL1404
−

Alcanivorax

sp. JL1378
−

Alteromonas

sp. JL1357
−

Antarctobacter

sp. JL351
−

Citromicrobium

sp. JL1363
−

Citromicrobium

sp. JL1351
−
−

Citromicrobium

sp. JL2201
−

Citromicrobium

sp. JL354
−
−

Citromicrobium

sp. WPS32
−

Cytophaga

sp. JL1362
−

Dinoroseobacter

sp. JL1447
−
−

Erythrobacter litoralis

DMS 8509
−
−

Erythrobacter longus

DSM 6997
−
−

Erythrobacter

sp. JL1350
−

Erythrobacter

sp. JL359
−

Erythrobacter

sp. JL475.
−
−

Furvibacter

sp. JL1383
−

Hoeflea phototrophica

DFL-43T
−

Leisingera methylohalidivorans

MB2
−
−

Marinovum algicola

ATCC 51440T
−
−

Micrococcus

sp. JL1389
−

Nocardioides

sp. JL1369
−

Paenibacillus

sp. JL1210
−

Phaeobacter

sp. 27–4
−
−

Pseudoalteromonas

sp. JL1391
−

Rhodobacteraceae

sp. 176
−
−

Roseobacter denitrificans

ATCC 33942
−
−

Roseobacter denitrificans

OCh 114
−
−
+
+
+
+

Roseobacter litoralis

ATCC 49566
−
−

Roseobacter litoralis

DMS 6996
−

Roseobacter litoralis

Och149
−
+
+

Roseobacter

sp. JL1336
−

Roseobacter

sp. TM1038
−
−

Roseobacter

sp. TM1039
−
−

Roseomonas

sp. JL2290
−

Roseomonas

sp. JL2293
−

Roseovarius

sp.TM1042
−
−

Roseovarius nubinhibens

ISMT
−
−
+
−
−
−
−
−

Roseovarius

sp. 217
+
−

Roseovarius

sp. JL2434
−

Roseovarius crassostreae

CV919–312T
−
−

Roseovarius mucosus

DFL–24T
−
−

Ruegeria atlantica

AMA–03
−
−

Ruegeria

sp. 198
−
−

Ruegeria

sp. JL126
−

Sagittula stellata

E–37
−
−

Silicibacter pomeroyi

DSS3
−
+
−
−
+
+
+
+

Silicibacter

sp. TM1040
−
−
−

Sphingobium

sp. JL1088
−

Stappia

sp. JL1358
−

Sulfitobacter

sp. 1921
−
−

Sulfitobacter pseudonitzschiae

H3
−
−
−

Sulfitobacter

sp. EE–36
−
−
+
−
−
−

Sulfitobacter

sp. JL1353
−

Sulfitobacter

sp CBB406
−
−

Sulfitobacter

sp. CHSB4
−
−

Sulfitobacter

sp. JL351
−
−

Sulfitobacter

sp. T11
−
−

© 2017 by the authors. Licensee MDPI, Basel, Switzerland. This article is an open access article distributed under the terms and conditions of the Creative Commons Attribution (CC BY) license (http://creativecommons.org/licenses/by/4.0/).