Open Access This article is
freely available
re-usable
Review
Deciphering the Multifactorial Susceptibility of Mucosal Junction Cells to HPV Infection and Related Carcinogenesis
1
Laboratory of Experimental Pathology, GIGA-Cancer, University of Liege, 4000 Liege, Belgium
2
Division of Women's and Perinatal Pathology, Department of Pathology, Brigham and Women's Hospital, Harvard Medical School, Boston, MA 02115, USA
*
Author to whom correspondence should be addressed.
Academic Editors: Alison A. McBride and Karl Munger
Received: 27 March 2017 / Accepted: 18 April 2017 / Published: 20 April 2017
Abstract
:
Human papillomavirus (HPV)-induced neoplasms have long been considered to originate from viral infection of the basal cell layer of the squamous mucosa. However, this paradigm has been recently undermined by accumulating data supporting the critical role of a discrete population of squamo-columnar (SC) junction cells in the pathogenesis of cervical (pre)cancers. The present review summarizes the current knowledge on junctional cells, discusses their high vulnerability to HPV infection, and stresses the potential clinical/translational value of the novel dualistic model of HPV-related carcinogenesis.
Keywords:
human papillomavirus; squamo-columnar junctions; (pre)neoplastic lesions
Acknowledgments
The authors thank their colleagues at the University of Liege and Brigham and Women's Hospital for their helpful discussions. This work was supported in part by the Belgian Fund for Medical Scientific Research (FNRS/Televie), by the Centre Anti-Cancereux près l'Université de Liège, by the Fonds Léon Frédéricq, and by the Seventh Framework Program for Research and Technological Development (European Commission: Infect-ERA 2015 (HPV-Motiva)).
Author Contributions
M.H. reviewed the literature and wrote the manuscript. M.H. and T.R.S. collected tissue specimens. M.H. generated the figures. P.D. and C.P.C. provided edits and approved the final version.
Conflicts of Interest
M.H. served as member of one advisory board for GlaxoSmithKline (GSK). The other authors declare no conflict of interest.

Figure 1. Schematic representation of the female genital tract and histology of the adult cervix with ectocervical (squamous), junctional (cuboidal), and endocervical (columnar) cells. Note the uniform keratin 7 (Krt7) immunoreactivity displayed by cuboidal cells observed within, or in close proximity to, the squamo-columnar (SC) junction. H&E: hematoxylin and eosin; TZ: transformation zone.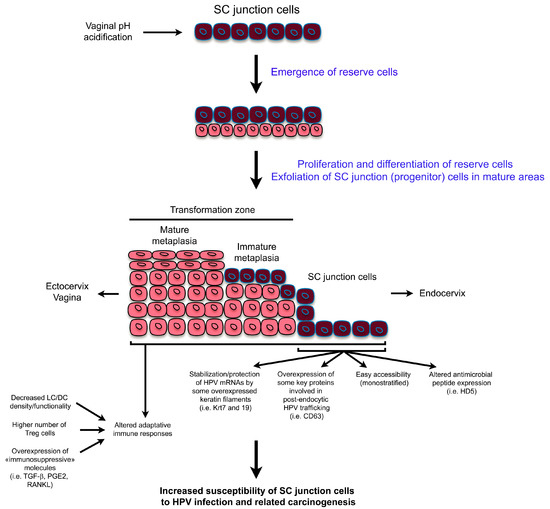 Figure 2. Schematic representation highlighting both the tissue remodeling observed in the SC junction microenvironment and the possible mechanisms explaining the high susceptibility of the SC junction cells to human papillomavirus (HPV)infection and related carcinogenesis. mRNA: messenger RNA; HD5: human defensin 5; LC/DC: langerhans cells/dendritic cells; PGE2: prostaglandin E2; RANKL: receptor activator of nuclear factor κ-B ligand.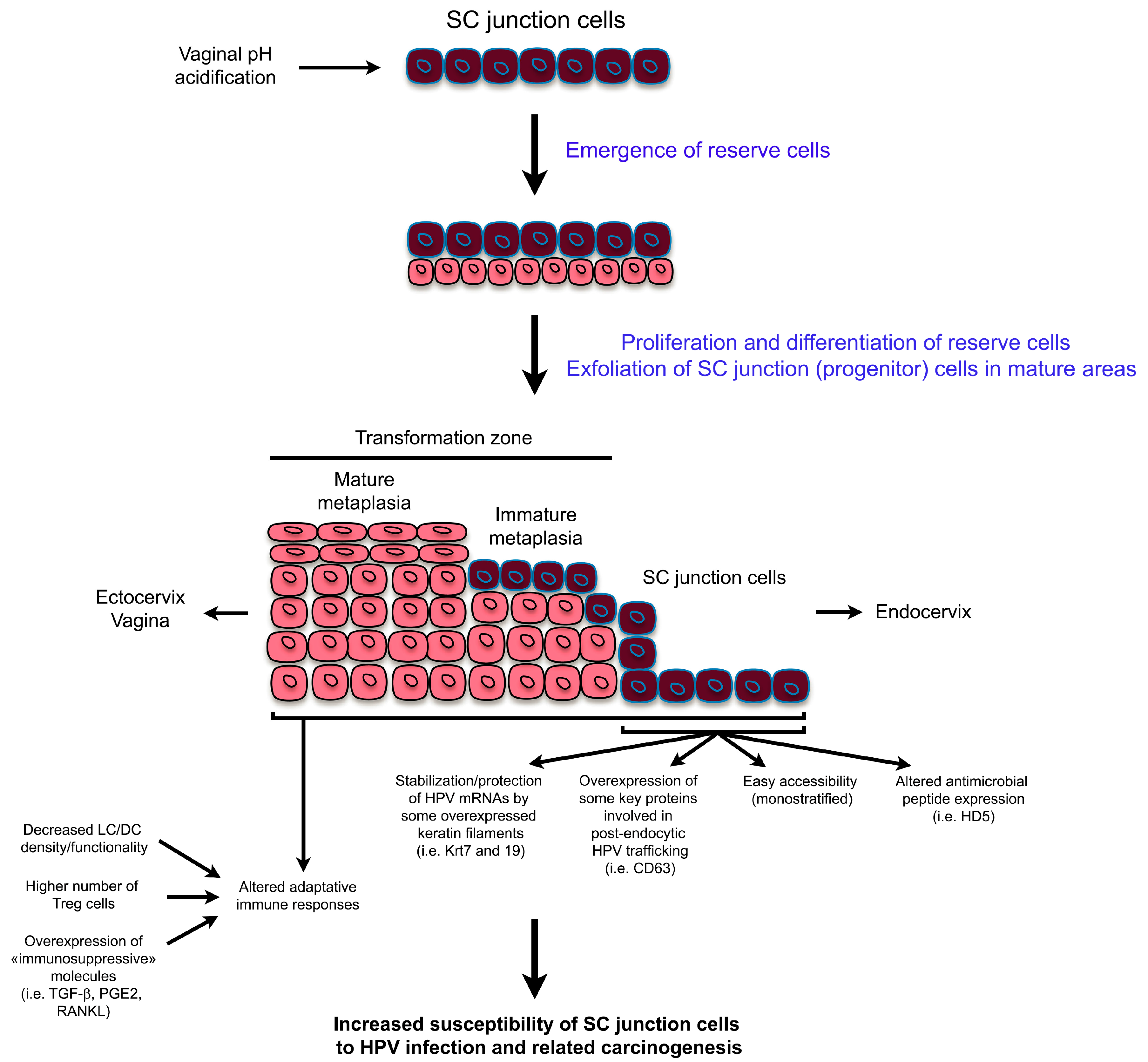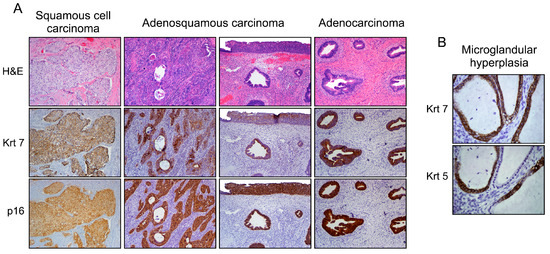 Figure 3. Phenotypic variants among cervical malignant epithelial tumors (A). Note the Krt7 immunoreactivity displayed by squamous, adenosquamous (blended or individuated/adjacent lesions), and columnar neoplasms supporting their similar cell of origin (SC junction); and (B) under benign conditions (i.e., microglandular hyperplasia), a mixed phenotype can also be observed. Note the Krt5 (squamous biomarker) expression in Krt7-positive cuboidal cells without evidence of reserve cells.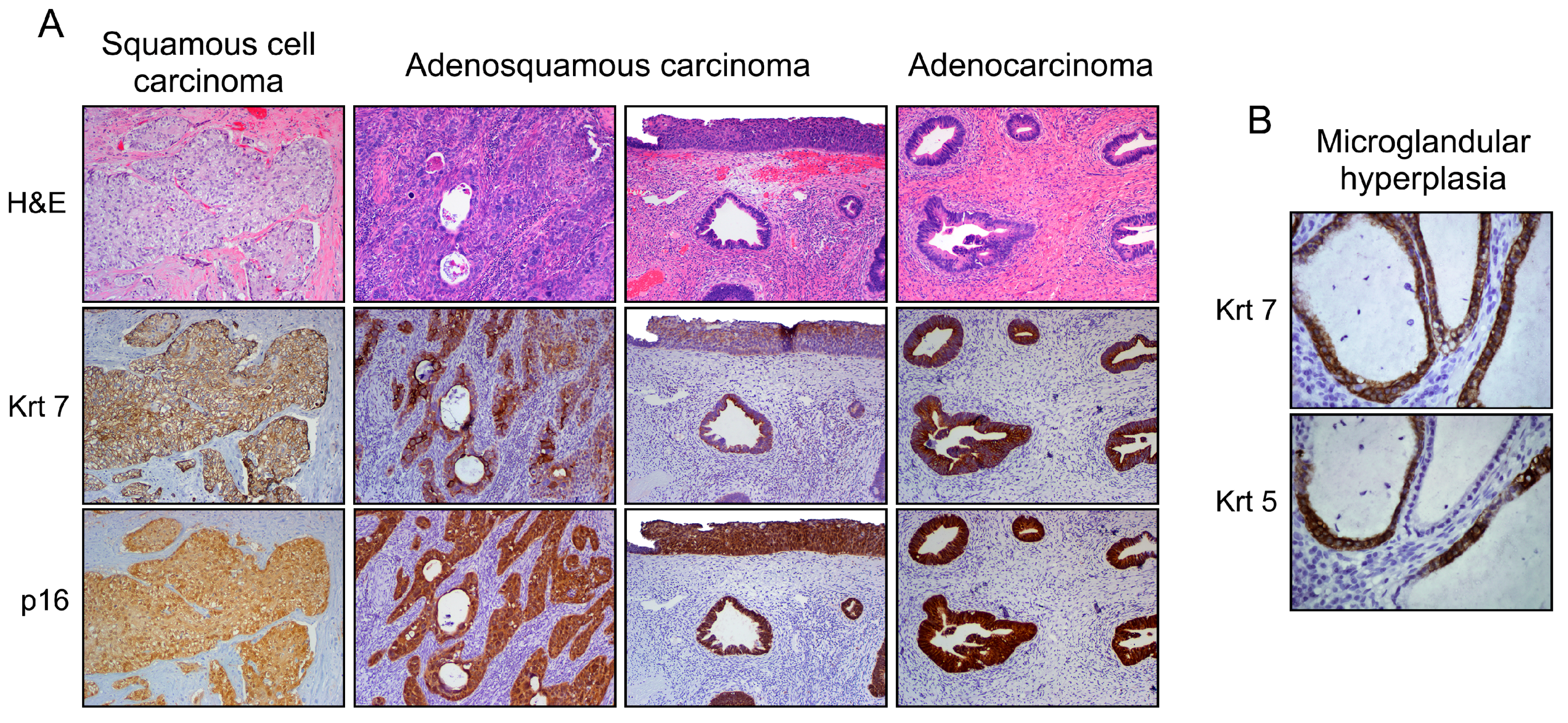 © 2017 by the authors. Licensee MDPI, Basel, Switzerland. This article is an open access article distributed under the terms and conditions of the Creative Commons Attribution (CC BY) license ( http://creativecommons.org/licenses/by/4.0/).