Open Access This article is
freely available
re-usable
Article
Development of a Lethal Intranasal Exposure Model of Ebola Virus in the Cynomolgus Macaque
1
Department of Virology and Immunology, Texas Biomedical Research Institute, San Antonio, TX 78227, USA
2
Graduate School of Biomedical Sciences, University of Texas Health Science Center at San Antonio, 7703 Floyd Curl Drive, San Antonio, TX 78229, USA
*
Author to whom correspondence should be addressed.
Received: 9 October 2017 / Accepted: 26 October 2017 / Published: 29 October 2017
Abstract
:
Ebola virus (EBOV) is a filovirus that can cause Ebola virus disease (EVD). No approved vaccines or therapies exist for filovirus infections, despite an urgent need. The development and testing of effective countermeasures against EBOV requires use of animal models and a thorough understanding of how the model aligns with EVD in humans. The majority of published studies report outcomes of parenteral exposures for emulating needle stick transmission. However, based on data from EVD outbreaks, close contact exposures to infected bodily fluid seems to be one of the primary routes of EBOV transmission. Thus, further work is needed to develop models that represent mucosal exposure. To characterize the outcome of mucosal exposure to EBOV, cynomolgus macaques were exposed to EBOV via intranasal (IN) route using the LMA® mucosal atomization device (LMA® MAD). For comparison, four non-human primates (NHPs) were exposed to EBOV via intramuscular (IM) route. This IN exposure model was uniformly lethal and correlated with a statistically significant delay in time to death when compared to exposure via the IM route. This more closely reflects the timeframes observed in human infections. An IN model of exposure offers an attractive alternative to other models as it can offer insight into the consequences of exposure via a mucosal surface and allows for screening countermeasures via a different exposure route.
Keywords:
Ebola virus; intranasal; animal model
Acknowledgments
This work was partly supported by the US Department of Defense (DoD) Joint Program Executive Office Chemical Biological Defense (JPEO-CBD) Medical Countermeasure Systems - Joint Vaccine Acquisition Program (MCS-JVAP) under contract number: W911QY-16-C-0055 (awarded to Texas Biomedical Research Institute) and NIH HHSN272201200018C (awarded to Bavarian Nordic). The views expressed here are those of the authors and do not necessarily represent the views or official position of the DoD. This work was conducted in facilities constructed with support from the Research Facilities Improvement Program (grant number C06 RR012087) from the National Center for Research Resources (NCRR). The authors would like to thank Marc Mattix, Yenny Goez-Gazi, Edward Dick, and Michael Owston for help compiling the pathology data, and the SNPRC veterinary group for outstanding veterinary assistance. Thomas Ksiazek at the University of Texas Medical Branch kindly provided the P2 virus used to generate the challenge virus.
Author Contributions
Anthony Griffiths and Ricardo Carrion conceived and designed the experiments; Kendra J. Alfson, Gabriella Worwa and Laura E. Avena performed the experiments; Anthony Griffiths and Kendra J. Alfson analyzed the data; Anthony Griffiths and Ricardo Carrion contributed reagents, materials, analysis tools; Kendra J. Alfson and Anthony Griffiths wrote the paper.
Conflicts of Interest
The authors declare no conflict of interest. The funding agency had no role in the design, collection, analyses, or interpretation of these data; in the writing of the manuscript, and in the decision to publish the results.
Figure 1.
Survival and infectious virus titers in EBOV exposed NHPs (
a
) survival proportions of NHPs exposed to EBOV via IM or IN route, **
p
≤0.01; (
b
) plaque forming units of EBOV per mL in serum of NHPs exposed via IM or IN route.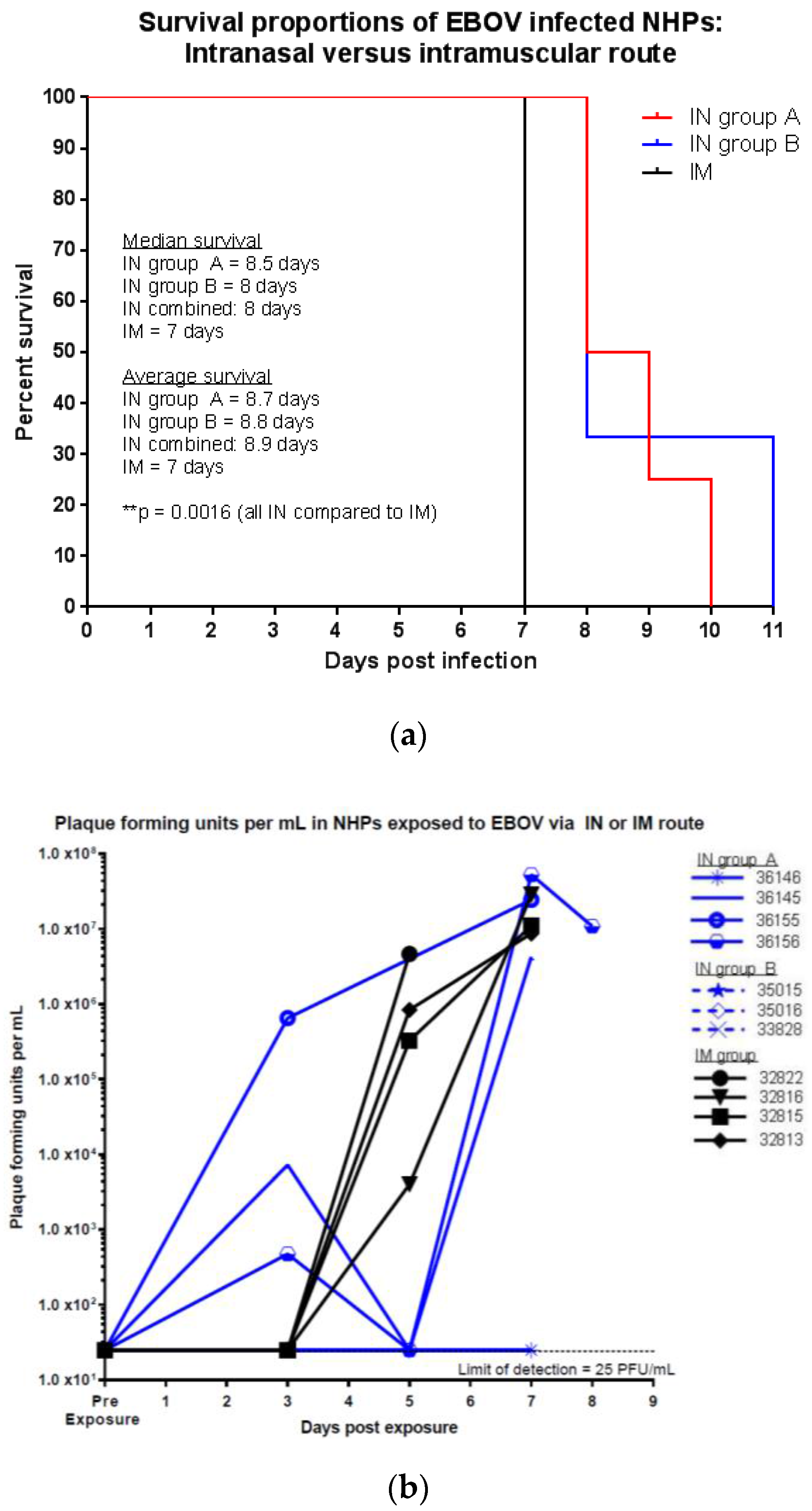 Figure 2. Clinical observations of EBOV infected NHPs exposed via IM or IN route; (a) clinical scores; (b) rectal temperature (°C); (c) body weight (kg).
Figure 3. Coagulation tests of EBOV infected NHPs exposed via IM or IN route; (a) PT; (b) aPTT, *no day 7 data for IM group; (c) platelets.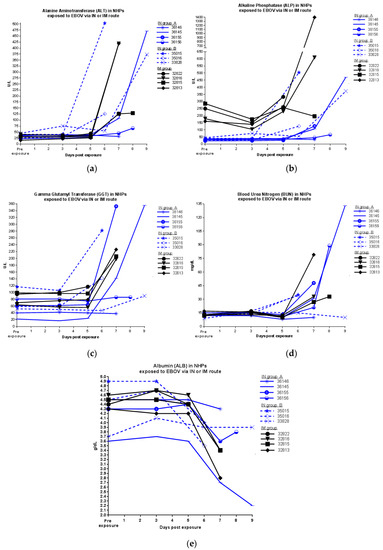 Figure 4. Blood chemistry of NHPs exposed to EBOV via IN or IM route; (a) ALT; (b) ALP; (c) GGT; (d) BUN; (e) ALB.
Figure 5. Lymphocytes and neutrophils in NHPs exposed to EBOV via IN or IM routes; (a) percentage of lymphocytes; (b) percentage of neutrophils.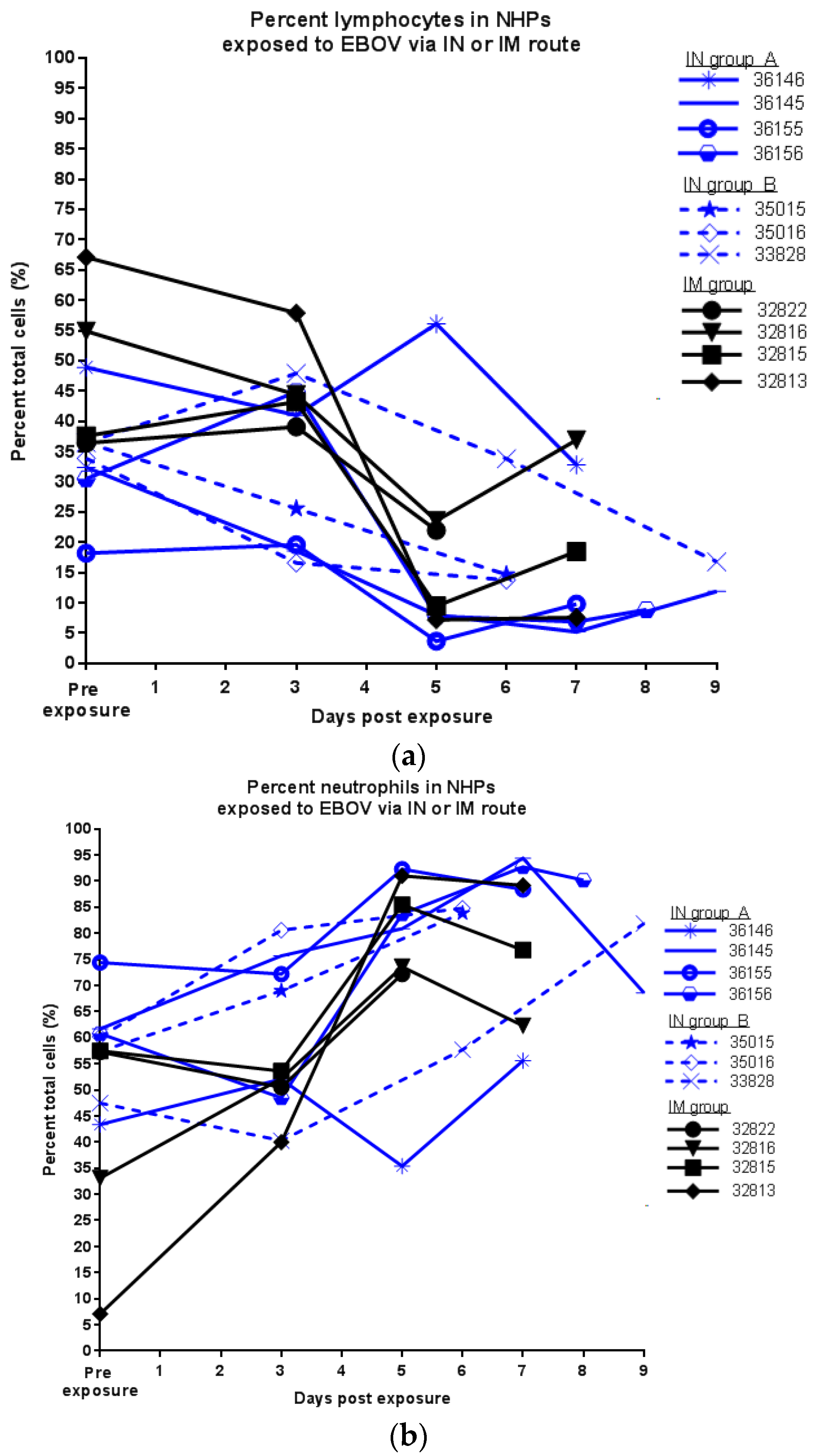 Table 1. Study design.

| Group | Exposure Route | Number of Animals | Target Dose for EBOV Exposure [PFU] | Determined Dose for EBOV Exposure [PFU] |
| --- | --- | --- | --- | --- |
| IN group A | intranasal | 4 | 120 | 80 |
| IN group B | intranasal | 3 | 500 | 64 |
| IM | intramuscular | 4 | 100 | 74 |
Table 2. Summary of macroscopic findings.

| Group | Petechial Rash | Testicular Hemorrhage | Dark, Red Axillary Lymph Node | Pale or Enlarged Spleen | Pale, Friable Liver | Dark, Red Lungs | Redness or Hemorrhage in GI Tract |
| --- | --- | --- | --- | --- | --- | --- | --- |
| IN (A) | 3/4 | 2/2 | 1/4 | 1/4 | 3/4 | 3/4 | 2/4 |
| IN (B) | 3/3 | 2/2 | 2/3 | 2/3 | 0/3 | 2/3 | 3/3 |
| IM | 4/4 | 2/4 | 1/4 | 1/4 | 0/4 | 3/4 | 1/4 |
Table 3. Summary of histopathology findings.
Organ
Histopathology Finding
Group (Number Exhibiting/Number in Group)
IM
IN A
IN B
Spleen
Fibrin deposition
3/4
4/4
3/3
Lymphoid depletion
3/4
4/4
3/3
Lymphocytolysis
3/4
4/4
3/3
Congestion/hemorrhage, marginal sinus
2/4
4/4
3/3
Lymph node
Lymphoid depletion
3/4
4/4
3/3
Necrosis
4/4
4/4
3/3
Liver
Hepatocellular necrosis
2/4
4/4
3/3
Lung
Edema
n.d.
2/4
2/3
Fibrin deposition
n.d.
2/4
0/3
Inflammation
n.d.
3/4
1/3
Necrosis
n.d.
1/4
1/3
Hemorrhage
n.d.
2/4
1/3
Adrenal gland
Individual cell necrosis
0/4
3/4
3/3
Testicle
Hemorrhage
3/4
2/2
2/2
GI Tract
Hemorrhage
1/4
2/4
2/3
© 2017 by the authors. Licensee MDPI, Basel, Switzerland. This article is an open access article distributed under the terms and conditions of the Creative Commons Attribution (CC BY) license (http://creativecommons.org/licenses/by/4.0/).