Open Access This article is
freely available
re-usable
Review
The Th17 Lineage: From Barrier Surfaces Homeostasis to Autoimmunity, Cancer, and HIV-1 Pathogenesis
1
Département of Microbiologie, Infectiologie et Immunologie and Centre de Recherche du CHUM, Faculté de Médecine, Université de Montréal, Montréal, QC H2X 0A9, Canada
2
Department of Immunology and Microbiology, Rush University Medical Center, Chicago, IL 60612, USA
3
Chronic Viral Illness Service and Division of Hematology, McGill University Health Centre, Montréal, QC H4A 3J1, Canada
*
Author to whom correspondence should be addressed.
Received: 22 September 2017 / Accepted: 13 October 2017 / Published: 19 October 2017
Abstract
:
The T helper 17 (Th17) cells represent a subset of CD4+ T-cells with unique effector functions, developmental plasticity, and stem-cell features. Th17 cells bridge innate and adaptive immunity against fungal and bacterial infections at skin and mucosal barrier surfaces. Although Th17 cells have been extensively studied in the context of autoimmunity, their role in various other pathologies is underexplored and remains an area of open investigation. This review summarizes the history of Th17 cell discovery and the current knowledge relative to the beneficial role of Th17 cells in maintaining mucosal immunity homeostasis. We further discuss the concept of Th17 pathogenicity in the context of autoimmunity, cancer, and HIV infection, and we review the most recent discoveries on molecular mechanisms regulating HIV replication/persistence in pathogenic Th17 cells. Finally, we stress the need for novel fundamental research discovery-based Th17-specific therapeutic interventions to treat pathogenic conditions associated with Th17 abnormalities, including HIV infection.
Keywords:
Th17 cells; CCR6; autoimmunity; cancer; HIV-1; gut; antiretroviral therapy
1. History of Th17 Cell Discovery
The Th17 cells represent a major lineage of CD4+ T-cells producing the signature cytokine IL-17A that acts on epithelial cells, thus contributing to the maintenance of the first line of defense against pathogens at barrier surfaces [
1
,
2
,
3
,
4
]. The discovery of Th17 cells set the revision of the Th1/Th2 paradigm that was in place for more than 20 years [
5
,
6
]. The discovery of Th17 cells was precluded by the cloning in 2000 of a new cytokine chain called p19 able to associate with p40 chain of IL-12, thus solving controversies existent at that time in the field of autoimmunity [
7
]. Indeed, p19 and p40 form a new cytokine named IL-23 that is distinct from IL-12, which is formed by the p35 and p40 subunits [
6
]. The finding that antigen presenting cells (APC), such as dendritic cells (DCs), produce IL-23 and IL-12 in response to distinct pathogen-associated molecular patterns (PAMPs) further extended our understanding of the Th1 versus Th17 decision fate making. While microbial products such as lipopolysaccharides (LPS) and peptidoglycans (PGN) induce IL-12 production by DCs, other stimuli including anti-CD40 Abs, Adenosine Triphosphate (ATP), and PGE2 stimulation of DCs results in the production of IL-23 [
8
,
9
]. IL-23 binds to the IL-23R and IL-12Rβ1 chains, referred to as the IL-23R complex, whereas the IL-12 receptor consists of IL-12Rβ1 and IL-12Rβ2 chains [
10
]. It was initially believed that IL-12 and IL-23 complemented each other and acted at different steps during Th1 differentiation. In 2003, Aggarwal et al. reported that IL-23 acts on CD4+ T-cells and triggers the production of IL-17, a cytokine that was not expressed by Th1 and Th2 clones [
11
]. One month later, experiments performed by Cua et al. demonstrated that IL-23 but not IL-12 was responsible for the induction of experimental autoimmune encephalitis (EAE), a model of human multiple sclerosis (MS) [
12
]. A series of studies subsequently demonstrated that IL-17-producing cells, driven by IL-23, were responsible for the induction of EAE [
13
,
14
]. Interestingly, cells producing IL-17 were demonstrated to confer protection against extracellular pathogens such as
Klebsiella pneumonia
[
15
]. In 2005, the scientific community acknowledged the existence of a new subset of CD4+ T-cells distinct from Th1 and Th2, a subset that is now referred to as Th17 cells [
16
,
17
]. At this time, many other T-cell lineages have been described including regulatory T cells (Tregs), follicular helper T-cells (Tfh), as well as IL-9 (Th9), and IL-22-producing T-cells (Th22) [
18
,
19
,
20
,
21
,
22
]. It is to be anticipated that the constantly evolving technological advances will allow future identification of other novel T-cell lineages with specific functions in immunity and disease pathogenesis.
2. Role of Th17 Cells in Promoting Immunity at Barrier Surfaces
Th17 cells play an important role in the induction of protective immunity against bacterial and fungal infection at mucosal sites such as the gut, lung, and the oral cavity [
23
,
24
,
25
]. The number of Th17 cells in humans and mice is small (relative to Th1 cells) under non-pathological conditions [
26
,
27
]. Murine Th17 cells under steady state reside in the intestine where they are generated due to the presence of specific members of the commensal microbiota, including the segmented filamentous bacteria (SFB) [
28
,
29
,
30
]. SFB promote the production of serum amyloid A (SAA) and ATP, activating the lamina propria APCs to induce Th17 differentiation [
28
,
31
,
32
]. The Th17-associated protective functions involve the secretion of several cytokines including IL-17A, IL-17F, IL-21, IL-22, IL-26, IL-8, and CCL20 [
4
].
3. Transcriptional Regulation of Th17 Differentiation
3.1. Positive Regulators
A subset of T-cells can be considered a distinct lineage when it expresses specific effector functions under the control of unique transcriptional regulators [
55
,
64
].
3.2. Negative Regulators
Lineage-specific transcription factors such as T-bet (for Th1) and FOXP3 (for Tregs) have been reported to suppress Th17 development. T-bet suppresses the Th17 lineage by inhibiting IRF4 expression and by competing with RORγt for RUNX1 binding [
100
,
101
]. FOXP3 directly binds to RORγt to prevent Th17 differentiation [
102
]. It was also found that FOXP3 binding to RUNX1 prevents Th17 development [
97
]. Other Th17 negative regulators include: T-cell factor 1 (TCF-1), Growth factor independent 1 (GFI-1), Interferon regulatory factor 8 (IRF8), Twist Family BHLH Transcription Factor 1 (TWIST1), peroxisome proliferator-activated receptor gamma (PPARγ), E-twenty six 1 (ETS1), E74-like factor 4 (ELF4), inhibitor of DNA-binding 3 (ID3), and Early growth response gene (EGR2) [
87
]. TCF-1 interacts with the
il17a
locus, leading to gene silencing [
103
]. TCF-1 also inhibits IL-7R expression, affecting Th17 survival capacity. GFI-1 suppresses Th17-related gene expression to promote Th2 differentiation [
104
], while IRF8 interacts with RORγt to shut down Th17 development [
105
], but the complete mechanism used by IRF8 to suppress Th17 differentiation is still unknown. TWIST1 is induced following activation of the IL-6-STAT3 signaling pathways and acts as a regulator of Th17 differentiation by repressing
il6ra
gene expression [
106
]. TWIST1-deficient mice exhibit higher frequency of Th17 cells. Activation of PPARγ prevents the removal of repressor on the promoter region of RORγt [
107
], inhibiting Th17 differentiation without affecting Th1 or Th2 lineage development. In mice, ETS1 was shown to favor IL-2-STAT5 axis, shutting down Th17 differentiation [
108
]. Another member of the ETS transcription factor family, ELF4, was also shown to regulate Th17 development in a different manner than ETS [
109
]. The IL-6 and TGF-β signaling threshold to initiate Th17 differentiation was decreased in mice deficient in ELF4. Through unknown mechanisms, ID3 also represses Th17 differentiation as demonstrated by studies in ID3-deficient animals that expressed increased frequencies of Th17 cells [
110
]. EGR2 interaction with BATF prevents the formation of the transcriptional complex involved in the initiation of Th17 differentiation [
111
].
Most of the studies cited above were performed using mouse models. In human cells, transcriptional regulators shown to be involved in Th17 development include the positive regulators AHR, IRF4, c-maf, BATF, and PLZ [
80
,
82
,
84
,
87
,
88
,
112
] and the negative regulators TWIST1, PPARγ, and EGR-2 [
106
,
107
,
111
].
In conclusion, the modulation of Th17 development is tightly regulated and involves a set of transcription factors with specific functions at different levels [
4
,
87
]. Molecular mechanisms involved in the regulation of Th17 polarization are illustrated in multiple reviews published previously by other groups [
4
,
113
,
114
].
4. Cytokines Involved in Th17 Lineage Polarization
IL-23 was originally described as the key inducer of pathogenic CD4+ T-cells producing IL-17A in EAE murine models [
13
,
14
]. However, it was later found that IL-23 alone does not drive Th17 differentiation but rather has a role in the lineage expansion, maintenance, and survival [
115
,
116
,
117
]. This observation indicated that other components are involved in the induction of IL-17-producing cells from naive precursors. Several laboratories including the groups of Stockinger, Weaver, Kuchroo, and Littman demonstrated that the presence of both TGF-β and IL-6 in the context of antigenic presentation promoted murine Th17 development [
116
,
117
,
118
,
119
]. IL-6 signaling activates STAT3, which subsequently drives Th17 differentiation [
69
]. Mice deficient in IL-6 are unable to generate Th17 cells and are resistant to EAE [
4
]. Consistently, IL-6 is currently being used as a target for treatment against RA and other inflammatory conditions. The need of TGF-β for Th17 differentiation remains controversial. Experiments involving inhibition of the TGF-β signaling complex and deletion of TGF-β gene on T-cells indicate that TGF-β is essential for Th17 development in mice [
120
,
121
,
122
]. Nevertheless, deletion of TGF-β led to the substantial increase of IFN-γ and IL-4 production, suggesting that TGF-β shuts down Th1 and Th2 differentiation pathways [
120
,
121
], allowing for Th17 development. In the absence of TGF-β, IL-6 alone can promote Th17 differentiation in cells deficient for T-bet and STAT6 [
123
], indicating that TGF-β indirectly induces Th17 development by restraining T-bet and GATA3 expression. The controversial requirement of TGF-β in Th17 differentiation was further highlighted in human studies. Indeed, several groups demonstrated that a combination of IL-6, IL-1β, and IL-23 is sufficient for the development of human Th17 cells [
124
,
125
,
126
] and that the requirement of TGF-β is not essential [
65
,
127
]. Similar findings were also reported in mice [
128
]. In contrast, other researchers reported that TGF-β was essential for human Th17 differentiation [
129
,
130
,
131
], especially for the induction of T-cells producing homogenously IL-17A [
130
]. In fact, the absence of TGF-β led to Th1Th17 generation [
130
]. Other studies reported that the addition of TGF-β was needed for up regulation of RORγt expression but not IL-17A production [
129
,
132
]. Some researchers argue that it is difficult to exclude the importance of TGF-β in experiments involving in vitro induction of Th17 cells from naive precursors since low levels of TGF-β are known to be present in serum [
129
]. TGF-β was previously shown to be a key factor in the generation of inducible Treg (iTreg) [
133
]. The involvement of TGF-β in the development iTregs and Th17 cells appears to be counterintuitive. The current understanding is that high doses of TGF-β promote expression of FOXP3 that will repress RORγt, whereas low doses of TGF-β combined with IL-6 overcome FOXP3 repression of RORγt [
3
]. The combination of TGF-β and IL-6 does not induce pathogenic Th17 cells [
4
]. Subsequent cell exposure to IL-23 drives pathogenicity in Th17 cells [
128
,
134
,
135
]. The IL-1β signaling is critical in Th17 differentiation as revealed by studies in IL-1 receptor-deficient mice that fail to generate antigen-specific Th17 cells and are protected from EAE [
136
]. The expression of IL-R1 is induced in Th17 cells by IL-6, and signaling through this receptor leads to the expression of IRF4, which will strengthen RORγt function [
137
]. IL-1β is important for the phosphorylation of mammalian targets of rapamycin (mTOR) that will increase the metabolic fitness of newly dividing Th17 cells under inflammatory conditions [
138
]. Therefore, the presence of IL-1β is important for the expansion of the Th17 lineage competing with other lineages in a hostile cytokine environment. Pertussis toxin-mediated IL-1β production by myeloid cells is essential for the development of EAE [
139
]. IL-21 is another important cytokine for the expansion of Th17 cells [
90
]. In fact, IL-21 represents a key survival factor for Th17 cells [
140
] and may compensate for the intrinsic inability of Th17 cells to produce IL-2 [
141
]. Studies by Pallikkuth et al. demonstrated that supplementation with IL-21 contributes to the restoration of Th17 cells in a simian model of AIDS [
142
]. IL-21 is recognized as a key marker for follicular helper T-cells (Tfh) [
22
,
143
], and thus IL-21 being produced in autocrine manner by Th17 cells with Tfh features remains one possibility [
144
].
5. Th17 Lineage Plasticity
The Th17 lineage plasticity is described as the ability of Th17 cells to acquire new effector features, while losing their original identity as defined by the expression of RORγt and IL-17A [
4
]. The plasticity of Th lineages depends on epigenetic modifications dictating the expression or repression of lineage-specific transcription factors [
145
,
146
,
147
]. The epigenetic modification basically consists of permissive (H3K4me3) versus repressive (H3K27me3) histone marks [
4
]. Although Th1 and Th2 cells are enriched in repressive histone marks for the
rorc
and
il17a
loci, Th17 cells exhibit both permissive and repressive marks on
tbet
and
gata3
[
148
]. This observation suggests that Th17 cells have the capacity to acquire Th1 or Th2 features when exposed to specific polarization stimuli within their environment. Indeed, the plasticity of Th17 cells towards the Th1 program is well documented [
3
,
4
,
149
]. Studies performed in mice and humans demonstrated the down-regulation of RORγt, IL-17A, IL-17F, IL-22, and CCR6 as well as the up-regulation of T-bet and IFN-γ in Th17 cells when cultured in the presence of IL-12 [
150
,
151
,
152
,
153
,
154
]. Th17 cells exposed to IL-12 co-express T-bet and RORγt, similar to IL-17A+IFN-γ+ double positive cells (Th1Th17 profile). These Th17 cells with Th1 features are referred to as Th1Th17 [
155
] or most recently Th1* cells [
68
,
156
], as mentioned above. Fate-mapping reporter mice experiments demonstrated that IL-17A-producing cells acquire the ability to co-express IFN-γ under EAE-associated inflammatory conditions; this shift was mainly mediated by IL-23 [
157
]. In humans, epigenetic studies also suggested that Th1Th17 cells originate from Th17 cells [
158
]. Nevertheless, other findings using TCRβ deep sequencing techniques in the context of antigenic presentation indicate that a fraction of Th1Th17 cells may originate directly from naive precursors without any transition through an initial Th17 stage [
156
]. Similar to IL-12 and IL-23, IL-1β was found to induce IFN-γ in Th17 cells. Zielinski et al. demonstrated that
C. albicans
but not
S. aureus
generated IL17A+IFNγ+ populations in humans Th17 cells and that priming of IL-17A and IFN-γ double-producing cells was mediated by IL-1β [
159
]. Recently, TNF-α was also found to drive the shift of Th17 cells towards the Th1/Th17 subsets [
160
].
The Th17 plasticity is not limited only toward the Th1 axis, as Th17 cells were also shown to shift toward other lineages, including Th2, Tfh, and Tregs [
161
,
162
,
163
]. For example, memory CCR6+CD161+ Th17 cells exposed to a rich IL-4 microenvironment acquired the ability to produce Th2 lineage-specific cytokines including IL-4 and IL-5 while maintaining their ability to express IL-17A, IL-21, and IL-22 [
161
]. These cells were referred to as Th17/Th2 cells and were detected in the peripheral blood of patients with chronic asthma. The Tfh development is still controversial and one of the proposed models involve the concept that a naive CD4+ T-cell initially undergoes a Th1, Th2, or Th17 differentiation program before becoming a Tfh lymphocyte [
22
]. In line with this model, fate-mapping reporter mice experiments demonstrated the shift of Th17 cells acquiring Tfh properties and thereby becoming able to help B-cell produce IgA [
162
]. Although the shift of Treg towards the Th17 progeny has been observed [
164
,
165
], only few studies found the ability of Th17 cells to transition into iTreg [
85
,
163
]. This conversion was dependent on a specific type of monocyte being able to produce high levels of TGF-β and retinoic acid [
163
]. Most recent studies support indeed the ability of Th17 cells to trans-differentiate into Tregs, a process that occurs naturally during the resolution of inflammation [
85
].
6. Surface Markers Defining Human Th17 Subsets
7. Th17 Regulation Mechanisms
Regulation of Th17 cell polarization and functions is primordial for the maintenance of homeostasis and for avoiding chronic inflammatory episodes once a pathogen is cleared. Restricting either IL-17 signaling or de novo Th17 generation are ways to stop exacerbated Th17 immune responses. Ubiquitination of components involved in IL-17A signaling transduction pathway is one of the mechanisms that inhibit expression of IL-17A target genes [
4
]. Reported molecules implicated in the negative regulation of IL-17 signaling include deubiquitinating enzymes, A20, ubiquitination adaptor proteins, micro-RNA (miR)-23b, and the CCAAT/enhancer-binding protein transcription factors (C/EBPs) [
4
]. Interestingly, A20 and C/EBPs are induced by IL-17 signaling and can act separately or in combination to repress IL-17A targeted genes.
Inhibition of de novo Th17 generation in mucosal tissues is dependent on the specific cues present in local environment. For example, the presence of high levels of TGF-β and/or retinoic acid promotes the differentiation Foxp3+ Tregs thus shutting down Th17 development [
3
,
192
]. IL-2 inhibits Th17 differentiation by activating STAT5 that competes with STAT3 for binding sites across the
il17a
locus [
92
,
93
]. In addition, IL-2 can function jointly with TGF-β to induce Tregs. Through the interaction with AhR and c-maf, IL-27 promotes the generation of T regulatory type 1 cells (TR1) producing IL-10 and is dependent on STAT1 expression [
23
,
193
]. IL-27 can directly inhibit RORγt expression in both mice and humans [
194
] thereby blocking the Th17 development. IL-27 has an effect on naive T-cells undergoing Th17 differentiation [
23
]. Th17-mediated immune responses are well controlled after pathogen clearance. Results generated by the group of Richard Flavell support the concept that once the infection/inflammation is resolved, Th17 cells leave the site of inflammation and migrate towards the duodenum [
27
]. This trafficking process is mediated by the CCL20-CCR6 axis [
175
]. Once in the duodenum, Th17 cells are eliminated by unknown mechanisms or acquire features of Tregs (e.g., IL-10 production). These regulatory Th17 cells are immunosuppressive as they have the ability to prevent cell proliferation [
27
]. Noteworthy, the in situ co-localization potential of Th17 and Tregs via CCR6 and other chemokine receptors [
195
] as well as the trans-differentiation of Th17 cells into Tregs [
85
] contribute to the regulation of Th17-mediated inflammatory responses. In summary, the immune host defense employs several mechanisms to avoid deregulation by Th17 cells and maintain homeostasis.
8. Natural Th17 Cells
Originally discovered in 2009 with the use of mice models, natural Th17 (nTh17) cells represent a population of IL-17A producing αβ CD4+ T-cells that undergo maturation and functional priming exclusively in the thymus, similar to natural Tregs (nTregs) [
196
]. The nTh17 cells exit the thymus and enter the periphery where they acquire a memory-like phenotype in spite of being naive in terms of antigen recognition. It has been proposed that these cells respond to tissue injuries prior to the activation of conventional/inducible Th17 cells that are generated following antigen recognition [
197
]. Both nTh17 and inducible Th17 cells share common characteristics including the expression of RORγt, CCR6, IL-23R, and the production of IL-17A as well as IL-22 [
197
]. Similar to inducible Th17 cells, nTh17 cells also exhibit specificity for
C. albicans
and play a pathogenic role in autoimmunity [
198
,
199
,
200
]. Nevertheless, nTh17 differ from inducible Th17 cells in their development pathway since they produce IL-17A and IL-22 following Toll-like receptor (TLR) stimulation independently of TCR engagement [
197
,
199
]. TGF-β and IL-23/STAT3 axis were reported to be important factors in nTh17 development and survival, whereas IL-6 was found to be dispensable for the expansion of this subset in the periphery [
197
]. The mechanism regulating the development of nTh17 cells as well as their extended contribution in protective immunity remains to be further investigated. Also, the existence of this subset of Th17 cells in humans remains to be confirmed.
9. Th17 Pathogenicity
Pathogenic Th17 cells have been extensively described in the context of autoimmunity as a source of TNF-α and GM-CSF [
13
,
27
,
83
] and were originally discovered in the context of EAE murine models [
6
,
37
]. Th1Th17/Th1* cells producing both IL-17A and IFN-γ have been reported as pathogenic cells exacerbating disease pathogenesis [
13
,
84
,
149
,
201
] (
Figure 1
A). They are the main tissue-infiltrating CD4+ T-cells in several inflammatory disorders such as rheumatoid arthritis (RA), psoriasis, Crohn's disease, and multiple sclerosis (MS) [
201
,
202
]. Pathogenic Th17 cells induced by IL-23 are responsible for EAE development [
4
]. In fact, IL-23 has been reported to induce the production of GM-CSF [
203
], which has been identified as the key factor involved in the EAE onset and an essential component of Th17 pathogenicity [
83
,
203
,
204
]. Recently, several studies performed in mice described the presence of non-pathogenic Th17 cells able to produce IL-10 and displaying immune-suppressive properties limiting tissue inflammation [
27
,
83
,
205
,
206
,
207
,
208
] (
Figure 1
A). There is experimental evidence supporting the concept that pathogenic Th17 cells can convert into non-pathogenic cells [
27
]. Furthermore, during the resolution of an immune response, Th17 cells lose their capacity to produce IL-17A as well as the expression of high levels of RORγt [
85
]. These Th17 cells undergo trans differentiation into TR1 and acquire the ability to express IL-10 and TR1 surface marker LAG-3 [
85
].
Therefore, accumulating data indicate that Th17 cells homogenously producing IL-17A do not represent end stages of memory T-cell differentiation as they can further gain new effector functions associated with other T-cell lineages (trans-differentiation). The plasticity displayed by Th17 cells broadens their function and therefore once recruited into specific anatomic locations they efficiently promote diversity in host defense [
55
,
126
,
149
].
10. The Discovery of Long-Lived Th17 Cells in Cancer
The pathogenic versus non-pathogenic features of Th17 cells in cancer remains controversial and is likely dependent on the type of cancer (
Figure 1
B) [
209
]. Th17 cells appear to promote disease progression in hepatocellular carcinoma and gastric cancer [
210
,
211
]. Th17 cells were reported to be present in the vicinity of several malignancies including ovarian [
212
], gastric [
213
], colorectal [
214
], breast [
215
], pancreatic carcinomas [
216
], and melanomas [
214
]. Tumors secrete monocyte chemoattractant protein 1 (MCP-1) that attracts monocytes and RANTES that recruits Th17 cells [
215
]. At the opposite, Th17 cells were reported to provide protective immunity in melanomas and ovarian cancer [
217
,
218
,
219
,
220
,
221
]. In melanomas, tumor-specific Th17 cells led to the recruitment on CD8α+ DCs and activation of tumor-specific CD8+ T-cells, which were crucial for the prevention of tumor development [
217
]. Th17 cells confer protection against ovarian cancer by the recruitment of effector cells through the production of CXCL9 and CXCL10 [
219
]. The production of IFN-γ by Th17 cells appears essential for an efficient immune response against both melanomas and ovarian cancers [
218
,
219
,
221
]. The role of IFN-γ in Th17 cells-mediating anti-tumor effect also appears to be specific to the type of cancer. Neutralization of IFN-γ in murine models had no impact on the Th17 anti-tumor properties against lung cancer [
217
]. These striking differences reported in these studies may reflect the type of Th17 cells present in specific cancers. The complete phenotypic and functional characterization of Th17 cells in the context of cancer remain to be investigated.
Interestingly, studies in mice and humans in the context of cancer revealed the existence of Th17 cells with features of a newly characterized population of T lymphocytes with self-renewal properties [
220
,
221
], known as stem memory T-cells (TSCM) [
222
]. These Th17 cells were referred to as long-lived Th17 cells. The TSCM were originally observed in mice in the context of graft-versus-host disease [
223
] and were later rediscovered in the context of cancer [
224
,
225
]. The TSCM were described not only for their robust self-renewal and expansion capacity but also for their ability to be progenitors for effector T-cells as well as central and effector memory T-cells. Therefore, TSCM have characteristics of hematopoietic stem cells [
226
]. Long-lived Th17 cells were described in mice and in humans as Th17 cells expressing molecules of the Wnt-β catenin signaling axis [
220
,
221
], a pathway associated with self-renewal and survival capacity in stem cells [
227
]. In humans, long-lived Th17 cells express stem cell-related genes such as Nanog, OCT4, Bcl2, Notch, and SOX2 [
220
]. Survival and apoptosis of human long-lived Th17 cells are controlled by the HIF-1α/Notch/Bcl-2 signaling pathway. Both murine and human long-lived Th17 cells co-express IL-17A and IFN-γ (Th1Th17/Th1* profile) and exhibit a phenotype of terminally differentiated memory T-cells, as reflected by their low level of CD27 expression [
220
,
221
]. Adoptive T-cell transfer in mice demonstrated that CD4+ T-cells producing IL-17A are progenitors of long-lived Th17 cells [
221
]. The discovery that specific Th17 subsets display stem-cell features raise the possibility that such subsets may contribute to diverse pathologies including cancer and HIV.
11. Role of Th17 Cells in HIV-1/SIV Pathogenesis
12. Pathogenic Versus Non-Pathogenic Th17 Cells during HIV/SIV Infections
13. Conclusions
Th17 lymphocytes are essential for the clearance of extracellular pathogens including fungi and bacteria at skin and mucosal barrier surfaces. Th17 differentiation is complex and implies a series of positive and negative regulators that can be targeted therapeutically. The differential expression of the chemokine receptors CCR6, CCR4, and CXCR3 identifies unique subsets of IL-17A-producing cells, including the well-characterized Th17 and Th1Th17 cells [
155
], as well as the CCR6+DN and CCR6+DP subsets recently identified by our group (
Figure 1
C,D) [
181
]. These four subsets express a common Th17-specific molecular signature but also unique sets of transcripts that may render them functionally distinct. The Th17 lineage is known to be involved in several pathologies including autoimmunity, cancer, and HIV. The exact role of these four Th17 subsets in the pathogenesis of specific diseases remains to be further investigated. Although the definition of pathogenic Th17 cells has been extensively characterized in the context of autoimmunity, the concept of pathogenic versus non-pathogenic Th17 cells in the context of HIV infection is gaining interest in our search for novel therapeutic approaches toward HIV remission or cure. One undeniable fact is that Th17 cells play a beneficial role during HIV infection by their capacity to maintain barrier surface integrity and homeostasis, mainly in the gut. However, studies by our group and others demonstrated that HIV takes advantage of the metabolic state and the long-lived features of Th17 cells for its dissemination and persistence. The discovery of this novel level of heterogeneity among Th17 subsets implies that each subset may play a unique role in HIV pathogenesis, likely in a tissue- and/or antigen-specific manner. Future investigations are needed for the detailed identification/characterization of pathogenic versus non-pathogenic Th17 cells in the context of HIV infection, probably via genome-wide transcriptional profiling at the single-cell level on Th17 cells infiltrating mucosal sites, as performed in the context of autoimmunity [
288
]. This strategy will likely unveil new molecular determinants of HIV pathogenicity that may be targeted in Th17-specific therapeutic interventions aimed at preserving Th17-mediated immunological functions by preventing HIV infection/persistence in these cells.
Acknowledgments
This study was supported by grants from the Canadian Institutes of Health Research (CIHR) (#MOP-82849; #MOP-114957; #TCO125276; #PJT-153052) to Petronela Ancuta, grants from the CIHR Canadian HIV Trials Network (CTN #247), the Fonds de Recherche du Québec-Santé (FRQ-S)/AIDS and Infectious Diseases Network, Québec, Canada to Jean-Pierre Routy, and by The Canadian HIV Cure Enterprise Team Grant HIG-133050 (to Petronela Ancuta and Jean-Pierre Routy) from the CIHR in partnership with CANFAR and IAS. Vanessa Sue Wacleche received a CIHR Doctoral award. Jean-Pierre Routy holds a Louis Lowenstein Chair in Hematology and Oncology, McGill University. The authors thank Laurence Raymond-Marchand for the critical reading of the manuscript.
Author Contributions
Vanessa Sue Wacleche conceived and wrote the manuscript. Alan Landay and Jean-Pierre Routy revised the manuscript. Petronela Ancuta contributed to the conception of the manuscript and performed final revisions.
Conflicts of Interest
The authors declare no conflict of interest.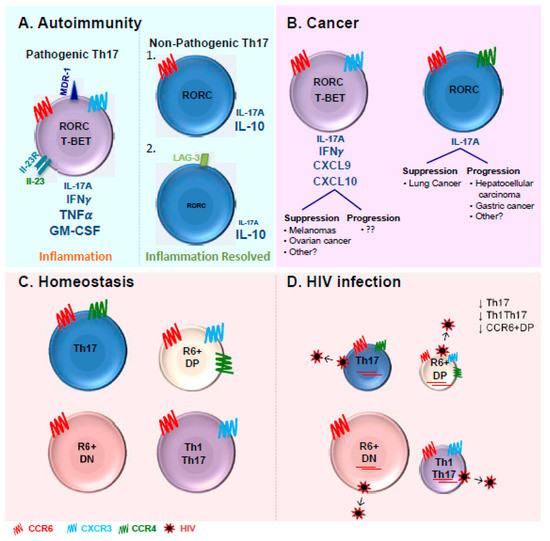 Figure 1. The Th17 lineage heterogeneity during homeostasis and disease pathogenesis. This figure summarizes the heterogeneity of Th17 cells as discovered in mice and/or humans. (A) The concept of pathogenic versus non-pathogenic Th17 cells was originally established in the context of autoimmunity. Pathogenic Th17 cells are characterized by their ability to produce pro-inflammatory cytokines such as IL-17A, TNF-α, GM-CSF, and IFN-γ. These cells are identified as Th1Th17 or Th1* cells. They express on their surface the drug efflux pump MDR-1 and the receptor for IL-23, a cytokine found to promote pathogenic Th17 cell features. At the opposite, non-pathogenic Th17 cells are characterized by their ability to produce the immune-suppressive cytokine IL-10 or to express LAG-3; (B) the long-lived properties of certain Th17 subsets raised their potential contribution to cancer progression. However, the role of Th17 cells remains controversial and appears to vary from beneficial to deleterious depending on the type of cancer. Future studies are required to clarify these differences; (C,D) in humans, four subsets of CCR6+ Th17 cells were identified by our group based on their differential expression of CCR4 and CXCR3, as follows: CCR4+CXCR3− (Th17), CCR4−CXCR3+ (Th1 Th17 or Th1*), CCR4−CXCR3− (double negative, CCR6+DN), and CCR4+CXCR3+ (double positive, CCR6+DP). In HIV-uninfected individuals (C), Th17, Th1Th17, and CCR6+DN subsets are present in the blood at similar frequency, whereas CCR6+DP cells are less predominant. In chronically HIV-infected individuals receiving viral suppressive antiretroviral therapy (ART) (D), the frequency of Th17, Th1Th17, and CCR6+DP is dramatically decreased. However, the frequency of CCR6+DN cells is preserved in the blood and this subset is the most predominant in the lymph nodes of ART-treated individuals.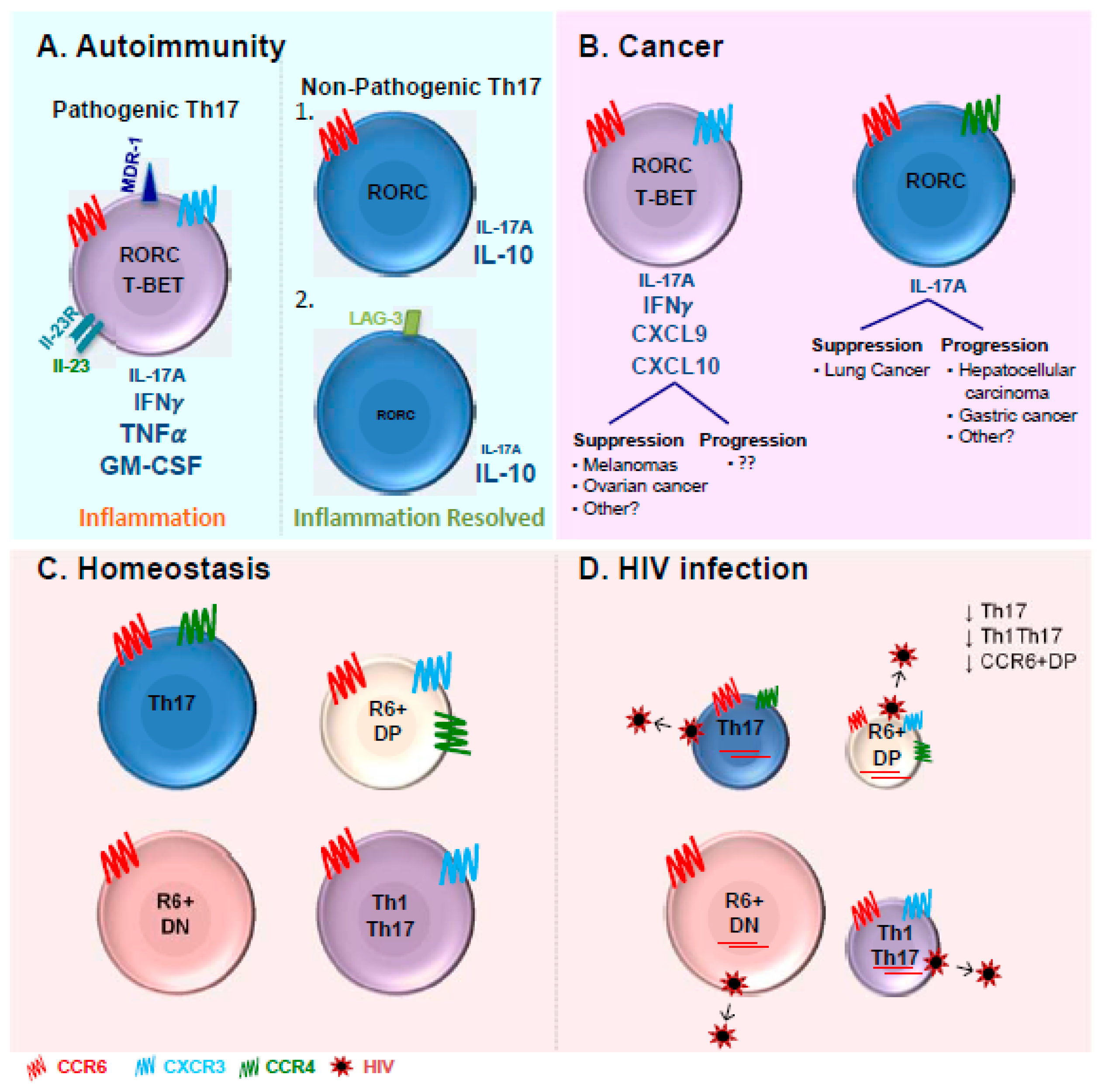 © 2017 by the authors. Licensee MDPI, Basel, Switzerland. This article is an open access article distributed under the terms and conditions of the Creative Commons Attribution (CC BY) license (http://creativecommons.org/licenses/by/4.0/).