Hepatitis B Virus and DNA Damage Response: Interactions and Consequences for the Infection
1
Department of Molecular and Cellular Biology, Centro Nacional de Biotecnología—Consejo Superior de Investigaciones Científicas (CNB-CSIC), Darwin 3, 28049 Madrid, Spain
2
Centro de Investigación Biomédica en Red (CIBER) de Enfermedades Hepáticas y Digestivas (CIBERehd), 28029 Madrid, Spain
*
Author to whom correspondence should be addressed.
Received: 24 September 2017 / Revised: 13 October 2017 / Accepted: 18 October 2017 / Published: 19 October 2017
Abstract
Hepatitis B virus (HBV) is a major etiologic agent of acute and chronic hepatitis, and end-stage liver disease. Establishment of HBV infection, progression to persistency and pathogenesis are determined by viral and cellular factors, some of which remain still undefined. Key steps of HBV life cycle e.g., transformation of genomic viral DNA into transcriptionally active episomal DNA (cccDNA) or transcription of viral mRNAs from cccDNA, take place in the nucleus of infected cells and strongly depend on enzymatic activities provided by cellular proteins. In this regard, DNA damage response (DDR) pathways and some DDR proteins are being recognized as important factors regulating the infection. On one hand, HBV highjacks specific DDR proteins to successfully complete some of the steps of its life cycle. On the other hand, HBV subverts DDR pathways to presumably create a cellular environment that favours its replication. Direct consequences of these interactions are: HBV DNA integration into host chromosomal DNA, and accumulation of mutations in host chromosomal DNA that could eventually trigger carcinogenic processes, which would explain in part the incidence of hepatocellular carcinoma in chronically infected patients. Unravelling the interactions that HBV establishes with DDR pathways might help identify new molecular targets for therapeutic intervention.
View Full-Text
►

▼

Figures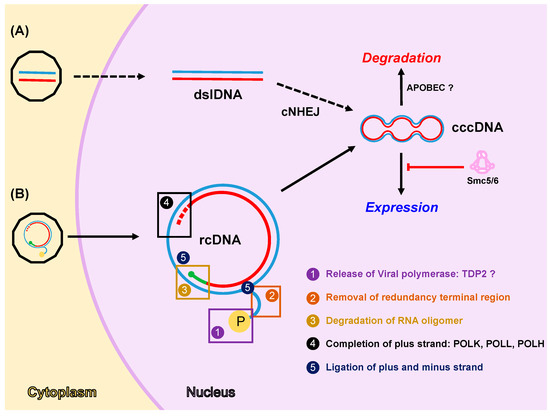 Figure 1
This is an open access article distributed under the
Creative Commons Attribution License
which permits unrestricted use, distribution, and reproduction in any medium, provided the original work is properly cited (CC BY 4.0).

Share & Cite This Article
MDPI and ACS Style
Gómez-Moreno, A.; Garaigorta, U. Hepatitis B Virus and DNA Damage Response: Interactions and Consequences for the Infection. Viruses 2017, 9, 304.
Note that from the first issue of 2016, MDPI journals use article numbers instead of page numbers. See further details here.
Related Articles
Comments
[Return to top]