Assessing Monkeypox Virus Prevalence in Small Mammals at the Human–Animal Interface in the Democratic Republic of the Congo
1
U.S. Centers for Disease Control and Prevention, Poxvirus and Rabies Branch, 1600 Clifton Rd. NE, Atlanta, GA 30333, USA
2
University of Kinshasa, Department of Biology, P.O. Box 218 Kinshasa XI, Democratic Republic of the Congo
3
Field Museum of Natural History, 1400 S. Lake Shore Dr., Chicago, IL 60605, USA
4
Biodiversity Institute, University of Kansas, 1345 Jayhawk Blvd., Lawrence, KS 66045, USA
5
University of Wisconsin, School of Veterinary Medicine, 2015 Linden Dr., Madison, WI 53706, USA
6
U.S. Geological Survey, National Wildlife Health Center, 6006 Schroeder Rd., Madison, WI 53711, USA
*
Author to whom correspondence should be addressed.
Received: 7 August 2017 / Revised: 15 September 2017 / Accepted: 19 September 2017 / Published: 3 October 2017
Abstract
During 2012, 2013 and 2015, we collected small mammals within 25 km of the town of Boende in Tshuapa Province, the Democratic Republic of the Congo. The prevalence of monkeypox virus (MPXV) in this area is unknown; however, cases of human infection were previously confirmed near these collection sites. Samples were collected from 353 mammals (rodents, shrews, pangolins, elephant shrews, a potamogale, and a hyrax). Some rodents and shrews were captured from houses where human monkeypox cases have recently been identified, but most were trapped in forests and agricultural areas near villages. Real-time PCR and ELISA were used to assess evidence of MPXV infection and other
Orthopoxvirus
(OPXV) infections in these small mammals. Seven (2.0%) of these animal samples were found to be anti-orthopoxvirus immunoglobulin G (IgG) antibody positive (six rodents: two
Funisciurus
spp.; one
Graphiurus lorraineus
; one
Cricetomys emini
; one
Heliosciurus
sp.; one
Oenomys hypoxanthus
, and one elephant shrew
Petrodromus tetradactylus
); no individuals were found positive in PCR-based assays. These results suggest that a variety of animals can be infected with OPXVs, and that epidemiology studies and educational campaigns should focus on animals that people are regularly contacting, including larger rodents used as protein sources.
View Full-Text
►

▼

Figures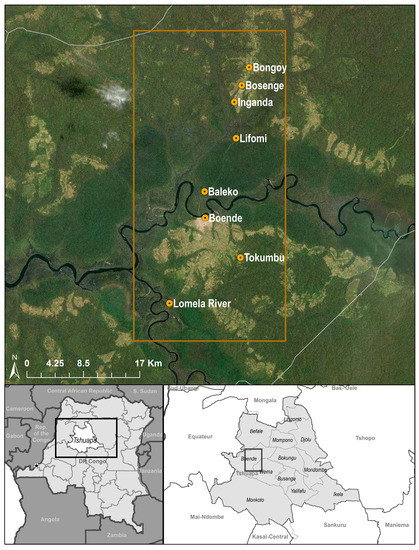 Figure 1
This is an open access article distributed under the
Creative Commons Attribution License
which permits unrestricted use, distribution, and reproduction in any medium, provided the original work is properly cited (CC BY 4.0).

Share & Cite This Article
MDPI and ACS Style
Doty, J.B.; Malekani, J.M.; Kalemba, L.N.; Stanley, W.T.; Monroe, B.P.; Nakazawa, Y.U.; Mauldin, M.R.; Bakambana, T.L.; Liyandja Dja Liyandja, T.; Braden, Z.H.; Wallace, R.M.; Malekani, D.V.; McCollum, A.M.; Gallardo-Romero, N.; Kondas, A.; Peterson, A.T.; Osorio, J.E.; Rocke, T.E.; Karem, K.L.; Emerson, G.L.; Carroll, D.S. Assessing Monkeypox Virus Prevalence in Small Mammals at the Human–Animal Interface in the Democratic Republic of the Congo. Viruses 2017, 9, 283.
Note that from the first issue of 2016, MDPI journals use article numbers instead of page numbers. See further details here.
Related Articles
Comments
[Return to top]