Open Access This article is
freely available
re-usable
Review
Natural History of HPV Infection across the Lifespan: Role of Viral Latency
1
Department of Global Health, George Washington University Milken Institute School of Public Health, Washington, DC 20052, USA
2
Department of Epidemiology, University of Washington School of Public Health, Seattle, WA 98195, USA
*
Author to whom correspondence should be addressed.
Academic Editors: Alison A. McBride and Karl Munger
Received: 24 August 2017 / Accepted: 19 September 2017 / Published: 21 September 2017
Abstract
:
Large-scale epidemiologic studies have been invaluable for elaboration of the causal relationship between persistent detection of genital human papillomavirus (HPV) infection and the development of invasive cervical cancer. However, these studies provide limited data to adequately inform models of the individual-level natural history of HPV infection over the course of a lifetime, and particularly ignore the biological distinction between HPV-negative tests and lack of infection (i.e., the possibility of latent, undetectable HPV infection). Using data from more recent epidemiological studies, this review proposes an alternative model of the natural history of genital HPV across the life span. We argue that a more complete elucidation of the age-specific probabilities of the alternative transitions is highly relevant with the expanded use of HPV testing in cervical cancer screening. With routine HPV testing in cervical cancer screening, women commonly transition in and out of HPV detectability, raising concerns for the patient and the provider regarding the source of the positive test result, its prognosis, and effective strategies to prevent future recurrence. Alternative study designs and analytic frameworks are proposed to better understand the frequency and determinants of these transition pathways.
Keywords:
papillomavirus; latency; cervical cancer
Acknowledgments
Funding support from National Cancer Institute CA123467 (P.E.G.) and National Institute of Allergy and Infectious Diseases AI083224 (R.L.W.).
Author Contributions
P.E.G. and R.L.W. equally conceived the alternative individual-level HPV natural history model and wrote the paper.
Conflicts of Interest
The authors declare no conflict of interest.

Figure 1. Schematic model of the population-level natural history of human papillomavirus infection and cervical cancer. Purple boxes indicate well-accepted natural history model parameters; blue boxes represent uncertainties.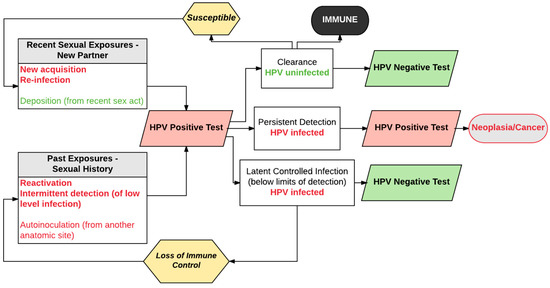 Figure 2. Schematic model of individual-level natural history of female genital HPV infection across the life span. The model assumes two pathways to type-specific HPV positivity after an HPV-negative test result—new acquisition or reinfection due to current sexual activity, or reactivation/recurrent detection of controlled, latent HPV infection. Red boxes indicate positive HPV molecular test results and green boxes indicate negative HPV molecular test results. Colored fonts represent the true underlying infectious status independent of concurrent molecular test results from exfoliated samples; red = HPV infection, green = HPV uninfected.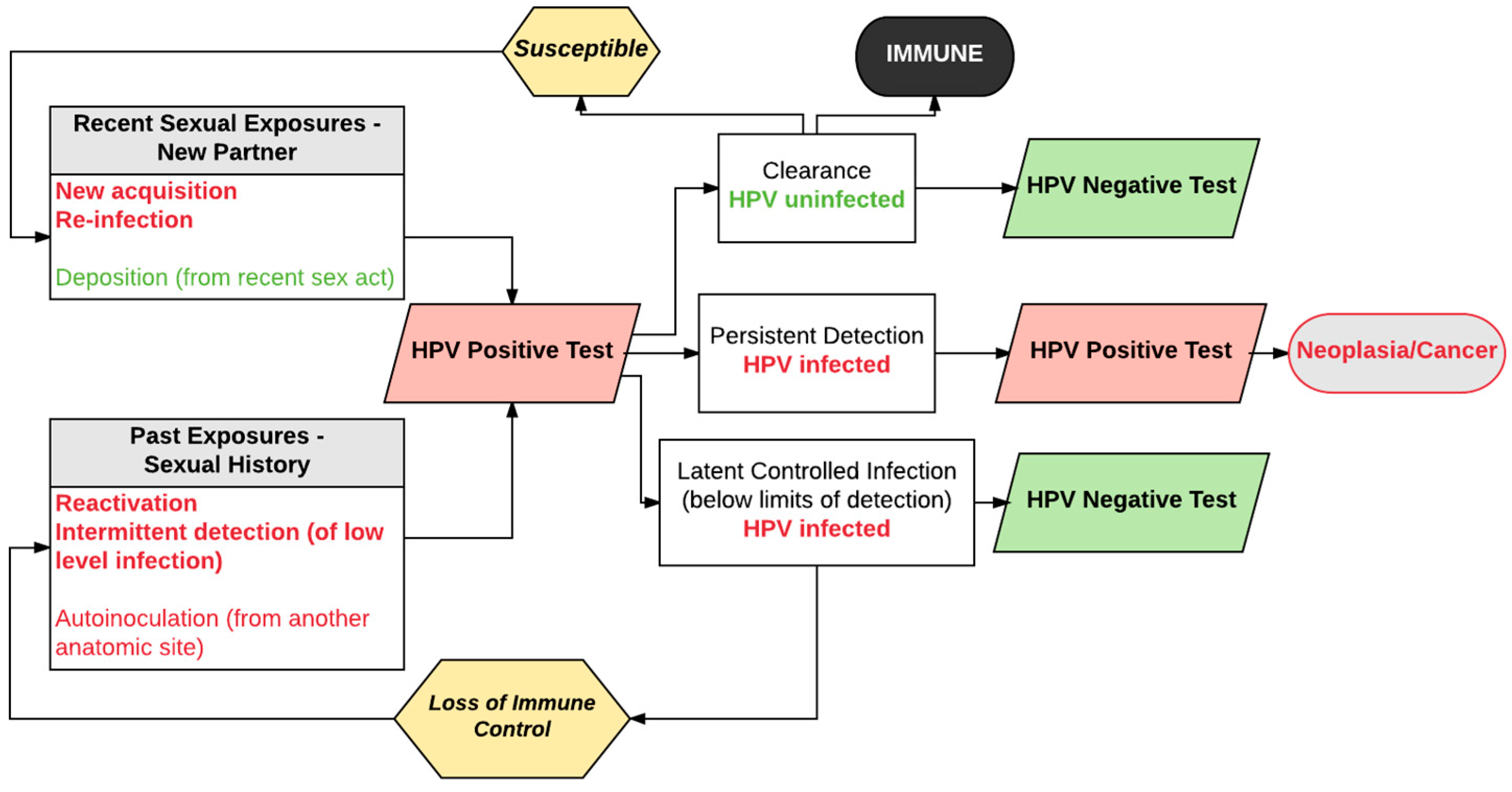 © 2017 by the authors. Licensee MDPI, Basel, Switzerland. This article is an open access article distributed under the terms and conditions of the Creative Commons Attribution (CC BY) license (http://creativecommons.org/licenses/by/4.0/).