Functional Equivalence of Retroviral MA Domains in Facilitating Psi RNA Binding Specificity by Gag
1
Department of Chemistry and Biochemistry, The Ohio State University, Center for Retroviral Research, and Center for RNA Biology, Columbus, OH 43210, USA
2
Department of Biochemistry and Molecular Biology, Penn State College of Medicine, Hershey, PA 17033, USA
3
Departments of Medicine and Microbiology and Immunology, Division of Infectious Diseases and Epidemiology, Penn State College of Medicine, Hershey, PA 17033, USA
*
Author to whom correspondence should be addressed.
Academic Editors: Roland Marquet and Polly Roy
Received: 20 July 2016 / Revised: 9 September 2016 / Accepted: 12 September 2016 / Published: 19 September 2016
Abstract
Retroviruses specifically package full-length, dimeric genomic RNA (gRNA) even in the presence of a vast excess of cellular RNA. The "psi" (Ψ) element within the 5′-untranslated region (5′UTR) of gRNA is critical for packaging through interaction with the nucleocapsid (NC) domain of Gag. However, in vitro Gag binding affinity for Ψ versus non-Ψ RNAs is not significantly different. Previous salt-titration binding assays revealed that human immunodeficiency virus type 1 (HIV-1) Gag bound to Ψ RNA with high specificity and relatively few charge interactions, whereas binding to non-Ψ RNA was less specific and involved more electrostatic interactions. The NC domain was critical for specific Ψ binding, but surprisingly, a Gag mutant lacking the matrix (MA) domain was less effective at discriminating Ψ from non-Ψ RNA. We now find that Rous sarcoma virus (RSV) Gag also effectively discriminates RSV Ψ from non-Ψ RNA in a MA-dependent manner. Interestingly, Gag chimeras, wherein the HIV-1 and RSV MA domains were swapped, maintained high binding specificity to cognate Ψ RNAs. Using Ψ RNA mutant constructs, determinants responsible for promoting high Gag binding specificity were identified in both systems. Taken together, these studies reveal the functional equivalence of HIV-1 and RSV MA domains in facilitating Ψ RNA selectivity by Gag, as well as Ψ elements that promote this selectivity.
View Full-Text
►

▼

Figures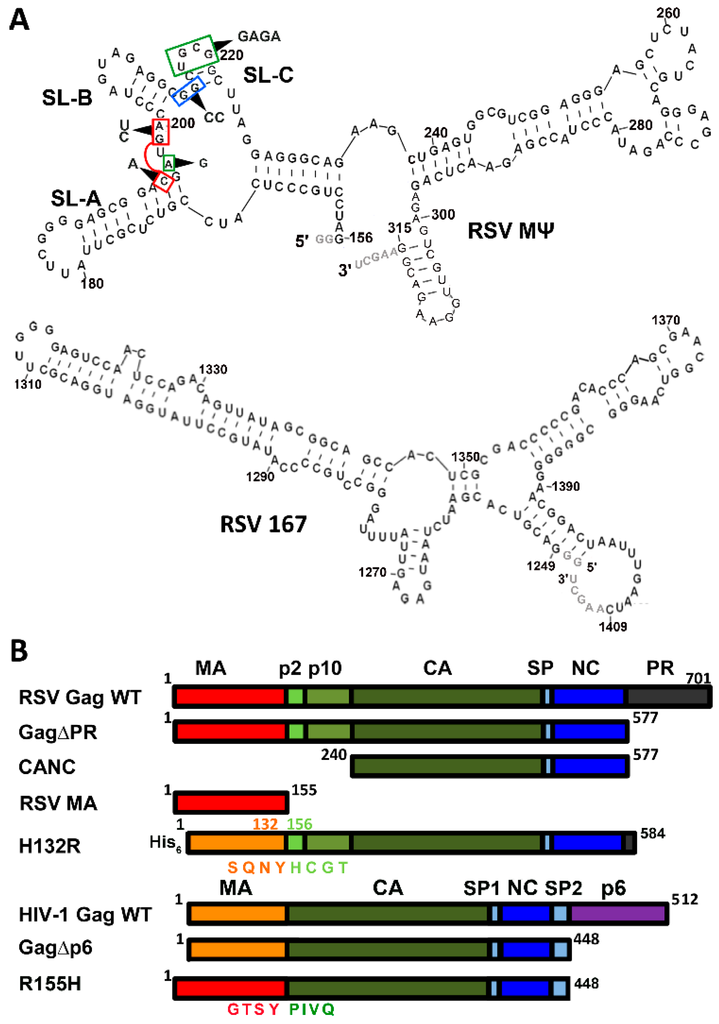 Figure 1
This is an open access article distributed under the
Creative Commons Attribution License
which permits unrestricted use, distribution, and reproduction in any medium, provided the original work is properly cited (CC BY 4.0).

Share & Cite This Article
MDPI and ACS Style
Rye-McCurdy, T.; Olson, E.D.; Liu, S.; Binkley, C.; Reyes, J.-P.; Thompson, B.R.; Flanagan, J.M.; Parent, L.J.; Musier-Forsyth, K. Functional Equivalence of Retroviral MA Domains in Facilitating Psi RNA Binding Specificity by Gag. Viruses 2016, 8, 256.
Note that from the first issue of 2016, MDPI journals use article numbers instead of page numbers. See further details here.
Related Articles
Comments
[Return to top]