Open Access This article is
freely available
re-usable
Review
Experimental Approaches to Study Genome Packaging of Influenza A Viruses
1
Architecture et Réactivité de l'ARN, Université de Strasbourg, Centre National de la Recherche Scientifique (CNRS), Institut de Biologie Moléculaire et Cellulaire (IBMC), 15 rue René Descartes, 67084 Strasbourg, France
2
Département de Virologie, Unité de Génétique Moléculaire des Virus à ARN, Institut Pasteur, 75015 Paris, France
3
Centre National de la Recherche Scientifique (CNRS), Unité Mixte de Recherche 3569, 75016 Paris, France
4
Unité de Génétique Moléculaire des Virus à ARN, Sorbonne Paris Cité, Université Paris Diderot, 75013 Paris, France
*
Authors to whom correspondence should be addressed.
Academic Editor: Polly Roy
Received: 10 June 2016 / Accepted: 1 August 2016 / Published: 9 August 2016
Abstract
:
The genome of influenza A viruses (IAV) consists of eight single-stranded negative sense viral RNAs (vRNAs) encapsidated into viral ribonucleoproteins (vRNPs). It is now well established that genome packaging (i.e., the incorporation of a set of eight distinct vRNPs into budding viral particles), follows a specific pathway guided by segment-specific
cis
-acting packaging signals on each vRNA. However, the precise nature and function of the packaging signals, and the mechanisms underlying the assembly of vRNPs into sub-bundles in the cytoplasm and their selective packaging at the viral budding site, remain largely unknown. Here, we review the diverse and complementary methods currently being used to elucidate these aspects of the viral cycle. They range from conventional and competitive reverse genetics, single molecule imaging of vRNPs by fluorescence in situ hybridization (FISH) and high-resolution electron microscopy and tomography of budding viral particles, to solely in vitro approaches to investigate vRNA-vRNA interactions at the molecular level.
Keywords:
influenza virus; packaging signal; packaging assay; single-molecule FISH; RNA-RNA interaction; competitive reverse genetics
Acknowledgments
We thank Martin Schwemmle, Sylvie van der Werf, Bernadette Crescenzo-Chaigne, Cyril Barbezange, and Marion Declercq for comments on the manuscript. This study was supported by PREDEMICS (Grant Agreement No. 278433).
Author Contributions
C.I., S.M. and N.N. wrote the paper.
Conflicts of Interest
The authors declare no conflict of interest.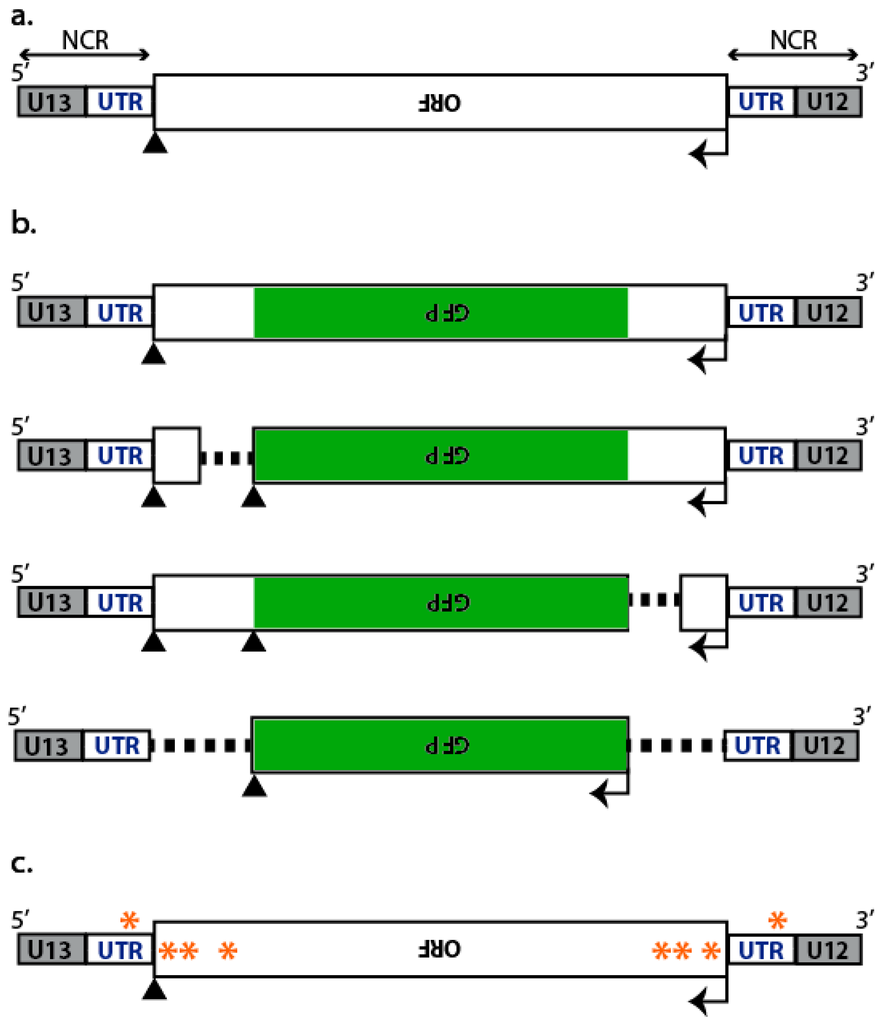 Figure 1. Schematic diagram of influenza A viral RNA segments (vRNAs). (a) Genetic organization of the influenza A virus (IAV) genomic segments. Each segment contains at least one open reading frame (ORF) in antisense orientation, flanked by segment specific non-coding regions (NCRs) encompassing untranslated regions (UTR) and conserved unique (U) promoter regions of 12 (U12) and 13 (U13)-nucleotides (nt) long; (b) Schematic diagram of green fluorescent protein (GFP)-reporter vRNAs. The center portion of the coding region is replaced with the GFP coding region (green), flanked by portions of various lengths of the corresponding termini of the coding region of interest (white); (c) Schematic representation of vRNAs bearing synonymous mutations (orange asterisks) introduced into the NCRs and termini of the coding regions. Initiation and stop codons are indicated by arrows and triangles, respectively.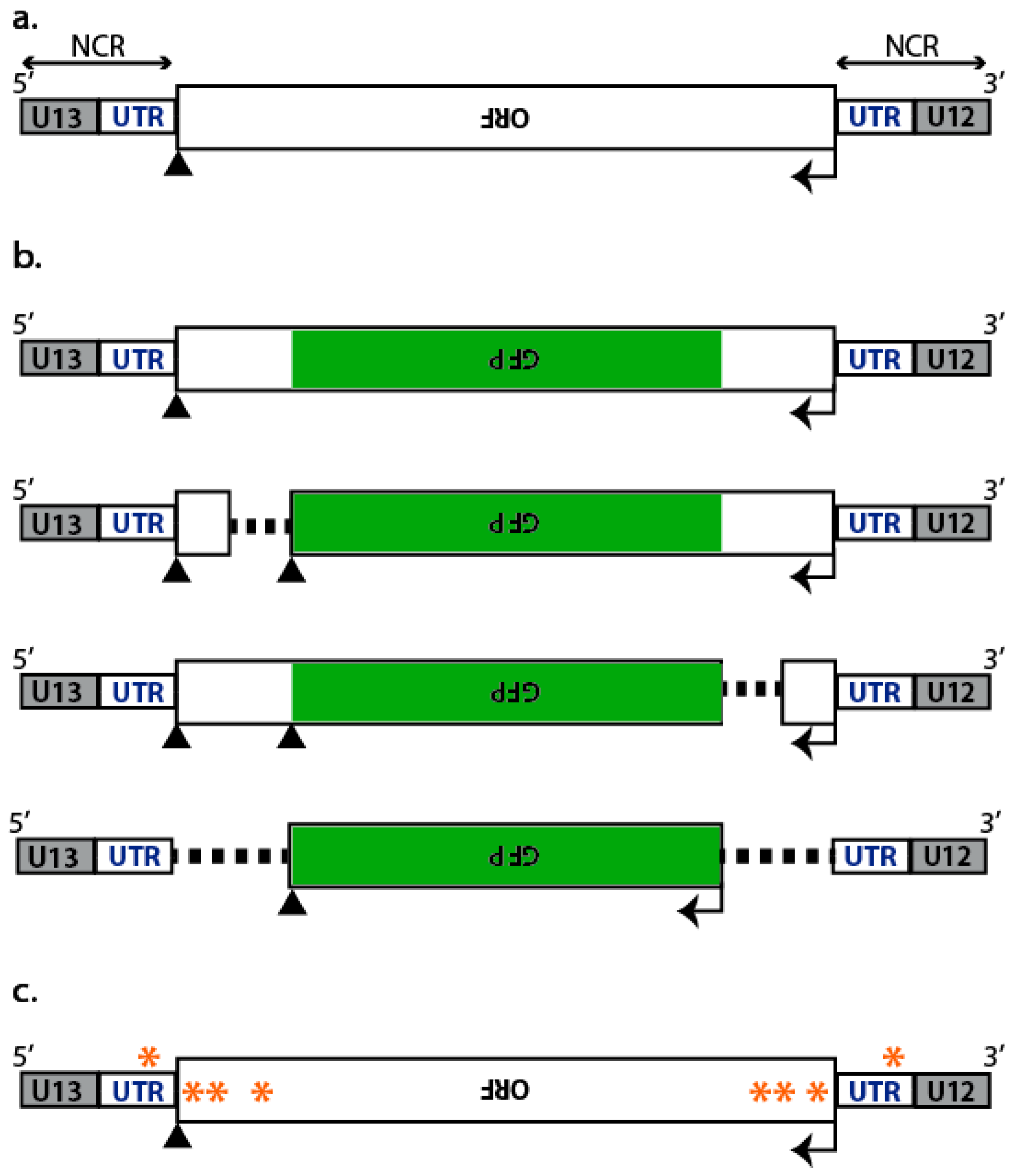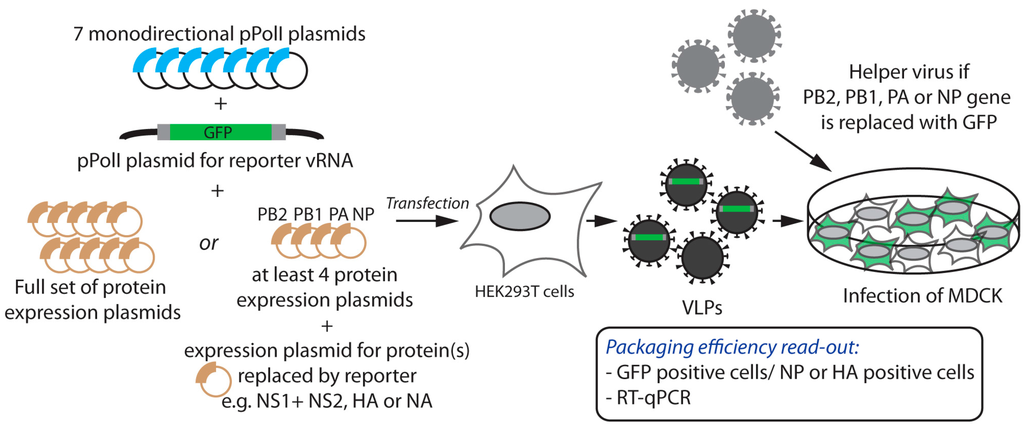 Figure 2.
Experimental strategy to study packaging of reporter vRNAs into virus-like particles (VLPs). Human embryonic kidney cells expressing the simian virus 40 (SV40) large T antigen (HEK293T) were co-transfected with the indicated pPolI and expression plasmids, including a pPolI plasmid for expression of the GFP-reporter vRNA (see
Figure 1
). The grey boxes surrounding the GFP correspond to the portions of coding regions under investigation by deletional analysis. Supernatants containing the VLPs were used to infect, for instance, Madin-Darby canine kidney (MDCK) cells. The reporter gene may or may not be incorporated into VLPs, together with the seven other segments. When the reporter replaced one of the four proteins involved in formation of the vRNPs, helper viruses of a different genetic background (grey) were usually delivered in
trans
to provide those functional proteins in the infected cells. The incorporation efficiency of the vRNA of interest was calculated as the ratio of the number of GFP-positive cells (i.e., the VLPs containing the vRNA of interest) to the total number of nucleoprotein (NP)- or hemagglutinin (HA)-positive cells (i.e., the total number of infectious VLPs) while quantitative reverse transcription polymerase chain reaction (RT-qPCR) allowed quantification of all vRNA segments. PB1: polymerase basic protein 1; PB2: polymerase basic protein 2; PA: polymerase acidic protein; NA: neuraminidase; NS1: non-structural protein 1; NS2: non-structural protein 2.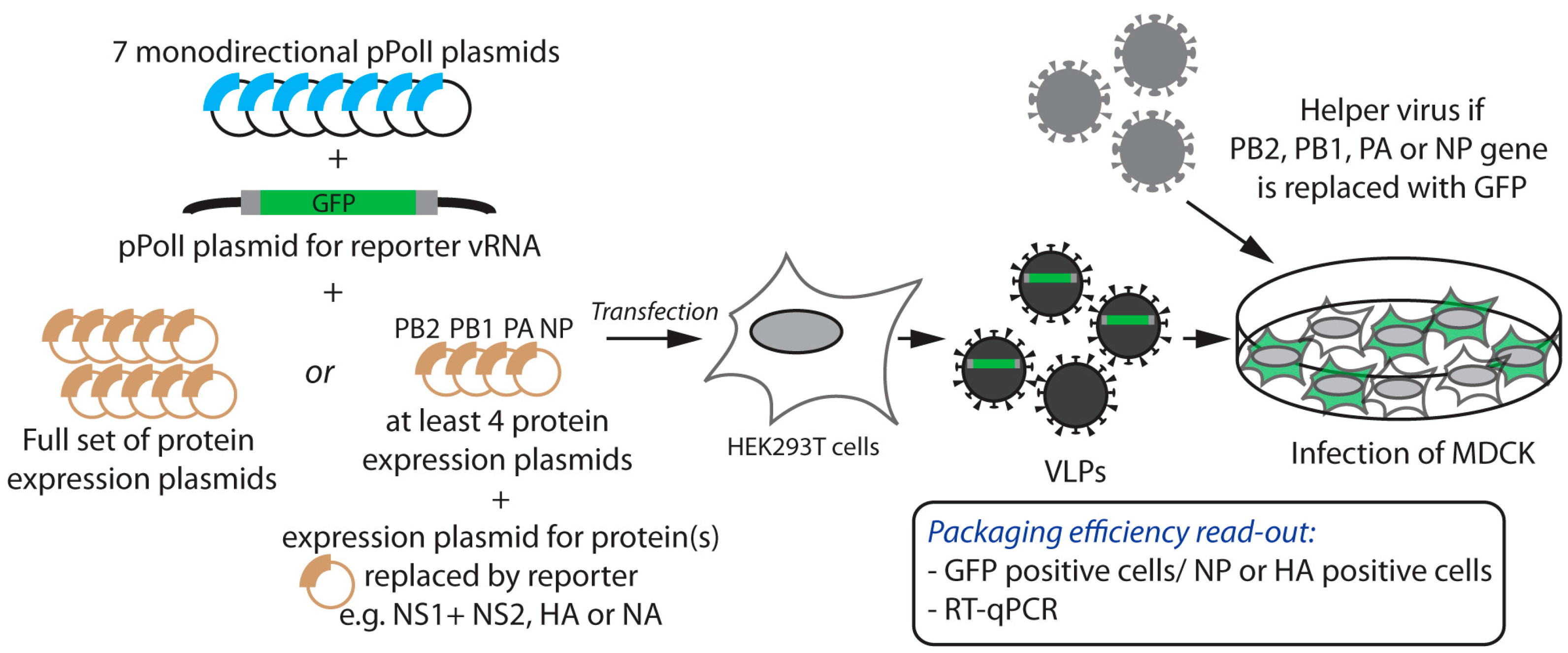 Figure 3.
Experimental strategies to study packaging of engineered vRNAs into replication-competent viruses. (
a
) Incorporation of reporter vRNAs into replication-competent viruses. HEK293T cells were co-transfected with the indicated pPolI and expression plasmids, including a plasmid carrying a GFP gene flanked by the HA (left panel) or NA (middle panel) packaging sequences. In the absence of functional HA, HA-GFP-HA viruses can be rescued upon expression of HA in transfected cells and grown efficiently in MDCK cells that stably express HA (left panel). NA-GFP-NA viruses were produced and grown efficiently in cells supplemented with exogenous sialidase or with low sialic acid content (middle panel). Viruses possessing the vesicular stomatitis virus G (VSVG) protein or the hemagglutinin/esterase/fusion (HEF) protein of an influenza C virus as the surface protein instead of HA and NA were produced by co-transfection of HEK293T cells with six monodirectional pPolI plasmids together with the pPolI-HA-(VSVG/HEF)-HA and pPolI-NA-GFP-NA plasmids (right panel). In all cases, viral particles may contain or not the reporter gene, together with the seven other segments. The incorporation efficiency of the vRNA of interest was calculated as described in the legend of
Figure 2
; (
b
) Incorporation of vRNAs carrying point mutations into replication-competent viruses. HEK293T cells were co-transfected with the indicated pPolI and expression plasmids, or bidirectional pPolI-pPolII plasmids, including a pPolI or pPolI-pPolII plasmid for expression of the vRNA of interest carrying mutations in the NCRs or synonymous mutations (indicated by asterisks) in the termini of the coding sequence. Supernatants were used to infect MDCK cells and/or to inoculate embryonated chicken eggs, the latter being usually performed with the egg-adapted influenza A/Puerto Rico/8/34 (PR8) virus. The vRNA content of viral particles was quantified by RT-qPCR or by densitometry on silver-stained denaturing polyacrylamide gels (for egg-grown viruses). Phenotypic assays of rescued viruses were used as an indicator of the disruptive effect of deletions (
a
) or mutations (
b
) within vRNAs on viral growth. TCID
50
: median tissue culture infective dose; PFU: plaque-forming units.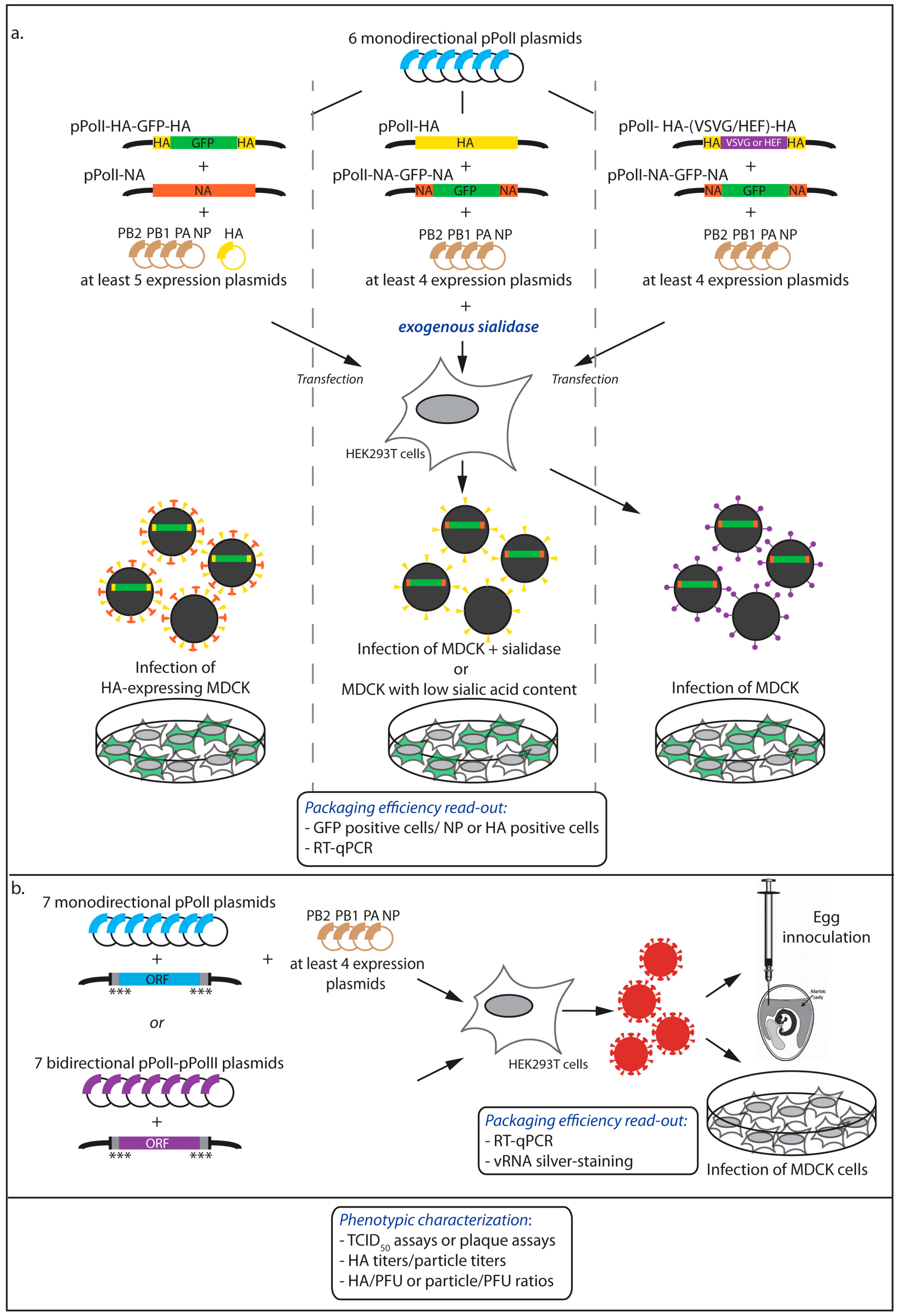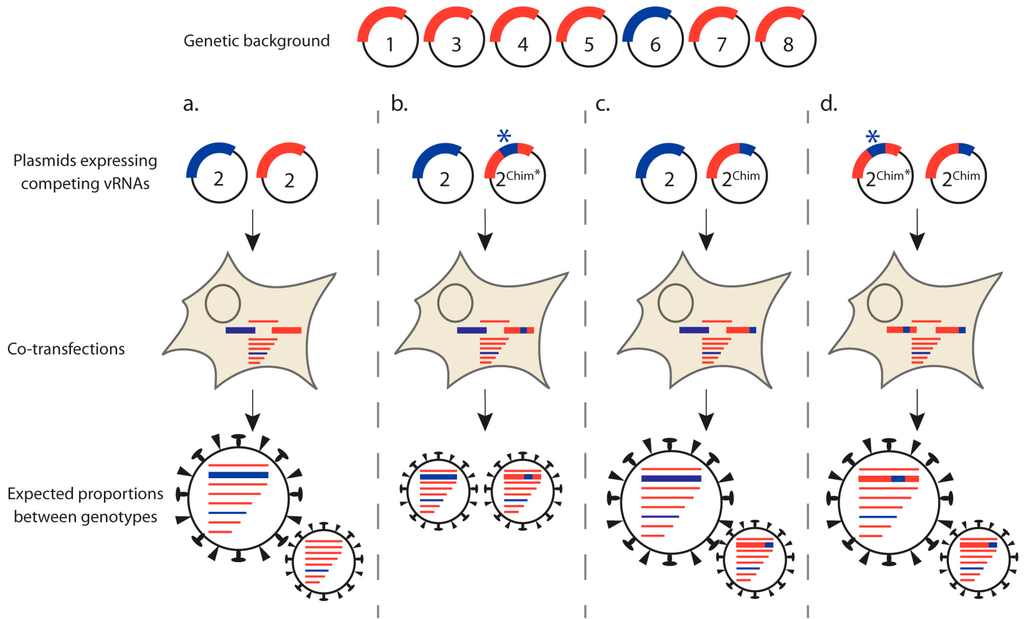 Figure 4. Nine-plasmid-based competitive reverse genetics (RG) as a tool to analyze vRNA-vRNA co-packaging. In nine-plasmid competitive RG experiments, HEK293T cells were co-transfected with seven bidirectional pPolI-pPolII RG plasmids defining the genetic background and two plasmids that express competing vRNAs. (a) If two vRNAs (for instance vRNAs 2 and 6, in blue) were found to co-segregate in an otherwise different genetic background (red) during a genetic reassortment experiment, the "2-blue:6-blue:other-red" genotype is expected to emerge predominantly during a nine-plasmid competitive RG experiment; (b) Chimeric constructs (of vRNA 2 for instance) can be used to delineate the region of the vRNA involved in guiding co-packaging of the two vRNAs. If the region marked by an asterisk (2Chim*) is the important one for the co-packaging interaction with the vRNA partner (6, in blue), the wild-type and chimeric genotypes are expected to emerge with approximately the same frequency; (c) A chimera carrying a region of vRNA 2 that is not important for co-packaging of the two partner vRNAs (2Chim) is expected to emerge at much lower frequency than the wild-type; (d) Finally, competition between the two chimeras is expected to be in favor of the one bearing the region involved in co-packaging of the two vRNA partners.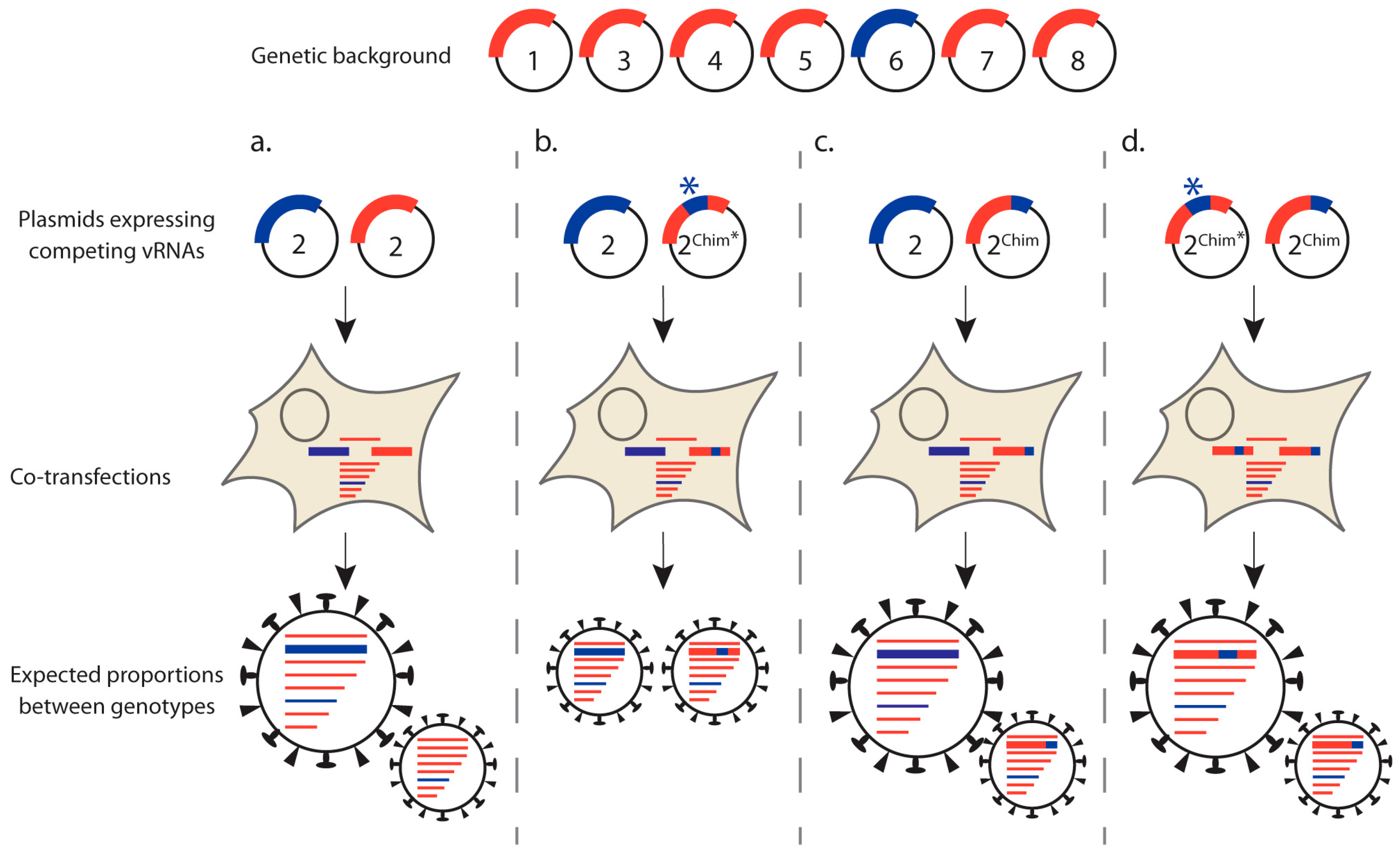 © 2016 by the authors; licensee MDPI, Basel, Switzerland. This article is an open access article distributed under the terms and conditions of the Creative Commons Attribution (CC-BY) license (http://creativecommons.org/licenses/by/4.0/).