ESCRT Requirements for Murine Leukemia Virus Release
Department of Medical Microbiology and Hygiene, University Medical Center of the Johannes Gutenberg University Mainz, Augustusplatz, Mainz D-55131, Germany
*
Author to whom correspondence should be addressed.
Academic Editor: Andrew Mehle
Received: 29 February 2016 / Revised: 1 April 2016 / Accepted: 13 April 2016 / Published: 18 April 2016
Abstract
The Murine Leukemia Virus (MLV) is a gammaretrovirus that hijack host components of the endosomal sorting complex required for transport (ESCRT) for budding. To determine the minimal requirements for ESCRT factors in MLV viral and viral-like particles (VLP) release, an siRNA knockdown screen of ESCRT(-associated) proteins was performed in MLV-producing human cells. We found that MLV VLPs and virions primarily engage the ESCRT-I factor Tsg101 and marginally the ESCRT-associated adaptors Nedd4-1 and Alix to enter the ESCRT pathway. Conversely, the inactivation of ESCRT-II had no impact on VLP and virion egress. By analyzing the effects of individual ESCRT-III knockdowns, VLP and virion release was profoundly inhibited in CHMP2A- and CHMP4B-knockdown cells. In contrast, neither the CHMP2B and CHMP4A isoforms nor CHMP3, CHMP5, and CHMP6 were found to be essential. In case of CHMP1, we unexpectedly observed that the CHMP1A isoform was specifically required for virus budding, but dispensable for VLP release. Hence, MLV utilizes only a subset of ESCRT factors, and viral and viral-like particles differ in ESCRT-III factor requirements.
View Full-Text
►

▼

Figures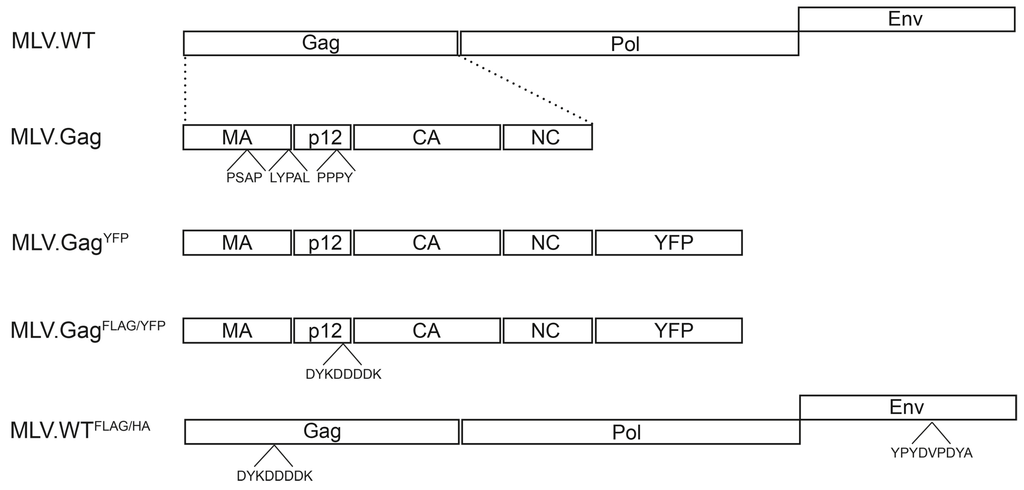 Figure 1
This is an open access article distributed under the
Creative Commons Attribution License
which permits unrestricted use, distribution, and reproduction in any medium, provided the original work is properly cited (CC BY 4.0).

Share & Cite This Article
MDPI and ACS Style
Bartusch, C.; Prange, R. ESCRT Requirements for Murine Leukemia Virus Release. Viruses 2016, 8, 103.
Note that from the first issue of 2016, MDPI journals use article numbers instead of page numbers. See further details here.
Related Articles
Comments
[Return to top]