Maporal Hantavirus Causes Mild Pathology in Deer Mice (
Peromyscus maniculatus

)

1

Arthropod-Borne and Infectious Diseases Laboratory, Department of Microbiology, Immunology and Pathology, College of Veterinary Medicine and Biomedical Sciences, Colorado State University, Fort Collins, CO 80523, USA

2

School of Veterinary Medicine and Biomedical Sciences, University of Nebraska, Lincoln, NE 68583, USA

3

Department of Microbiology, Immunology and Pathology, College of Veterinary Medicine and Biomedical Sciences, Colorado State University, Fort Collins, CO 80523, USA

4

School of Biological Sciences, University of Northern Colorado, Greeley, CO 80639, USA

*

Author to whom correspondence should be addressed.

Academic Editor: Andrew Mehle

Received: 9 October 2016 / Revised: 9 October 2016 / Accepted: 11 October 2016 / Published: 18 October 2016
Abstract
Rodent-borne hantaviruses can cause two human diseases with many pathological similarities: hantavirus cardiopulmonary syndrome (HCPS) in the western hemisphere and hemorrhagic fever with renal syndrome in the eastern hemisphere. Each virus is hosted by specific reservoir species without conspicuous disease. HCPS-causing hantaviruses require animal biosafety level-4 (ABSL-4) containment, which substantially limits experimental research of interactions between the viruses and their reservoir hosts. Maporal virus (MAPV) is a South American hantavirus not known to cause disease in humans, thus it can be manipulated under ABSL-3 conditions. The aim of this study was to develop an ABSL-3 hantavirus infection model using the deer mouse (
Peromyscus maniculatus
), the natural reservoir host of Sin Nombre virus (SNV), and a virus that is pathogenic in another animal model to examine immune response of a reservoir host species. Deer mice were inoculated with MAPV, and viral RNA was detected in several organs of all deer mice during the 56 day experiment. Infected animals generated both nucleocapsid-specific and neutralizing antibodies. Histopathological lesions were minimal to mild with the peak of the lesions detected at 7–14 days postinfection, mainly in the lungs, heart, and liver. Low to modest levels of cytokine gene expression were detected in spleens and lungs of infected deer mice, and deer mouse primary pulmonary cells generated with endothelial cell growth factors were susceptible to MAPV with viral RNA accumulating in the cellular fraction compared to infected Vero cells. Most features resembled that of SNV infection of deer mice, suggesting this model may be an ABSL-3 surrogate for studying the host response of a New World hantavirus reservoir.
View Full-Text
►

▼

Figures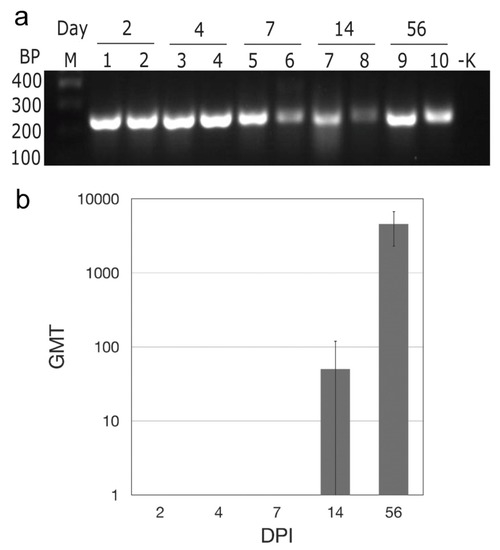 Figure 1
This is an open access article distributed under the
Creative Commons Attribution License
which permits unrestricted use, distribution, and reproduction in any medium, provided the original work is properly cited (CC BY 4.0).

Share & Cite This Article
MDPI and ACS Style
McGuire, A.; Miedema, K.; Fauver, J.R.; Rico, A.; Aboellail, T.; Quackenbush, S.L.; Hawkinson, A.; Schountz, T. Maporal Hantavirus Causes Mild Pathology in Deer Mice (Peromyscus maniculatus). Viruses 2016, 8, 286.
Note that from the first issue of 2016, MDPI journals use article numbers instead of page numbers. See further details here.
Related Articles
Comments
[Return to top]