Oral Application of T4 Phage Induces Weak Antibody Production in the Gut and in the Blood
Institute of Immunology and Experimental Therapy, Polish Academy of Sciences, ul. R. Weigla 12, 53-114 Wrocław, Poland
*
Author to whom correspondence should be addressed.
Academic Editors: Abram Aertsen and Rob Lavigne
Received: 1 May 2015 / Revised: 29 July 2015 / Accepted: 30 July 2015 / Published: 20 August 2015
Abstract
A specific humoral response to bacteriophages may follow phage application for medical purposes, and it may further determine the success or failure of the approach itself. We present a long-term study of antibody induction in mice by T4 phage applied per os: 100 days of phage treatment followed by 112 days without the phage, and subsequent second application of phage up to day 240. Serum and gut antibodies (IgM, IgG, secretory IgA) were analyzed in relation to microbiological status of the animals. T4 phage applied orally induced anti-phage antibodies when the exposure was long enough (IgG day 36, IgA day 79); the effect was related to high dosage. Termination of phage treatment resulted in a decrease of IgA again to insignificant levels. Second administration of phage induces secretory IgA sooner than that induced by the first administrations. Increased IgA level antagonized gut transit of active phage. Phage resistant E. coli dominated gut flora very late, on day 92. Thus, the immunological response emerges as a major factor determining phage survival in the gut. Phage proteins Hoc and gp12 were identified as highly immunogenic. A low response to exemplary foreign antigens (from Ebola virus) presented on Hoc was observed, which suggests that phage platforms can be used in oral vaccine design.
View Full-Text
►

▼

Figures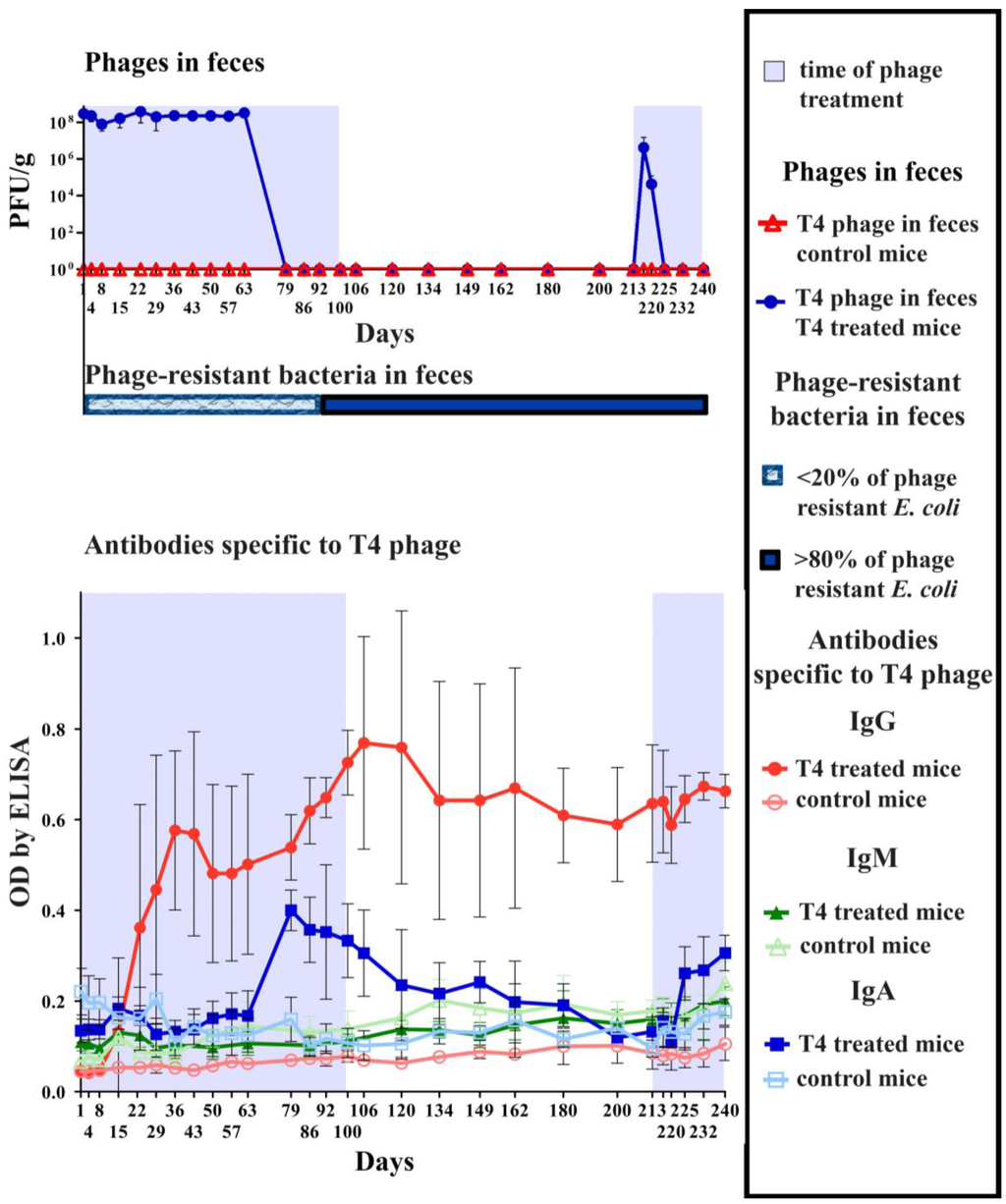 Figure 1
This is an open access article distributed under the
Creative Commons Attribution License
which permits unrestricted use, distribution, and reproduction in any medium, provided the original work is properly cited (CC BY 4.0).

Share & Cite This Article
MDPI and ACS Style
Majewska, J.; Beta, W.; Lecion, D.; Hodyra-Stefaniak, K.; Kłopot, A.; Kaźmierczak, Z.; Miernikiewicz, P.; Piotrowicz, A.; Ciekot, J.; Owczarek, B.; Kopciuch, A.; Wojtyna, K.; Harhala, M.; Mąkosa, M.; Dąbrowska, K. Oral Application of T4 Phage Induces Weak Antibody Production in the Gut and in the Blood. Viruses 2015, 7, 4783-4799.
Related Articles
Comments
[Return to top]