Human Immunodeficiency Virus-1 (HIV-1)-Mediated Apoptosis: New Therapeutic Targets
College of Agriculture and Environmental Sciences, University of South Africa, Florida Science Campus, C/o Christiaan de Wet and Pioneer Avenue P/Bag X6, Johannesburg 1710, South Africa
*
Author to whom correspondence should be addressed.
Received: 13 March 2014 / Revised: 12 June 2014 / Accepted: 8 July 2014 / Published: 19 August 2014
Abstract
HIV has posed a significant challenge due to the ability of the virus to both impair and evade the host's immune system. One of the most important mechanisms it has employed to do so is the modulation of the host's native apoptotic pathways and mechanisms. Viral proteins alter normal apoptotic signaling resulting in increased viral load and the formation of viral reservoirs which ultimately increase infectivity. Both the host's pro- and anti-apoptotic responses are regulated by the interactions of viral proteins with cell surface receptors or apoptotic pathway components. This dynamic has led to the development of therapies aimed at altering the ability of the virus to modulate apoptotic pathways. These therapies are aimed at preventing or inhibiting viral infection, or treating viral associated pathologies. These drugs target both the viral proteins and the apoptotic pathways of the host. This review will examine the cell types targeted by HIV, the surface receptors exploited by the virus and the mechanisms whereby HIV encoded proteins influence the apoptotic pathways. The viral manipulation of the hosts' cell type to evade the immune system, establish viral reservoirs and enhance viral proliferation will be reviewed. The pathologies associated with the ability of HIV to alter apoptotic signaling and the drugs and therapies currently under development that target the ability of apoptotic signaling within HIV infection will also be discussed.
View Full-Text
►

▼

Figures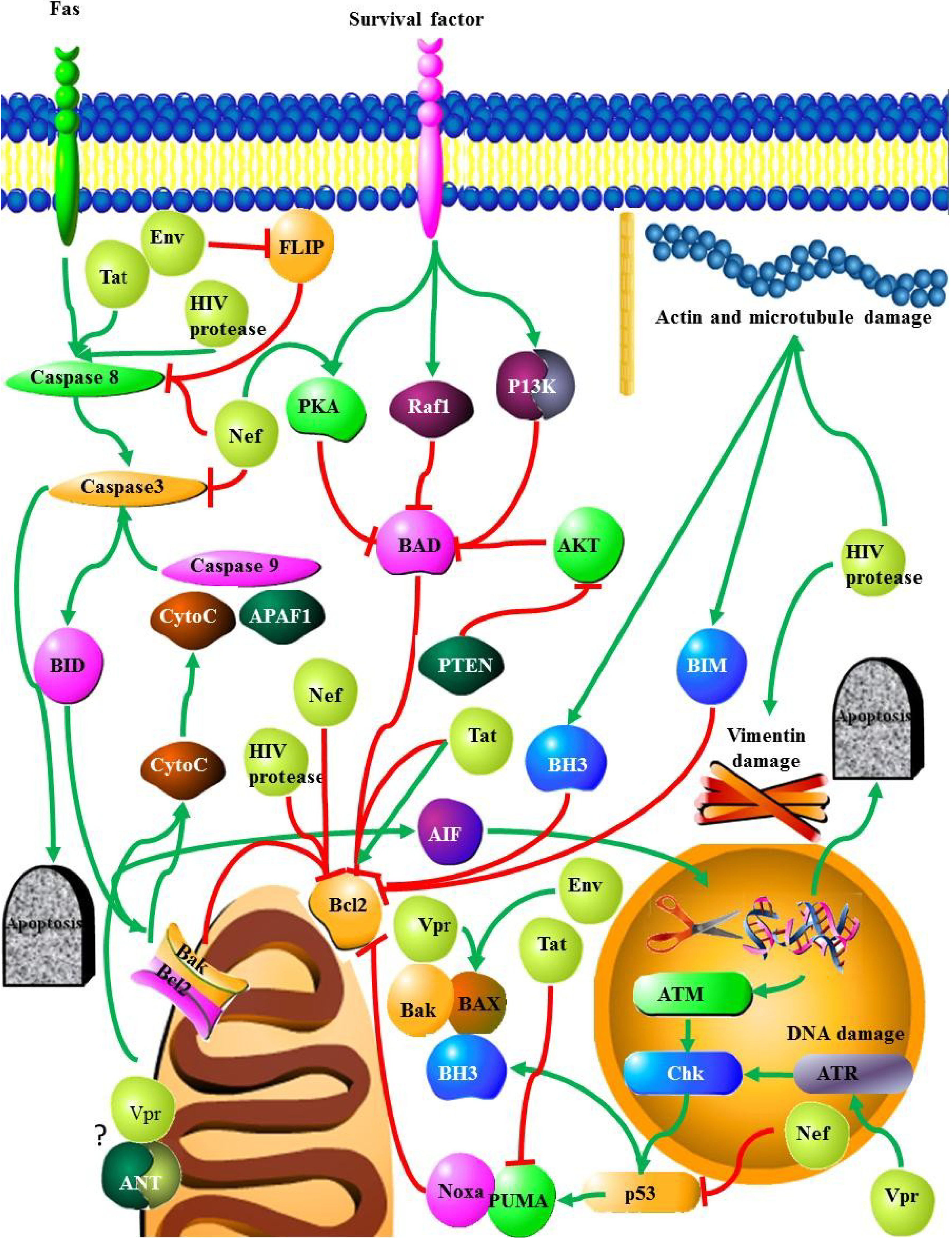 Figure 1

Share & Cite This Article
MDPI and ACS Style
Mbita, Z.; Hull, R.; Dlamini, Z. Human Immunodeficiency Virus-1 (HIV-1)-Mediated Apoptosis: New Therapeutic Targets. Viruses 2014, 6, 3181-3227.
Related Articles
Comments
[Return to top]