Effects of the Q80K Polymorphism on the Physicochemical Properties of Hepatitis C Virus Subtype 1a NS3 Protease
1
Laboratório de Hepatites Virais, Instituto Oswaldo Cruz/FIOCRUZ, Rio de Janeiro, RJ 21040-900, Brazil
2
Programa de Computação Científica, Instituto Oswaldo Cruz/FIOCRUZ, Rio de Janeiro, RJ 21040-900, Brazil
3
Laboratório de Biologia Computacional e Sistemas, Instituto Oswaldo Cruz/FIOCRUZ, Rio de Janeiro, RJ 21040-900, Brazil
4
Laboratório de Bioinformática, Departamento de Bioquímica, Instituto de Química, Universidade Federal do Rio de Janeiro/UFRJ, Rio de Janeiro, RJ 21941-909, Brazil
*
Author to whom correspondence should be addressed.
Received: 29 March 2019 / Revised: 4 June 2019 / Accepted: 13 June 2019 / Published: 30 July 2019
Abstract
Hepatitis C virus genotype 1a (HCV-1a) comprises clades I and II. The Q80K polymorphism is found predominantly in clade I but rarely in clade II. Here, we investigated whether natural polymorphisms in HCV-1a clade II entailed structural protein changes when occurrence of the Q80K variant was simulated. Based on HCV-1a clade I and II protein sequences, the structure of the HCV-1a Q80K mutant NS3-4A was obtained by comparative modeling. Its physicochemical properties were studied by molecular dynamics simulations and network analysis. Results demonstrate that, in the presence of the K80 variant, clade II protease polymorphisms A91 and S/G174 led to variations in hydrogen bond occupancies. Structural analyses revealed differences in (i) flexibility of the H57 catalytic residue on the NS3 protease and (ii) correlations between amino acids on the NS3 protease and the NS4A cofactor. The latter indicated possible destabilization of interactions, resulting in increased separation of these proteins. The present findings describe how the relationships between different HCV-1a NS3 protease amino acid residues could affect the appearance of viral variants and the existence of distinct genetic barriers to HCV-1a isolates.
View Full-Text
►

▼

Figures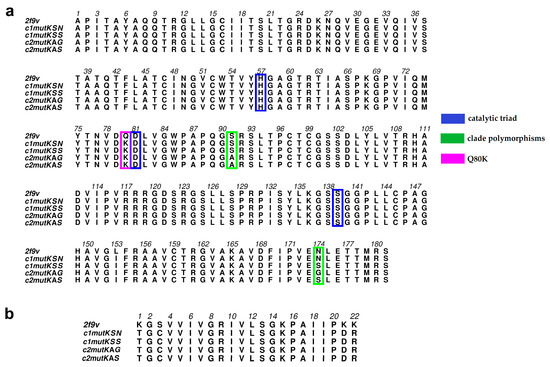 Figure 1
This is an open access article distributed under the
Creative Commons Attribution License
which permits unrestricted use, distribution, and reproduction in any medium, provided the original work is properly cited (CC BY 4.0).

Share & Cite This Article
MDPI and ACS Style
Peres-da-Silva, A.; Antunes, D.; Quintanilha Torres, A.L.; Caffarena, E.R.; Lampe, E. Effects of the Q80K Polymorphism on the Physicochemical Properties of Hepatitis C Virus Subtype 1a NS3 Protease. Viruses 2019, 11, 691.
Note that from the first issue of 2016, MDPI journals use article numbers instead of page numbers. See further details here.
Related Articles
Comments
[Return to top]