Efficient Production of Human Norovirus-Specific IgY in Egg Yolks by Vaccination of Hens with a Recombinant Vesicular Stomatitis Virus Expressing VP1 Protein
1
Department of Veterinary Biosciences, College of Veterinary Medicine, The Ohio State University, Columbus, OH 43210, USA
2
Program in Food Science and Technology, The Ohio State University, Columbus, OH 43210, USA
*
Author to whom correspondence should be addressed.
†
Present address: School of Agriculture & Food Sciences, The University of Queensland, Brisbane 4072, Australia.
Received: 16 February 2019 / Revised: 3 May 2019 / Accepted: 7 May 2019 / Published: 16 May 2019
(This article belongs to the Special Issue
Noroviruses
)
Abstract
Human norovirus (HuNoV) is responsible for more than 95% of outbreaks of acute nonbacterial gastroenteritis worldwide. Despite major efforts, there are no vaccines or effective therapeutic interventions against this virus. Chicken immunoglobulin Y (IgY)-based passive immunization has been shown to be an effective strategy to prevent and treat many enteric viral diseases. Here, we developed a highly efficient bioreactor to generate high titers of HuNoV-specific IgY in chicken yolks using a recombinant vesicular stomatitis virus expressing HuNoV capsid protein (rVSV-VP1) as an antigen. We first demonstrated that HuNoV VP1 protein was highly expressed in chicken cells infected by rVSV-VP1. Subsequently, we found that White Leghorn hens immunized intramuscularly with rVSV-VP1 triggered a high level of HuNoV-specific yolk IgY antibodies. The purified yolk IgY was efficiently recognized by HuNoV virus-like particles (VLPs). Importantly, HuNoV-specific IgY efficiently blocked the binding of HuNoV VLPs to all three types (A, B, and O) of histo-blood group antigens (HBGAs), the attachment factors for HuNoV. In addition, the receptor blocking activity of IgY remained stable at temperature below 70 °C and at pH ranging from 4 to 9. Thus, immunization of hens with VSV-VP1 could be a cost-effective and practical strategy for large-scale production of anti-HuNoV IgY antibodies for potential use as prophylactic and therapeutic treatment against HuNoV infection.
View Full-Text
►

▼

Figures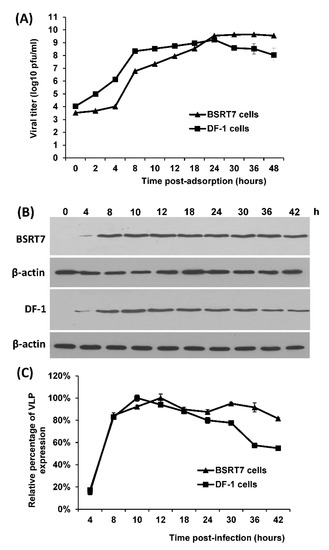 Figure 1
This is an open access article distributed under the
Creative Commons Attribution License
which permits unrestricted use, distribution, and reproduction in any medium, provided the original work is properly cited (CC BY 4.0).

Share & Cite This Article
MDPI and ACS Style
Zhu, Y.; Ma, Y.; Lu, M.; Zhang, Y.; Li, A.; Liang, X.; Li, J. Efficient Production of Human Norovirus-Specific IgY in Egg Yolks by Vaccination of Hens with a Recombinant Vesicular Stomatitis Virus Expressing VP1 Protein. Viruses 2019, 11, 444.
Note that from the first issue of 2016, MDPI journals use article numbers instead of page numbers. See further details here.
Related Articles
Comments
[Return to top]