Identification and Analysis of Potential Genes Regulated by an Alphasatellite (TYLCCNA) that Contribute to Host Resistance against Tomato Yellow Leaf Curl China Virus and Its Betasatellite (TYLCCNV/TYLCCNB) Infection in
Nicotiana benthamiana
1
State Key Laboratory of Rice Biology, Institute of Biotechnology, Zhejiang University, Hangzhou 310058, China
2
Key Laboratory of Vector Biology and Pathogen Control of Zhejiang Province, College of Life Sciences, Huzhou University, Huzhou 313000, China
3
Key Laboratory for Biology of Plant Diseases and Insect Pests, Institute of Plant Protection, Chinese Academy of Agricultural Sciences, Beijing 100193, China
*
Author to whom correspondence should be addressed.
†
These authors contributed equally to this work.
Received: 21 April 2019 / Revised: 12 May 2019 / Accepted: 14 May 2019 / Published: 15 May 2019
Abstract
Recently, begomovirus/betasatellite disease complexes were found to be associated with alphasatellites, and their presence modulated disease symptoms and/or viral DNA accumulation in infected plants. However, the biological functions of alphasatellites during begomovirus/betasatellite infections remain unclear. Tomato yellow leaf curl China virus (TYLCCNV) associated with a betasatellite (TYLCCNB) is a widespread monopartite begomovirus in China. In the Yunnan province of China, the TYLCCNV/TYLCCNB disease complex is found in association with an alphasatellite (TYLCCNA). In this study, in order to explain the mechanisms underlying TYLCCNV/TYLCCNB infection and reductions in viral DNA accumulation caused by TYLCCNA, we analyzed the transcriptome profiles of
Nicotiana benthamiana
seedlings challenged by TYLCCNV/TYLCCNB or TYLCCNV/TYLCCNB/TYLCCNA using RNA sequencing. In total, 2272 and 1207 differentially expressed genes (DEGs) were identified to respond to TYLCCNV/TYLCCNB and TYLCCNV/TYLCCNB/TYLCCNA infections, respectively. Compared with the DEGs in the TYLCCNV/TYLCCNB-infected
N. benthamiana
seedlings, the number of DEGs in plants co-infected with TYLCCNV/TYLCCNB + TYLCCNA was significantly reduced. Additionally, 36 DEGs were identified to be regulated by TYLCCNA, six of which were further analyzed using the virus-induced gene silencing (VIGS) approach. Silencing of these six TYLCCNA responsive DEGs caused more severe disease symptoms and higher viral DNA accumulation levels, suggesting that TYLCCNA responsive DEGs may attenuate TYLCCNV/TYLCCNB infection.
View Full-Text
►

▼

Figures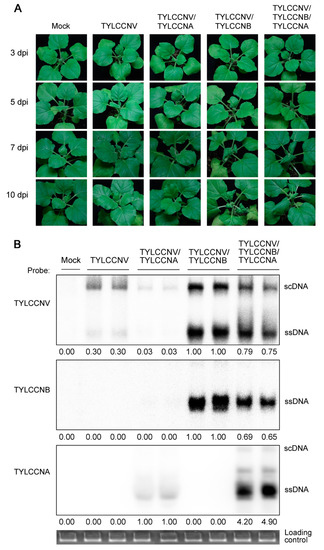 Figure 1
This is an open access article distributed under the
Creative Commons Attribution License
which permits unrestricted use, distribution, and reproduction in any medium, provided the original work is properly cited (CC BY 4.0).

Share & Cite This Article
MDPI and ACS Style
Luo, C.; Wang, Z.Q.; Liu, X.; Zhao, L.; Zhou, X.; Xie, Y. Identification and Analysis of Potential Genes Regulated by an Alphasatellite (TYLCCNA) that Contribute to Host Resistance against Tomato Yellow Leaf Curl China Virus and Its Betasatellite (TYLCCNV/TYLCCNB) Infection in Nicotiana benthamiana. Viruses 2019, 11, 442.
Note that from the first issue of 2016, MDPI journals use article numbers instead of page numbers. See further details here.
Related Articles
Comments
[Return to top]