NF-κB-Dependent Production of ROS and Restriction of HSV-1 Infection in U937 Monocytic Cells
1
IRCCS Centro Neurolesi Bonino-Pulejo, 98123 Messina, Italy
2
Department of Chemical, Biological, Pharmaceutical, and Environmental Sciences, University of Messina, 98166 Messina, Italy
3
Department of Chemical Sciences, University of Naples "Federico II", 80126 Naples, Italy
4
Department of Science, University of Basilicata, 85100 Potenza, Italy
5
Department of Chemical Science and Technologies, University of Rome "Tor Vergata", 00133 Rome, Italy
6
Department of Experimental Medicine, University of Rome "Tor Vergata", 00133 Rome, Italy
7
The Institute of Translational Pharmacology, CNR, 00133 Rome, Italy
*
Author to whom correspondence should be addressed.
†
S.G. and A.M contributed equally as co-last authors to this study.
Received: 1 April 2019 / Accepted: 8 May 2019 / Published: 10 May 2019
Abstract
Herpes simplex virus 1 (HSV-1) can infect a wide range of cell types, including cells of the adaptive and innate immunity but, normally, it completes a fully-permissive replication cycle only in epithelial or neural cells. Complex mechanisms controlling this delicate balance in immune cells and consequent restriction of HSV-1 infection in these cells have not been completely elucidated. We have recently demonstrated that the transcription factor nuclear factor kappa B (NF-κB) can act as a main permissiveness regulator of HSV-1 infection in monocytic cells, however, mediators involved in this regulation have not been identified. To better define mechanisms involved in this phenomenon and, particularly, the possible involvement of ROS, wild type U937 cells or U937 cells stably transfected with a dominant-negative (DN) IκB-mutant and selenium-containing compounds, as anti-oxidants, were utilized. The main results can be summarized as follows. HSV-1 infection induces an immediate ROS production in U937 monocytic cells that can efficiently activate NF-κB but not in DN-IκB-mutant cells. Treatment with selenium-containing antioxidants efficiently inhibited HSV-1-induced ROS generation while producing increased levels of HSV-1 replication and a reduction of HSV-1-induced NF-κB activation in U937 monocytic cells. Our results suggest a scenario in which an efficient NF-κB-dependent ROS production in response to infection could contribute in limiting HSV-1 replication in monocytes/macrophages, thus avoiding possible irreparable damage to the innate immune system of the host during HSV-1 infection.
View Full-Text
►

▼

Figures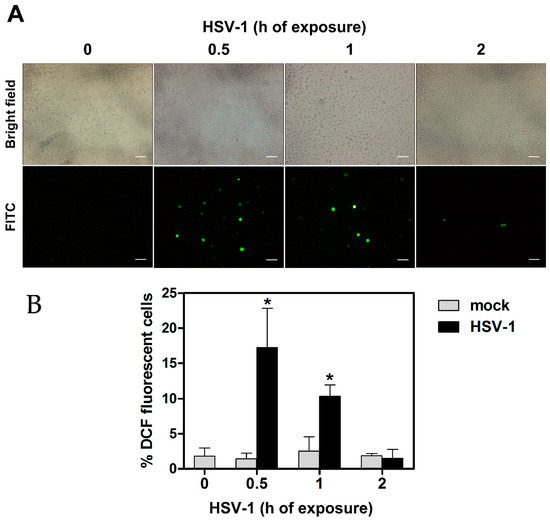 Figure 1
This is an open access article distributed under the
Creative Commons Attribution License
which permits unrestricted use, distribution, and reproduction in any medium, provided the original work is properly cited (CC BY 4.0).

Share & Cite This Article
MDPI and ACS Style
Marino-Merlo, F.; Papaianni, E.; Frezza, C.; Pedatella, S.; De Nisco, M.; Macchi, B.; Grelli, S.; Mastino, A. NF-κB-Dependent Production of ROS and Restriction of HSV-1 Infection in U937 Monocytic Cells. Viruses 2019, 11, 428.
Note that from the first issue of 2016, MDPI journals use article numbers instead of page numbers. See further details here.
Related Articles
Comments
[Return to top]