Human Hepatitis B Virus Core Protein Inhibits IFNα-Induced IFITM1 Expression by Interacting with BAF200
1
College of Life Sciences, Wuhan University, Wuhan 430072, China
2
Structural Studies Division, MRC Laboratory of Molecular Biology, Francis Crick Avenue, Cambridge Biomedical Campus, Cambridge CB2 0QH, UK
3
Department of Clinical Laboratory, Tongji Medical College, Huazhong University of Science and Technology, Wuhan 430030, China
*
Author to whom correspondence should be addressed.
Received: 17 March 2019 / Revised: 4 May 2019 / Accepted: 7 May 2019 / Published: 9 May 2019
Abstract
Human hepatitis B virus core protein (HBc) is a structural protein of the hepatitis B virus (HBV) and contributes to HBV regulation of host-cell transcription. However, the mechanisms of transcriptional regulation remain poorly characterized. To dissect the function of HBc, a yeast two-hybrid was performed to identify HBc-binding proteins, and the C-terminal of BRG1/hBRM-associated factors 200 (BAF200C) was identified. Then, the existence of HBc interactions with BAF200C and full-length BAF200 was confirmed via co-immunoprecipitation assays in 293T, HepG2 and HepG2-NTCP cells. Furthermore, we show that the binding between HBc and BAF200 was of vital importance to HBc mediated downregulation of interferon-induced transmembrane protein 1 (IFITM1) expression, and the mechanisms for the downregulation were disclosed as follows. Basal level of IFITM1 expression depends on BAF200, rather than the JAK–STAT1 pathway. The interaction of HBc with BAF200 disturbs the stability of the polybromo-associated BAF (PBAF) complex and results in the suppression of IFTM1 transcription. Finally, the antiviral effects of IFITM1 on cell proliferation and HBV replication were found to be partially restored when HBc was co-transfected with BAF200. Collectively, our findings indicate that HBc plays a role in HBV resistance against the antiviral activities of IFNα, providing details about HBV evasion of host innate immunity.
View Full-Text
►

▼

Figures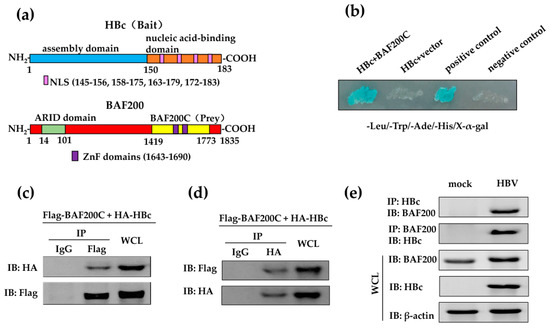 Figure 1
This is an open access article distributed under the
Creative Commons Attribution License
which permits unrestricted use, distribution, and reproduction in any medium, provided the original work is properly cited (CC BY 4.0).

Share & Cite This Article
MDPI and ACS Style
Li, T.; Ke, Z.; Liu, W.; Xiong, Y.; Zhu, Y.; Liu, Y. Human Hepatitis B Virus Core Protein Inhibits IFNα-Induced IFITM1 Expression by Interacting with BAF200. Viruses 2019, 11, 427.
Note that from the first issue of 2016, MDPI journals use article numbers instead of page numbers. See further details here.
Related Articles
Comments
[Return to top]