Avirulins, a Novel Class of HIV-1 Reverse Transcriptase Inhibitors Effective in the Female Reproductive Tract Mucosa
Burnett School of Biomedical Sciences, College of Medicine, University of Central Florida, Orlando, FL 32816, USA
*
Author to whom correspondence should be addressed.
Received: 3 April 2019 / Revised: 24 April 2019 / Accepted: 26 April 2019 / Published: 1 May 2019
Abstract
While extensive research efforts have decreased human immunodeficiency virus (HIV) transmissions and mortalities, new challenges have arisen in the fight to eradicate HIV. Drug resistance to antiretroviral therapy threatens infected individuals, while the prevalence of heterosexual transmission creates an urgent need for therapies effective in the female reproductive tract (FRT) mucosa. We screened a library of 2095 small molecule compounds comprising a unique chemical space, purchased from Asinex Corporation, for antiviral activity against human immunodeficiency virus type 1 (HIV-1) strain BaL and identified several molecular representatives of a unique class of HIV-1 inhibitors, which we termed "Avirulins." We determined that Avirulins were active against clinical isolates of HIV-1 from genetically variant subtypes, several of which have reduced sensitivity to other antivirals. Avirulins displayed specific dose-dependent inhibition of the HIV-1 drug target, reverse transcriptase (RT). Avirulins were effective against several nucleoside RT-inhibitor resistant strains of HIV-1, as well as one nonnucleoside RT-inhibitor resistant strain containing a 106A mutation, suggesting a noncompetitive mechanism of action. Drugs, which are damaging to the FRT, can increase the risk of HIV-1 transmission. We therefore explored the cytotoxicity of Avirulins against epithelial cells derived from the FRT and found no significant toxicity, even at the highest concentrations tested. Importantly, Avirulin antiviral activity was not diminished in human cervico–vaginal fluid, suggesting retained potency in the milieu of the FRT. Based on these promising results, Avirulins should be valuable chemical scaffolds for development into next-generation treatments and preventatives that target HIV-1.
View Full-Text
►

▼

Figures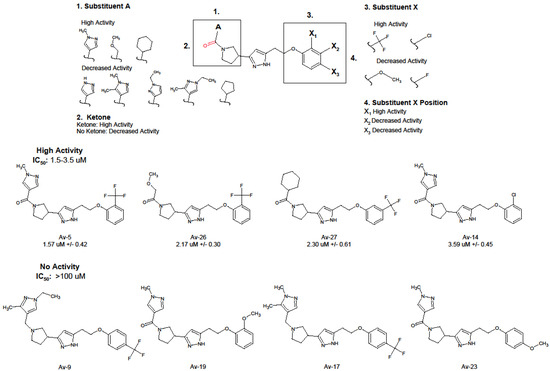 Figure 1
This is an open access article distributed under the
Creative Commons Attribution License
which permits unrestricted use, distribution, and reproduction in any medium, provided the original work is properly cited (CC BY 4.0).

Share & Cite This Article
MDPI and ACS Style
Cherne, M.D.; Hall, J.; Kellner, A.; Chong, C.F.; Cole, A.L.; Cole, A.M. Avirulins, a Novel Class of HIV-1 Reverse Transcriptase Inhibitors Effective in the Female Reproductive Tract Mucosa. Viruses 2019, 11, 408.
Note that from the first issue of 2016, MDPI journals use article numbers instead of page numbers. See further details here.
Related Articles
Comments
[Return to top]