Sialic Acid-Containing Glycans as Cellular Receptors for Ocular Human Adenoviruses: Implications for Tropism and Treatment
1
Section of Virology, Department of Clinical Microbiology, Umeå University, SE-90185 Umeå, Sweden
2
Department of Chemistry, Umeå University, SE-90187 Umeå, Sweden
*
Author to whom correspondence should be addressed.
†
Current affiliation: University of Amsterdam, NL-1012WX Amsterdam, The Netherlands.
Received: 1 April 2019 / Revised: 15 April 2019 / Accepted: 26 April 2019 / Published: 27 April 2019
Abstract
Human adenoviruses (HAdV) are the most common cause of ocular infections. Species B human adenovirus type 3 (HAdV-B3) causes pharyngoconjunctival fever (PCF), whereas HAdV-D8, -D37, and -D64 cause epidemic keratoconjunctivitis (EKC). Recently, HAdV-D53, -D54, and -D56 emerged as new EKC-causing agents. HAdV-E4 is associated with both PCF and EKC. We have previously demonstrated that HAdV-D37 uses sialic acid (SA)-containing glycans as cellular receptors on human corneal epithelial (HCE) cells, and the virus interaction with SA is mediated by the knob domain of the viral fiber protein. Here, by means of cell-based assays and using neuraminidase (a SA-cleaving enzyme), we investigated whether ocular HAdVs other than HAdV-D37 also use SA-containing glycans as receptors on HCE cells. We found that HAdV-E4 and -D56 infect HCE cells independent of SAs, whereas HAdV-D53 and -D64 use SAs as cellular receptors. HAdV-D8 and -D54 fiber knobs also bound to cell-surface SAs. Surprisingly, HCE cells were found resistant to HAdV-B3 infection. We also demonstrated that the SA-based molecule i.e., ME0462, designed to bind to SA-binding sites on the HAdV-D37 fiber knob, efficiently prevents binding and infection of several EKC-causing HAdVs. Surface plasmon resonance analysis confirmed a direct interaction between ME0462 and fiber knobs. Altogether, we demonstrate that SA-containing glycans serve as receptors for multiple EKC-causing HAdVs, and, that SA-based compound function as a broad-spectrum antiviral against known and emerging EKC-causing HAdVs.
View Full-Text
►

▼

Figures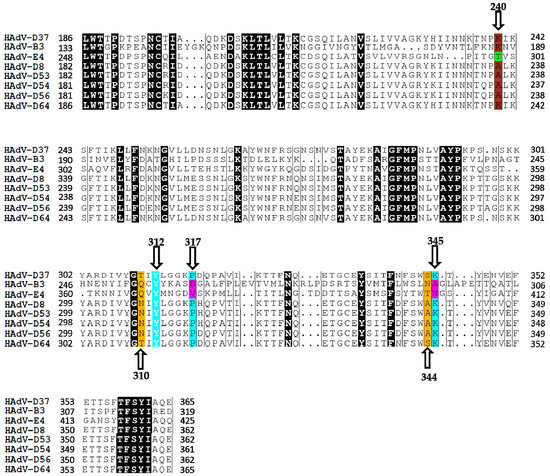 Figure 1
This is an open access article distributed under the
Creative Commons Attribution License
which permits unrestricted use, distribution, and reproduction in any medium, provided the original work is properly cited (CC BY 4.0).

Share & Cite This Article
MDPI and ACS Style
Chandra, N.; Frängsmyr, L.; Imhof, S.; Caraballo, R.; Elofsson, M.; Arnberg, N. Sialic Acid-Containing Glycans as Cellular Receptors for Ocular Human Adenoviruses: Implications for Tropism and Treatment. Viruses 2019, 11, 395.
Note that from the first issue of 2016, MDPI journals use article numbers instead of page numbers. See further details here.
Related Articles
Comments
[Return to top]