Whole-Genome Analysis of Human Papillomavirus Type 16 Prevalent in Japanese Women with or without Cervical Lesions
1
Department of Obstetrics and Gynecology, Showa University School of Medicine, Shinagawa-ku, Tokyo 142-8666, Japan
2
Pathogen Genomics Center, National Institute of Infectious Diseases, Musashi-murayama, Tokyo 208-0011, Japan
3
Department of Obstetrics and Gynecology, Faculty of Medicine, University of Tsukuba, Tsukuba, Ibaraki 305-8575, Japan
4
Department of Obstetrics and Gynecology, Keio University School of Medicine, Shinjuku-ku, Tokyo 160-0016, Japan
5
Division of Carcinogenesis and Cancer Prevention, National Cancer Center Research Institute, Chuo-ku, Tokyo 104-0045, Japan
*
Author to whom correspondence should be addressed.
Received: 25 February 2019 / Revised: 12 April 2019 / Accepted: 13 April 2019 / Published: 16 April 2019
Abstract
Recent large-scale genomics studies of human papillomaviruses (HPVs) have shown a high level of genomic variability of HPV16, the most prevalent genotype in HPV-associated malignancies, and provided new insights into the biological and clinical relevance of its genetic variations in cervical cancer development. Here, we performed deep sequencing analyses of the viral genome to explore genetic variations of HPV16 that are prevalent in Japan. A total of 100 complete genome sequences of HPV16 were determined from cervical specimens collected from Japanese women with cervical intraepithelial neoplasia and invasive cervical cancer, or without cervical malignancies. Phylogenetic analyses revealed the variant distribution in the Japanese HPV16 isolates; overall, lineage A was the most prevalent (94.0%), in which sublineage A4 was dominant (52.0%), followed by sublineage A1 (21.0%). The relative risk of sublineage A4 for cervical cancer development was significantly higher compared to sublineages A1/A2/A3 (odds ratio = 6.72, 95% confidence interval = 1.78–28.9). Interestingly, a novel cluster of variants that branched from A1/A2/A3 was observed for the Japanese HPV16 isolates, indicating that unique HPV16 variants are prevalent among Japanese women.
View Full-Text
►

▼

Figures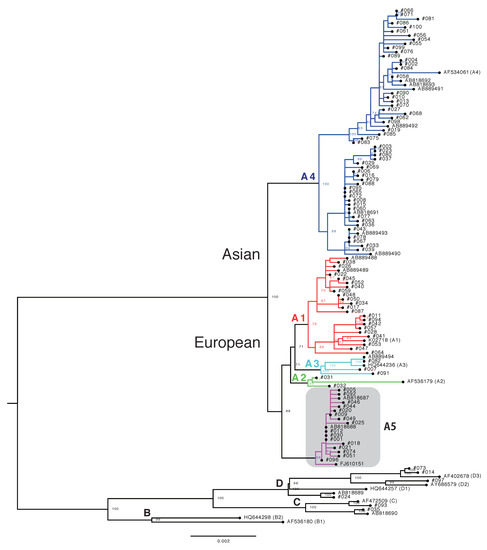 Figure 1
This is an open access article distributed under the
Creative Commons Attribution License
which permits unrestricted use, distribution, and reproduction in any medium, provided the original work is properly cited (CC BY 4.0).

Share & Cite This Article
MDPI and ACS Style
Hirose, Y.; Onuki, M.; Tenjimbayashi, Y.; Yamaguchi-Naka, M.; Mori, S.; Tasaka, N.; Satoh, T.; Morisada, T.; Iwata, T.; Kiyono, T.; Mimura, T.; Sekizawa, A.; Matsumoto, K.; Kukimoto, I. Whole-Genome Analysis of Human Papillomavirus Type 16 Prevalent in Japanese Women with or without Cervical Lesions. Viruses 2019, 11, 350.
Note that from the first issue of 2016, MDPI journals use article numbers instead of page numbers. See further details here.
Related Articles
Comments
[Return to top]