Differential Innate Immune Responses Elicited by Nipah Virus and Cedar Virus Correlate with Disparate In Vivo Pathogenesis in Hamsters
1
Arthropod-borne and Infectious Diseases Laboratory, Colorado State University, Fort Collins, CO 80523, USA
2
Department of Microbiology, Immunology and Pathology, College of Veterinary Medicine and Biomedical Sciences, Colorado State University, Fort Collins, CO 80523, USA
3
Laboratory of Virology, Rocky Mountain Laboratories, NIAID, Hamilton, MT 59840, USA
4
Vaccine and Infectious Disease Division, Fred Hutchinson Cancer Research Center, Seattle, WA 98109, USA
5
Center for Biological Threats and Special Pathogens, Robert Koch Institute, 13353 Berlin, Germany
*
Authors to whom correspondence should be addressed.
Received: 25 February 2019 / Revised: 15 March 2019 / Accepted: 20 March 2019 / Published: 22 March 2019
Abstract
Syrian hamsters (
Mesocricetus auratus
) are a pathogenesis model for the Nipah virus (NiV), and we sought to determine if they are also susceptible to the Cedar virus (CedPV). Following intranasal inoculation with CedPV, virus replication occurred in the lungs and spleens of infected hamsters, a neutralizing antibody was produced in some hamsters within 8 days post-challenge, and no conspicuous signs of disease occurred. CedPV replicated to a similar magnitude as NiV-Bangladesh in type I IFN-deficient BHK-21 Syrian hamster fibroblasts but replicated 4 logs lower in type I IFN-competent primary Syrian hamster and human pulmonary endothelial cells, a principal target of henipaviruses. The coinfection of these cells with CedPV and NiV failed to rescue CedPV titers and did not diminish NiV titers, suggesting the replication machinery is virus-specific. Type I IFN response transcripts
Ifna7
,
Ddx58
,
Stat1
,
Stat2
,
Ccl5
,
Cxcl10
,
Isg20
,
Irf7
, and
Iigp1
were all significantly elevated in CedPV-infected hamster endothelial cells, whereas
Ifna7
and
Iigp1
expression were significantly repressed during NiV infection. These results are consistent with the hypothesis that CedPV's inability to counter the host type I IFN response may, in part, contribute to its lack of pathogenicity. Because NiV causes a fatal disease in Syrian hamsters with similarities to human disease, this model will provide valuable information about the pathogenic mechanisms of henipaviruses.
View Full-Text
►

▼

Figures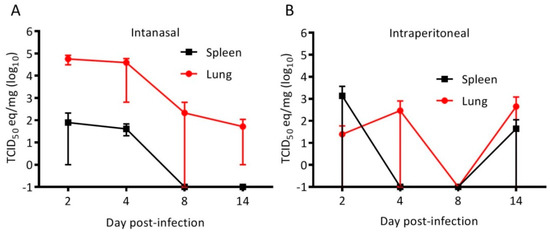 Figure 1
This is an open access article distributed under the
Creative Commons Attribution License
which permits unrestricted use, distribution, and reproduction in any medium, provided the original work is properly cited (CC BY 4.0).

Share & Cite This Article
MDPI and ACS Style
Schountz, T.; Campbell, C.; Wagner, K.; Rovnak, J.; Martellaro, C.; DeBuysscher, B.L.; Feldmann, H.; Prescott, J. Differential Innate Immune Responses Elicited by Nipah Virus and Cedar Virus Correlate with Disparate In Vivo Pathogenesis in Hamsters. Viruses 2019, 11, 291.
Note that from the first issue of 2016, MDPI journals use article numbers instead of page numbers. See further details here.
Related Articles
Comments
[Return to top]