Initial Characterization of the Epstein–Barr Virus BSRF1 Gene Product
1
Department of Virology, Nagoya University Graduate School of Medicine, Nagoya 466-8550, Japan
2
Department of Virology and Parasitology, Fujita Health University School of Medicine, Toyoake 470-1192, Japan
*
Author to whom correspondence should be addressed.
Received: 21 February 2019 / Revised: 18 March 2019 / Accepted: 19 March 2019 / Published: 21 March 2019
Abstract
Epstein–Barr virus (EBV) is a ubiquitous virus that causes infectious mononucleosis and several types of cancer, such as Burkitt lymphoma, T/NK-cell lymphoma, and nasopharyngeal carcinoma. As a herpesvirus, it encodes more than 80 genes, many of which have not been characterized. EBV
Bam
HI S rightward reading frame 1 (BSRF1) encodes a tegument protein that, unlike its homologs herpes simplex virus unique long 51 (UL51) and human cytomegalovirus UL71, has not been extensively investigated. To examine the role of BSRF1, we prepared knockout and revertant strains using the bacterial artificial chromosome system. Unexpectedly, the disruption of the gene had little or no effect on EBV lytic replication and the transformation of primary B cells. However, the knockdown of BSRF1 in B95-8 cells decreased progeny production. An immunofluorescence assay revealed that BSRF1 localized to the Golgi apparatus in the cytoplasm, as did its homologs. BSRF1 also associated with
Bam
HI G leftward reading frame 3.5 (BGLF3.5),
Bam
HI B rightward reading frame 2 (BBRF2), and
Bam
HI A leftward reading frame 1 (BALF1), and BALF1 was incorporated into the tegument fraction with BSRF1. Taken together, our results indicate that BSRF1 plays a role in secondary envelopment or virion egress in the cytoplasm, as do its homolog genes.
View Full-Text
►

▼

Figures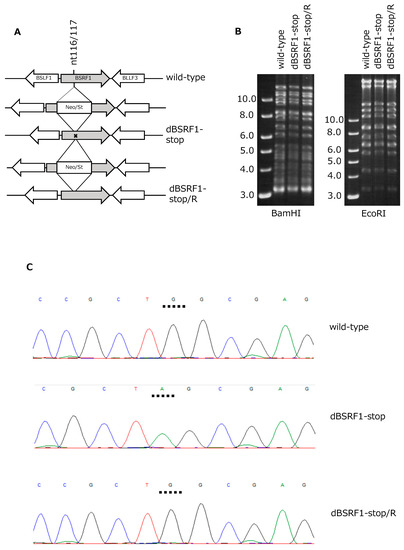 Figure 1
This is an open access article distributed under the
Creative Commons Attribution License
which permits unrestricted use, distribution, and reproduction in any medium, provided the original work is properly cited (CC BY 4.0).

Share & Cite This Article
MDPI and ACS Style
Yanagi, Y.; Masud, H.M.A.A.; Watanabe, T.; Sato, Y.; Goshima, F.; Kimura, H.; Murata, T. Initial Characterization of the Epstein–Barr Virus BSRF1 Gene Product. Viruses 2019, 11, 285.
Note that from the first issue of 2016, MDPI journals use article numbers instead of page numbers. See further details here.
Related Articles
Comments
[Return to top]