The Morphology and Assembly of Respiratory Syncytial Virus Revealed by Cryo-Electron Tomography
1
Division of Pediatric Infectious Diseases, Emory University School of Medicine, Children's Healthcare of Atlanta, Atlanta, GA 30322, USA
2
School of Biological Sciences, Georgia Institute of Technology, Atlanta, GA 30332, USA
3
Robert P. Apkarian Integrated Electron Microscopy Core, Emory University, Atlanta, GA 30322, USA
4
Division of Allergy, Pulmonary, and Critical Care Medicine, Vanderbilt University School of Medicine, Nashville, TN 37232, USA
5
Vaccine Research Center, National Institute of Allergy and Infectious Diseases, National Institutes of Health, Bethesda, MD 20892, USA
†
Current address: Structural Studies Division, MRC Laboratory of Molecular Biology, Francis Crick Avenue, Cambridge CB2 0QH, UK.
‡
Current address: Department of Biochemistry, University of Wisconsin, Madison, WI 53706, USA.
§
Current address: Department of Biological Sciences, Butler University, Indianapolis, IN 46208, USA.
‖
Current address: Materials and Manufacturing Directorate, Air Force Research Laboratory, Wright-Patterson AFB, OH 45433, USA.
¶
Current address: Meissa Vaccines, Inc., South San Francisco, CA 94080, USA.
*
Author to whom correspondence should be addressed.
Received: 25 April 2018 / Revised: 16 August 2018 / Accepted: 17 August 2018 / Published: 20 August 2018
Abstract
Human respiratory syncytial virus (RSV) is the leading cause of lower respiratory tract disease in young children. With repeat infections throughout life, it can also cause substantial disease in the elderly and in adults with compromised cardiac, pulmonary and immune systems. RSV is a pleomorphic enveloped RNA virus in the
Pneumoviridae
family. Recently, the three-dimensional (3D) structure of purified RSV particles has been elucidated, revealing three distinct morphological categories: spherical, asymmetric, and filamentous. However, the native 3D structure of RSV particles associated with or released from infected cells has yet to be investigated. In this study, we have established an optimized system for studying RSV structure by imaging RSV-infected cells on transmission electron microscopy (TEM) grids by cryo-electron tomography (cryo-ET). Our results demonstrate that RSV is filamentous across several virus strains and cell lines by cryo-ET, cryo-immuno EM, and thin section TEM techniques. The viral filament length varies from 0.5 to 12 μm and the average filament diameter is approximately 130 nm. Taking advantage of the whole cell tomography technique, we have resolved various stages of RSV assembly. Collectively, our results can facilitate the understanding of viral morphogenesis in RSV and other pleomorphic enveloped viruses.
View Full-Text
►

▼

Figures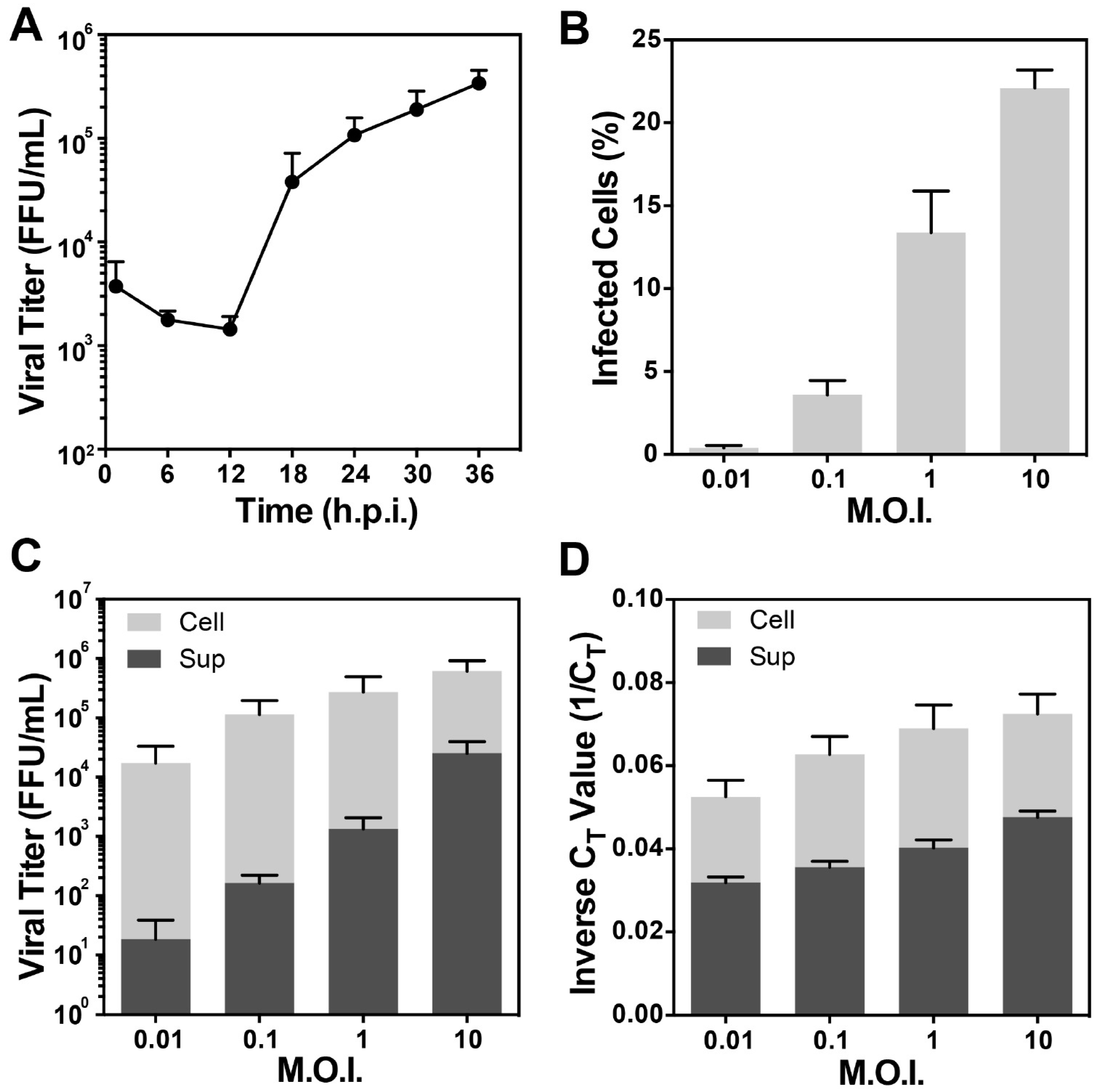 Figure 1
This is an open access article distributed under the
Creative Commons Attribution License
which permits unrestricted use, distribution, and reproduction in any medium, provided the original work is properly cited (CC BY 4.0).

Share & Cite This Article
MDPI and ACS Style
Ke, Z.; Dillard, R.S.; Chirkova, T.; Leon, F.; Stobart, C.C.; Hampton, C.M.; Strauss, J.D.; Rajan, D.; Rostad, C.A.; Taylor, J.V.; Yi, H.; Shah, R.; Jin, M.; Hartert, T.V.; Peebles, R.S., Jr.; Graham, B.S.; Moore, M.L.; Anderson, L.J.; Wright, E.R. The Morphology and Assembly of Respiratory Syncytial Virus Revealed by Cryo-Electron Tomography. Viruses 2018, 10, 446.
Note that from the first issue of 2016, MDPI journals use article numbers instead of page numbers. See further details here.
Related Articles
Comments
[Return to top]