Potent HIV-1-Specific CD8 T Cell Responses Induced in Mice after Priming with a Multiepitopic DNA-TMEP and Boosting with the HIV Vaccine MVA-B
1
Department of Molecular and Cellular Biology, Centro Nacional de Biotecnología, Consejo Superior de Investigaciones Científicas (CNB-CSIC), Campus de Cantoblanco, 28049 Madrid, Spain
2
Biocomputing Unit, Centro Nacional de Biotecnología, Consejo Superior de Investigaciones Científicas (CNB-CSIC), Campus de Cantoblanco, 28049 Madrid, Spain
3
Scientific Computing Service, Centro Nacional de Biotecnología, Consejo Superior de Investigaciones Científicas (CNB-CSIC), Campus de Cantoblanco, 28049 Madrid, Spain
*
Authors to whom correspondence should be addressed.
Received: 23 July 2018 / Revised: 9 August 2018 / Accepted: 10 August 2018 / Published: 13 August 2018
Abstract
An effective vaccine against Human Immunodeficiency Virus (HIV) still remains the best solution to provide a sustainable control and/or eradication of the virus. We have previously generated the HIV-1 vaccine modified vaccinia virus Ankara (MVA)-B, which exhibited good immunogenicity profile in phase I prophylactic and therapeutic clinical trials, but was unable to prevent viral rebound after antiretroviral (ART) removal. To potentiate the immunogenicity of MVA-B, here we described the design and immune responses elicited in mice by a new T cell multi-epitopic B (TMEP-B) immunogen, vectored by DNA, when administered in homologous or heterologous prime/boost regimens in combination with MVA-B. The TMEP-B protein contained conserved regions from Gag, Pol, and Nef proteins including multiple CD4 and CD8 T cell epitopes functionally associated with HIV control. Heterologous DNA-TMEP/MVA-B regimen induced higher HIV-1-specific CD8 T cell responses with broader epitope recognition and higher polyfunctional profile than the homologous DNA-TMEP/DNA-TMEP or the heterologous DNA-GPN/MVA-B combinations. Moreover, higher HIV-1-specific CD4 and Tfh immune responses were also detected using this regimen. After MVA-B boost, the magnitude of the anti-VACV CD8 T cell response was significantly compromised in DNA-TMEP-primed animals. Our results revealed the immunological potential of DNA-TMEP prime/MVA-B boost regimen and supported the application of these combined vectors in HIV-1 prevention and/or therapy.
View Full-Text
►

▼

Figures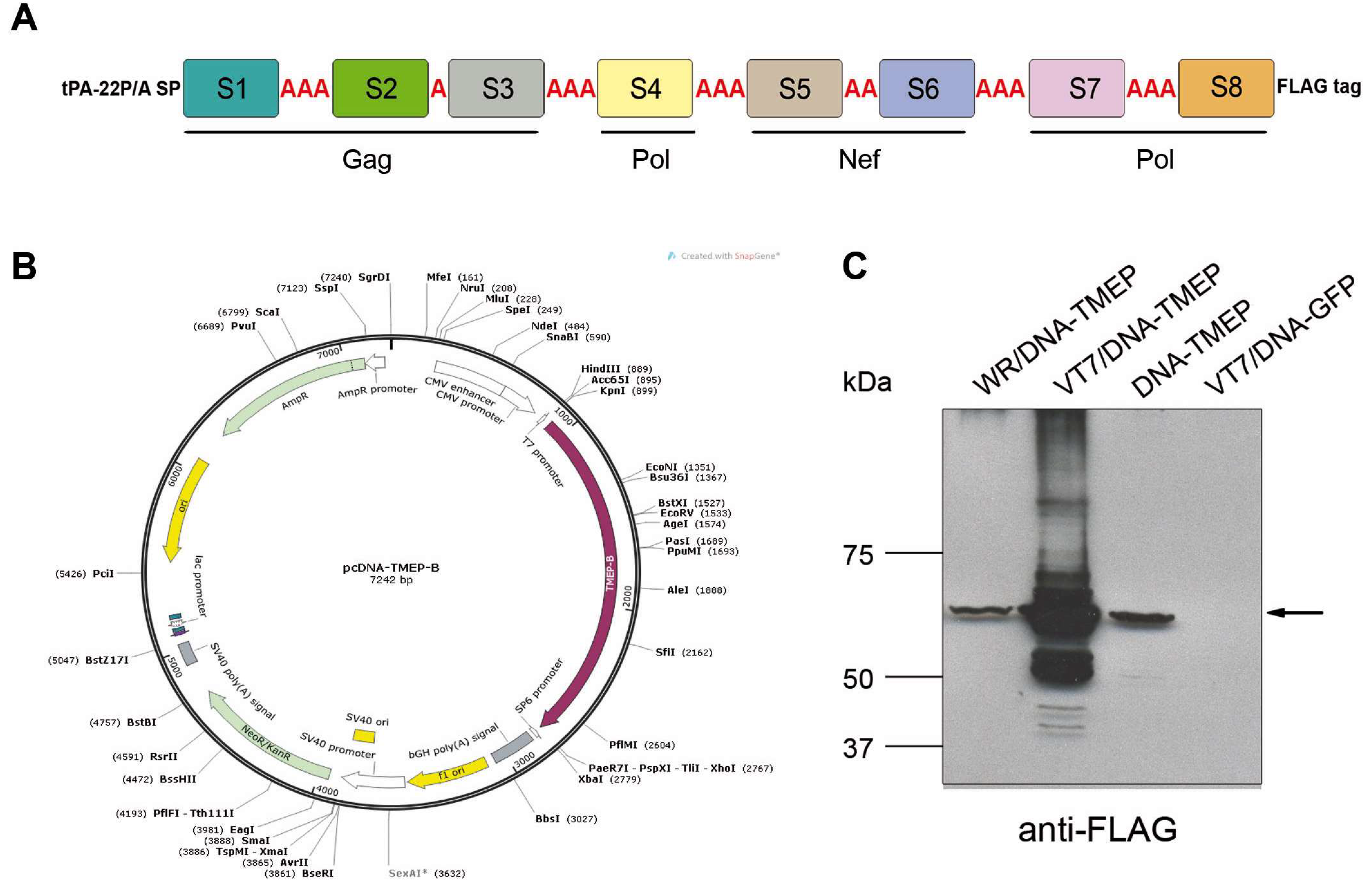 Figure 1
This is an open access article distributed under the
Creative Commons Attribution License
which permits unrestricted use, distribution, and reproduction in any medium, provided the original work is properly cited (CC BY 4.0).

Share & Cite This Article
MDPI and ACS Style
Perdiguero, B.; Raman, S.C.; Sánchez-Corzo, C.; S. Sorzano, C.O.; Valverde, J.R.; Esteban, M.; Gómez, C.E. Potent HIV-1-Specific CD8 T Cell Responses Induced in Mice after Priming with a Multiepitopic DNA-TMEP and Boosting with the HIV Vaccine MVA-B. Viruses 2018, 10, 424.
Note that from the first issue of 2016, MDPI journals use article numbers instead of page numbers. See further details here.
Related Articles
Comments
[Return to top]