There Is Always Another Way! Cytomegalovirus' Multifaceted Dissemination Schemes
Department of Microbiology, University of Tennessee Knoxville, Knoxville, TN 37996, USA
*
Author to whom correspondence should be addressed.
Received: 29 June 2018 / Revised: 17 July 2018 / Accepted: 18 July 2018 / Published: 20 July 2018
Human cytomegalovirus (HCMV) is a β-herpes virus that is a significant pathogen within immune compromised populations. HCMV morbidity is induced through viral dissemination and inflammation. Typically, viral dissemination is thought to follow Fenner's hypothesis where virus replicates at the site of infection, followed by replication in the draining lymph nodes, and eventually replicating within blood filtering organs. Although CMVs somewhat follow Fenner's hypothesis, they deviate from it by spreading primarily through innate immune cells as opposed to cell-free virus. Also, in vivo CMVs infect new cells via cell-to-cell spread and disseminate directly to secondary organs through novel mechanisms. We review the historic and recent literature pointing to CMV's direct dissemination to secondary organs and the genes that it has evolved for increasing its ability to disseminate. We also highlight aspects of CMV infection for studying viral dissemination when using in vivo animal models.
Author Contributions
Conceptualization and Writing-Original Draft Preparation, J.W.J.; Writing-Review and Editing, T.S.
Funding
This research was funded by a generous gift from the University of Tennessee CMV Research Fund (UT Grant #RO1-1015-126).
Conflicts of Interest
The authors declare no conflict of interest.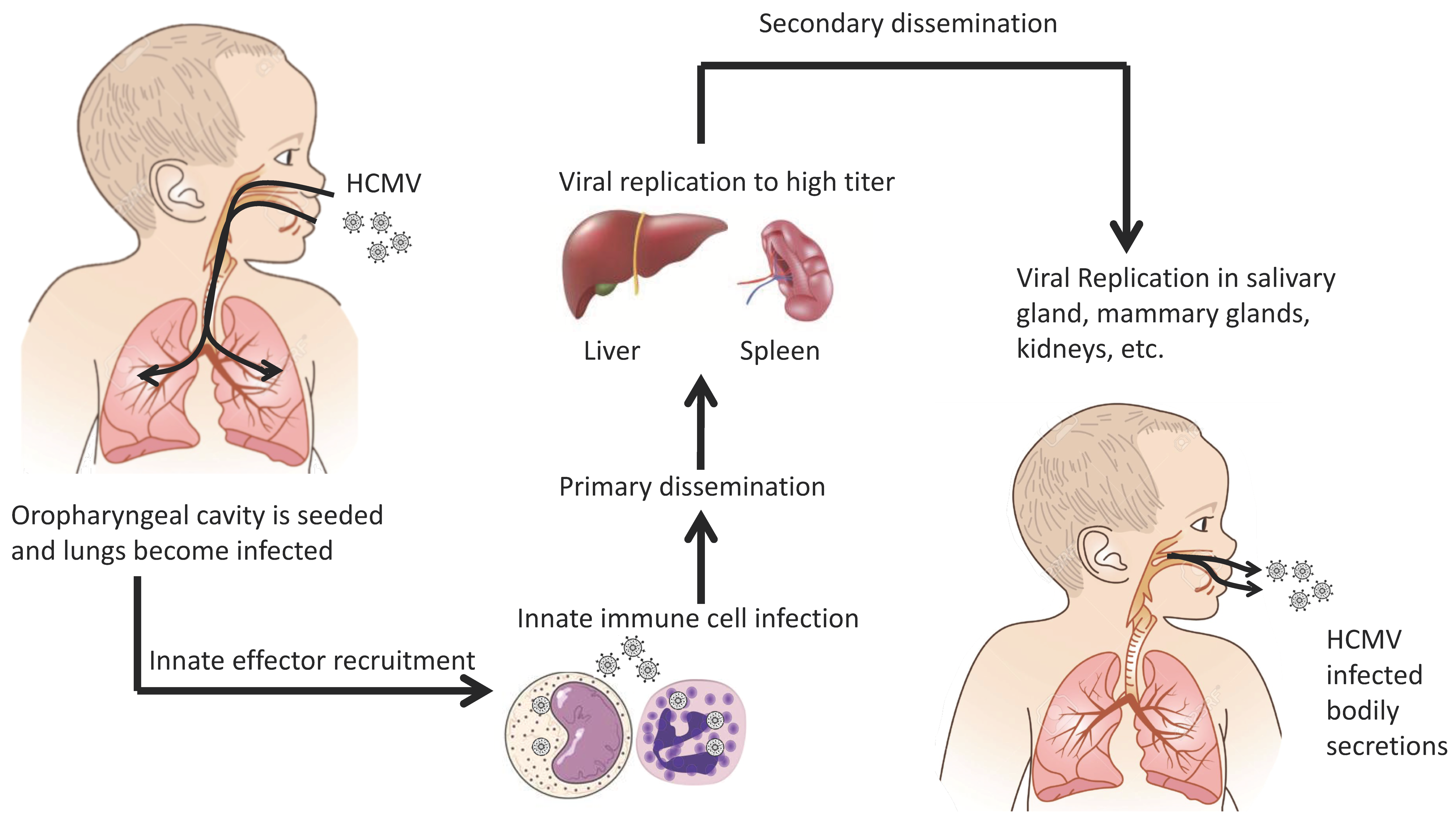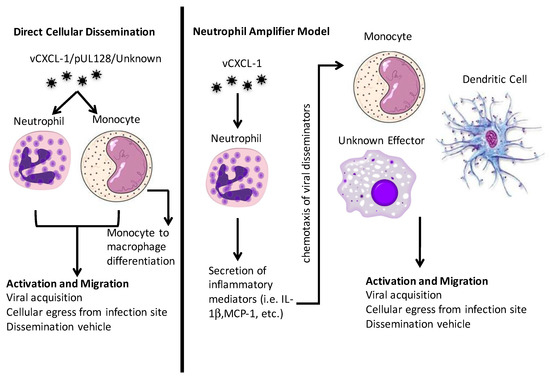 Figure 2. Graphical representation of direct cellular dissemination and the neutrophil amplifier model.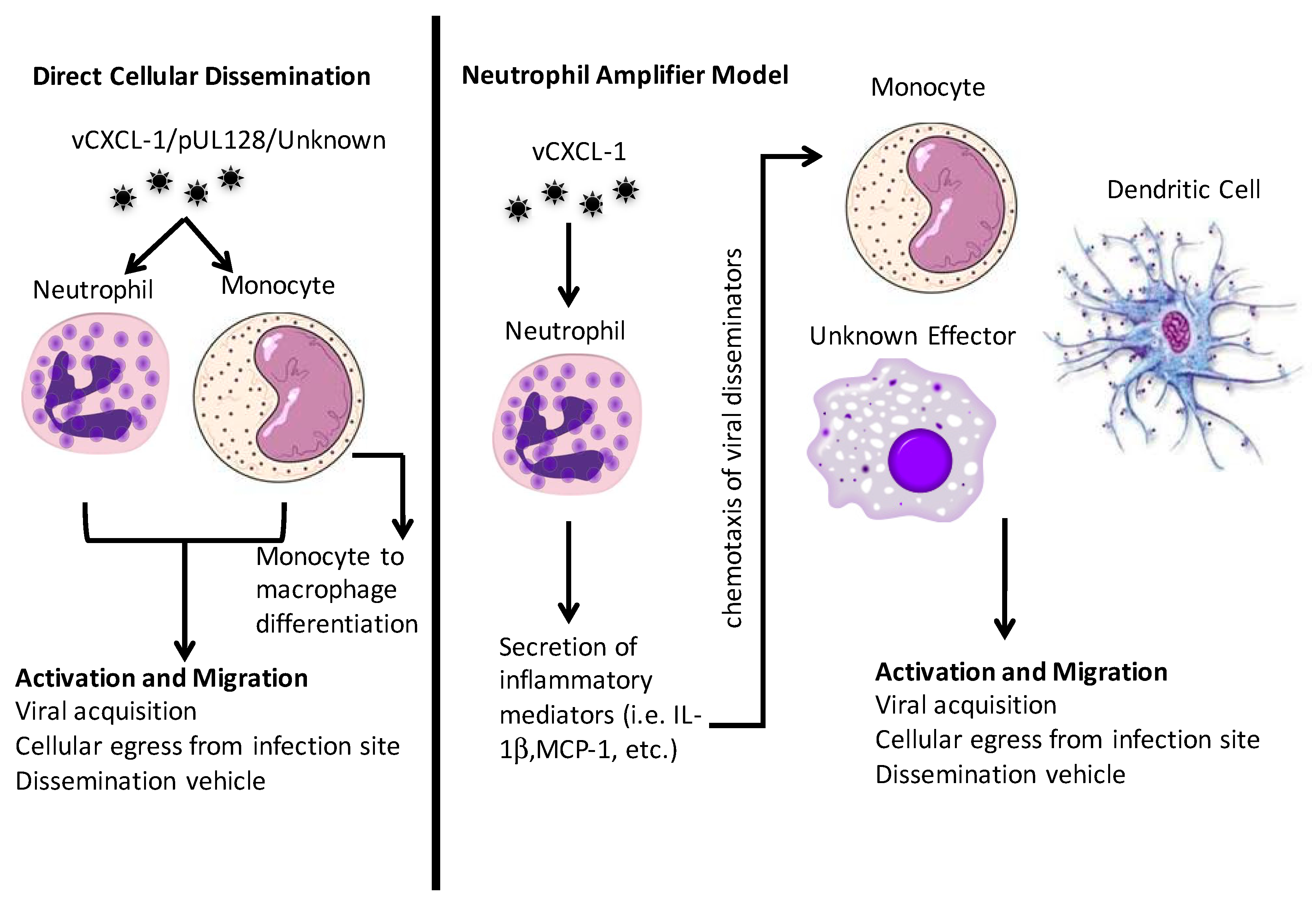 © 2018 by the authors. Licensee MDPI, Basel, Switzerland. This article is an open access article distributed under the terms and conditions of the Creative Commons Attribution (CC BY) license (http://creativecommons.org/licenses/by/4.0/).