Immunization of Domestic Ducks with Live Nonpathogenic H5N3 Influenza Virus Prevents Shedding and Transmission of Highly Pathogenic H5N1 Virus to Chickens
1
Chumakov Federal Scientific Center for Research and Development of Immune-and-Biological Products of the Russian Academy of Sciences, premises 8, building 1, Village of Institute of Poliomyelitis, Settlement "Moskovskiy", 108819 Moscow, Russia
2
Institute for Translational Medicine and Biotechnology, Sechenov First Moscow State Medical University, 8 Trubetskaya St., 119991 Moscow, Russia
3
Federal Research Center for Virology and Microbiology, Bld. 1 Academic Baculov St., 601125 Settl. Volginsky, Vladimir Region, Russia
4
Institute of Virology, Philipps University, Hans-Meerwein-Str. 2, 35043 Marburg, Germany
*
Author to whom correspondence should be addressed.
Received: 5 March 2018 / Revised: 27 March 2018 / Accepted: 30 March 2018 / Published: 31 March 2018
Abstract
Wild ducks are known to be able to carry avian influenza viruses over long distances and infect domestic ducks, which in their turn infect domestic chickens. Therefore, prevention of virus transmission between ducks and chickens is important to control the spread of avian influenza. Here we used a low pathogenic wild aquatic bird virus A/duck/Moscow/4182/2010 (H5N3) for prevention of highly pathogenic avian influenza virus (HPAIV) transmission between ducks and chickens. We first confirmed that the ducks orally infected with H5N1 HPAIV A/chicken/Kurgan/3/2005 excreted the virus in feces. All chickens that were in contact with the infected ducks became sick, excreted the virus, and died. However, the ducks orally inoculated with 10
4
50% tissue culture infective doses of A/duck/Moscow/4182/2010 and challenged 14 to 90 days later with H5N1 HPAIV did not excrete the challenge virus. All contact chickens survived and did not excrete the virus. Our results suggest that low pathogenic virus of wild aquatic birds can be used for prevention of transmission of H5N1 viruses between ducks and chickens.
View Full-Text
►

▼

Figures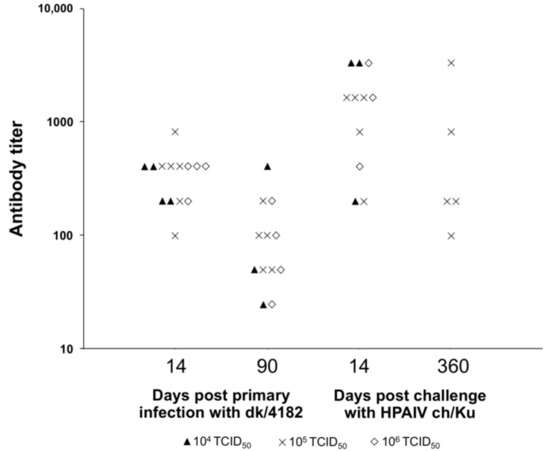 Figure 1
This is an open access article distributed under the
Creative Commons Attribution License
which permits unrestricted use, distribution, and reproduction in any medium, provided the original work is properly cited (CC BY 4.0).

Share & Cite This Article
MDPI and ACS Style
Gambaryan, A.; Gordeychuk, I.; Boravleva, E.; Lomakina, N.; Kropotkina, E.; Lunitsin, A.; Klenk, H.-D.; Matrosovich, M. Immunization of Domestic Ducks with Live Nonpathogenic H5N3 Influenza Virus Prevents Shedding and Transmission of Highly Pathogenic H5N1 Virus to Chickens. Viruses 2018, 10, 164.
Note that from the first issue of 2016, MDPI journals use article numbers instead of page numbers. See further details here.
Related Articles
Comments
[Return to top]