Inhibition of Zika Virus Replication by Silvestrol
1
Department of Virology, Paul-Ehrlich-Institut, 63225 Langen, Germany
2
Pharmazeutische Chemie, Philipps-Universität Marburg, 35037 Marburg, Germany
3
German Center for Infection Research (DZIF), 38124 Braunschweig, Germany
*
Author to whom correspondence should be addressed.
Received: 31 January 2018 / Revised: 22 March 2018 / Accepted: 24 March 2018 / Published: 27 March 2018
Abstract
The Zika virus (ZIKV) outbreak in 2016 in South America with specific pathogenic outcomes highlighted the need for new antiviral substances with broad-spectrum activities to react quickly to unexpected outbreaks of emerging viral pathogens. Very recently, the natural compound silvestrol isolated from the plant
Aglaia foveolata
was found to have very potent antiviral effects against the (−)-strand RNA-virus Ebola virus as well as against Corona- and Picornaviruses with a (+)-strand RNA-genome. This antiviral activity is based on the impaired translation of viral RNA by the inhibition of the DEAD-box RNA helicase eukaryotic initiation factor-4A (eIF4A) which is required to unwind structured 5´-untranslated regions (5′-UTRs) of several proto-oncogenes and thereby facilitate their translation. Zika virus is a flavivirus with a positive-stranded RNA-genome harboring a 5′-capped UTR with distinct secondary structure elements. Therefore, we investigated the effects of silvestrol on ZIKV replication in A549 cells and primary human hepatocytes. Two different ZIKV strains were used. In both infected A549 cells and primary human hepatocytes, silvestrol has the potential to exert a significant inhibition of ZIKV replication for both analyzed strains, even though the ancestor strain from Uganda is less sensitive to silvestrol. Our data might contribute to identify host factors involved in the control of ZIKV infection and help to develop antiviral concepts that can be used to treat a variety of viral infections without the risk of resistances because a host protein is targeted.
View Full-Text
►

▼

Figures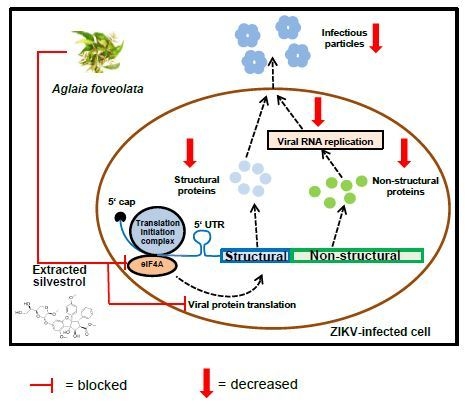 Graphical abstract
This is an open access article distributed under the
Creative Commons Attribution License
which permits unrestricted use, distribution, and reproduction in any medium, provided the original work is properly cited (CC BY 4.0).

Share & Cite This Article
MDPI and ACS Style
Elgner, F.; Sabino, C.; Basic, M.; Ploen, D.; Grünweller, A.; Hildt, E. Inhibition of Zika Virus Replication by Silvestrol. Viruses 2018, 10, 149.
Note that from the first issue of 2016, MDPI journals use article numbers instead of page numbers. See further details here.
Related Articles
Comments
[Return to top]