Open Access This article is
freely available
re-usable
Review
Enterovirus Transmission by Secretory Autophagy
Laboratory of Host-Pathogen Dynamics, National Heart Lung and Blood Institute, National Institutes of Health, Bethesda, MD 20892, USA
*
Author to whom correspondence should be addressed.
Received: 6 February 2018 / Accepted: 16 March 2018 / Published: 20 March 2018
Abstract
:
Present in many cell types, non-degradative secretory autophagy is a newly discovered pathway in which autophagosomes fuse with the plasma membrane instead of lysosomes. Surprisingly, some viruses exploit secretory autophagy to exit cells non-lytically, shedding into the extracellular environment as particle populations contained within vesicles. As a result, this significantly enhances the infectivity of these viruses. In this paper, this novel cellular exit pathway is highlighted and its advantages for viral transmission discussed.
Keywords:
secretory autophagy; picornavirus; enterovirus; poliovirus; Coxsackievirus; rhinovirus; syntaxin 17; viral transmission; quasispecies; RNA virus
1. Introduction
The cellular process of autophagy or "self-eating" is largely considered a degradative pathway whereby organelles and cytoplasmic components are captured within de novo generated large double-membranous vesicles (DMV), so-called autophagosomes, and targeted to lysosomes, where the end products are recycled [
1
]. It is a pathway often induced by conditions of cellular stress, such as nutrient starvation, organelle damage, and pathogen infection. However, autophagy can also take place during normal development and differentiation, including spore formation in yeast, organelle elimination in reticulocytes, lymphocytes, and adipocytes as well as for housekeeping in terminally differentiated cells, such as neurons and hepatocytes [
2
].
The autophagy process is highly regulated and in mammalian cells initiated by the ULK1/2 complex. Under non-starvation/non-stress conditions, ULK1/2 is kept inactive by the serine/threonine kinase, a mechanistic target of rapamycin (mTOR) and a critical sensor and regulator of cellular homeostasis [
3
]. However, when cells are starved or stressed, mTOR becomes inhibited, leading to the activation of ULK1/2 and triggering autophagy. ULK1/2 regulates the production and localization of Atg9 positive vesicles, which can be derived from the endoplasmic reticulum (ER), the Golgi apparatus, and even the plasma membrane [
4
,
5
,
6
]. These vesicles come together and fuse to form an elongated, membranous, crescent structure called a phagophore. The subsequent ULK1/2 phosphorylation and activation of the PI3 kinase complex Beclin-1 leads to PI3P lipid generation at the phagophore which in turn recruits effectors that together work to elongate the phagophore [
7
]. During elongation, cargo is captured through either non-selective or selective processes. The closure of the phagophore to form the autophagosome requires the activities of two ubiquitin-like conjugation systems: Atg12-Atg5-Atg16L1 and the Atg8/LC3 family. Together, they catalyze the conjugation of phosphatidylethanolamine (PE) lipids to the Atg8/LC3 family members to generate a lipidated LC3 known as LC3-II, which remains on the autophagosome membranes while the Atg12-Atg5-Atg16L1 complex departs [
8
,
9
,
10
]. The critical, final steps of the degradative autophagy pathway target the autophagosome to the lysosome for fusion. This stage is poorly understood but is known to require the SNARE (soluble
N
-ethylmaleimide-sensitive factor activating receptor) proteins syntaxin17, small guanosine triphosphatase IRGM, SNAP29, VAMP8 and appears to be regulated by Atg14 [
11
,
12
,
13
,
14
].
2. Secretory Autophagosomes Help Viruses Get Out of Cells
3. Advantages of Harnessing Secretory Autophagy for Viral Transmission
In summary, harnessing secretory autophagy has multiple significant advantages for viruses, including evasion of the immune system, achieving a high multiplicity of infection, and overcoming the drawbacks of mutations among viral progeny. While secretory autophagy is also emerging as an important cellular pathway, little is known regarding its cargo selectivity and its regulation, in particular relative to the canonical degradative autophagy pathways. Given this, enteroviral infections may be perfect model systems to shed light on this novel pathway.
Conflicts of Interest
The authors declare no conflict of interest.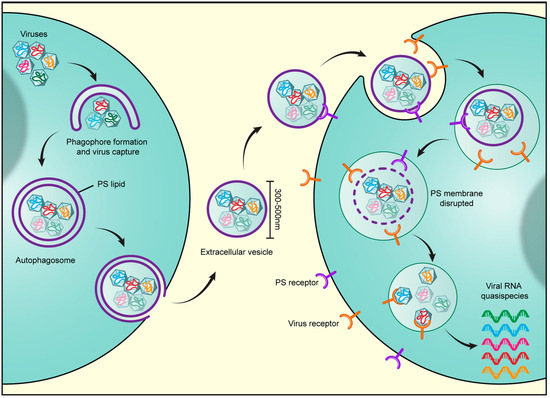 Figure 1. Viruses harness secretory autophagy for increased infectivity. Viruses, including the enteroviruses poliovirus, Coxsackievirus, and rhinovirus as well as rice gall dwarf virus and infectious Bursal Disease virus, are released from cells through the secretory autophagy pathway. Multiple viral particles are simultaneously captured in double-membraned autophagosomes and trafficked to the cell periphery, where the outer membrane of the autophagosome fuses with the plasma membrane. This results in the release of a unilamellar extracellular vesicle of typical size 300–500 nm, containing multiple viral particles. Notably at least for enteroviruses, the autophagosome membranes are enriched in phosphatidylserine (PS) lipids and the extracellular vesicle derived from these autophagosomes also contains PS lipids on its outer membrane leaflet. The PS lipids likely serve to dock the vesicles through interactions with PS-receptors on the receiving host cell surface. In addition, PS lipids are potent anti-inflammatory molecules. Once docked, the vesicles are internalized through endocytic pathways. Once inside endosomes, lipases likely disrupt the PS membrane and enable the viral particles to bind their cognate receptors. Viral binding to receptors results in simultaneous transfer into the host cytoplasm of multiple viral genomes. This en masse infection results in greater replication efficiency as opposed to infection by one or few viral particles as it not only enables a high multiplicity of infection but also potentially provides the opportunity for cooperative interactions to take place among viral quasispecies.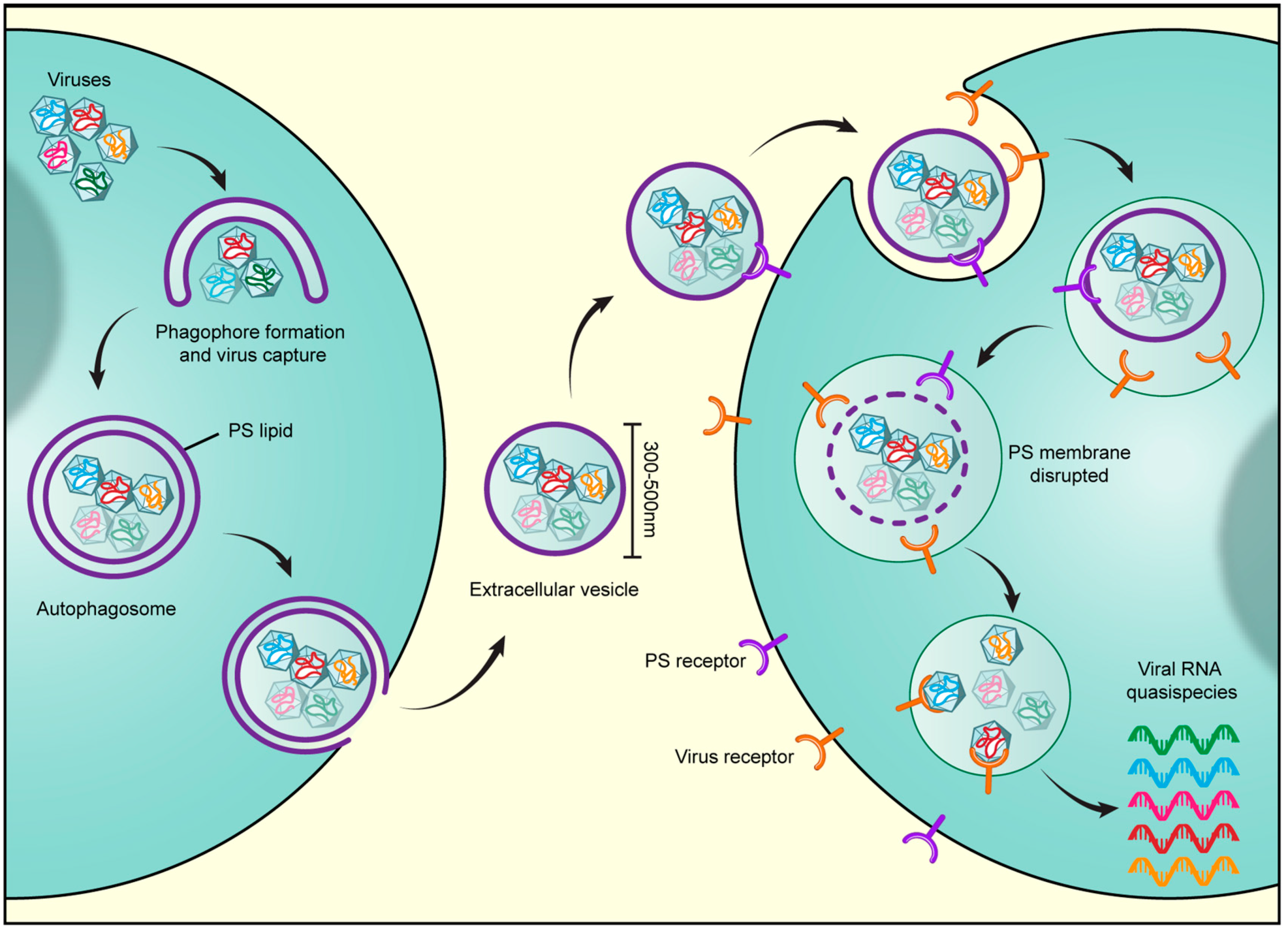 © 2018 by the authors. Licensee MDPI, Basel, Switzerland. This article is an open access article distributed under the terms and conditions of the Creative Commons Attribution (CC BY) license (http://creativecommons.org/licenses/by/4.0/).