EBV and KSHV Infection Dysregulates Autophagy to Optimize Viral Replication, Prevent Immune Recognition and Promote Tumorigenesis
1
Department of Experimental Medicine, "Sapienza" University of Rome, Viale Regina Elena 324, 00161 Rome, Italy
2
Laboratory Affiliated to Istituto Pasteur Italia-Fondazione Cenci Bolognetti, 00161 Rome, Italy
Received: 30 August 2018 / Revised: 22 October 2018 / Accepted: 30 October 2018 / Published: 31 October 2018
Abstract
Autophagy is a catabolic process strongly involved in the immune response, and its dysregulation contributes to the onset of several diseases including cancer. The human oncogenic gammaherpesviruses, Epstein—Barr virus (EBV) and Kaposi's sarcoma-associated herpesvirus (KSHV), manipulate autophagy, either during the de novo infection or during the lytic reactivation, in naturally latently-infected lymphoma cells. In particular, the gammaherpesvirus infection reduces autophagy in immune cells, such as monocytes, resulting in the impairment of cell survival and cell differentiation into dendritic cells (DCs), which are essential for initiating and regulating the immune response. In the case of EBV, the reduction of autophagy in these cells, leading to p62 accumulation, activated the p62-NRF2-antioxidant response, reducing ROS, and further inhibiting autophagy. KSHV inhibits autophagy in monocytes by de-phosphorylating JNK2, altering the calpains–calpastatin balance and increasing the calpain activity responsible for the cleavage of ATG5. To further impair the immune response, KSHV also inhibits autophagy in differentiated DCs by hyper-phosphorylating STAT3. Conversely, when the lytic cycle is induced in vitro in latently-infected lymphoma B cells, both EBV and KSHV promote autophagy to enhance their replication, although the final autophagic steps are blocked through the down-regulation of Rab7. This strategy allows viruses to avoid the destructive environment of lysosomes, and to exploit the autophagic machinery for intracellular transportation. EBV and KSHV encode for proteins that may either inhibit or promote autophagy and, in addition, they can modulate the cellular pathways that control this process. In this review we will discuss the findings that indicate that autophagy is dysregulated by gammaherpesvirus to promote immune suppression, facilitate viral replication and contribute to the onset and maintenance of gammaherpesvirus-associated malignancies.
View Full-Text
►

▼

Figures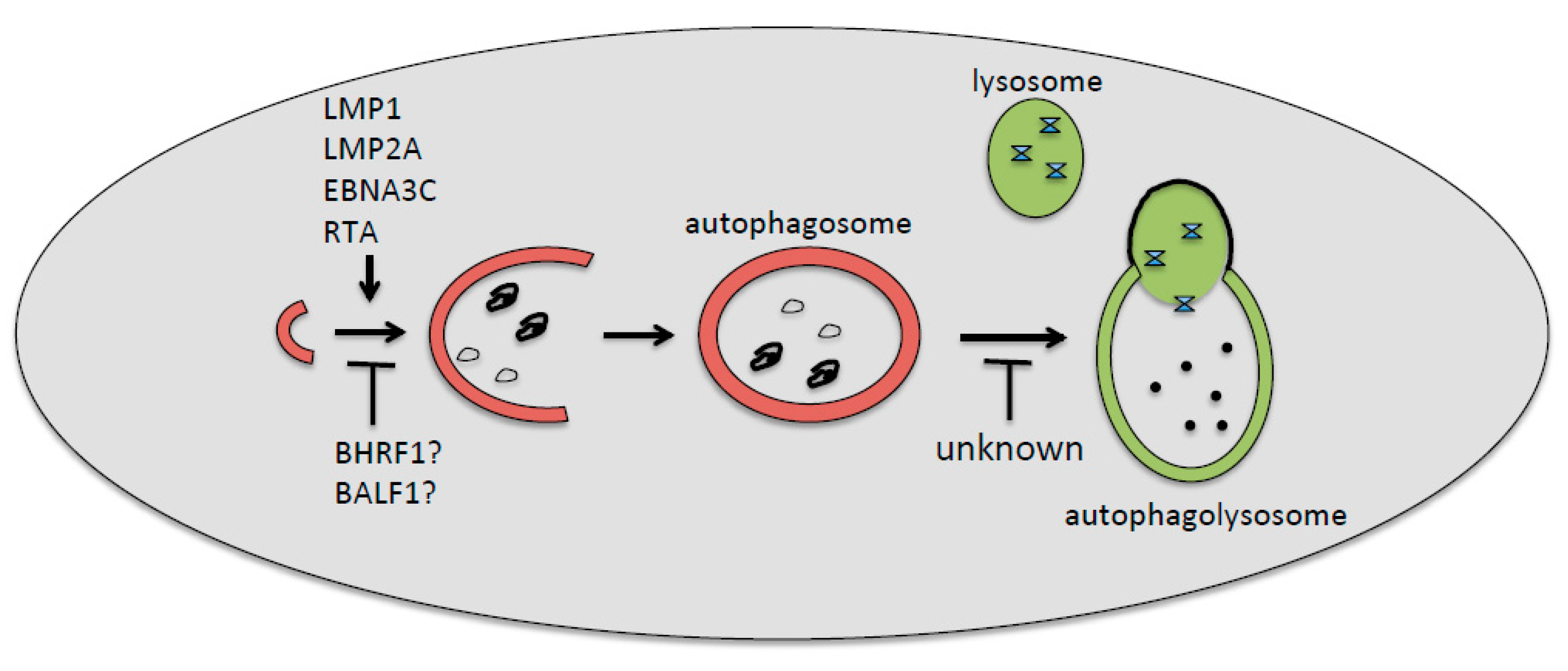 Figure 1
This is an open access article distributed under the
Creative Commons Attribution License
which permits unrestricted use, distribution, and reproduction in any medium, provided the original work is properly cited (CC BY 4.0).

Share & Cite This Article
MDPI and ACS Style
Cirone, M. EBV and KSHV Infection Dysregulates Autophagy to Optimize Viral Replication, Prevent Immune Recognition and Promote Tumorigenesis. Viruses 2018, 10, 599.
Note that from the first issue of 2016, MDPI journals use article numbers instead of page numbers. See further details here.
Related Articles
Comments
[Return to top]