Open Access This article is
freely available
re-usable
Review
DNA Tumor Virus Regulation of Host DNA Methylation and Its Implications for Immune Evasion and Oncogenesis
1
Department of Immunology and Microbiology, University of Colorado School of Medicine, Aurora, CO 80045, USA
2
Department of Medicine, University of Colorado School of Medicine, Aurora, CO 80045, USA
*
Authors to whom correspondence should be addressed.
Received: 18 January 2018 / Accepted: 7 February 2018 / Published: 13 February 2018
Abstract
:
Viruses have evolved various mechanisms to evade host immunity and ensure efficient viral replication and persistence. Several DNA tumor viruses modulate host DNA methyltransferases for epigenetic dysregulation of immune-related gene expression in host cells. The host immune responses suppressed by virus-induced aberrant DNA methylation are also frequently involved in antitumor immune responses. Here, we describe viral mechanisms and virus–host interactions by which DNA tumor viruses regulate host DNA methylation to evade antiviral immunity, which may contribute to the generation of an immunosuppressive microenvironment during cancer development. Recent trials of immunotherapies have shown promising results to treat multiple cancers; however, a significant number of non-responders necessitate identifying additional targets for cancer immunotherapies. Thus, understanding immune evasion mechanisms of cancer-causing viruses may provide great insights for reversing immune suppression to prevent and treat associated cancers.
Keywords:
DNA methylation; DNMT; antiviral immunity; immune evasion; herpesvirus; papillomavirus; KSHV; EBV; HBV; HPV
Acknowledgments
This work was supported in part by the National Institutes of Health (R01 AI091968 and R01 DE026125 to Dohun Pyeon and T32 AI052066 to Joseph A. Westrich). We thank Breck Duerkop for providing comments on the manuscript.
Author Contributions
Sharon K. Kuss-Duerkop and Dohun Pyeon reviewed the literature and wrote the manuscript. Sharon K. Kuss-Duerkop generated the figures. Joseph A. Westrich provided edits and approved the final version.
Conflicts of Interest
The authors declare no conflict of interest.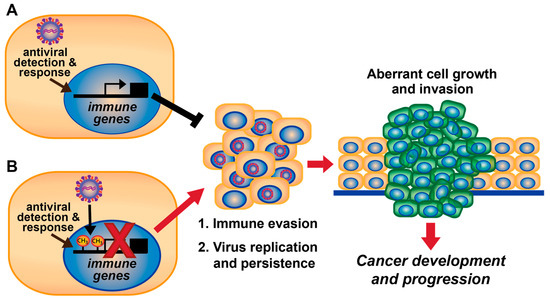 Figure 1. Model for DNA tumor virus-mediated DNA methylation to evade antiviral and antitumor immunity during viral persistence and carcinogenesis. (A) Cellular detection of viruses activates immune gene expression to induce an antiviral immune response. Proliferation of infected and neighboring cells can be blocked (black T bar) by immune-mediated apoptosis and/or cell cycle inhibition, which prevent cancer development. (B) DNA tumor viruses induce hypermethylation of immune genes that inhibit expression of antiviral immune genes (denoted by red "×"), resulting in immune evasion, which promotes (long red arrow) viral replication and persistence. Over long periods of time (multiple years), immune evasion and viral persistence can promote (short red arrow) cell proliferation and carcinogenesis. In addition, downregulation of immune gene expression by viral-induced DNA methylation may also contribute to host cell evasion of antitumor immune responses.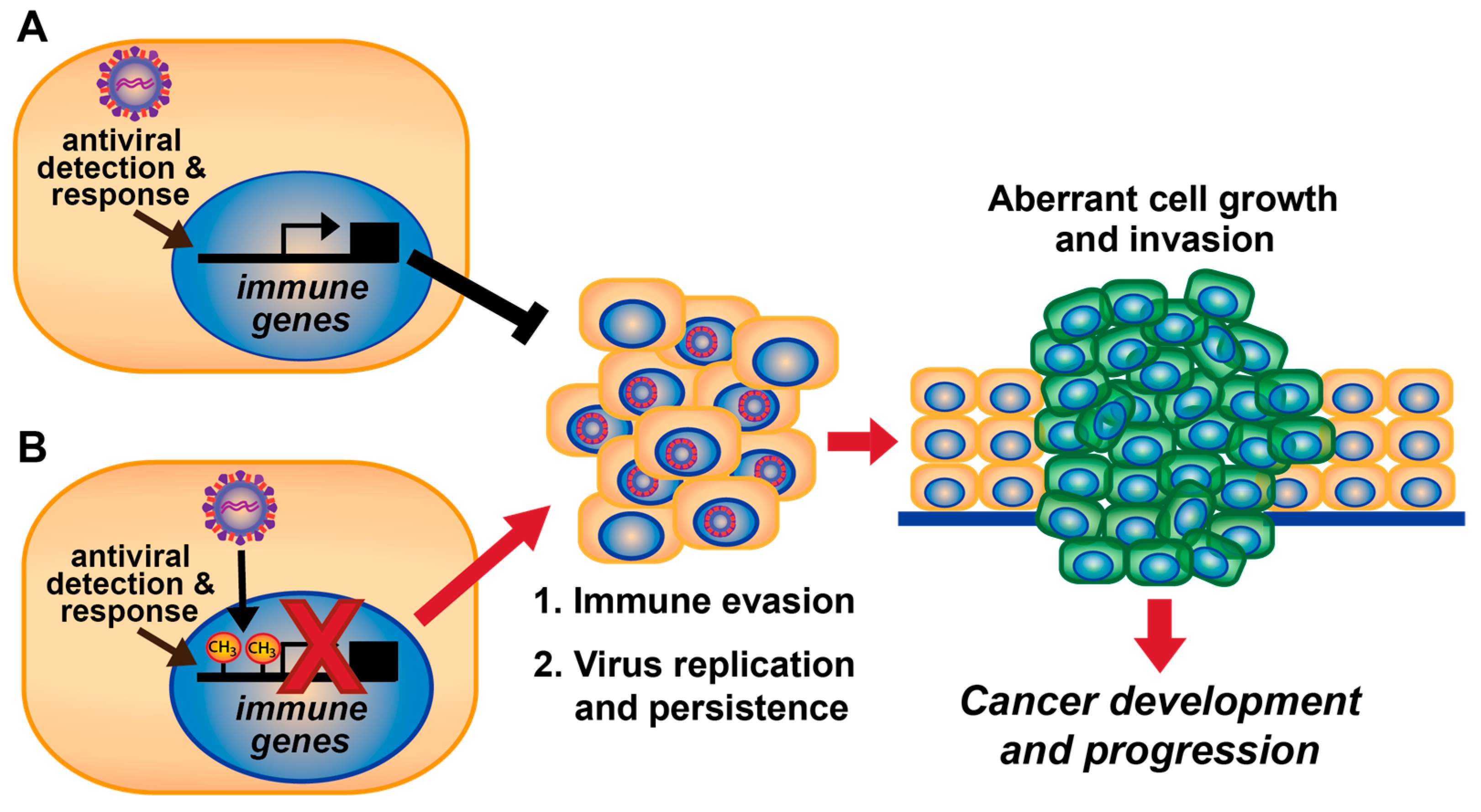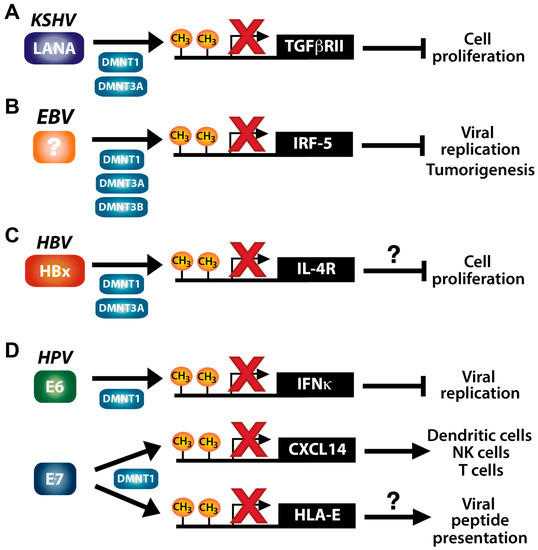 Figure 2.
DNA tumor viruses that promote DNA hypermethylation of immune-related genes. (
A
) KSHV LANA; (
B
) an unidentified EBV protein; (
C
) HBV HBx; and (
D
) HPV E6 and E7 proteins upregulate the
DNMTs
shown to induce DNA methylation and transcription inhibition (indicated by red "×") of the denoted immune-related genes. The outcome of immune gene suppression by the viruses promotes virus replication and host cell proliferation. Circled question marks indicate potential mechanisms that have not yet been fully defined.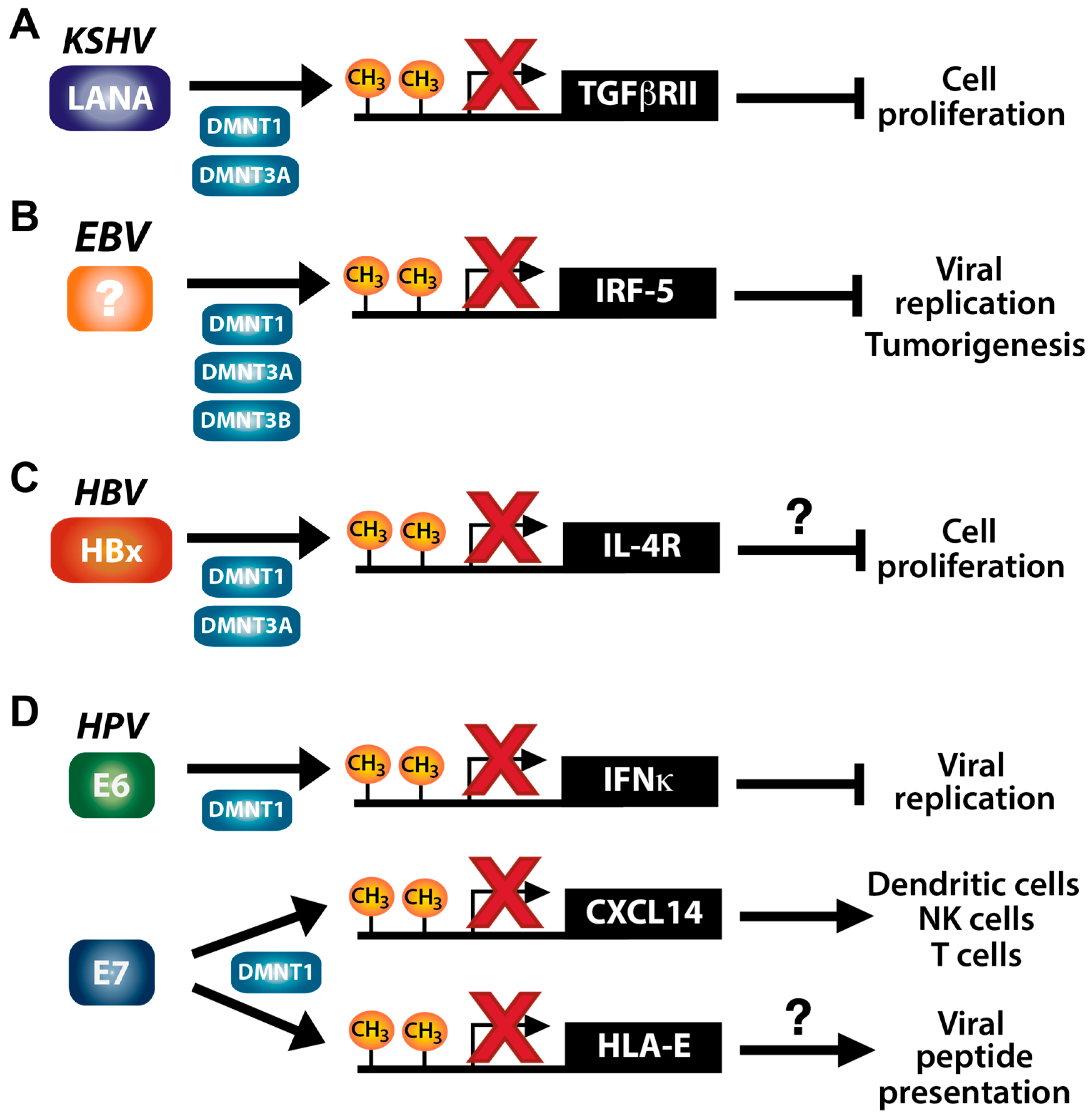 Table 1. DNA methylation associated with DNA tumor virus-induced carcinomas.
Virus
Cancer Type
Tumor Tissue (TT) or Cell Line (CL)
Methylated DNA/Gene
Reference

Herpesviridae

EBV
Gastric carcinoma
Reviewed in [70]
NPC
TT, CL

miR-31

[71]
TT

DAPK

,

RASSF1A

,


p16

(

CDKN2A

)
[72]
TT

RASSF1A

[73]
CL

Retinoic acid receptor-β2

(

RAR-β2

)
[76]
CL

E-cadherin

[77]
Burkitt's lymphoma (BL)
CL
4712 differentially methylated genes
[74]
Germinal center (GC) B cell malignancies, Hodgkin's lymphoma (HL)
TT (GC)
CL (HL)
1745 DMPs
[75]
KSHV
Primary effusion lymphoma
CL

p16

(

CDKN2A

)
[78]

Hepadnaviridae

HBV
HBV-associated HCC
Reviewed in [79,80]

Papillomaviridae

HPV
Head and neck SCC
TT

NSD1

,

NOTCH1

[81]
Cervical squamous intraepithelial lesions
TT

SIM1

,

DLX4

[82]
E6/E7 immortalized keratinocytes
CL

hTERT

,

miR124-2

,

PRDM14

,

FAM19A4, SFRP2

,

PHACTR3

,

MAL

,

CYGB

,

ROBO3

[83]
HPV16/18 keratinocytes, cervical cancer cells
CL

hTERT

[84]
Head and neck SCC, cervical carcinoma
TT

CXCL14

[54]
HPV16/18 immortalized keratinocytes
TT

HLA-E

,

CCNA1

,

TERT

; 5190 DMPs
[53]
SCC
CL
75 differentially methylated genes
[85]

Polyomaviridae

SV40
Diffuse large B cell lymphoma
TT

DAPK

,

CDH1

,

GSTP1

,


p16

(

CDKN2A

),

SHP1

[86]
Non-Hodgkin's lymphoma/leukemia
TT

CDH1

,

CDH13

,

CRBP

,


p16

(

CDKN2A

),

DAPK

,

DcR1

,

DcR2

[87]
Malignant mesothelioma
TT

RASSF1A

[88,89]
Lung adenocarcinoma
TT

RASSF1A

[88]
MCPyV
Merkel cell carcinoma, small cell lung cancer
TT

RASSF1A

[90,91]
JC virus
Gastric carcinoma
TT

p16

(

CDKN2A

),

p14

[92]
Colorectal cancer
TT

hMLH1

,

PTEN

,

RUNX3

,

p16

(

CDKN2A

)
[93]
NPC: Nasopharyngeal carcinoma; SCC: Squamous cell carcinoma; DMP: Differentially methylated position.

© 2018 by the authors. Licensee MDPI, Basel, Switzerland. This article is an open access article distributed under the terms and conditions of the Creative Commons Attribution (CC BY) license (http://creativecommons.org/licenses/by/4.0/).