High Levels of Dual-Class Drug Resistance in HIV-Infected Children Failing First-Line Antiretroviral Therapy in Southern Ethiopia
1
Department of Pediatrics, Hawassa University, Hawassa 1506, Ethiopia
2
Faculty of Health Sciences, Simon Fraser University, Burnaby, BC V5A 1S6, Canada
3
British Columbia Centre for Excellence in HIV/AIDS, Vancouver, BC V6Z 1Y6, Canada
4
Departments of Dermatology and Pediatrics, Oregon Health Sciences University, Portland, OR 97239, USA
5
Management Sciences for Health, Addis Ababa 1250, Ethiopia
6
Department of Pharmacology, College of Health Sciences, Addis Ababa University, Addis Ababa 9086, Ethiopia
7
Division of Clinical Pharmacology, Department of Laboratory Medicine, Karolinska Institute, Karolinska University Hospital Huddinge C1:68, 141 86 Stockholm, Sweden
*
Authors to whom correspondence should be addressed.
Received: 19 January 2018 / Revised: 30 January 2018 / Accepted: 30 January 2018 / Published: 1 February 2018
Abstract
Clinical monitoring of pediatric HIV treatment remains a major challenge in settings where drug resistance genotyping is not routinely available. As a result, our understanding of drug resistance, and its impact on subsequent therapeutic regimens available in these settings, remains limited. We investigate the prevalence and correlates of HIV-1 drug resistance among 94 participants of the Ethiopia Pediatric HIV Cohort failing first-line combination antiretroviral therapy (cART) using dried blood spot-based genotyping. Overall, 81% (73/90) of successfully genotyped participants harbored resistance mutations, including 69% (62/90) who harbored resistance to both Nucleoside Reverse Transcriptase Inhibitors (NRTIs) and Non-nucleoside Reverse Transcriptase Inhibitors (NNRTIs). Strikingly, 42% of resistant participants harbored resistance to all four NRTIs recommended for second-line use in this setting, meaning that there are effectively no remaining cART options for these children. Longer cART duration and prior regimen changes were significantly associated with detection of drug resistance mutations. Replicate genotyping increased the breadth of drug resistance detected in 34% of cases, and thus is recommended for consideration when typing from blood spots. Implementation of timely drug resistance testing and access to newer antiretrovirals and drug classes are urgently needed to guide clinical decision-making and improve outcomes for HIV-infected children on first-line cART in Ethiopia.
View Full-Text
►

▼

Figures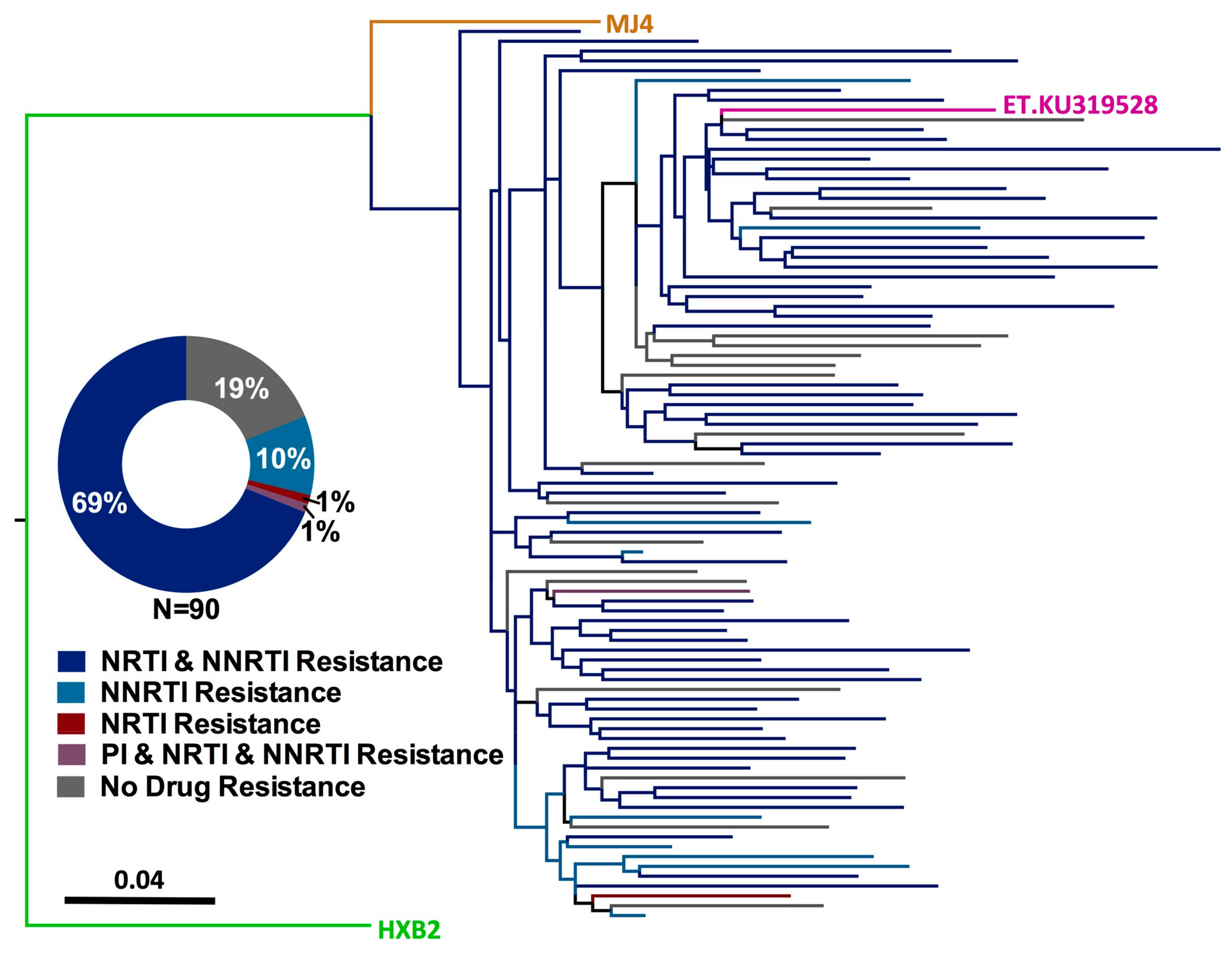 Figure 1
This is an open access article distributed under the
Creative Commons Attribution License
which permits unrestricted use, distribution, and reproduction in any medium, provided the original work is properly cited (CC BY 4.0).

Share & Cite This Article
MDPI and ACS Style
Tadesse, B.T.; Kinloch, N.N.; Baraki, B.; Lapointe, H.R.; Cobarrubias, K.D.; Brockman, M.A.; Brumme, C.J.; Foster, B.A.; Jerene, D.; Makonnen, E.; Aklillu, E.; Brumme, Z.L. High Levels of Dual-Class Drug Resistance in HIV-Infected Children Failing First-Line Antiretroviral Therapy in Southern Ethiopia. Viruses 2018, 10, 60.
Note that from the first issue of 2016, MDPI journals use article numbers instead of page numbers. See further details here.
Related Articles
Comments
[Return to top]