A Divergent Hepatitis D-Like Agent in Birds
1
WHO Collaborating Centre for Reference and Research on Influenza, The Peter Doherty Institute for Infection and Immunity, Melbourne, VIC 3000, Australia
2
Molecular Research and Development, Victorian Infectious Diseases Reference Laboratory, Royal Melbourne Hospital at the Peter Doherty Institute for Infection and Immunity, Melbourne, VIC 3000, Australia
3
Marie Bashir Institute for Infectious Diseases and Biosecurity, Charles Perkins Centre, School of Life and Environmental Sciences and Sydney Medical School, The University of Sydney, Sydney, NSW 2006, Australia
4
Centre for Integrative Ecology, Deakin University, Geelong, VIC 3220, Australia
*
Author to whom correspondence should be addressed.
Received: 9 November 2018 / Revised: 28 November 2018 / Accepted: 9 December 2018 / Published: 17 December 2018
Hepatitis delta virus (HDV) is currently only found in humans and is a satellite virus that depends on hepatitis B virus (HBV) envelope proteins for assembly, release, and entry. Using meta-transcriptomics, we identified the genome of a novel HDV-like agent in ducks. Sequence analysis revealed secondary structures that were shared with HDV, including self-complementarity and ribozyme features. The predicted viral protein shares 32% amino acid similarity to the small delta antigen of HDV and comprises a divergent phylogenetic lineage. The discovery of an avian HDV-like agent has important implications for the understanding of the origins of HDV and sub-viral agents.
1. Introduction
Hepatitis delta virus (HDV) is a human-specific pathogen and the sole member of the genus
Deltavirus
. The HDV genome is unique among known animal viruses but shares similarities with plant sub-viral pathogens named viroids [
1
,
2
]. The single stranded, circular RNA genome of HDV is approximately 1700 nucleotides and is therefore the smallest virus infecting mammals. It is ~70% self-complimentary and forms a highly base-paired rod-like structure. It encodes two proteins (small and large delta antigen, S-HDAg, and L-HDAg, respectively) from a single open reading frame. HDV is regarded as a sub-viral pathogen that requires the envelope proteins from the helper hepatitis B virus (HBV) for assembly and release, and subsequently for entry into the host cell [
2
].
In humans, coinfection with HDV and HBV causes more severe liver disease than is seen in individuals infected with HBV alone, and 15–20 million individuals are estimated to be co-infected with both viruses [
3
,
4
]. There are currently eight broad clades, or genotypes, of HDV that have specific geographic distributions [
5
,
6
]. Despite the importance of HDV, its origin is unknown and has been the source of debate [
6
,
7
,
8
]. Current hypotheses for the origin of HDV reflect the fact that this virus is currently only found in humans and include: Viroid-like RNA having captured host signalling mRNAs [
9
], direct origination from the human transcriptome [
10
], or evolution from a circular host RNA [
1
,
11
]. Given the dependence of HDV on the HBV envelope proteins to complete its life cycle and to generate infectious virions it is possible that there been co-evolution between HDV and the helper HBV, although the nature of this relationship has been largely unexplored.
In this study we describe a divergent HDV-like agent found in wild birds and in the absence of detectable duck HBV (DHBV). We demonstrate a number of features shared between HDV and this avian HDV-like agent that are strongly suggestive of common ancestry. This finding has important ramifications for our understanding of both the origin and the co-evolutionary relationships of sub-viral agents and helper viruses.
3. Results and Discussion
4. Conclusions
There are a number of hypotheses for the origin of HDV, including that viroid-like RNA captured host signalling mRNAs [
9
], that HDV originated directly from the human transcriptome [
10
], or evolved from a circular host RNA found in hepatocytes that was able to replicate [
1
,
11
]. A central component of these hypotheses is that HDV exists only in humans. However, the discovery of a related HDV-like genome in birds and snakes [
25
] with distinct similarities to the HDV genome, including self-complementarity and ribozyme folding, as well as clear differences (no ORF extension in the same frame downstream of the stop codon), suggests a divergent evolutionary pathway of HDV and HDV-like pathogens. The lack of DHBV in the metagenomics library is notable, and may be due to a number of factors such as: (a) DHBV is primarily a liver infection and therefore oropharyngeal/cloacal swabs are not the optimal sample for DHBV detection; (b) DHBV may have been suppressed by the avHDV-like agent, in the same way that HBV replication is inhibited by HDV, resulting in low HDBV viral load and a lack of detection by metagenomics; or (c) the avHDV-like agent does not depend on a hepadnavirus for the completion of its replication cycle. Hetzel et al., (2018) similarly reported the absence of hepadnavirus and also demonstrated the active replication of a snake HDV-like agent. This suggests that non-human HDV-like agents may use other viruses to obtain a lipid envelope to make infectious particles, which clearly merits additional study. As such, the discovery of the genome of an avian HDV-like agent has important implications for our understanding of both the origin and the co-evolutionary relationships of the sub-viral agents with helper viruses, including the dependence of HDV on the HBV envelope protein.
Supplementary Materials
Supplementary File 1
Author Contributions
Conceptualization, M.W., E.C.H. and A.H.; Formal analysis, M.W., H.N., M.L., L.Y., M.S., J.-S.E., M.K., E.C.H. and A.H.; Funding acquisition, M.K., E.C.H. and A.H.; Methodology, M.W., H.N., M.L., L.Y., M.S., J.-S.E. and E.C.H.; Visualization, M.W., H.N., M.L. and L.Y.; Writing—Original Draft, M.W.; Writing—Review and Editing, M.W., H.N., M.L., L.Y., M.S., J.-S.E., M.K., E.C.H. and A.H.
Funding
This work was supported by an ARC Discovery Grant (DP160102146). E.C.H. is supported by an ARC Australian Laureate Fellowship (FL170100022). The Melbourne WHO Collaborating Centre for Reference and Research on Influenza is funded by the Australian Department of Health.
Acknowledgments
We are grateful to members of the Centre for Integrative Ecology at Deakin University for sample collection and Melbourne Water for logistical support.
Conflicts of Interest
The authors declare no conflict of interest.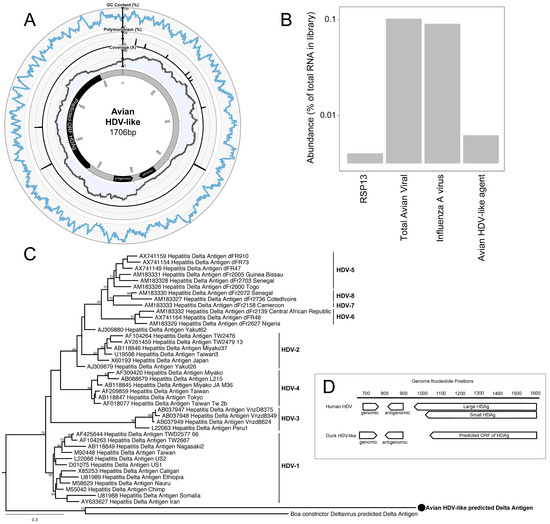 Figure 1.
Characteristics of the genome of an avian hepatitis delta virus (HDV)-like agent. (
A
) Avian HDV-like agent genome, annotated with ORFs, genomic, and antigenomic ribozyme sites. Metadata rings include the read coverage, proportion of polymorphisms in reads, followed by GC content. (
B
) Abundance of transcripts in the metatranscriptomic library. Total avian viral abundance was dominated by that of the influenza A virus. However, the abundance of HDV is higher than that of Ribosomal protein S13 (RPS13), a stably expressed reference gene in Mallards (
Anas platyrhynchos
). (
C
) Maximum likelihood phylogeny of the HDAg protein. Representative human HDAg sequences fall into the currently described clades HDV1-8 (5). The scale bar represents the number of amino acid substitutions per site. The phylogeny is rooted between the human and avian/snake viruses. (
D
) Location of genomic and antigenomic ribozyme sequences, and the predicted ORF of the delta antigen in the avian HDV-like genome compared to their location in the HDV genome sequence (GenBank accession X04451.1).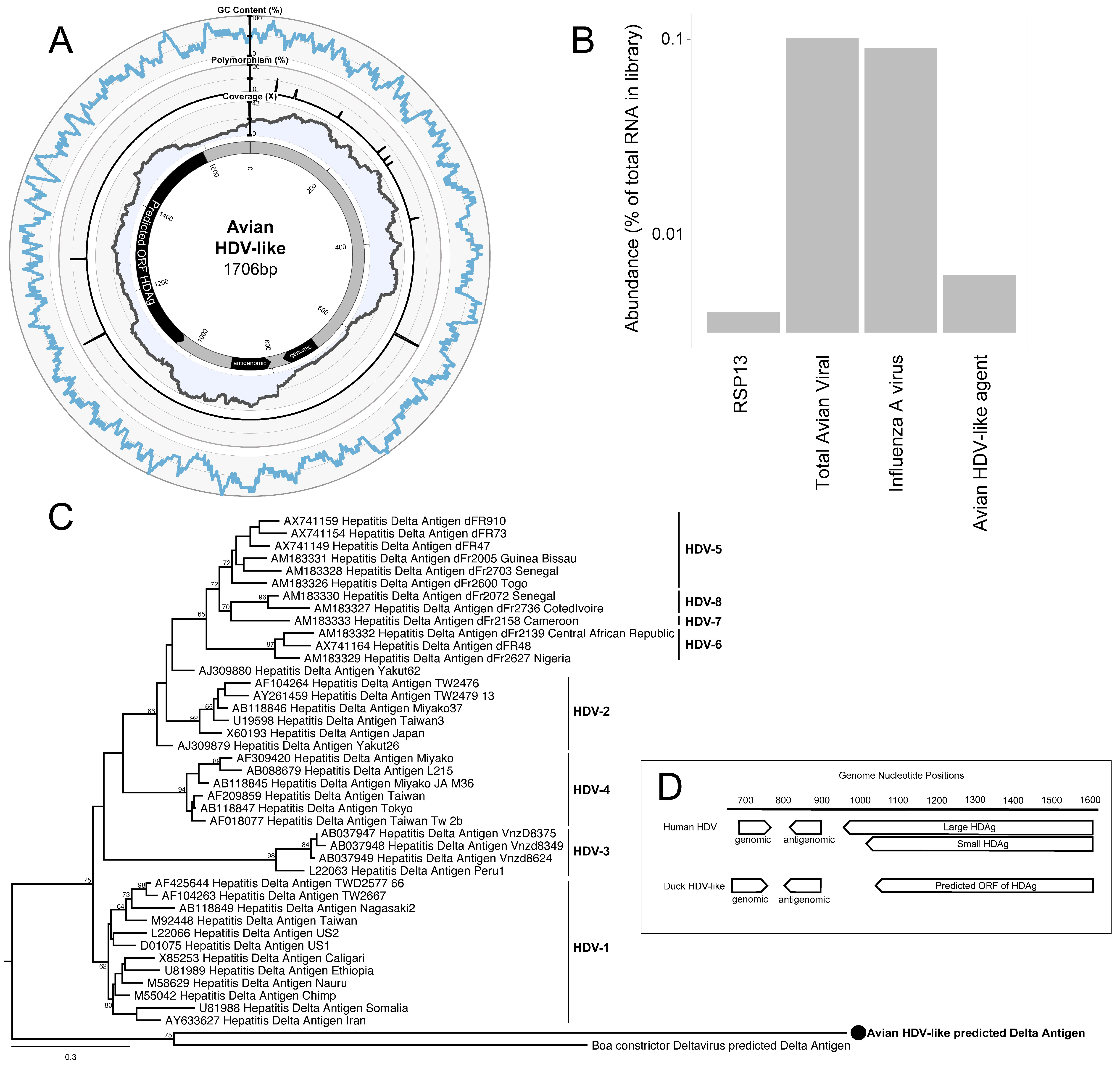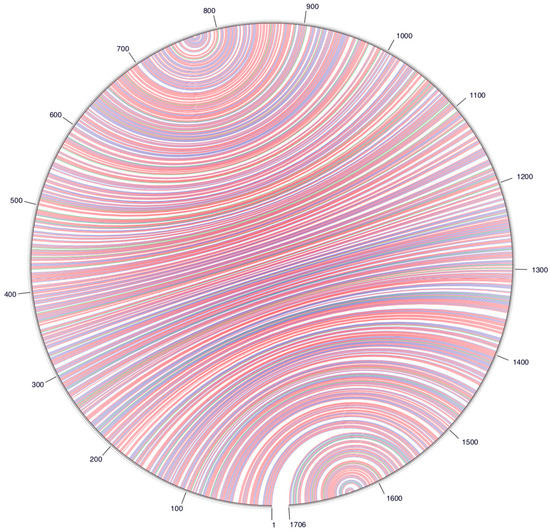 Figure 2. A circle graph showing the base pairing of the circular RNA genome structure of the avian HDV-like agent into an unbranched rod-like structure. The circle circumference represents the genome sequence, and the arcs represent the base pairing. Colouring of arcs: Red for G-C pairing, blue for A-U pairing, green for G-U pairing, and yellow for other types of pairings.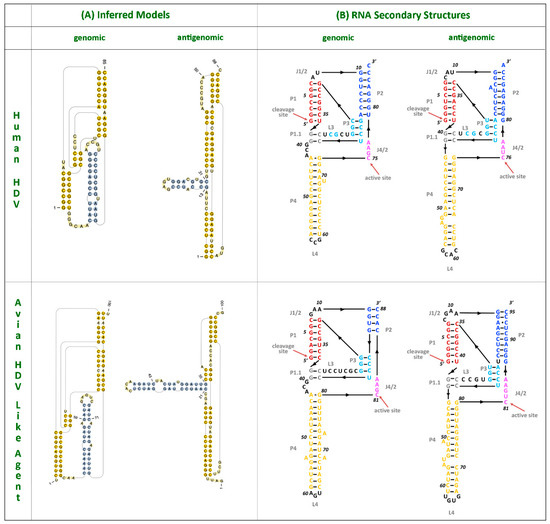 Figure 3. HDV ribozymes. (A) Secondary structures of the genomic and antigenomic ribozymes inferred using the TT2NE algorithm. The HDV ribozyme models were used as reference to screen for the ribozyme sequences in the avian HDV-like genome sequence. (B) Re-drawn secondary structures of the genomic and antigenomic ribozymes based on the secondary structures shown in the review by Webb and Luptak (21).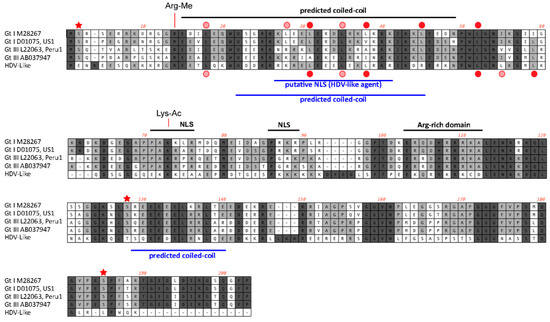 Figure 4. Features of the predicted HDAg protein. Alignment of the amino acid sequences (small delta antigen) translated from the genomes of HDV and the avian HDV delta-like agent. The potential coiled-coil region is highlighted, including the presence of leucine residues in the correct spacing for a leucine zipper (filled red circle). The delta antigen does not have a strict requirement for leucine in the d-position of the heptad repeat. Additional leucine residues are shown by circles in light red. Serine residues that are conserved between different HDV genotypes and post-translationally modified (phosphorylated) are highlighted with an asterisk. The conserved arginine and lysine residues modified by methylation (Arg-Me) and acetylation (Lys-Ac) are indicated. NLS: Nuclear localisation signal.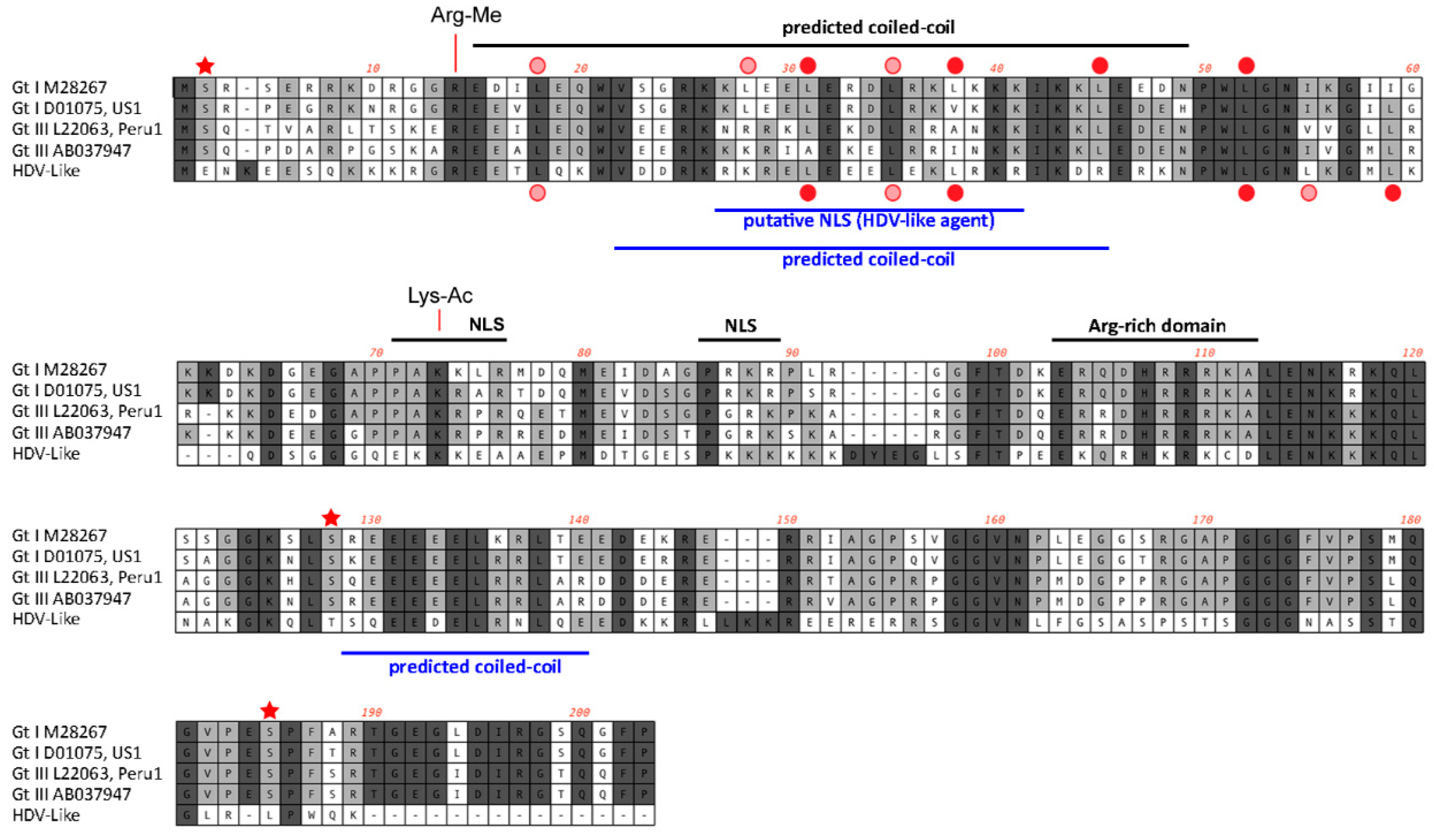 © 2018 by the authors. Licensee MDPI, Basel, Switzerland. This article is an open access article distributed under the terms and conditions of the Creative Commons Attribution (CC BY) license (http://creativecommons.org/licenses/by/4.0/).