Modulation of Innate Immune Responses by the Influenza A NS1 and PA-X Proteins
1
Department of Microbiology and Immunology, University of Rochester, Rochester, New York, NY 14642, USA
2
Centro de Investigación en Sanidad Animal (CISA)-INIA, Valdeolmos, 28130 Madrid, Spain
3
David H. Smith Center for Vaccine Biology and Immunology, University of Rochester, Rochester, New York, NY 14642, USA
4
Department of Molecular and Cell Biology, Centro Nacional de Biotecnología (CNB-CSIC), Campus Universidad Autónoma de Madrid, 28049 Madrid, Spain
*
Authors to whom correspondence should be addressed.
Received: 22 November 2018 / Revised: 6 December 2018 / Accepted: 8 December 2018 / Published: 12 December 2018
Influenza A viruses (IAV) can infect a broad range of animal hosts, including humans. In humans, IAV causes seasonal annual epidemics and occasional pandemics, representing a serious public health and economic problem, which is most effectively prevented through vaccination. The defense mechanisms that the host innate immune system provides restrict IAV replication and infection. Consequently, to successfully replicate in interferon (IFN)-competent systems, IAV has to counteract host antiviral activities, mainly the production of IFN and the activities of IFN-induced host proteins that inhibit virus replication. The IAV multifunctional proteins PA-X and NS1 are virulence factors that modulate the innate immune response and virus pathogenicity. Notably, these two viral proteins have synergistic effects in the inhibition of host protein synthesis in infected cells, although using different mechanisms of action. Moreover, the control of innate immune responses by the IAV NS1 and PA-X proteins is subject to a balance that can determine virus pathogenesis and fitness, and recent evidence shows co-evolution of these proteins in seasonal viruses, indicating that they should be monitored for enhanced virulence. Importantly, inhibition of host gene expression by the influenza NS1 and/or PA-X proteins could be explored to develop improved live-attenuated influenza vaccines (LAIV) by modulating the ability of the virus to counteract antiviral host responses. Likewise, both viral proteins represent a reasonable target for the development of new antivirals for the control of IAV infections. In this review, we summarize the role of IAV NS1 and PA-X in controlling the antiviral response during viral infection.
Author Contributions
M.L.D. drafted the manuscript. M.L.D. and A.N. wrote the manuscript and designed the tables/illustrations. L.M.-S. critically revised the manuscript and provided ideas, concepts, and edits. D.J.T. edited the manuscript.
Funding
Influenza virus research in the Luis Martínez-Sobrido and David J. Topham laboratories is partially funded by the National Institute of Allergy and Infectious Diseases (NIAID), the National Institutes of Health (NIH), and the Department of Health and Human Services under the Centers of Excellence for Influenza Research and Surveillance (CEIRS) contract No. HHSN272201400005C (New York Influenza Center of Excellence, NYICE); by the Department of Defense (DoD) PR17046 (Luis Martinez-Sobrido); and with funds from a University of Rochester Research Award to Aitor Nogales and Marta Lopez de Diego. We also give thanks for the funds from Comunidad de Madrid, Spain, reference 2017-T1/BMD-5155 (Marta Lopez de Diego).
Conflicts of Interest
The authors declare no conflict of interest.
Abbreviations
| | |
| --- | --- |
| ACIP | Advisory Committee on Immunization Practices |
| ASC | Apoptosis-associated Speck-like containing a caspase-recruitment domain |
| ATF | Activating transcription factor |
| CD | Codon deoptimized |
| CIV | Canine influenza virus |
| CPSF30 | Cleavage and polyadenylation specificity factor 30 |
| CTT | C- terminal tail |
| dsRNA | double-stranded RNA |
| E1B-AP5 | Adenovirus early region 1B-associated protein 5 |
| ED | Effector domain |
| EIV | Equine influenza virus |
| eIF2α | α subunit of the eukaryotic initiation factor 2 |
| eIF4G | Eukaryotic initiation factor 4G |
| FDA | Food and drug administration |
| HA | Hemagglutinin |
| IAV | Influenza A virus |
| IFN | Interferon |
| IIV | Influenza inactivated vaccine |
| IKK | inhibitor of kappa β kinase |
| IL | Interleukin |
| IRF | Interferon regulatory factor |
| ISGs | Interferon (IFN)-stimulated genes |
| LAIV | Live-attenuated influenza vaccine |
| M2 | Matrix protein 2 |
| MDV | Master donor virus |
| NA | Neuraminidase |
| NCR | Non-coding region |
| NEP | Nuclear export protein |
| NES | Nuclear export signal |
| NF-κB | Nuclear factor kappa β |
| NLRP3 | NOD-like receptor family member LRR- and Pyrin domain containing-3 |
| NLS | Nuclear localization signal |
| NS1 | Non-structural protein 1 |
| NSs | NS split |
| NXF1 | Nuclear RNA export Factor 1 |
| OAS | Oligoadenylate synthase |
| ORF | Open reading frame |
| PA | Polymerase acid |
| PABP | Poly(A)-binding protein |
| PACT | Protein activator of the IFN-induced PKR |
| PAMPs | Pathogen-associated molecular patterns |
| PB1 | Polymerase basic 1 |
| PB2 | Polymerase basic 2 |
| pH1N1 | pandemic H1N1 virus |
| PI3K | p85-β of phosphatidylinositol 3-kinase |
| PKR | Protein kinase R |
| Pol II | Polymerase II |
| PR8 | A/Puerto Rico/8/34 |
| PRR | Pattern recognition receptor |
| RAE1 | Ribonucleic Acid Export 1 |
| RBD | RNA-binding domain |
| RIG-I | Retinoic acid inducible gene I |
| RNAse L | Ribonuclease L |
| RdRp | RNA-dependent RNA polymerase |
| ssRNA | single-stranded RNA |
| TNF | Tumor necrosis factor |
| TLRs | Toll-like receptors |
| TRIM25 | E3 ligase tripartite motif-containing protein 25 |
| UTR | Untranslated region |
| WT | Wild-type |
| WHO | World Health Organization |
| WSN | A/WSN/33 |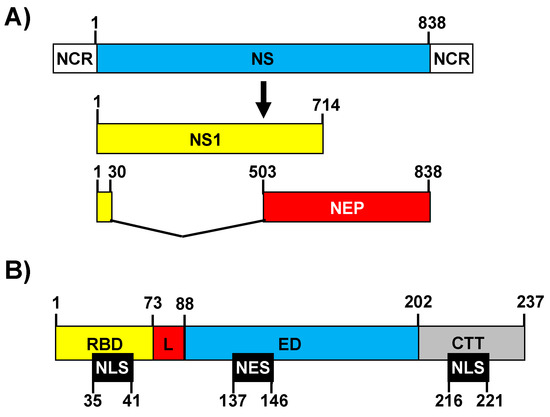 Figure 1. A schematic representation of an influenza A virus (IAV) non-structural (NS) segment, viral transcripts, and NS1 domains. (A) An IAV NS RNA segment is indicated by a blue box and non-coding regions (NCR) are indicated with white boxes. IAV NS1 and nuclear export protein (NEP) transcripts are indicated with yellow and red boxes, respectively. IAV NS1 and NEP open reading frames (ORFs) shared the first 30 nucleotides in the N-terminus. The numbers on the top of the bars represent the ORF length and nucleotide splice positions. (B) The NS1 protein is divided into four distinct regions: The N-terminal RNA-binding domain (RBD; amino acids 1–73, yellow), the linker sequence (L; amino acids 74–88, red), the effector domain (ED; amino acids 89–202, blue), and the C-terminal tail (CTT; amino acids 203 to the end, gray). Note that both the L and the CTT can vary in length among different IAV strains, and, although a 237 amino-acids-length NS1 has been represented, the NS1 can be 219, 230, and 237 amino acids in length. Nuclear localization and export signals (NLS and NES, respectively) are indicated with black boxes at the bottom.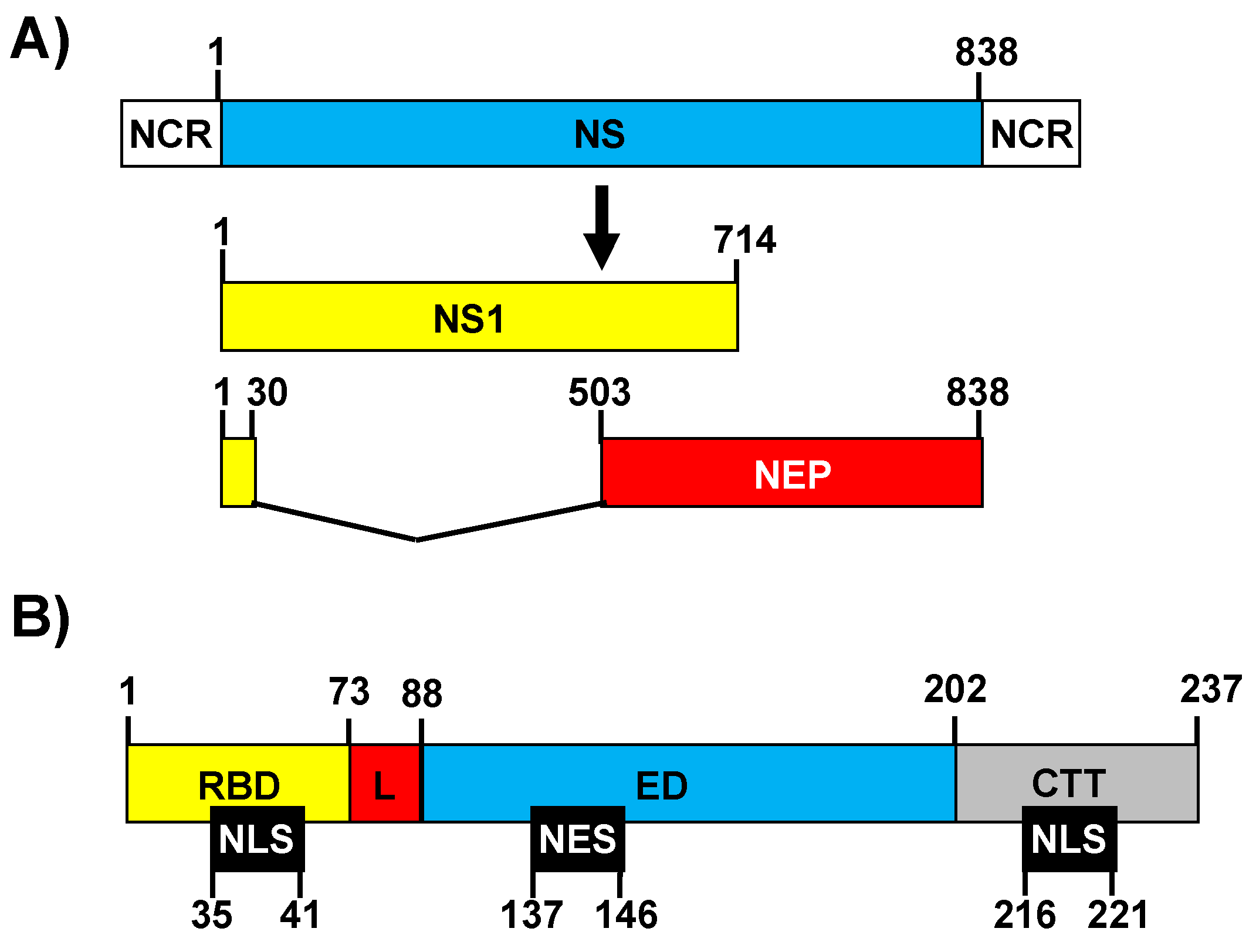 Figure 2.
Direct and indirect effects of the IAV NS1 protein on innate immune responses. (
A
) IAV NS1 decreases RIG-I activation, and IFN responses, through the sequestration of dsRNA [
88
,
89
,
90
], or by interaction with TRIM25 or Riplet, which results in the suppressed ubiquitination and activation of RIG-I, which signals through the mitochondrial antiviral signaling protein (MAVS) to induce IFN responses [
91
,
92
]. (
B
) NS1 inhibits the IRF3 [
99
], NF-κβ [
117
], and AP-1 [
100
] transcription factors, impairing IFN production, and, therefore, the induction of IFN-stimulated gene (ISG) products. In addition, NS1 directly inhibits the antiviral activities of the ISGs PKR and OAS-RNaseL. (
C
) The IAV NS1 protein binds dsRNA and PKR, leading to decreased PKR activity to phosphorylate eIF2α, and host translation inhibition [
101
,
102
,
103
]. (
D
) The IAV NS1 protein, via the dsRNA-binding activity of its RBD, inhibits OAS activation, blocking RNA degradation [
87
]. (
E
) The IAV NS1 protein also inhibits NLRP3 inflammasome activation [
105
,
106
,
107
], impairing the cleavage of pro-interleukin (IL)-1β and pro-IL-18 into their mature forms IL-1β and IL-18, respectively, which are released from the cell to stimulate inflammatory processes. (
F
) NS1 proteins from some human and avian IAV strains bind to CPSF30, blocking the cleavage of immature mRNAs (pre-mRNAs) and the recruitment of the poly(A) polymerase to add the poly(A) tail [
62
,
72
,
74
,
108
,
109
,
110
,
123
]. The IAV NS1 protein also binds to the poly(A)-binding protein II (PABPII), inhibiting its ability to stimulate the synthesis of long poly(A) tails [
111
]. These last two processes lead to host shutoff of protein synthesis [
111
]. (
G
) Additionally, the NS1 of influenza A/WSN/33 H1N1 (WSN) binds NXF1, p15, RAE1, and E1B-AP5, which interact with both mRNAs and nucleoporins to direct mRNAs through the nuclear pore complex, blocking their function, and likely facilitating host cellular shutoff [
116
].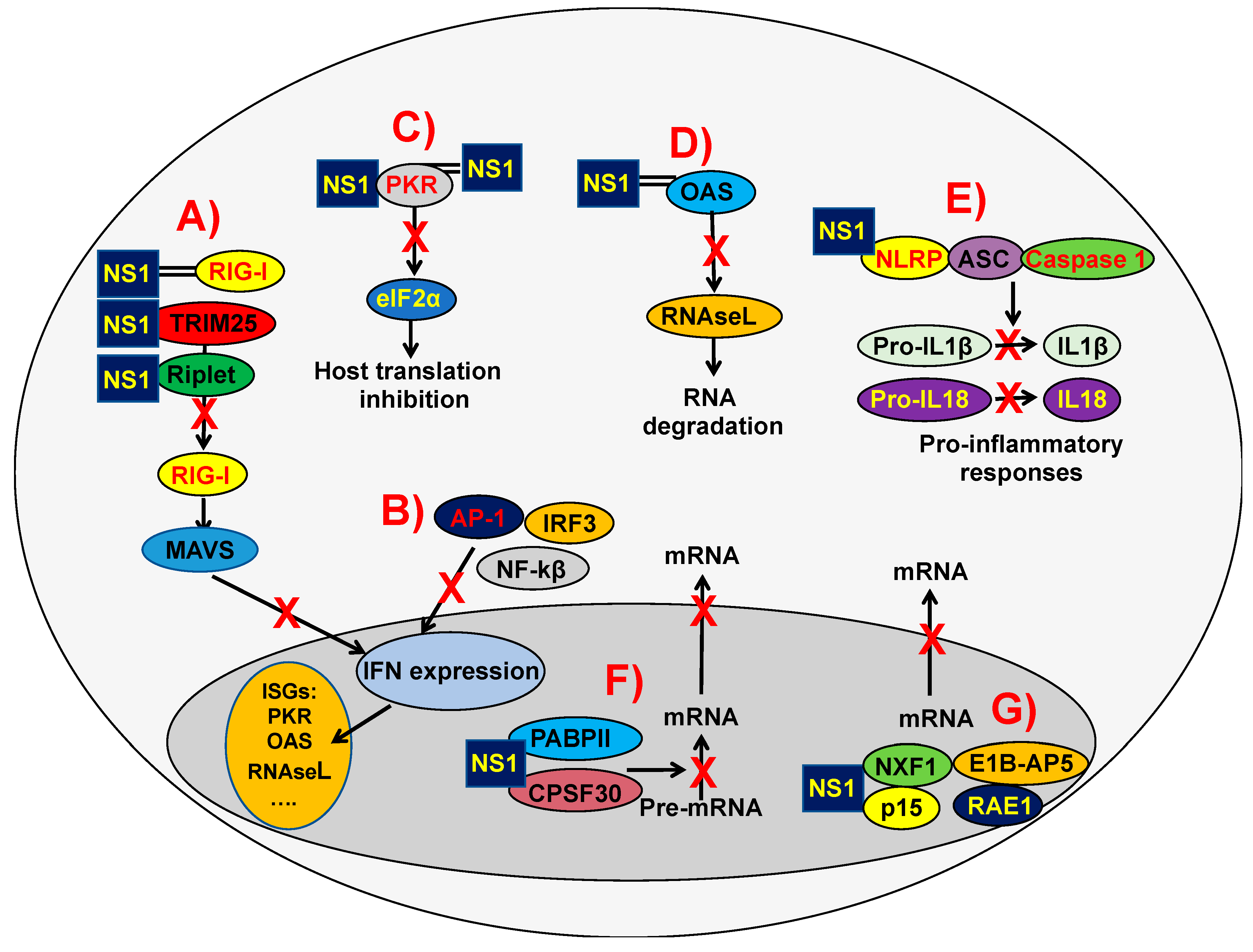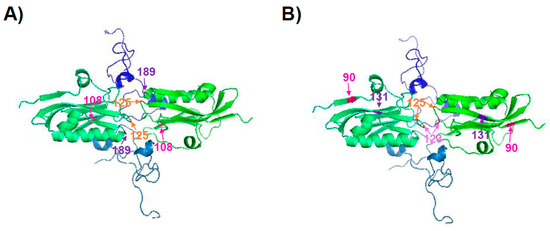 Figure 3.
The tridimensional structure of the IAV NS1 ED coupled to the F2/F3 domain of CPSF30. A/Udorn/72 H3N2 strain NS1 ED bound to the F2/F3 fragment of the human CPSF30 was previously crystalized [
108
] (protein data bank (PDB) entry 2RHK). Colors were included using the MacPyMOL Molecular Graphics system (pymol.org). Each monomer of the NS1 ED is represented in green colors. Monomers of the F2/F3 fragment of the human CPSF30 are represented in blue colors. The artificially introduced NS1 amino acid residues 108, 125, and 189 restoring NS1–CPSF0 binding (
A
) [
125
], and the residues 90, 123, 125, and 131 found in naturally circulating pH1N1 viruses (
B
) [
126
], are indicated in reddish colors (orange, purple, and pink). Figure adapted from [
126
].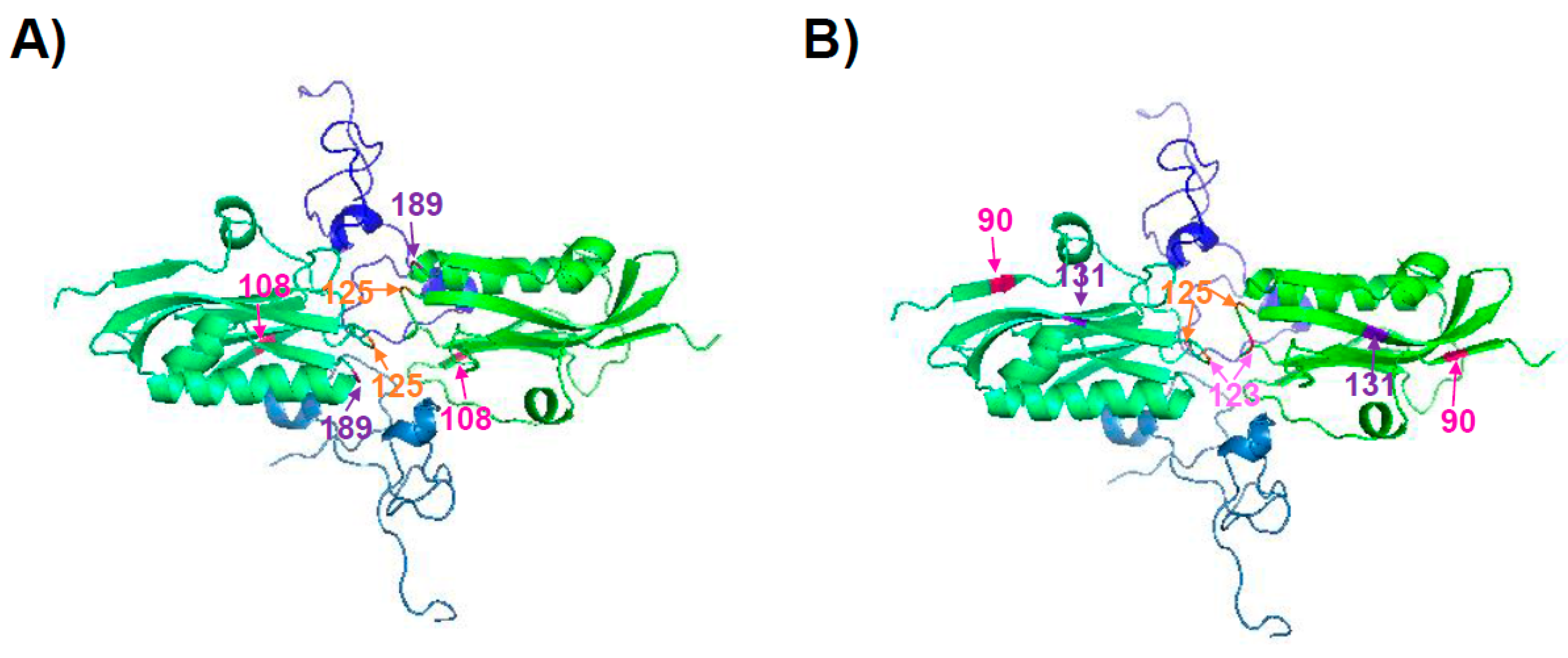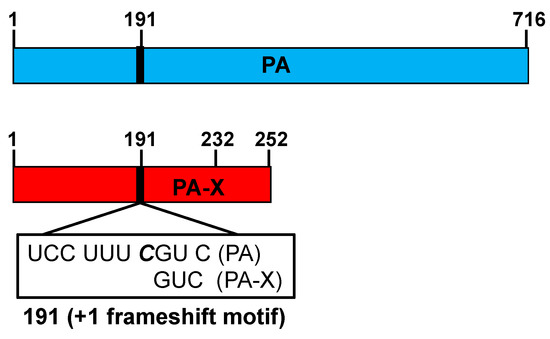 Figure 4.
A schematic representation of the IAV PA viral segment and the PA and PA-X open reading frames (ORFs). Blue and red boxes indicate the ORF for PA and PA-X, respectively. The +1 frameshift motif (UCC UUU
C
GU C) at position 191 is indicated. Bold and italics in the frameshift motif (C nucleotide) indicate that the nucleotide C is not read during PA-X translation. PA-X proteins containing 232 or 252 amino acids if the C-terminal region has a 41 or 61 amino acid extension, respectively, are indicated.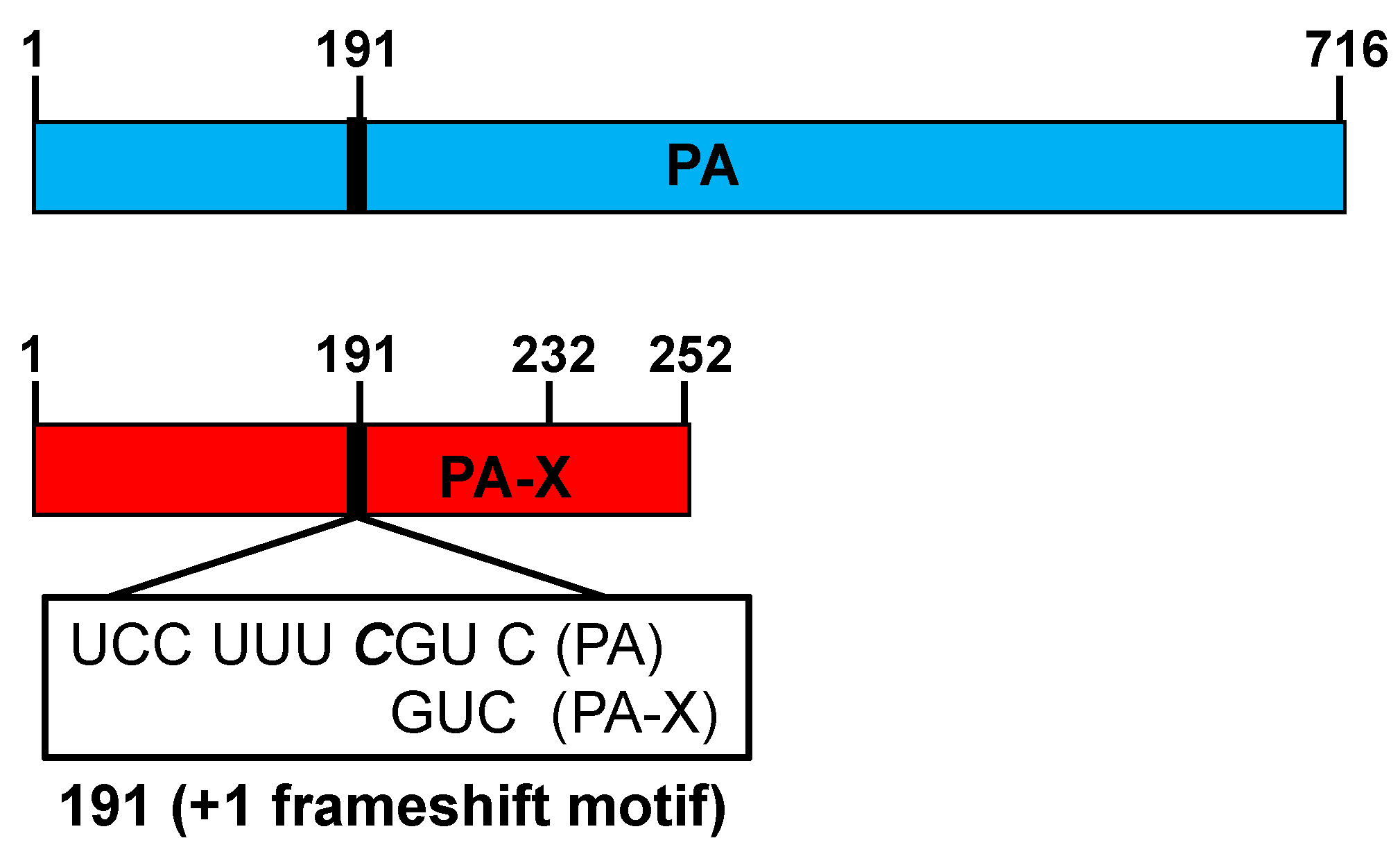 Table 1. Interactions of the IAV NS1 protein with cellular proteins that are involved in innate immune responses.
Host Factor a
NS1 Domain b
Protein Function c
Reference
TRIM25
RBD and ED
Ubiquitin E3 ligase and ISG15 E3 ligase.
Modification of RIG-I by poly-ubiquitin chains synthesized by TRIM25 is essential for RIG-I activation
[91,92]
Riplet
RBD and ED
E2-dependent E3 ubiquitin-protein ligase.
Modification of RIG-I by poly-ubiquitin chains synthesized by Riplet is essential for RIG-I activation
[92]
RIG-I
RBD
Cytoplasmic PRR of viral nucleic acids, activating innate immune responses
[96]
hPAF1C
CTT
Transcription of Hox and Wnt genes and histone modifications
[97]
IKKβ
CTT
Serine kinase involved in NF-κB activation and IFN and proinflammatory responses
[98]
IRF3
Indirect effect
Transcriptional regulator factor of type I IFN-dependent immune responses
[99]
AP-1
Indirect effect
Transcription factor involved in IFN and pro-inflammatory cytokines induction
[100]
A20
Indirect effect
Ubiquitin-editing enzyme that contains both ubiquitin ligase and deubiquitinase activities.
Suppresses IRF3-mediated IFN induction
[94,95]
PKR
RBD and ED
IFN-induced dsRNA-dependent serine/threonine-protein kinase
leading to protein translation inhibition
[101,102,103]
RNase L
Indirect effect
Endoribonuclease leading to host gene expression inhibition by mRNA degradation
[87]
PACT
NS1
Activation of EIF2AK2/PKR
[101,104]
OAS
RBD and indirect effect
Polymerizes higher oligomers of 2'-5'-oligoadenylates that bind to RNaseL leading to its activation
[51,87]
NLRP3
ED and indirect effect
Sensor component of the NLRP3 inflammasome, leading to inflammatory responses
[105,106,107]
CPSF30
RBD and ED
Processing of mRNAs, necessary for host gene protein expression
[62,72,74,108,109,110]
PABPII
CTT
Formation of mRNA precursors adding a poly(A) tail, necessary for gene expression
[111,112]
eIF4GI
RBD and ED
Recognition of the mRNA cap, ATP-dependent unwinding of 5'-terminal secondary structure and recruitment of mRNA to the ribosome.
[113]
p85β
ED
PI3K subunit
[114,115]
NXF1
RBD and ED
Nuclear export of mRNA
[116]
RAE1
RBD and ED
mRNA nucleocytoplasmic transport
[116]
P15
ED
Nuclear export of mRNA
[116]
E1B-AP5
RBD and ED
Transcriptional regulator
[116]
a TRIM25: E3 ligase tripartite motif-containing protein 25; RIG-I: pattern recognition receptor (PRR) retinoic acid-inducible gene I; hPAF1C: human PAF1 complex; IKK-β: inhibitor of kappa β kinase; IRF-3: Interferon regulatory factor; PKR: protein kinase R; PACT: protein activator of the interferon-induced PKR; OAS: 2´-5´-oligo A synthetase; NLRP3: NOD-like receptor family member LRR- and Pyrin domain containing-3; CPSF30: 30 kDa subunit of cleavage and polyadenylation specificity factor; PABPII: poly(A)-binding protein II; eIF4G: eukaryotic initiation factor 4G; NXF1: nuclear RNA export Factor 1; RAE1: Ribonucleic Acid Export 1; E1B-AP5: adenovirus early region 1B-associated protein 5. b RBD: Receptor binding domain; ED: effector domain; CTT: C-terminus tail; c Protein function description. IFN; interferon.
NS1 Amino Acid Residue
IAV
Reference
184
A/Udorn/72 H3N2
[108]
103 and 106
A/Puerto Rico/8/34 H1N1
A/Hong Kong/483/97 H5N1
[74,108,138]
108, 125, 189, 55, 90, 123, 125, 131, and 205
A/California/04/09 H1N1
[125,126]
106
A/Shanghai/1/2013 H7N9
A/Shanghai/2/2013 H7N9
[135]
186
A/canine/NY/dog23/2009 H3N8
A/equine/Ohio/1/2003 H3N8
[62,72]
64, 189, and 194
A/Victoria/361/2011 H3N2
A/Perth/16 H3N2
[83,84]

Table 3. Properties of live-attenuated influenza vaccines (LAIV) and currently circulating wild-type (WT) pH1N1 viruses.
Properties
pH1N1 LAIV (ref. [174])
pH1N1 WT (ref. [71])
PAWT
NS1WT
PAMUT
NS1WT
PAWT
NS1MUT
PAMUT
NS1MUT
PAWT
NS1WT
PAMUT
NS1WT
PAWT
NS1MUT
PAMUT
NS1MUT
Inhibition of host gene expression a
+
−
−
−
+
+
−
+
+
−
−
−
+
+
−
+
Pathogenicity in mice/
Viral replication in mice lungs
+++/
+++
−/
−
−/
−
+++/
+++
++/
+
+++/
+++
+/
+
+++/
+++
Induction of innate immune response in mice b/Induction of humoral responses
+++/
+++
−/
−
−/
−
+++/
+++
+/
ND
++/
ND
+/
ND
+++/
ND

© 2018 by the authors. Licensee MDPI, Basel, Switzerland. This article is an open access article distributed under the terms and conditions of the Creative Commons Attribution (CC BY) license (http://creativecommons.org/licenses/by/4.0/).