Viral Proteins U41 and U70 of Human Herpesvirus 6A Are Dispensable for Telomere Integration
1
Institut für Virologie, Freie Universität Berlin, Robert von Ostertag-Straße 7-13, 14163 Berlin, Germany
2
Institute for Molecular Infection Biology, Julius-Maximilians-Universität Wϋrzburg, Josef-Schneider-Straße 2, 97080 Wϋrzburg, Germany
3
Molecular Biology and Biophysics, UConn Health, 263 Farmington Avenue, Farmington, CT 06030-3205, USA
4
Department of Microbiology and Immunology, CHU de Québec, Université Laval, Quebec, QC G1V 4G2, Canada
*
Authors to whom correspondence should be addressed.
Received: 19 September 2018 / Revised: 16 November 2018 / Accepted: 17 November 2018 / Published: 21 November 2018
Abstract
Human herpesvirus-6A and -6B (HHV-6A and -6B) are two closely related betaherpesviruses that infect humans. Upon primary infection they establish a life-long infection termed latency, where the virus genome is integrated into the telomeres of latently infected cells. Intriguingly, HHV-6A/B can integrate into germ cells, leading to individuals with inherited chromosomally-integrated HHV-6 (iciHHV-6), who have the HHV-6 genome in every cell. It is known that telomeric repeats flanking the virus genome are essential for integration; however, the protein factors mediating integration remain enigmatic. We have previously shown that the putative viral integrase U94 is not essential for telomere integration; thus, we set out to assess the contribution of potential viral recombination proteins U41 and U70 towards integration. We could show that U70 enhances dsDNA break repair via a homology-directed mechanism using a reporter cell line. We then engineered cells to produce shRNAs targeting both U41 and U70 to inhibit their expression during infection. Using these cells in our HHV-6A in vitro integration assay, we could show that U41/U70 were dispensable for telomere integration. Furthermore, additional inhibition of the cellular recombinase Rad51 suggested that it was also not essential, indicating that other cellular and/or viral factors must mediate telomere integration.
View Full-Text
►

▼

Figures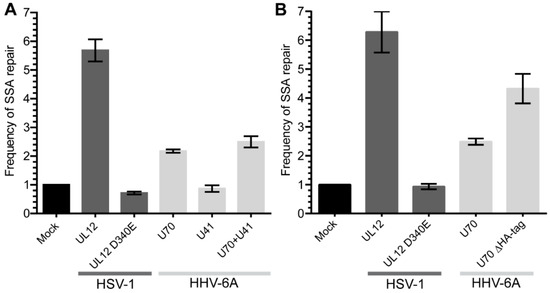 Figure 1
This is an open access article distributed under the
Creative Commons Attribution License
which permits unrestricted use, distribution, and reproduction in any medium, provided the original work is properly cited (CC BY 4.0).

Share & Cite This Article
MDPI and ACS Style
Wight, D.J.; Wallaschek, N.; Sanyal, A.; Weller, S.K.; Flamand, L.; Kaufer, B.B. Viral Proteins U41 and U70 of Human Herpesvirus 6A Are Dispensable for Telomere Integration. Viruses 2018, 10, 656.
Note that from the first issue of 2016, MDPI journals use article numbers instead of page numbers. See further details here.
Related Articles
Comments
[Return to top]